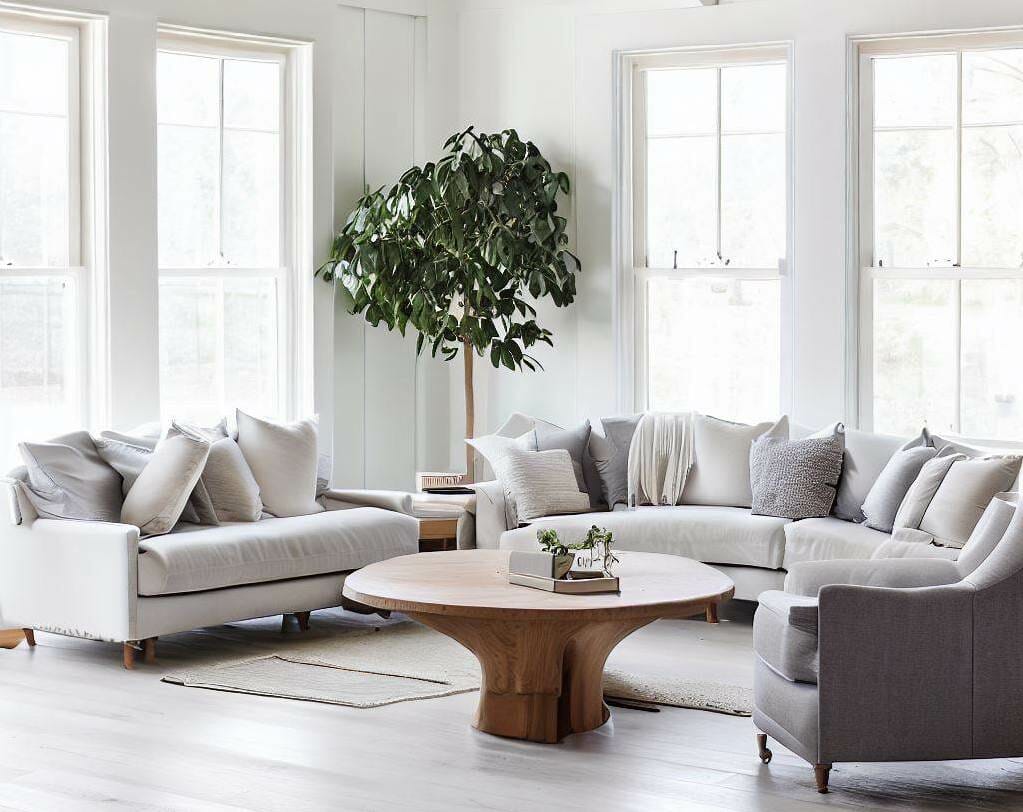 Are you craving a transition from an outdated living room style to something modern yet cozy and inviting at the same time. In that case, we have just the design inspiration for you! Allow us to inspire you with this incredible rustic modern living room and dining room transformation that beautifully blends high-quality materials and creative touches. Read on to see the changes for yourself!
The Challenge: Rustic Modern Living Room & Dining Room
A recent client approached Decorilla looking for modern rustic living room ideas that would promote creativity and coziness. Her apartment was brand new and empty, apart from one freshly bought sectional sofa. But there was also a catch: an irregularly shaped layout with many awkward floor and wall angles. In addition, the other challenges the designers faced required them to:
Establish a dining area with a modern rustic dining table and a small bar 

Use a versatile sofa as the foundation to build upon the rest of the

living room design ideas

Create a stylish focal point using the existing fireplace

Not sure if modern rustic is the right look for your open living space? Then take our

Free Interior Design Style Quiz

to find your true style!
Rustic Modern Dining & Living Room Inspiration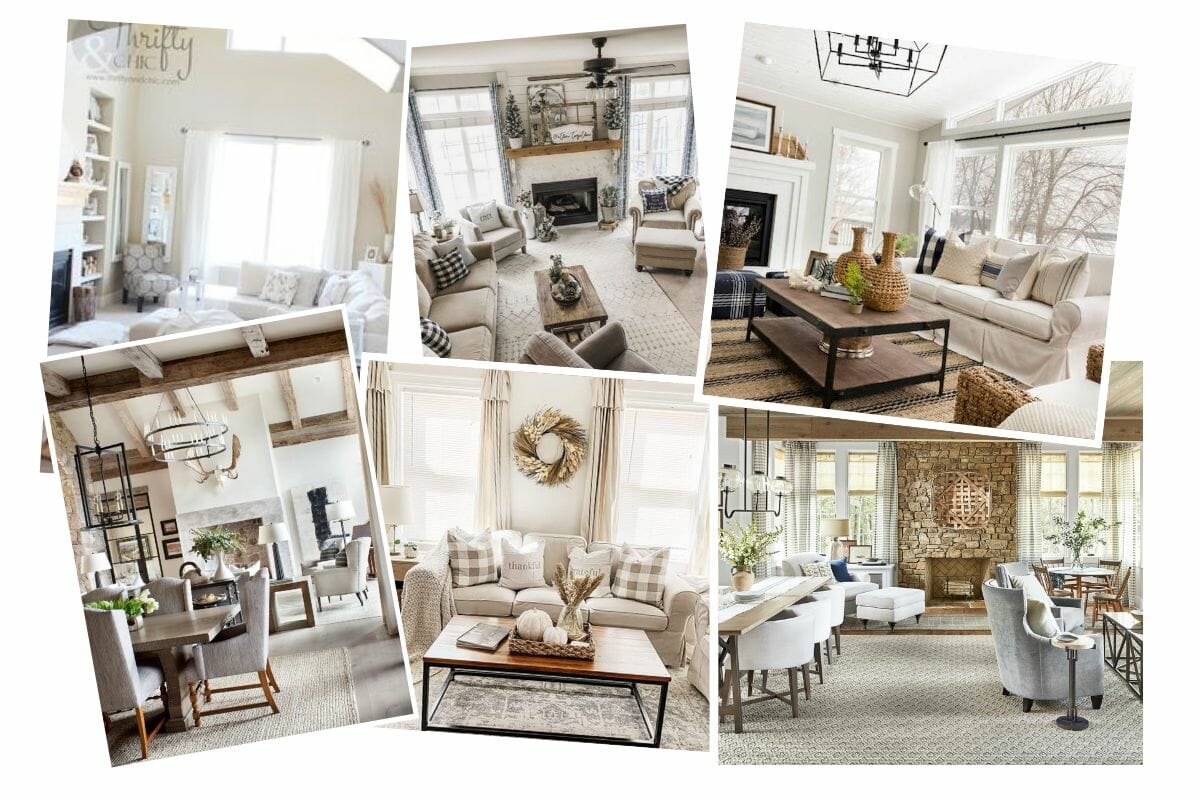 Modern rustic style encompasses an array of aesthetics. In short, it fuses time-honored elements with contemporary touches—yet the way to achieve the look is anything but straightforward. The client's inspirational gallery, for instance, featured a variety of chic yet lived-in, comfy, modern rustic living rooms that exuded effortlessness and charm in distinctive ways. What they all had in common was a contemporary base with plenty of raw or weathered touches, distressed finishes, and cozy layers.
Cozy Modern Rustic Living Room Ideas & Moodboard
The inspirational gallery rendered the client's contemporary rustic interior design vision pretty clear. After reviewing the answers given through the questionnaire and complimentary design consultation, the team was ready to introduce the client to two exceptional designers. Both strived for excellence with stunning visual representations that would fulfill and materialize the client's dreams in reality. Finally, Liana S.'s unique and vibrant touch, impressive vision, and outstanding sense of style stole the show.
Liana's design aesthetic radiated a stunning mix of nature's finest materials, incorporating raw wood finishes and gentle neutral fabrics. The fresh color scheme thrived on beige and grey, set off by subtle hints of green, black, and brass. Meanwhile, her rustic modern  furniture selection married everyday comfort with classic styling. Low-key patterns, gorgeously rugged cabinets, and textured decor also lent an air of rustic refinement. 

Modern Rustic Living Room Design  
This cozy rustic living room layout masterfully blends tranquility and luxury. The designer's skill is notably represented in the visual dialogue between the sharp room angles and smooth, round furniture forms. It establishes visual balance, offering a unique and timeless perspective on transitional design as a result. In addition, the entire radiates a bright and airy cabin design vibe, feeling both relaxing and elaborately stylish at the same time. 
Furthermore, by turning the layout restrictions into advantages, the designer emphasized an upbeat style, honoring the beauty of simplicity. There are no excessive elements or decoration pieces creating visual noise. Instead, the lounging zone is clearly defined with an area rug grounding a comfortable and functional conversational area. Multiple seating options ensure a place for everyone to sit back and relax. Each piece focuses on a simple focal point comprising a TV and fireplace topped up with a decorative rustic mirror. 
Rustic Modern Dining Room Transformation
In the background of the living area, the rustic modern dining room composition elevates the charming, upbeat aesthetic even further. Clean lines, natural materials, and organic shapes continue to stream in the same cohesive manner but receive an added layer of decorative value. The key accent of this space is a stylish floral wallpaper used as a wet bar background. Combined with a brass shelf and chandelier, it provides an eye-catching visual statement that seals the atmosphere of subtle sophistication.
Meanwhile, a wood-slab rustic industrial dining table is surrounded by eight sleek wishbone chairs ready to host friends and family in style. The space is perfectly defined by a warming area rug with an ever-so-subtle stripped pattern for a bit of visual interest. Finally, an oversized abstract artwork provided the finishing touch to bring the elegant design together.
Online Interior Design Shopping List
With Decorilla's budget-friendly interior design packages, you receive more than just breathtaking 3D renderings and a step-by-step implementation guide. In addition to personalized design solutions, each client is treated to a meticulously curated shopping list with an added bonus. It's also a ticket to exclusive industry discounts that often surpass the price of the entire design package. And on top of it all, a white-glove concierge service will take over all the hassle of ordering and shipping.
Top Picks for Modern Rustic Interior Design

If you're dreaming of transforming a dull or difficult layout into a modern rustic sanctuary, check out some of our hand-picked favorites. You might find a shortcut to an undeniably spirited style solution.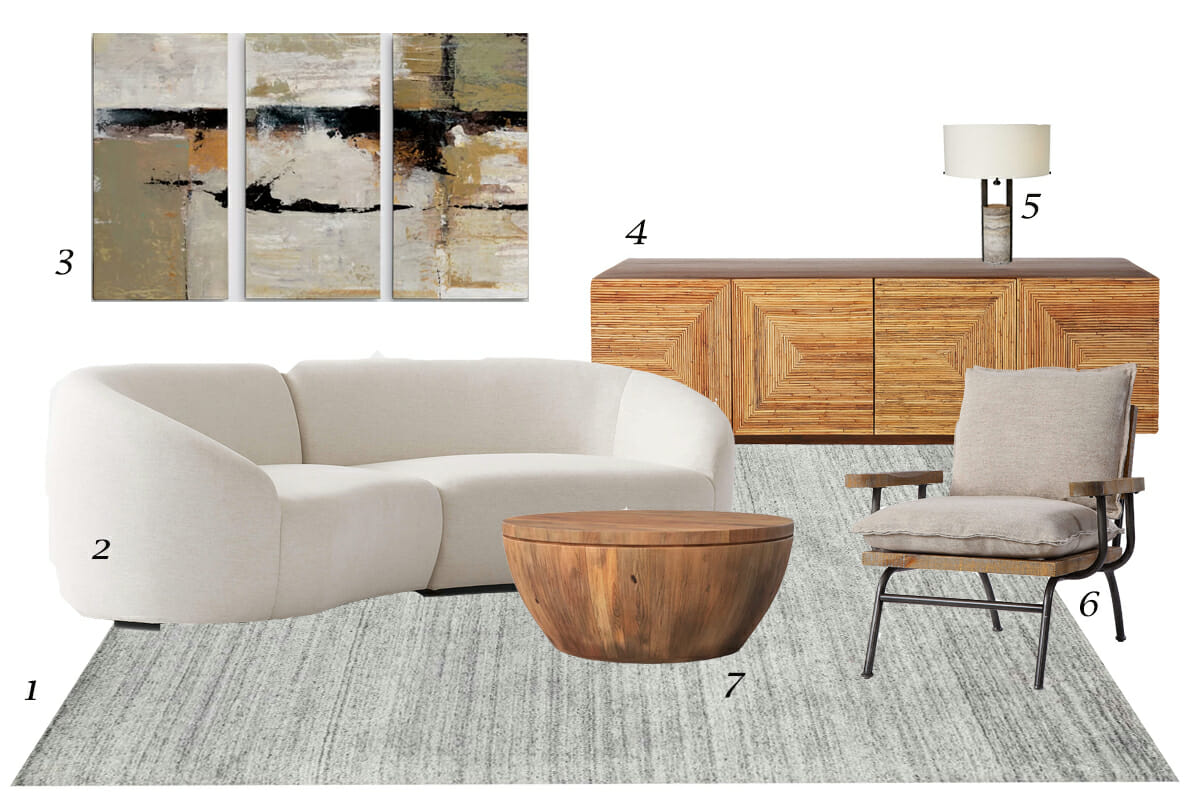 Ready to try online interior design?
Transform your space without breaking the bank by letting Decorilla's team of experts bring your dream home to life. Schedule a Free Interior Design Consultation to learn more about the process today!