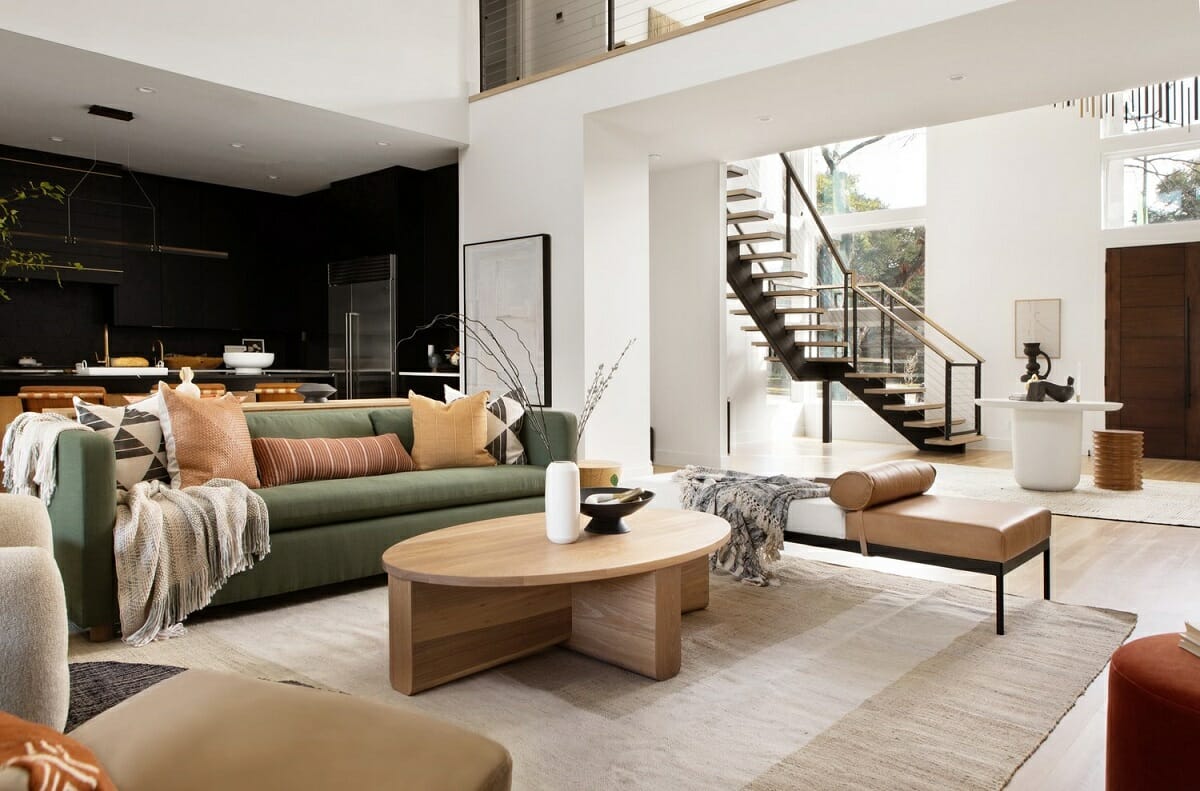 Contemporary interior design is a diverse style, changing with new innovations and trends. As such, it's also one of the most covetable. Since we love it so much, we've put together a list of some of our favorite contemporary design style moments. Read on for some serious interior inspiration!
Hottest Looks of Contemporary Design Style
Although contemporary design is diverse and includes many current trends, it has a few traits. On the one hand, these interiors ooze a sense of innovation and light-heartedness. And on the other, sophisticated form and sleek lines take priority. If you compare modern vs contemporary interior design styles, you're sure to spot similarities too. That's because the current design works so well with modernism's minimal and clean look. 
Not sure if contemporary design style is right for you? Then, take our fun Interior Design Style Quiz to discover your unique decorating style today!
1.

Mid-century Moment 
Right now, contemporary interior design loves mid-century furniture. It's easy to see why because these pieces are memorable in form and comfort. So venture out with the ultimate statement like a St James leather chaise or anything by Le Corbusier.
2.

Black Kitchen 
Bold kitchens are becoming all the more popular as years go by. And we're happy to say this year has seen some of the most eye-catching designs yet. Why not follow suit as soon as possible? All you need is a contemporary style for a dramatic black kitchen interior design.
3. Artful Living 
Don't forget the artwork! High-end contemporary interior design certainly has a curated feel. Copy the look with arty vignettes and contemporary art.

4. Pleasing Contrasts 
Contemporary furniture design can meet any architectural style and look good. Take this cottage, for instance. Its contrast of a rugged log cabin and pristine white lounge chairs make a stunning combo.
5. Super Sleek Studios
Nowadays, even the most compact apartments get the designer treatment. Take your studio up a notch with contemporary living room interior design.
6.

Slate Feature Wall 
Slate is one of the eco materials contemporary interior design loves above all. It's more than a roofing material too. It can make a beyond striking contemporary design. Create a feature wall with oversized slate tiles – it's sure to add an enchanting natural touch.
7. Elevated Exterior Design 
Remember the outdoors! Patios, porches, backyards, and anything in between can be just as attractive as a designer interior. Be sure to add contemporary furniture design and décor to create an exterior style fit for your home.
8. Padded Bedframe
Like the great outdoors, the most intimate room also had a substantial upgrade. Padded, oversized bedframes certainly steal the show in trendy bedrooms. Such a striking piece of furniture also means the space needs only a few contemporary décor pieces for a complete style.
9. Contemporary Interior Design Inspired by the East 
We can thank global travel for some of the inspiring things happening in design. For one thing, eastern concepts make contemporary living even more appealing in any room's interior design. Feng shui (China) and wabi-sabi (Japan), for instance, help reconnect interiors to nature and life's natural rhythm.   
10. Shower & Bath Combo 
Walk-in showers are great, but a shower-bath combo is even better! Not only is it in vogue, but it also allows more space for a wet shower floor.
11. Natural Colors in Contemporary Interiors
Keeping things natural pays off in a contemporary design style. Take the humble color scheme as an example. Light wheat, olives, and clay tones promote a calming air. Your home can certainly overflow with good vibes in the same way. Use the outdoors to guide your indoor palette – two to three hues are all you need.  
12. A Mingle of Eras
Contemporary interior design ideas can be rather diverse. Straight lines can meet ornate curls or twirls and still form a cohesive and elegant space. Play with juxtaposition to bring out the best of your interior. Victorian and modern, for instance, can make another impressive blend. 
13. Round & Scalloped Headboards
On the whole, contemporary interior design elevates daily life to something special. And scalloped headboards show how special décor can be. Add feminine whimsy to any bedroom – guest, kid's, or master – with a rounded feature headboard sure to turn heads.
14. Contemporary Bathroom Interior Design Style 
A contemporary house interior would be nothing without a little experimentation. This edgy marble bathroom shows how the conceptual side of contemporary design can turn out beautifully.
15. Mixed Seating 
From dining rooms to lounges and patios, seating can be more mixed than matched. To pull off the look, stick to the same scale, especially for a dining area. It makes beautiful balance possible when chairs have similar proportions. Finally, remember to round it all with a stunning piece of contemporary décor.
16. Organic Meets High-End Elegance 
Natural and organic materials can be luxe, especially in a contemporary house interior design. What's more, these elements are often more environmentally friendly. Wood, linen, rattan, and stone are a few of the top eco options. 
17. The All Island
Open concept spaces have been redefined time and again. And spaces are becoming more flexible as a result. With a contemporary design style, you can bend the rules. If you want your kitchen area to be all-island, do it. Innovative technology and smart devices can make it possible – and attractive!
18. Oversized Artwork 
Celebrate contemporary style artists by adding oversized artwork to your living room. One or two pieces are enough to make a memorable impact.  
19. Small but Stylish Office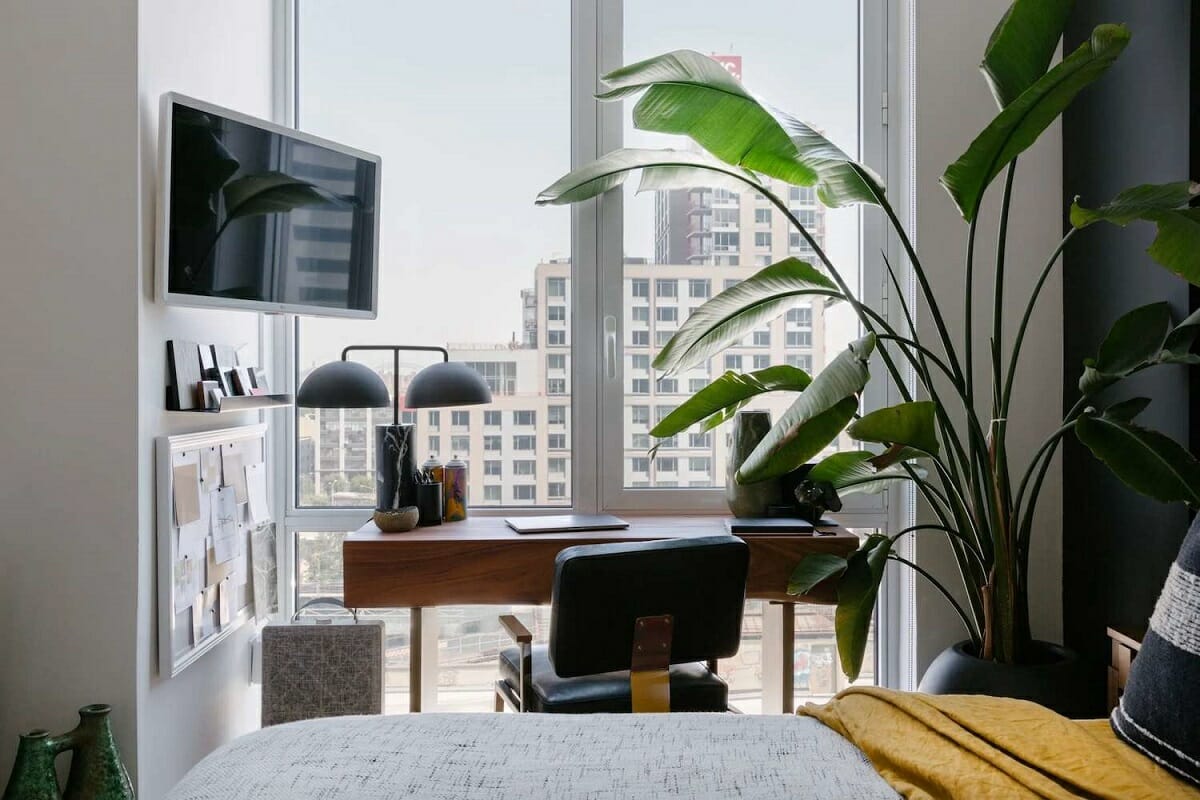 The boom of WFH certainly put a workspace right at the top of home essentials. In the past two years, any space – from an unused room, a tiny nook, or even a closet – got a full office kit. Moreover, these spaces became extraordinary in their stunning design. And as a bonus, productivity can even increase as a result.   
20. High Fashion in Chairs
No more bland dining chairs. Say hello to something both pretty and practical. Contemporary interior design ideas show how something utilitarian can also be sculptural. Dining chairs range from delicate minimalist to colorful and boldly curved. They also add a touch of fun to any space, which we love!          
21. Designer Play Nooks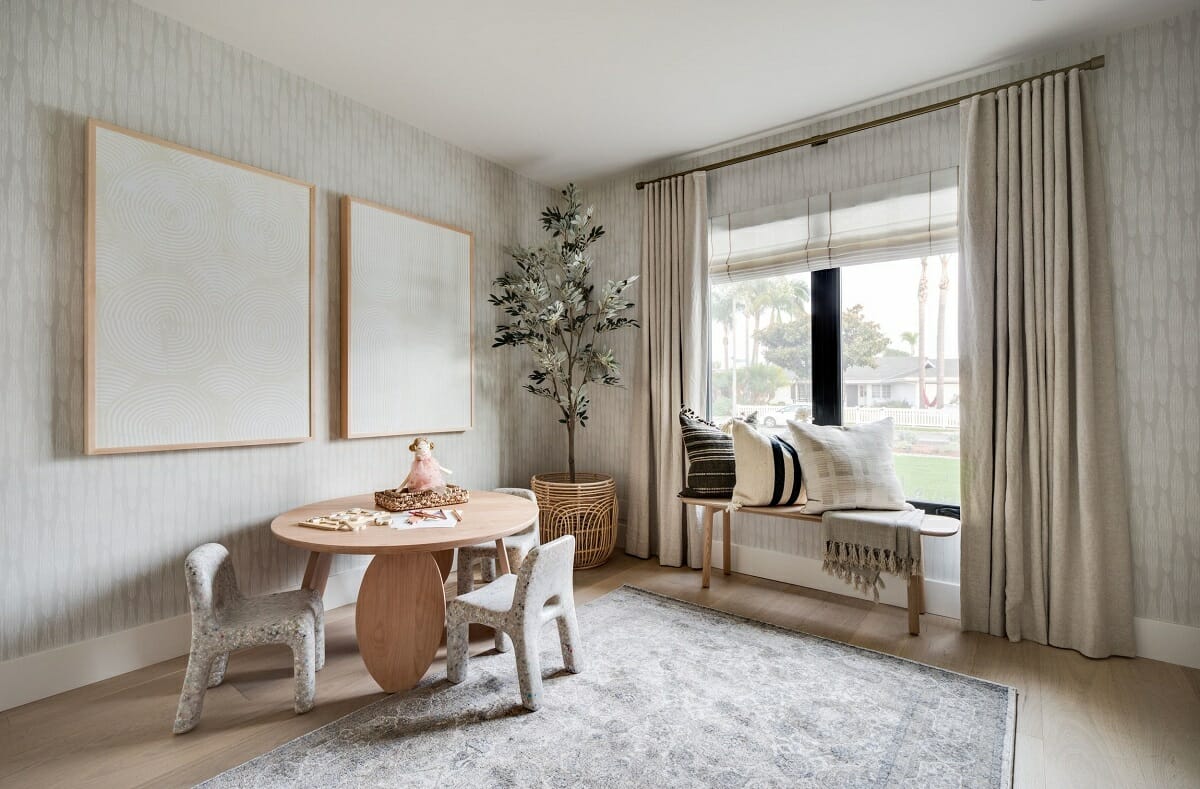 Even kids' furniture sees a makeover with contemporary interior design. In fact, children's spaces have never been as modish. These stylish spaces are sure to make you want to turn back the clock to enjoy them all the more.  
22. Curved Edges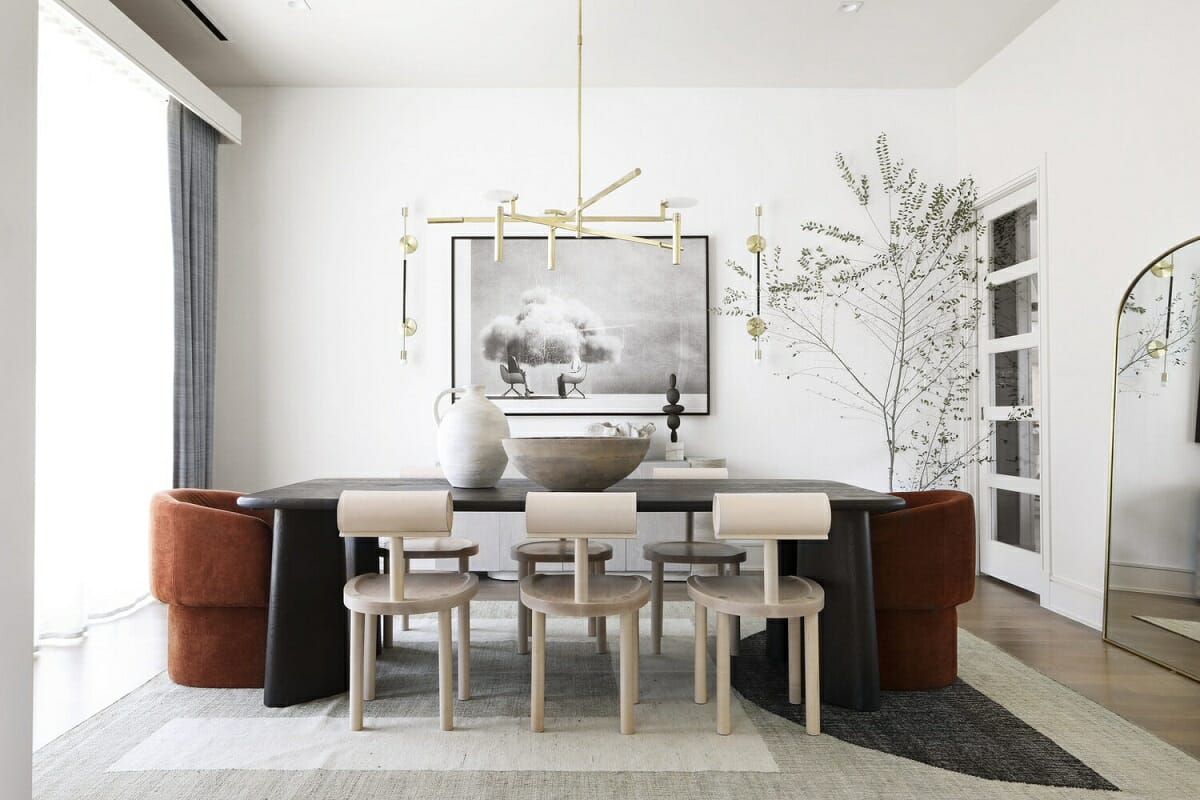 One of the most appealing aspects of contemporary house interior design is not only its edginess, but also its curves. Anything can have a soft border, from décor to furniture and structures. These elements add a romantic, feminine yet playful touch to any space.
23. Huge Modular Sofas
Livability motivates designers of today. For this reason, comfort is being amplified. Take advantage of this contemporary design style and go big with a super plush and comfy modular sofa. It can certainly be big enough for family, friends, and passers-by.
24. Coffee Table with Personality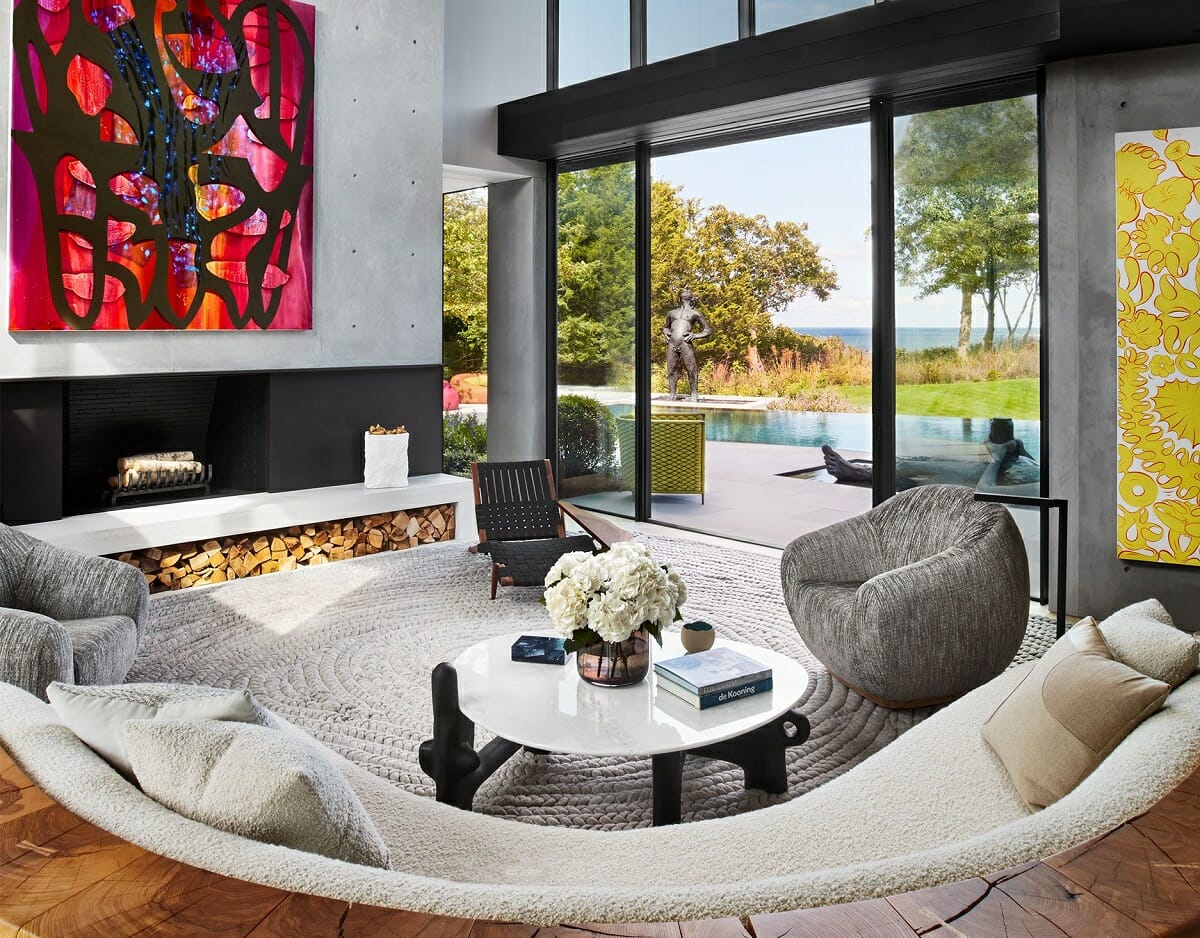 Contemporary furniture can make a home interior feel so alive. For instance, a coffee table transforms from being just a sleek surface to a living part of a home with design tweaks. Add a caricature here or stumpy leg there, and you have a piece of art and­ a sleek surface that happens to hold coffee well too.  
25. Color Coded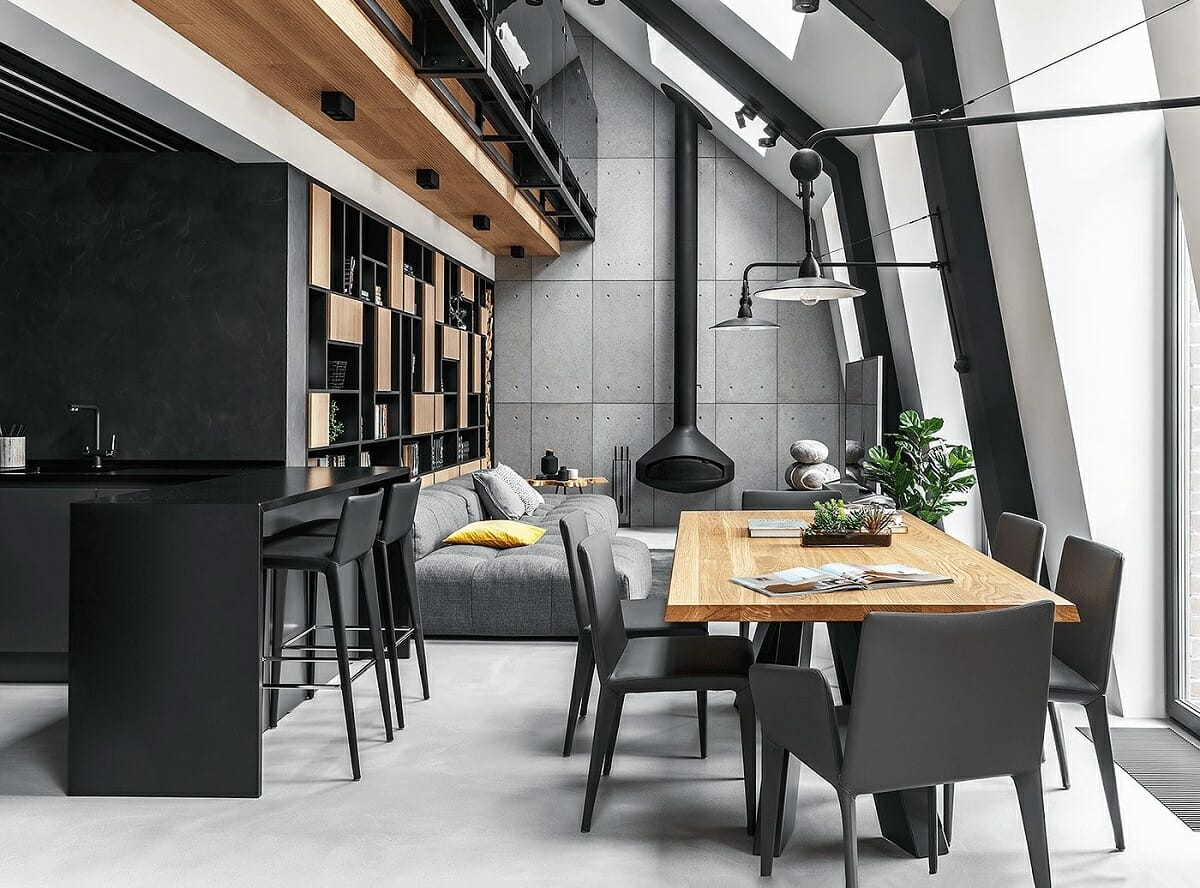 A monochromatic color scheme can be both bold and daring. Black and grey are great for a contemporary house interior for many reasons. After all, it makes a true designer statement, and the dark hues are a great backdrop for contrasting décor, like raw wood.
26. Contemporary Lighting Design 
Lighting design has come a far way since the early 1800s. Indeed, today's chandeliers, sconces, and pendants are decorative in themselves. Contemporary style lights are certainly a must-have in modern-day interior design.
27. Green Many Ways
Green is a hot topic in interior and built environments everywhere. Not only the many heavenly hues but also plants and environmental design sizzle on the scene. With this in mind, sprinkle a good dose of all things green into your contemporary design style.
28. Warm Minimalism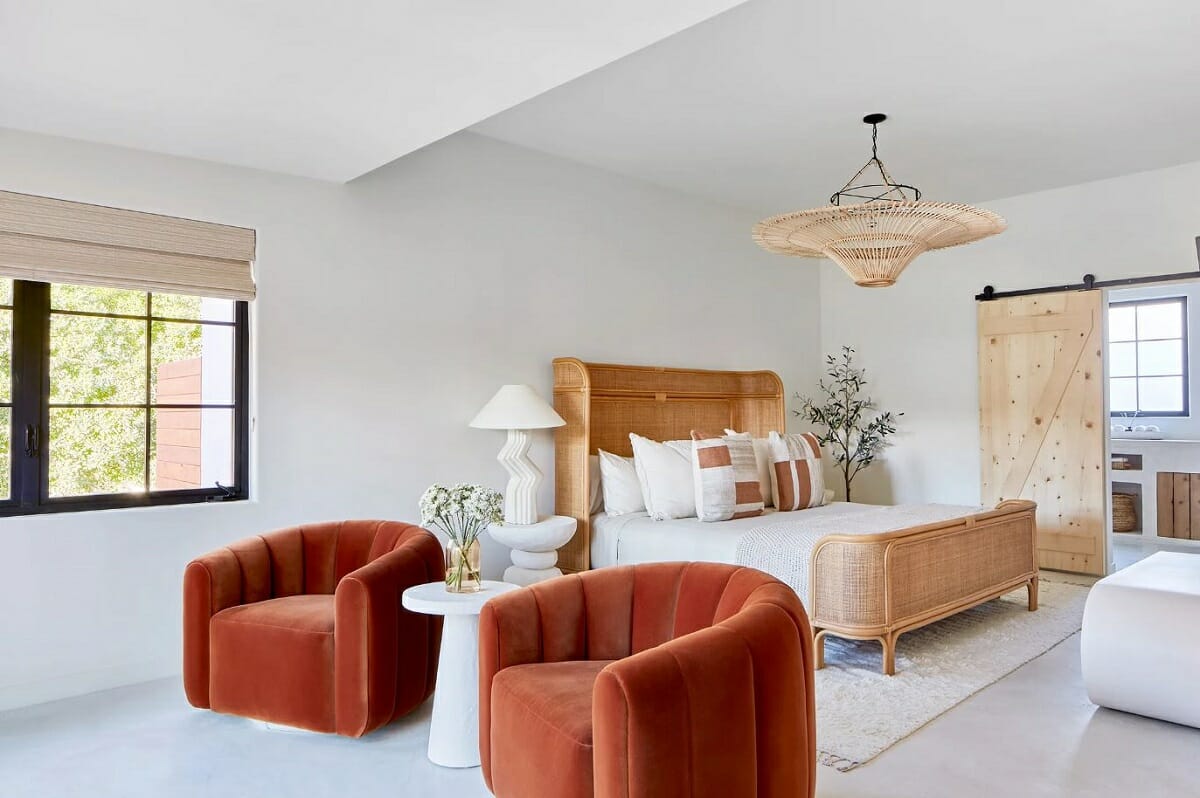 Minimalism had its moment, but the idea of less-is-more stuck for good. A clutter-free life has many benefits. Fortunately, living with less can still mean a cozy contemporary abode. Take this warm oasis as an example. It makes clean contemporary interior design so good-looking.  
29. Florals Elsewhere 
Pretty petals, fleur-de-lis motifs, and blooms are still big in the interior world. But instead of murals or wallpaper, floral styles pop up in contemporary décor. Furniture with inlays or carved flowers can also make a pretty picture.
30.

Contemporary Desert Boho Design Style
Contemporary décor often takes inspiration from many styles. So spice up your interior with a smooth blend. Besides, a mix of cool minimalism and warm boho vibes could be just the thing your home needs.
Want contemporary design style for your home? 
If you need help with creating your dream space then schedule a Free Interior Design Consultation today! Decorilla can help create a stunning home just for you!

[images: 1, 2, 3, 4, 5, 6, 7, 8, 9, 10, 11, 12, 13, 14, 15, 16, 17, 18, 19, 20, 21, 22, 23, 24, 25, 26, 27, 28, 29, 30, 31]