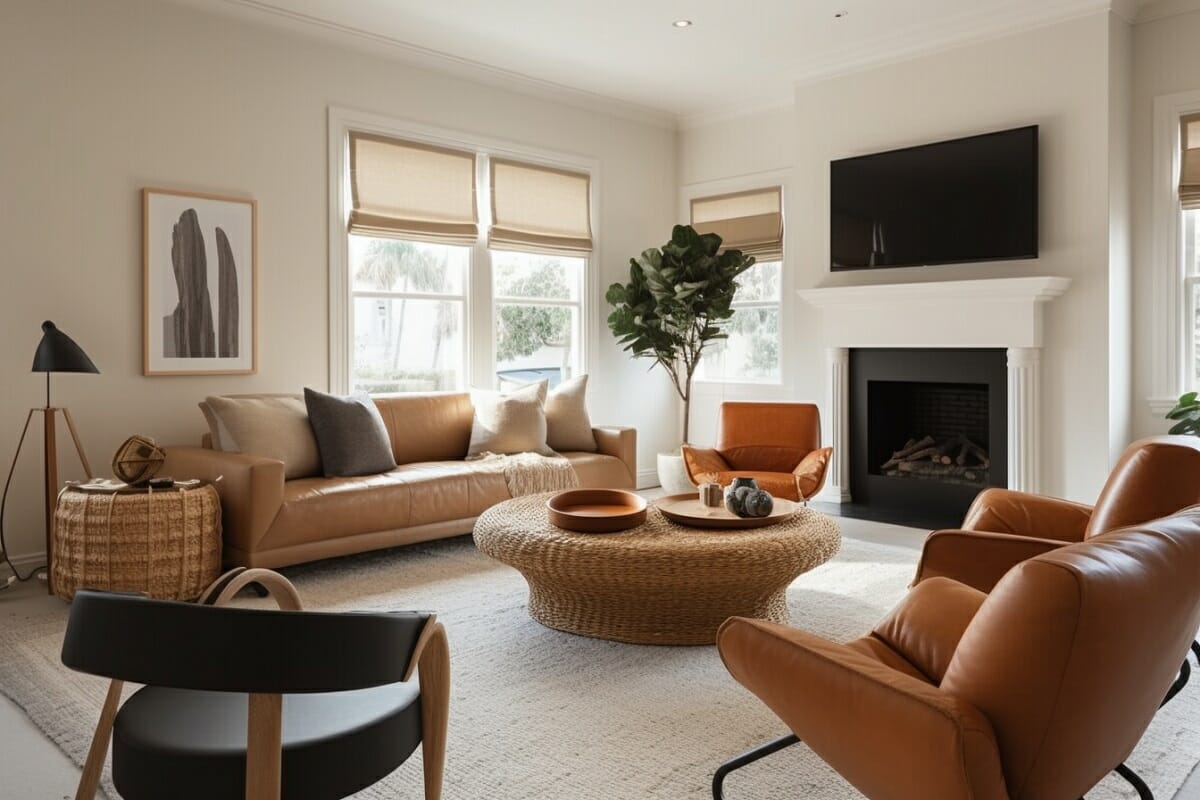 To reach the finish line, you have to know where you are going. The same can be said for picking an interior design style when embarking on a home transformation. A recent client knew she wanted contemporary decorating for her new family home but needed expert help with the interior. So, she turned to Decorilla – read on for the striking finale!
The Challenge: Contemporary Interior Design
Although the home's setting was stunning, the interior needed some work. For starters, some rooms were blank slates, while others required to incorporate existing furniture. Beyond these aspects, the designer needed to address the following challenges:
Create space for new furniture and décor while including existing ones

Come up with layout ideas for each room

Ensure optimal lighting solutions are provided for each space

Stick to 

contemporary home décor

 and a cohesive interior design

Create a neutral color palette through calm tones and breezy elements

Form individual pockets of spaces while tying them together as a whole
Not sure if contemporary decorating fits your home? Then take our

Free Interior Design Style Quiz

to find your personal style today!
Contemporary Design Style Inspiration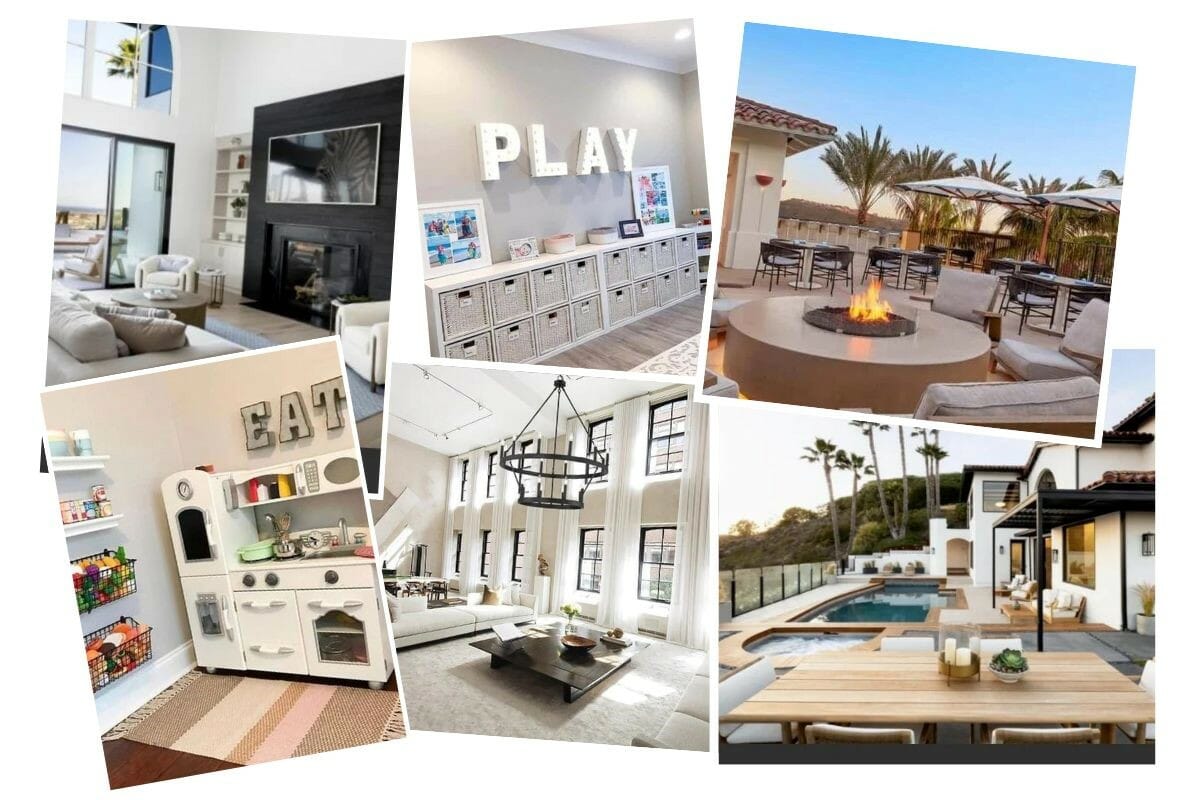 Above all, the client loved a contemporary interior design style. She leaned to neutral tones and light filled-rooms. Her contemporary decorating inspiration gallery includes spacious concepts with creamy neutrals and white walls. Wood and woven materials contrast with the bright walls to create sophisticated interiors. Overall, her bedroom, patio, and living room ideas exude neutral schemes and modern furniture.  
Contemporary Home Interior Moodboard & Design
It was now time to begin the process with contemporary interior designers. First, the client completed a simple online questionnaire. Next, she had a virtual call with the Decorilla team to button down her design brief. The team then pinpointed two talented designers to work on this project. Both proposed excellent concepts, but it was Dragana V. who stole the show!
Dragana's concept highlighted the contemporary decorating style. Moreover, it contained a soft neutral color palette, comfortable furniture, and plenty of texture. Warm neutrals and calming gray accents were present, while wood elements added balance and dimension to the proposal. Overall, the moodboard spoke to a sophisticated and elegant design.

Contemporary Interior Decorating & Design Result 
In the end, the family home transformation is welcoming and classy. Furthermore, each space is neat, with its own luxurious flair. Each room includes light tones with a contrasting element, contemporary home décor, and furnishings. Overall, this home feels refined yet inviting.
Contemporary Style Living Room
The family room has much contrast, which results in a visually appealing space. Centering the room is a modern fireplace, a stand-out feature in a charcoal-gray brick design. The room is also symmetric, with two chaises opposite each other and two accent chairs facing the fireplace.
Natural wood adds warmth to this space through the detailing above the fireplace and the coffee table. In addition, an oversized abstract artwork hangs on the wall, highlighting the color tones displayed in the room. Finally, this family room has light and airy window shades, along with subtle brass detailing on the lamps and as a side table. As a result, there is a neat yet chic aesthetic to this contemporary design.
Neutral Master Bedroom
The master bedroom is a neutral haven. Its contemporary home décor and elegant layout make it the perfect place to rest your head. Gray, beige, black, and wood accents have created an oasis of calm in this space. In addition to the two bedside tables, a dark ottoman sits at the end of the bed. Moreover, a comfy chair sits in the corner for relaxing.
The room features plenty of peaceful artwork, giving an artistic air. These, in combination with indoor plants and stone-based bedside lamps, result in a natural elegance. Lastly, a soft rug anchors the room with its placement in the center.
Kids Play Room
A great room is set for the children's play area. Here, they have plenty of space to learn and expand their imaginations. A white desk flanks a bookshelf that has space for ample storage. Moreover, a lowered green sofa is perfect for little people! Additional accessories stir the imagination. For instance, a colorful world map and a rug in the form of a clock will encourage creative play.
To the side of the play space is a casual, modern farmhouse-style dining area. Here, the grown-ups have a space of their own. In addition to a rustic chandelier, a bench, and black shaker chairs flank the wooden table. In the end, this room is the perfect hybrid use of space.
Contemporary Decorating for an Outdoor Space
The divided outdoor space has three areas in a contemporary décor style. A dining section, a firepit space, and a place to lounge by the pool. To the side, the firepit area has plenty of comfy chairs and a grounding rug that marks this space as its own. Its cozy touches and designer feel designates it as a true outdoor living room.
The dining table sits under a sun umbrella, allowing ample shade on sunny days. In addition, light woven chairs sit around an impressive white marble table with a black base. Lastly, the pool area has ottomans and sun loungers as comfortable places to rest while enjoying the water feature. The tiled stone flooring adds an earthy appeal to this outdoor space.
Online Shopping List
Decorilla makes designing easy with its online shopping lists. Every client receives one that is specific to their home and interior design. Plus, they include exclusive trade discounts too! Furthermore, each project comes with detailed instructions and an explanatory guide for clients. As a result, assembling your new contemporary home is easy.
Our Top Picks for a Contemporary Decorating Style
Your contemporary design transformation is only a few steps away! Recreate this look with a few staple pieces from our top picks below.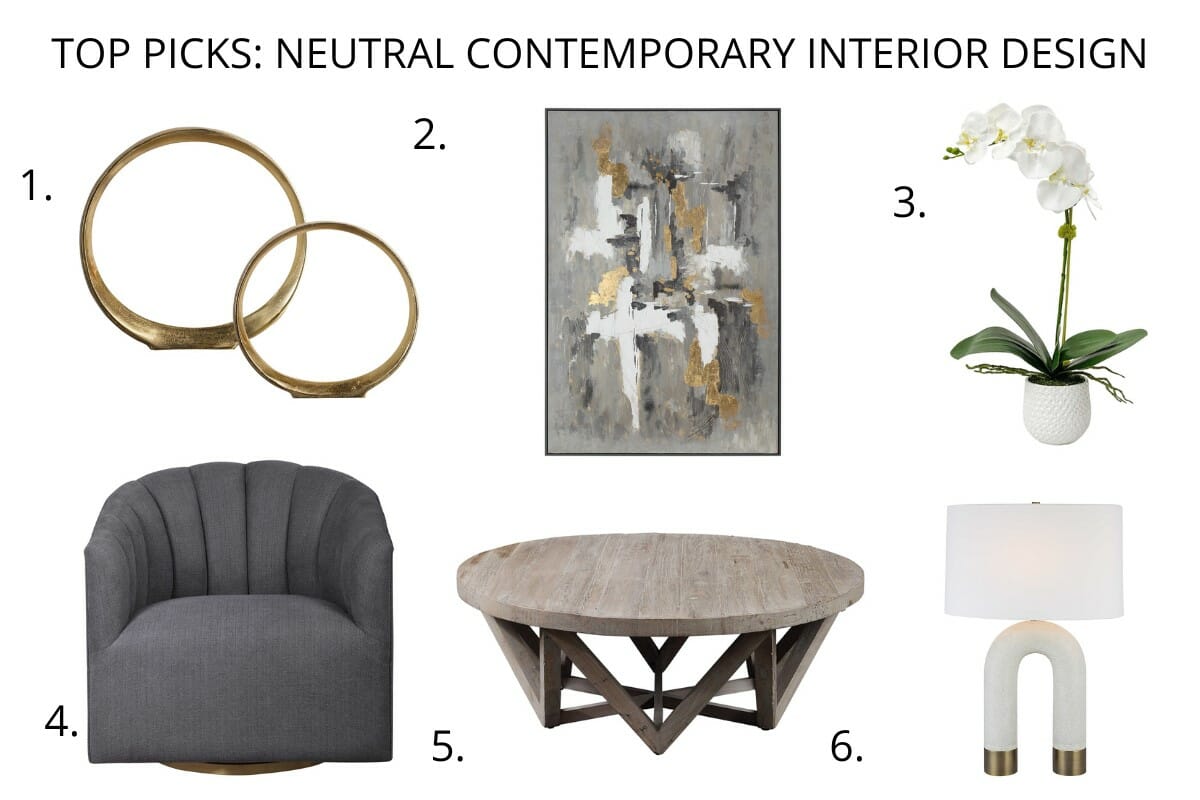 Want your own contemporary interior design?
A team of our finest interior designers can also assist you with your online interior design! So, schedule a Free Interior Design Consultation to get started today!

[images: Decorilla project images]