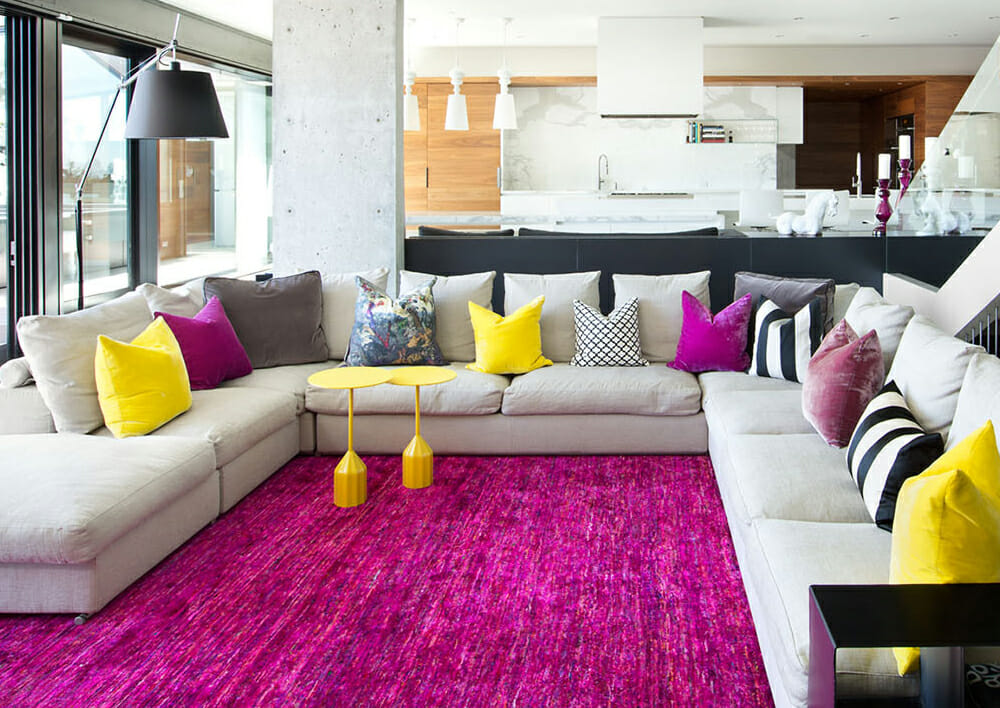 Buying a new brand new home in an up-and-coming neighborhood has to be an amazing feeling! A new home means new possibilities in many facets of life, especially when it comes to designing each space within your home. Furniture that you already own can come in handy and keep decorating costs low, but sometimes, it may not work out well in your home. If you need assistance with your modern living room online design, a Decorilla online interior designer can help you create a living room that you will love.
THE CHALLENGE
Furnishing a home that is larger than the owner's previous home and belongings.

Creating a theme/style for the living room.

Making the space modern, but homey and livable.
THE INSPIRATION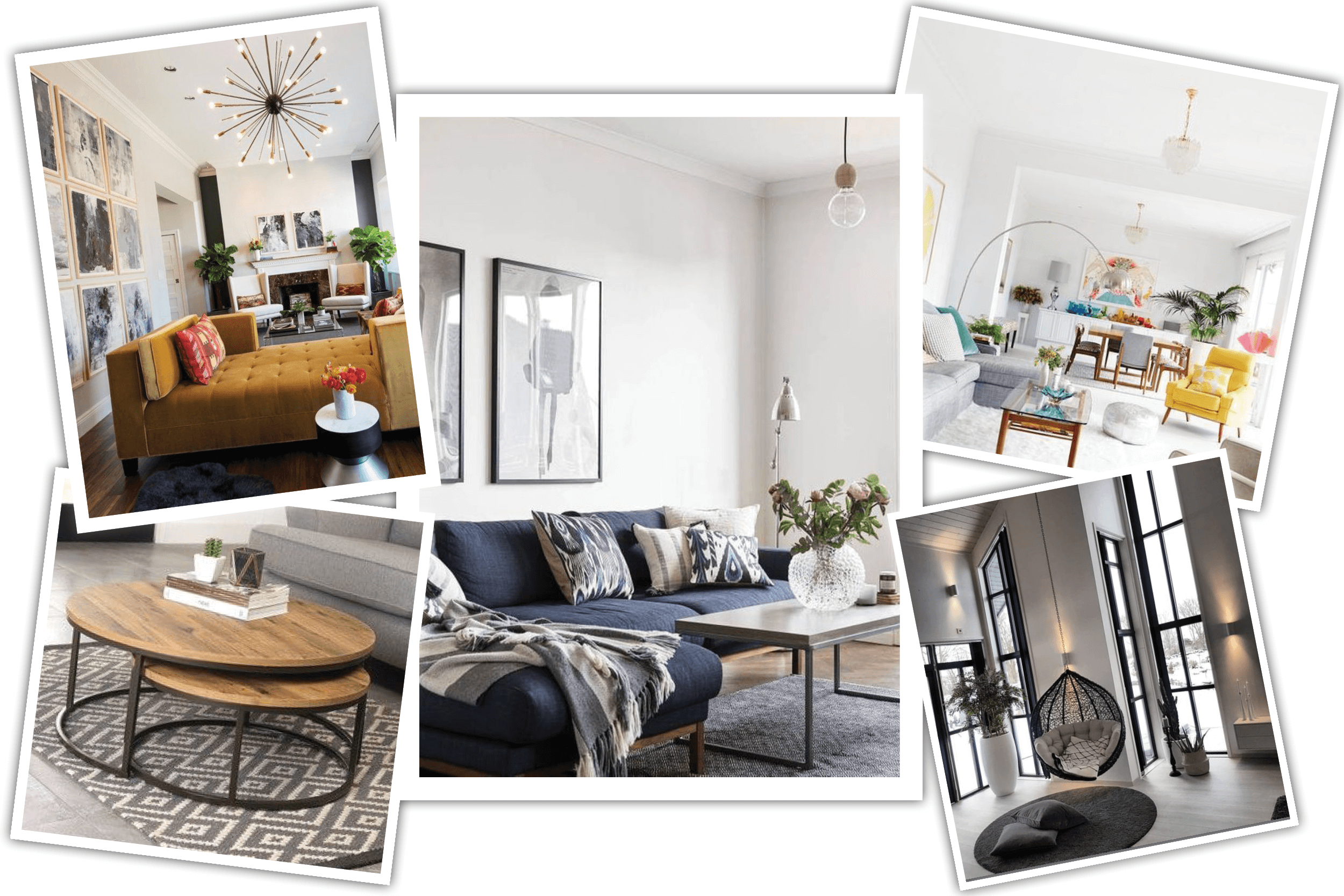 Modern design can become overwhelmingly monotone with whites, blacks, and grays, and the clients wanted to avoid this. The client was open to crazy color combinations and wanted a bright and comfortable space that was still modern.
THE DESIGN
Decorilla designer Michelle B. had the opportunity to work with the client's brand new home. While they had furniture that they would have gladly kept, they gave her free reign as to whether to keep it in her design, or not. Given that, Michelle cleaned the slate and took the chance to build a modern living room design from the ground up.
THE INITIAL MOODBOARD
Of the two designs that the client's had to choose from, Michelle B.'s was a sure winner for them. Michelle's design brought a playfulness to living area that gave it an authentic home feeling, while also remaining true to the modern style. The grays remained, and they were balanced out with bold pinks and blues.
THE RESULT
Starting with the basics, Michelle B. sourced a silver area rug and a black/gray/white modern sectional sofa. These sofa and rug formed the nucleus of the living room. Centered in the room is a set of coffee tables with the same design, but varying heights and radius's. To mimic the three coffee tables, there are also 3 clustered light fixtures in the center of the room. The lighting height makes the tall ceilings feel more inviting, rather than intimidating. When the expansive windows are open and filled with sunlight, the fixtures look like they could be an art installation.
From there, Michelle designed different nodes around the main sofa sitting area. A set of modernly upholstered replica egg chairs are situated directly behind the sofa, facing the fire place. The chairs, one in bright pink and another in black and white polka dots, form their own sitting area along with a contemporary black, gold, and marble side table.
Michelle created one last area using design elements that perfectly reflected the other two. A neutral rattan hanging egg chair was placed next to a blue stool similar to the blue poufs in the living area. The chair is also paired with a neutral throw blanket and vibrant throw pillows with pink and blue colors.
Overall, Decorilla designer Michelle B. was able to take the floor plan for an extremely spacious modern living room and provide the clients with the comfortable yet modern and trendy design they wanted. By creating three different living areas within one room, it provided space for each family member to comfortably access the room at the same time. The only issue that can arise would be choosing who gets to inhabit their favorite spot first!
GET THE LOOK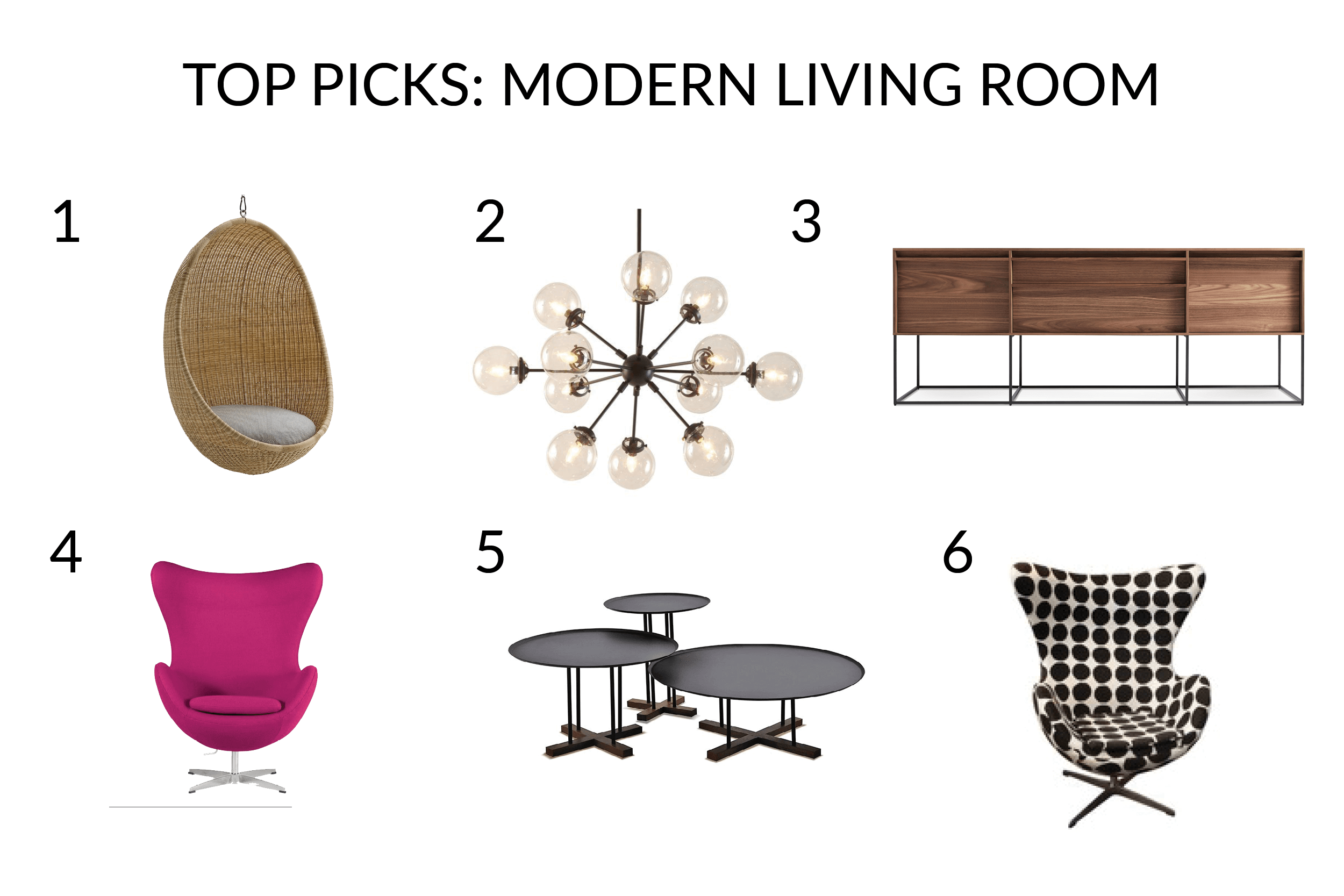 3. Console
For this dynamic living room design, the client able to easily hand design control over to Decorilla designer Michelle B. Using the online design tools, Michelle was able to convey her design scheme for their needs. The visual representation won them over, and the final result reflected that image perfectly, if not better. Instead of searching countless websites and hoping to piece together a design that fit the space and met their design wishes, a professional was able to do it from them. For your own free interior design consultation, get started with Decorilla today!
Written by Decorilla designer Addie F.