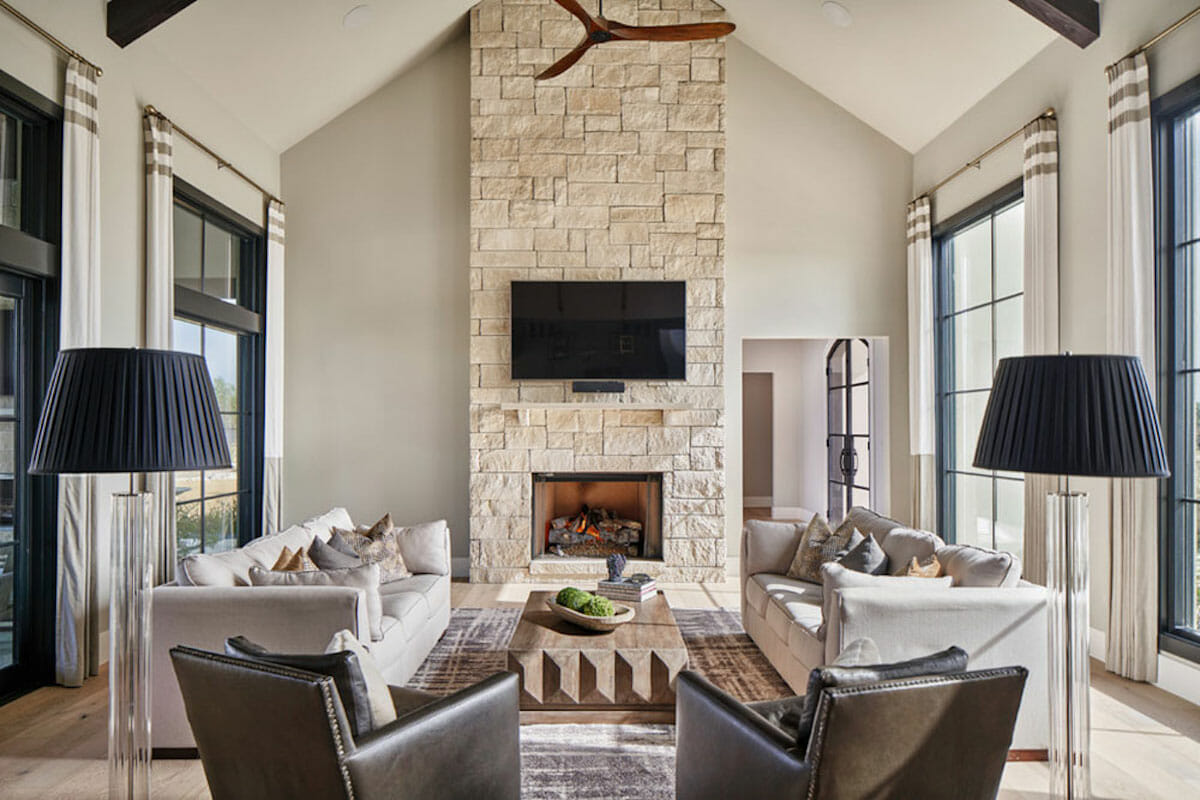 Combining two design styles can be tricky to master, but if done right, the result can be stunning. A recent Decorilla client loved both rustic and transitional designs. With the help of her talented designer, she now has a fabulous result! Read on the see the rustic transitional style transformation!
The Challenge: Rustic Transitional Style
Most transitional interior design projects have their unique challenges, and this one was no different. Plus, it required additional thought due to the rustic elements. The client was after a brighter, more sophisticated space for their family and friends to spend time together. More specifically, they needed the designer to:
Incorporate modern rustic décor elements into the transitional style interior design 

Explore bright and lighter paint colors for the walls

Swap out the flooring for something more appealing and durable

Incorporate their piano into the layout
Unsure if a rustic transitional style is for you? Try our

Free Interior Design Style Quiz

to pin your style and get started on your design today!
Transitional Rustic Design Inspiration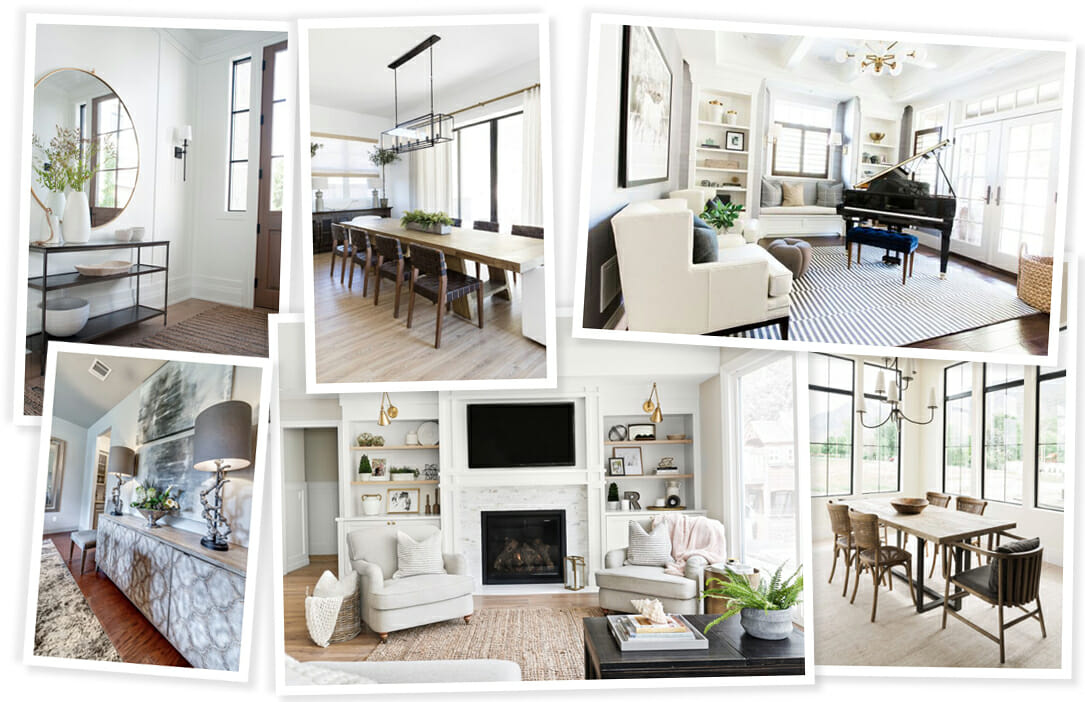 The client had a gallery of ideas for her transitional rustic space. As a result, she could help guide her designers toward her taste. The client's inspiration was filled with online living and dining room designs. Her ideas were cohesive, with a neutral palette and small pops of color. In addition, her entryway was accounted for with simple yet sophisticated foyers.
Moodboard & Transitional Rustic Design
After a virtual design consultation, the client was matched with two potential designers that would bring her ideas to life. Both designers came up with fantastic moodboards displaying rustic transitional décor ideas. However, Jessica's concept stole the show!
Jessica's moodboard had a bright feel with the right mix of rustic décor ideas. Moreover, her transitional style felt luxurious yet simple at the same time. A neutral color palette, raw textures, and a brilliant layout made for an exciting rustic interior design. Overall, the client couldn't wait to receive the final design.

Transitional Rustic Result
In the end, the entryway and combined living areas are functional and sophisticated. Both spaces are distinct, but the layout also feels cohesive thanks to a harmonious scheme. Contrast comes through abstract art, pops of greenery, and a light floor stain. Moreover, the pendants add ambient lighting, while the layout has a welcoming feel.
Rustic Transitional Décor in the Entryway
The entryway is cozy and elegantly styled. At its center, an area rug and a black pendant anchor this inviting space. Additional lighting in the form of transitional lamps sits on a green console table. On the opposite end, a round mirror makes the interior feel airy and doubles the light. While different in design, both sides hold a cohesive design.
A tall indoor plant sits beside the mirror, mimicking the green side table opposite. In addition, a wooden trunk against the wall has matching beige pillows and provides storage. It echoes the hues from the abstract art and the complete design resembles a natural setting as a result.
Rustic Transitional Style Living & Dining Room 
The transitional living room has the right blend of rustic décor. While the dining and living areas are separate pockets, they form a unified whole. In addition to the entryway, area rugs ground both of these nooks too. Two pendants create bright lighting, while an extra floor lamp casts a warming glow in the corner of the room.
A rustic extension table is paired with chic farmhouse-style chairs. Furthermore, two small sideboards flank the table and an industrial mirror. The mirror's sheer size and panels give the illusion of a more spacious room. Additionally, plants and art add life to the space, with the accent rug tying everything together.
In the lounge area, the main attraction is the piano. Besides the comfortable armchairs, there is a black drinks cabinet against the wall. Its dark hue combined with the chair legs, accent table, and lamp brings a touch of contrast to the neutral interior. Lastly, a light shade of off-white wall paint sets a bright backdrop for the room.
Before & After: How did the designer change the room? 
At first, the entryway, living, and dining areas were dark and unfurnished. Fortunately, the designer had an eye for transitional rustic design. Now the client has an elegant foyer and transitional living room to enjoy with family and friends!
Entryway Update with Modern Rustic Decor
Initially, the entryway was bare. While it had a great structure, it was undecorated. After its sleek transformation, it has the right amount of rustic furnishings in a transitional style. Furthermore, light illuminates through a bright floor stain and wall paint.
Transitional Living & Dining Room Transformation
At first, the combined living and dining area had no furniture and was dim. With the designer's help, a stunning transformation took place. A piano took center stage in the transitional living room while an extendable table dominated the dining area. Moreover, the correct balance of décor saw to a stunning layout and design!
Online Shopping List for Modern Rustic Décor
Whether you're looking for rustic transitional or a different style altogether – Decorilla can make it happen. Collaborating with Decorilla sees perks and convenient packages. For instance, 3D renderings, layout instructions, and help with procurement. That's not forgetting the custom shopping lists and exclusive trade discounts!
Our Top Picks for Rustic Transitional Décor
If you liked this design, it only takes a few rustic transitional style pieces to recreate this look on your own. Use our top picks below to guide your transformation!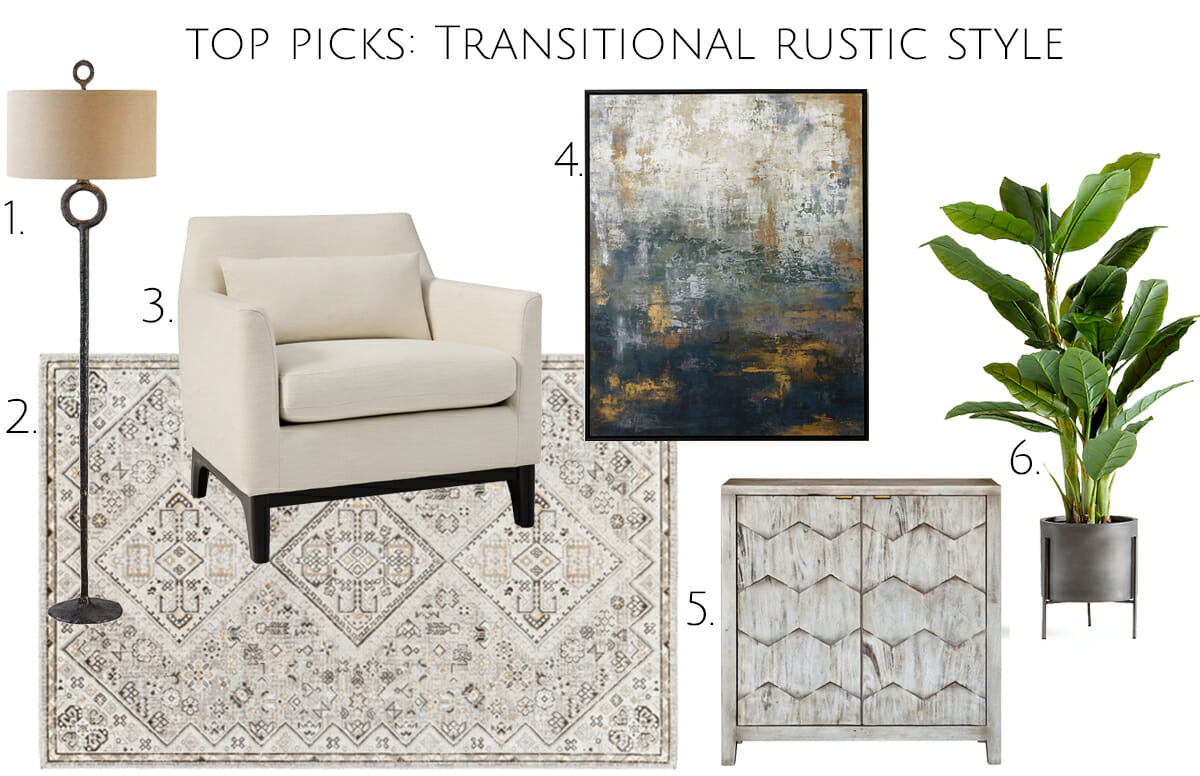 Want your own transitional rustic interior design?
You can transform your home with online interior design too! Schedule a Free Interior Design Consultation with vetted interior designers to get started today!

[images: 1, Decorilla project images]