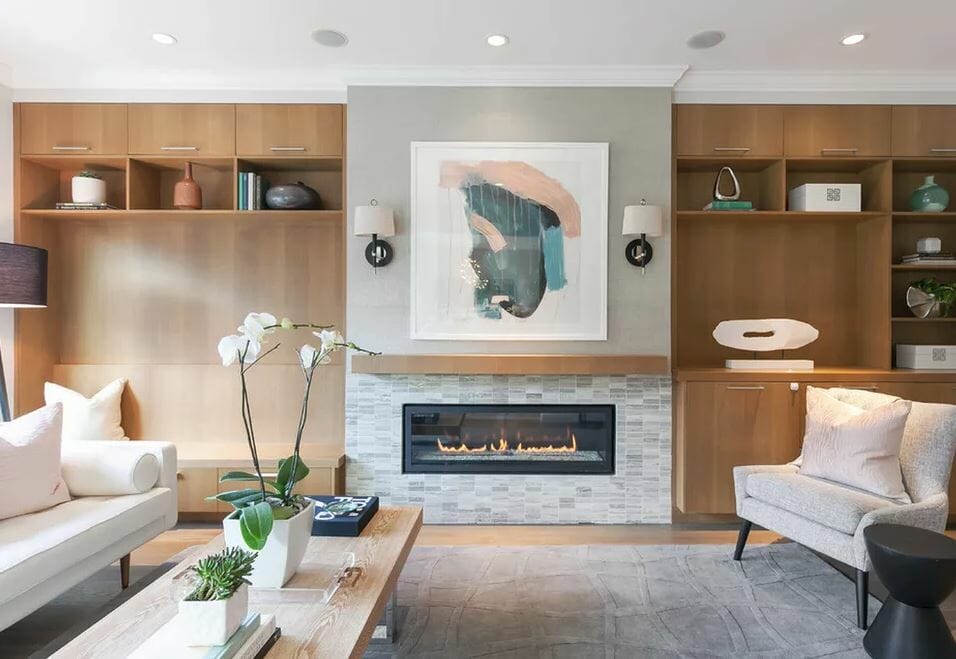 How do you create a sophisticated and comfortable sanctuary in a bustling city? The obstacle that lies with big city design is small spaces. Figuring out how to structure the room and think of the most space effective way to design your home is hard, but having a comfortable and stylish space to kick up your feet at the end of the day is a goal worth working towards.
A recent Decorilla client wanted a sleek and comfortable design with storage solutions and better lighting. She reached out to get a creative overhaul though online interior design services for her living room and bedroom. Now she has a sophisticated modern design that is comfortable and awe-inspiring. Read on to see the full modern online living room design transformation!
THE CHALLENGE
Create better lighting for the space
Accommodate for thin walls
Creative storage solutions to display collector items
Create a stylish but comfortable design
THE INSPIRATION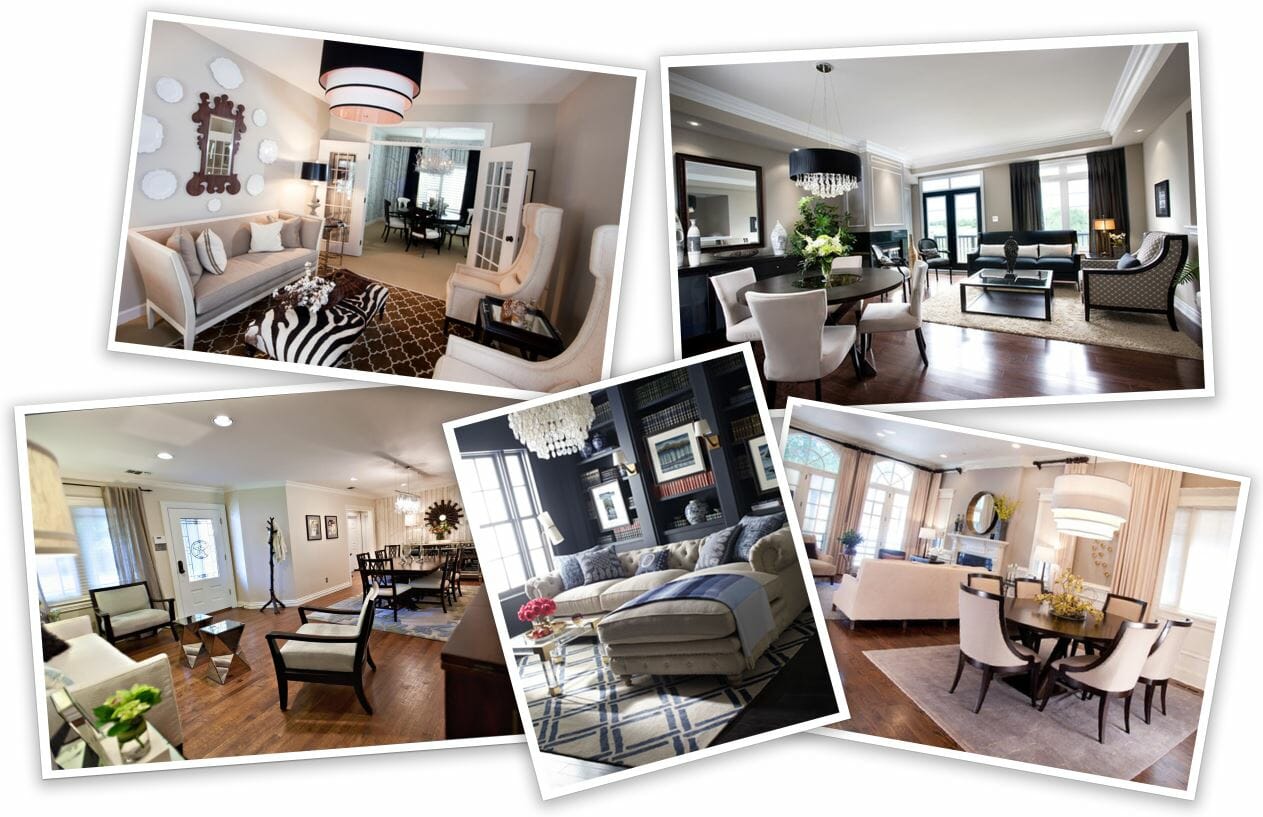 With a love of neutral colors, this client was inspired by clean lines and luxurious looks. It was also important to use designer tricks like utilizing additional lighting for the living room to help give the illusion of a larger space.
THE DESIGN
Decorilla interior designer, Tiara M. had the challenge of transforming this dark and cluttered space into a welcoming and sophisticated place to relax. With the use of lighting, textures, and a seamless color palate, she created the perfect home for her client. It was important to the client to have the living, dining, and bedroom style tie in together, as well as incorporating a dedicated work area.
THE MOODBOARD
One of the toughest parts for our client Tabitha was choosing her favorite concept from the designers. After a few questions and tweaks, Tiara's striking concept board was chosen. Tabitha wanted a chic and modernized twist and Tiara delivered!
THE RESULT
The once dark and outdated apartment transformed into a refined, modern living room design with the help of some clear communication and beautiful modern living room design inspiration. The thoughtful furniture selections are perfect for hosting a gathering or relaxing on the couch. Tiara included bookshelves for displaying the clients collector items with a perfect color pop blush pink chair pared next to it.
By trading in the dark and light blocking curtains out for sheer white curtains the living area receives so much more daylight. With the use of floor lamps the space is also so much brighter after the sun goes down. The use of large scale art becomes the focal point of the space. Not only does the art draw the eye upward (helping the room feel larger) the art also acts a buffer for sound which deals with the challenge of thin walls.
When dealing with smaller spaces it can be difficult to fit all of your needs into one area. That was clearly not the case here! The client's existing desk was the perfect starting point for this practical work area. Tiara thought of all the details, even including a stylish storage solution for the entry area. The sleek and stylish room carried though to the online bedroom design. The use of geometric wallpaper and rug helped bring out the sophisticated style.
The clean lines, and contrast of black vs. white brings in the modern feel Tabitha was looking for. One of our favorite features (apart from that wallpaper!) has to be the wall sconces. By installing a wall mounted light you not only gain table space, but it brings a much more sophisticated and high end look and feel to the bedroom design.
GET THE LOOK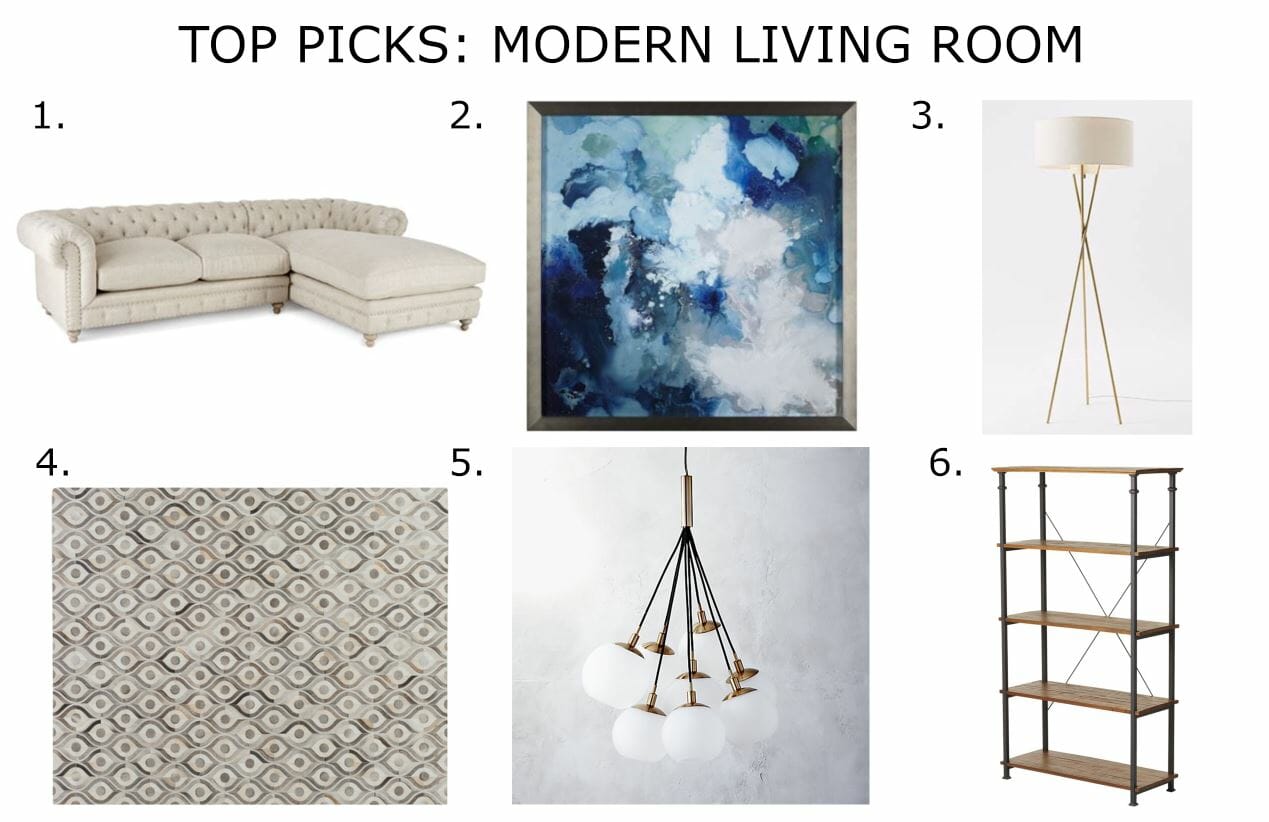 Being a very visual person, the photo realistic 3D renderings really helped Tabitha. There are also many online decorating tools that can be used to help with visualization in case you decide to design your own room. Tabitha took advantage of Decorilla's white glove ordering service too. It made handling and coordinating everything easier – as you can have items from over 200 vendors and check out all in one place. With the final package in hand, including shopping list, color palette, layout, tips & implementation guide, and discounts at several popular stores, bringing the room to life was a whole lot easier.
With a little online interior design help she now has a stunning place to call home for what would have cost 80% more with traditional interior design services.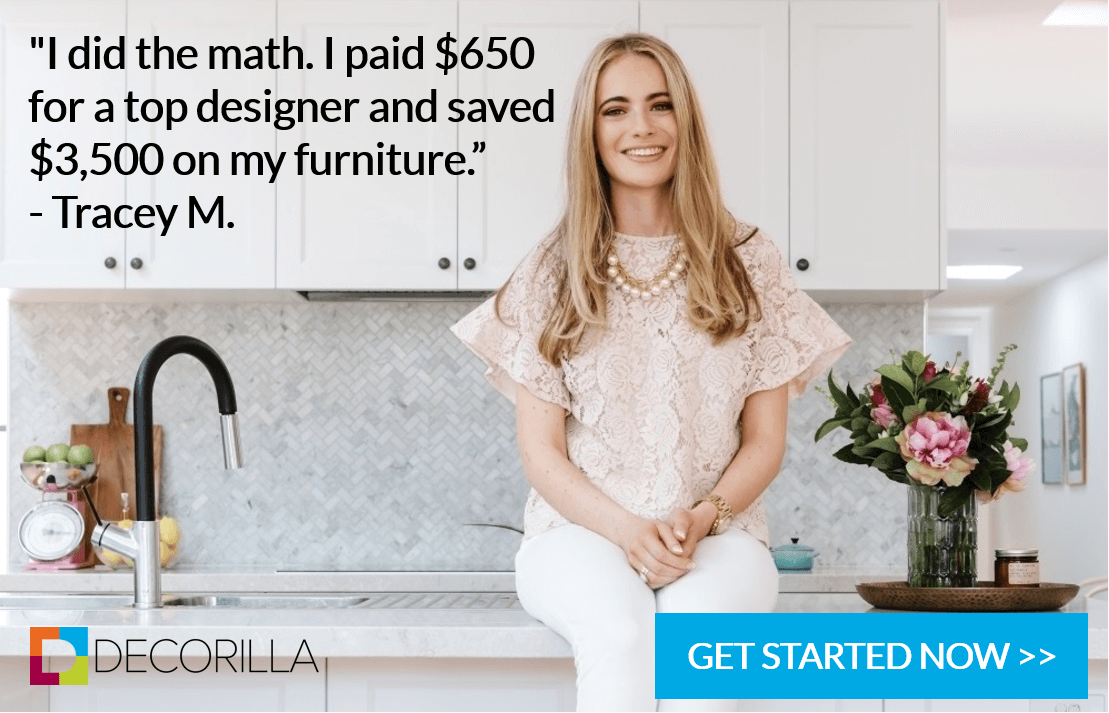 Get started today with a free interior design consultation to see how our talented designers can help you achieve your dream space.
Written by Decorilla designer, Brittany S.