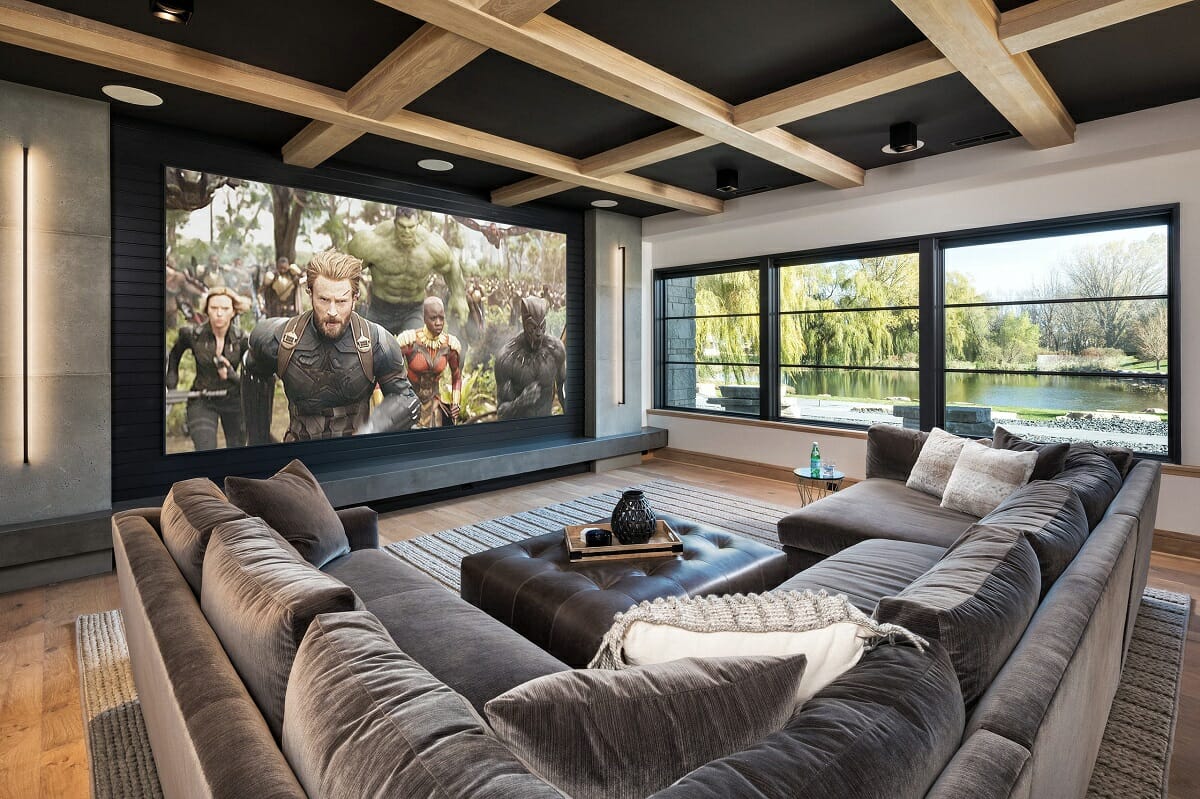 Of late, homes wear many more hats than ever. Not only a place to regenerate, relax, and recharge, a home has become an office, spa, and even classroom. But the best of all are rooms made for fun. Game rooms, hobby studios, and, of course, movie rooms top the favorites. A recent Deorilla client wanted to create just such a space in their family home. See the luxury home theater design result below – it wows young and old!   
The Challenge: Custom Home Theater Design 
Specialist rooms, like a home theater, pose unique challenges. For instance, an interior designer must consider more than typical aspects, like how to hang curtains, room layout, and color schemes. They also need to think about what will elevate the room. Lighting and outside-the-box designs are necessary to make the space feel special. For this project, the designer needed to: 
Choose a home theater layout that echoes a luxe cinema 

Include opulent finishes to transport the family to high-end entertainment 

Ensure the theater room set up is practical and comfy for all ages

Design an outdoor area that complements the interior
Need help putting together a home theater design of your own

? Then, schedule a

Free Interior Design Consultation

to get started with a top designer today!
Luxurious Theater Design Inspiration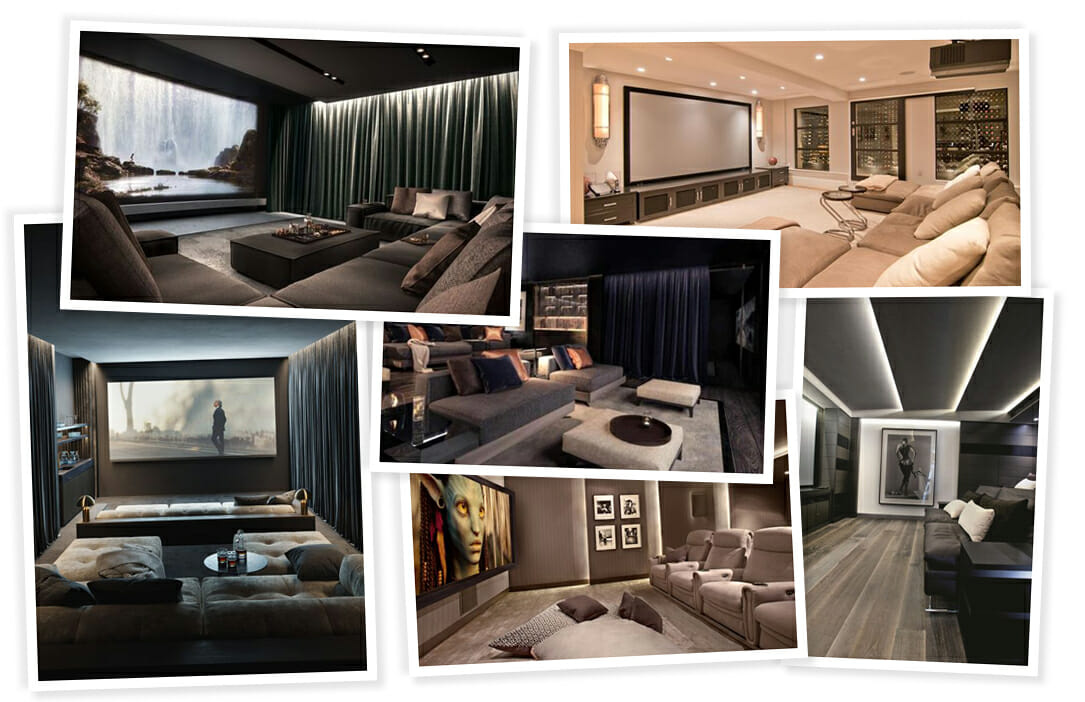 Ultra plush, comfy and bespoke spaces inspired the client. They wanted the dark and moody atmosphere of a typical cinema combined with the comforts of an intimate VIP lounge. Huge sectional sofas, LED lighting, and curtain-lined walls feature in their inspiration. However, the focal point in each luxury interior design is the central monitor or entertainment panel. In every home theater design, media is undeniably the star of the show. 
Theater Room Set Up & Moodboard 
Inspired and ready to get started, the client could complete the initial part of their online interior design in no time. A quick interior design style quiz was up first, followed by a consultation with Decorilla. After these steps, the team could pinpoint two interior designers perfect for the project. Once the client had a chance to consider proposals by both designers, they picked Casey's theater room set up. 
Casey H. created a modern yet glam cinema moodboard. It boasts a dark monochromatic color palette, designer lighting, and a focal media wall. She also suggests neutral décor to tie into the mostly gray furniture. The beige and sand hues will work well to keep the room from feeling cold. 

Luxury Home Theater Design Result
From empty and plain to home theater deluxe, the interior design ticks everything on the client's wish list. It exudes grandeur while being homey enough for relaxed family movie nights. The design is a complete picture, from floor to ceiling and everything in between. Dark wood flooring sets an elegant base, while deep gray walls create an intimate atmosphere. And lastly, the tray ceiling with contrasting white and charcoal hues round off the frame of this elegant space. 
Lighting also plays a significant role in luxury home theater design. On the one side, downlights cast a welcome glow on the furniture below. And on the other side, a contemporary arched floor light highlights the immediate area – making it easy to snack and nibble without worry. The media panel also gets LEDs to illuminate the focal point. Two LED-lit posters also flank this feature to emphasize it even more. 
In addition to strategic lighting, the space boasts a wall lined with plush velvet curtains. They wrap around to cover the patio's entrance. So, ensuring a blackout for an atmospheric movie night is certainly possible. Moreover, they create the illusion of a roomier space. The great rug also adds to the sizable feel of the room. Its lovely warm hue centers the U-shaped sofa and nesting coffee tables against the dark interior. Plus, it softens the look of the design.
Home Theater Layout 
The theater room set up is spacious and aimed to fulfill its purpose: to entertain and relax. The design succeeds for a few reasons, including a practical home theater layout. The U-shaped couch sits a few inches from the wall. Its position allows room for the curtains to drape and increases the room's spaciousness. 
While the seating wraps around the media center, the surrounding space makes it easy to use the popcorn machine and small bar area. The complete interior design flows out into the refreshing outdoor space when the sliding glass doors are open.
Contemporary Outdoor Area
The contemporary-meets-modern patio is such a refreshing addition to the home theater design. It's a perfect spot for enjoying a beverage and chatting before or after a thrilling film. The space also continues the neutral scheme of the interior. As a result, inside and outside is cohesive and read as one. 
Online Shopping List
Every Decorilla project comes with an online shopping list to make implementation as smooth as possible. Moreover, it comes with exclusive discounts that could amount to the cost of the design itself. In other words, a home theater can be even more accessible and affordable than you expect. 
Top Picks for a Home Theater Design 
If you like the look of this project and want to create your own, take inspiration from our top picks. Use our favorites to start your home theater interior design in no time!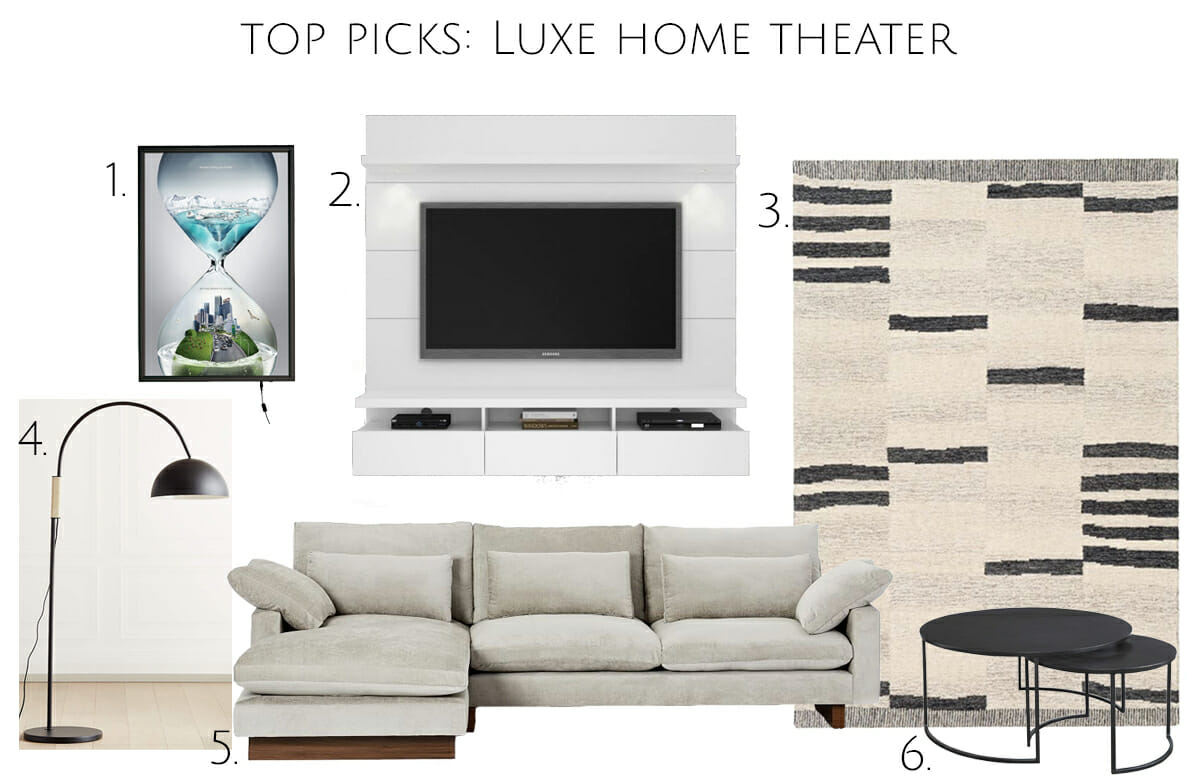 Try Online Interior Design in Your Home
Do you want to design a room with a unique purpose? Schedule a Free Interior Design Consultation to make your dream interior a reality! 

[images: 1, Decorilla project images]