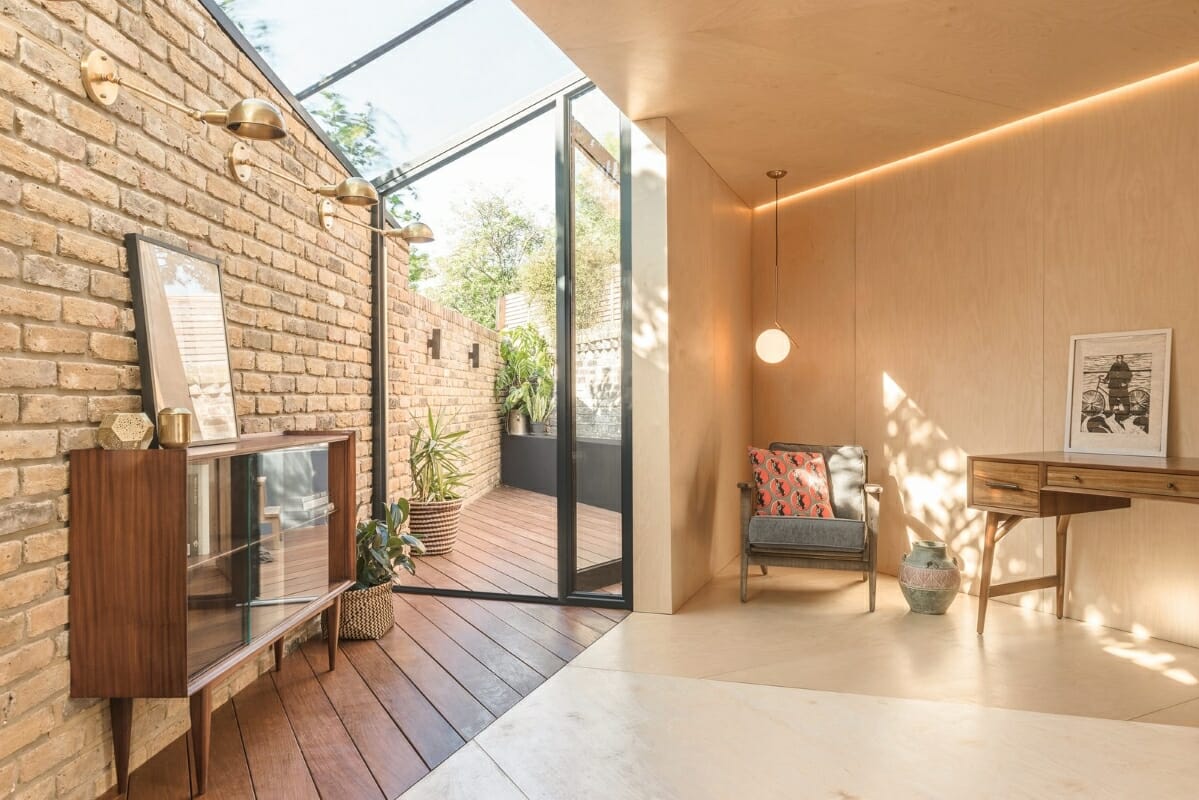 Working from home is a reality to many, as well as the challenges that come along with it. Lacking adequate space to focus on productivity is just one of them. Which is exactly why a recent Decorilla client reached out for help with a backyard home office. A clever she shed design provided the multi-use space suited for both activity and relaxing times that she was in search of. Read on to find just how this transformation took place!
The Challenge: Backyard Home Office Shed    
The client needed a proper home office for her full-time job and a place to exercise. An existing small detached shed seemed like a perfect solution. Moreover, the ideal she shed design should provide a kind of a hideout for a mother of three to meditate and relax for a moment. In other words, a couple of real challenges were awaiting the designers:
Maximizing the utility of a small space to make it highly functional

Design for a space that fits multiple purposes

Keeping it light, airy, and comfortable for full-time daily use

Finding a convenient solution for the existing family storage

A suitable background for zoom calls
Want to see more stunning transformations? Then, simply

Sign Up

for the latest room reveals delivered directly to your inbox!
Studio Office Shed Inspiration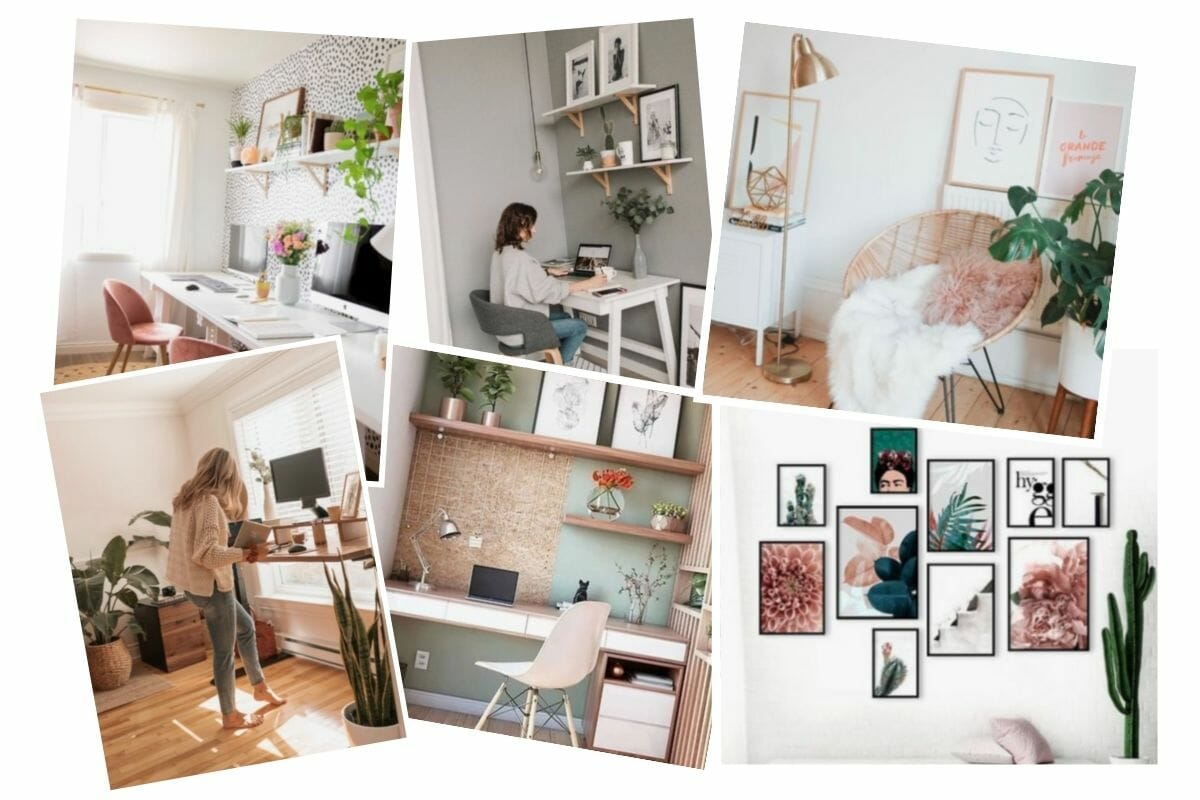 Knowing what she liked, the client provided a strong sampling of inspiration images to help the designers get started. Featured were light and bright interiors with a hint of boho design style. Adornments were minimal to show the need for an uncluttered home office design that was both functional and still stylish. Furthermore, the color palettes presented were kept to softer hues in order to help keep the space open and airy.
The Concept: Backyard Home Office Ideas
With the design brief and inspiration photos in hand, two talented Decorilla designer's got started with their concepts for this backyard home office. Although the decision was tough, it was ultimately the cozy boho minimal design from Courtney B. that the client connected with most. The moodboard concept met all the clients requirements and provided calming neutral colors, smart storage options, and an overall styled update to the she shed office.

She Shed Design Results
Courtney's she shed design achieved the right balance between a workspace and a workout area. A clean and modern atmosphere is characterized by the convenient arrangement of space-saving features, abundant storage, and a neutral color palette. The new, decluttered space is dedicated to maintaining a healthy focus and enhancing productivity while also providing a soothing environment for meditation and relaxing time.
The existing makeshift desk equipped with a drafting chair is now replaced by another set, offering proper ergonomic options for an 8-hour workday. A new light fixture is ceiling-mounted in order to leave sufficient space for workout movements around the exercise bike. Discreetly glossy Benjamin Moore's Classic Gray on the walls conveys the feeling of spaciousness. At the same time, it provides an ideal background for accents in the client's favorite boho decor style.
The client wanted durable, easy to install flooring for the backyard home office. So, the choice went to light, wood-mimicking laminate. A low storage cabinet hosts the daily necessities, while the new decorative curtain smartly conceals the rest of the storage. Finally, the addition of a faux fiddle fig leaf enhanced both visual dynamics and overall natural flair, providing a soothing moment to juxtapose the action-packed bike design.
Backyard Home Office Before Online Interior Design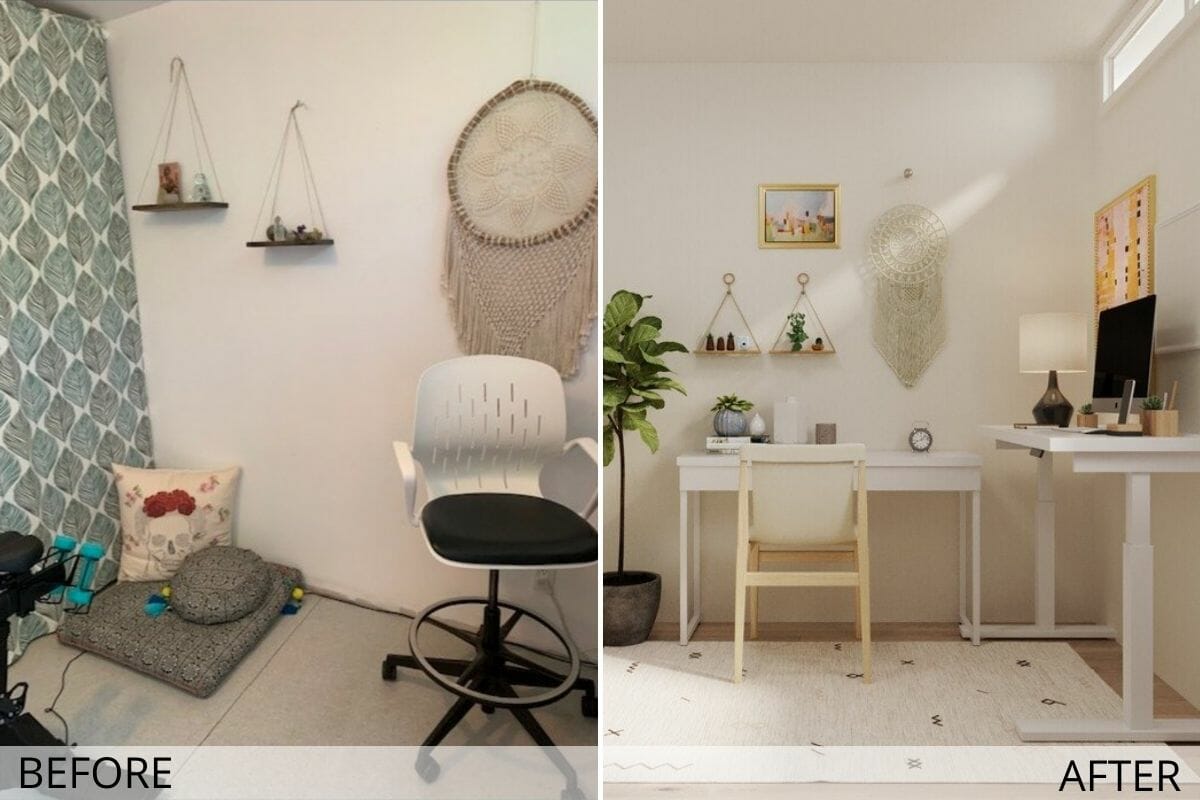 Incorporating decor elements that bring joy to the resident is the key to a successful interior design. The client loved her dream catcher and meditation pillows. However, the existing curtain was not a good fit for a Zoom call background. In addition, too many focal points created distraction and a lack of storage left all the odds and ends exposed. By organizing storage and creating dedicated zones, Courtney put every corner into practical use, maximizing the overall functionality and aesthetic of the home office.
Online Shopping List for Backyard Home Office
Each Decorilla project includes a tailored shopping list complete with exclusive trade discounts. Moreover, a white-glove shopping concierge takes care of everything, providing peace of mind regarding ordering, tracking, and delivering. This done-for-you ordering service makes shopping a breeze with all the purchases made in one convenient checkout!
She Shed Interior Decorating Ideas
Composing a small home office she shed is all about the harmony between function and aesthetics. In case you want to try it out yourself, here is a helpful list of items to get you started.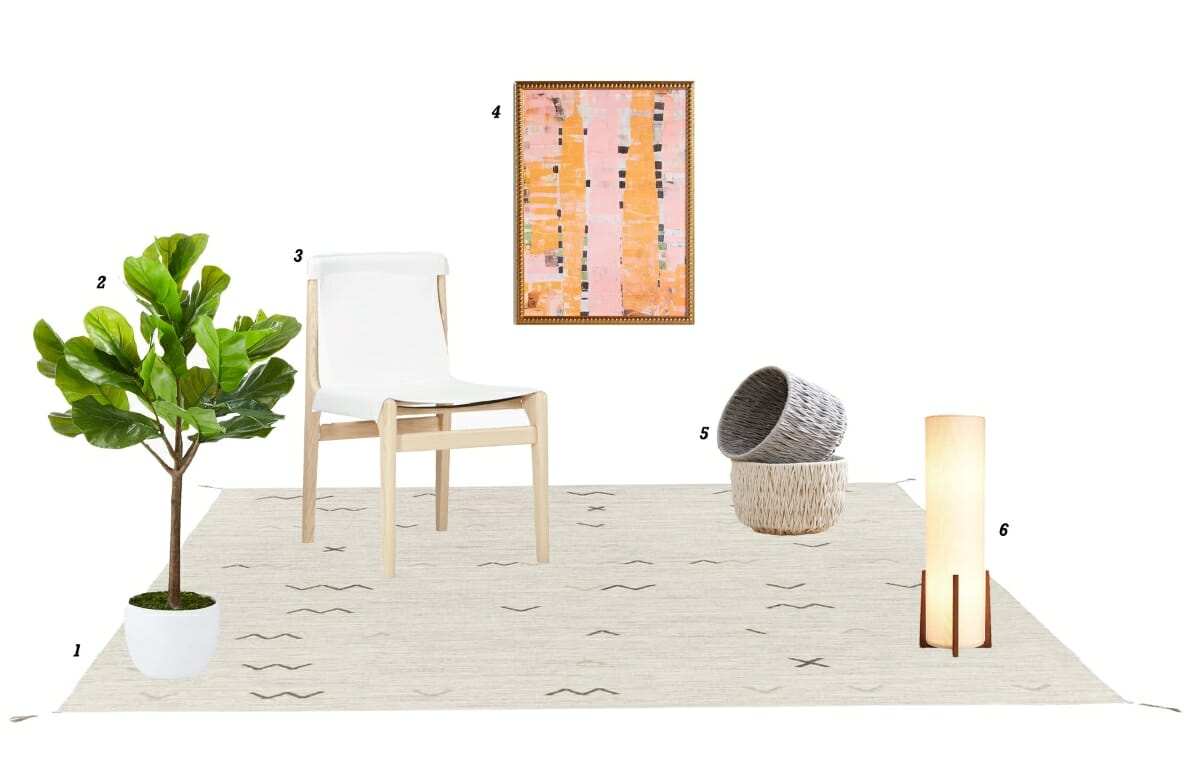 Want to try online interior design?
Dream interiors do come true and Decorilla is here to help. So, schedule a Free Interior Design Consultation to learn more about your design options today!

Source: [1]