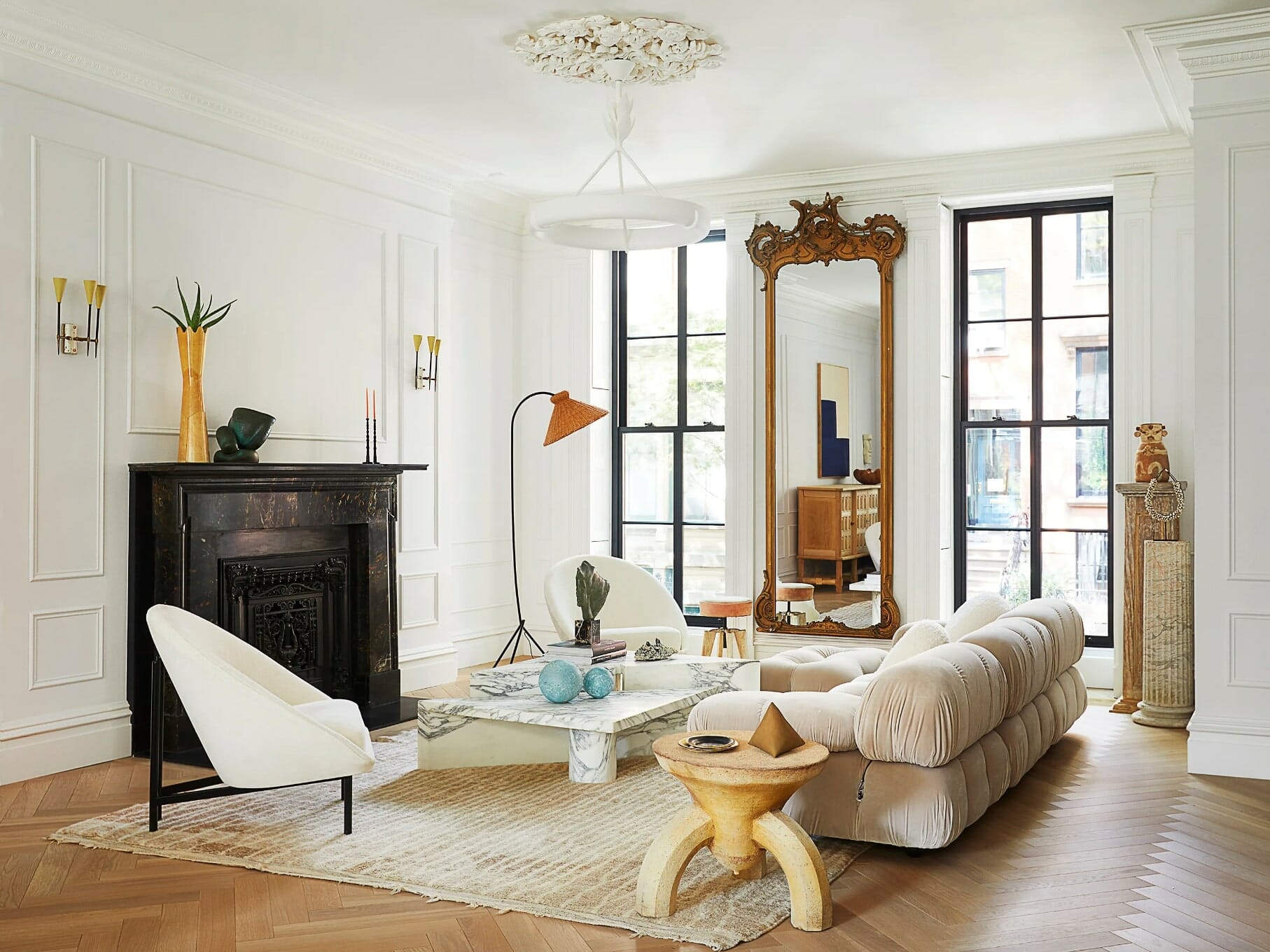 When it comes to design, there are few things more satisfying than a successful before-and-after story. This is especially true when the transformation is as significant as the one we witnessed in this contemporary glam living room. Working with a blank canvas, our designer set out to create a functional balancing sophistication and comfort. The result is a genuinely show-stopping room, sure to impress any guest.
The Challenge: Contemporary Glam Living Room 
The client's goal was to create a glamorous and inviting living room that would be perfect for entertaining guests. She was looking for a space inspired by artsy and moody Parisian interiors. The idea was to create a bright room that would feel luxurious and pulled together but also comfortable and inviting. In terms of specific contemporary design elements, she requested the designer to:
Keep the existing white Roche Boboa bubble sofa, and build the rest of the room around it

Incorporate a Herman Miller Noguchi coffee table 

Add some metallic accents in the form of an elegant chandelier, lamps, and a mirror

Select furniture and decor that would reflect the client's personal style and meet their functional needs
Not sure if contemporary glam is the right look for you?

Then, take our

Free Interior Design Style Quiz

to discover your unique decorating style today!
Contemporary Glam Decor Ideas & Inspiration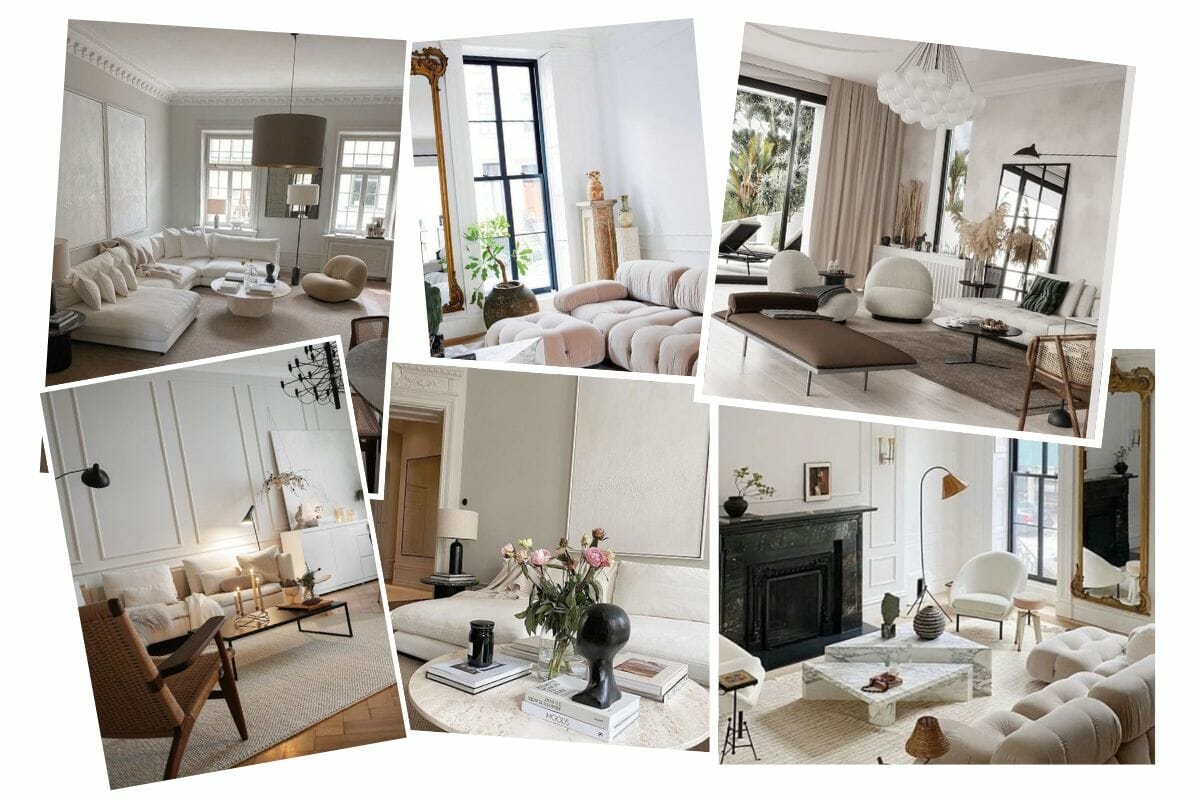 When the client approached Decorilla to redesign her living room, she had one goal in mind: maximize glamour. She also provided a collection of inspiration images that clearly conveyed her vision. Among them were tranquil neutral interiors with designs worthy of an editorial magazine. The rooms were the perfect balance between high-end design and an inviting ambiance. 
Contemporary Glam Art, Decor & Moodboard
Guided by the client's inspiration board full of her favorite images of luxurious living room interiors, two Decorilla designers offered their solutions. Diverse approaches and two different design visions helped her better understand her room's potential, making the expectations clearer. However, in the end, the client decided to proceed with the bespoke arrangement proposed by Marine H.
Marine's vision was rooted in a clean, bright, and airy environment composed of rich fabrics, sumptuous furniture, and gleaming finishes. From there, she worked with a client to refine the initial proposal, aligning it fully with the client's personality, lifestyle, and taste. Together, they perfected a final moodboard that certainly captured the exact flare the client wanted to create. 
When it comes to creating a glamorous living room, neutral colors are often highly preferred. While such a scheme undeniable feels clean and luxurious, the key challenge is to avoid it looking flat and dull. In this specific contemporary glam interior design project, Marine maintained the dynamics through the skillful layering of textures and patterns. They help to set the stage for a sophisticated composition that lacks nothing in visual interest. 

Contemporary Glam Interior Design Results
By keeping the walls and upholstery neutral, the designer created a canvas ripe for enhancing drama with bold accents and patterns. Layering different patterns also added more dimension and depth. Meanwhile, mixing smooth and rough surfaces helped convey a luxurious feel while still keeping the feel perfect for entertaining. The result was a glamorous room appeal, feeling low-key artsy, refined, and full of character.
Of course, the tufted bubble sofa remained the star of the show, accompanied by a gorgeous geometric coffee table. The rest of the arrangement comprised several black accents, including side tables and a floor lamp for a touch of contrast. There were also a soft swivel armchair and a pair of golden, sculptural wall sconces, along with a plethora of contemporary glam art and decor items adorning the built ins. 
A rug with a muted circular motif anchors the seating arrangement while adding a bit of movement to the space. Meanwhile, the set of windows flanked by the bookshelves were kept bare to allow in ample natural light. Finally, a large potted plant brought freshness and an element of nature into the space, putting a finishing stamp on this contemporary glam interior design.
Contemporary Glam Living Room Before Bespoke Interior Design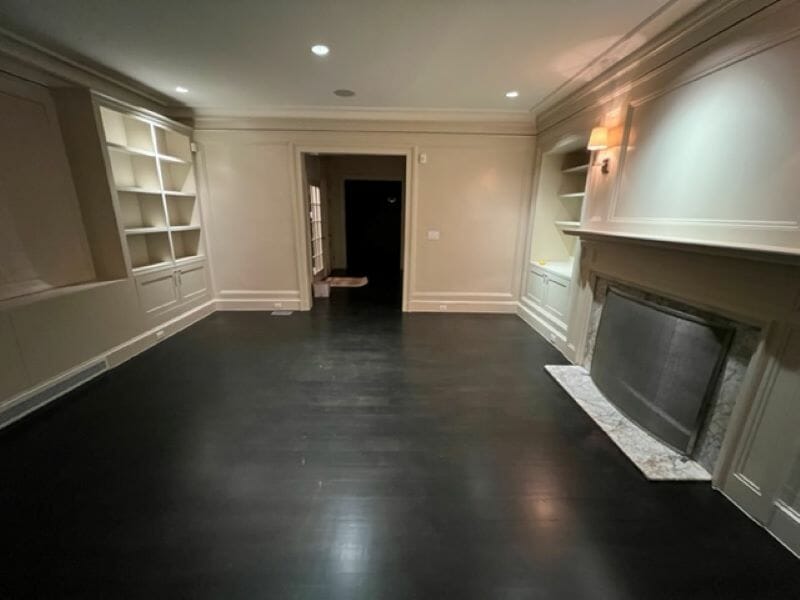 Before their home makeover, the living room was far from the glamorous space it is today. The blank space provided the perfect canvas for Marine to create a bespoke space to the client's liking. Transformed with a fresh, modern update and a sophisticated new look, the room became a perfect place to entertain guests or relax in style.
Contemporary Glam Decor Shopping List
In addition to a custom design, every Decorilla project comes with a helpful array of benefits. These convenient packages include photorealistic 3D visualizations of your new space, an implementation guide, and tailored design advice. Moreover, a personalized shopping list comes with numerous discounts, often amounting to savings greater than the original package price.  
Top Picks for Contemporary Glam Living Room
If you feel inspired to spruce up your existing living room with some contemporary glam art or new furniture pieces, check out some of our favorites.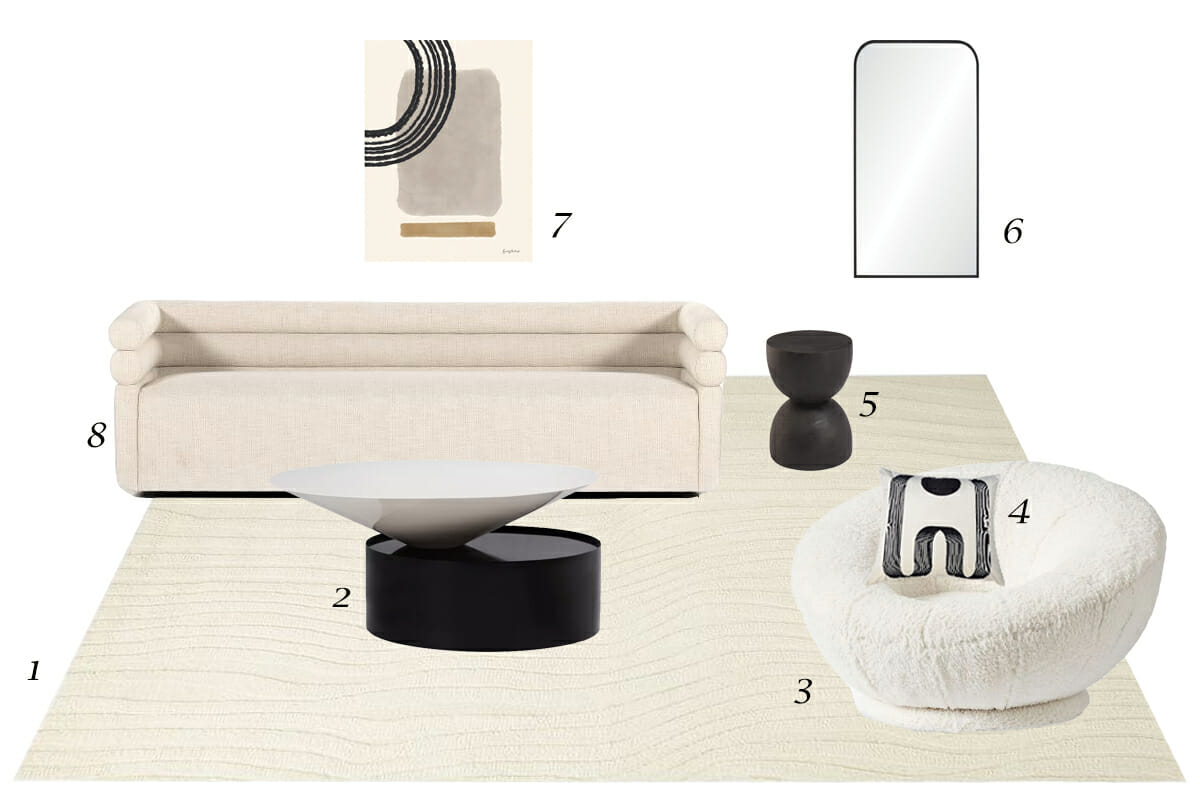 Want contemporary glam living room makeover of your own?
You too can have your dream room become a reality! Simply schedule a Free Interior Design Consultation to start working with an industry-leading designer today!