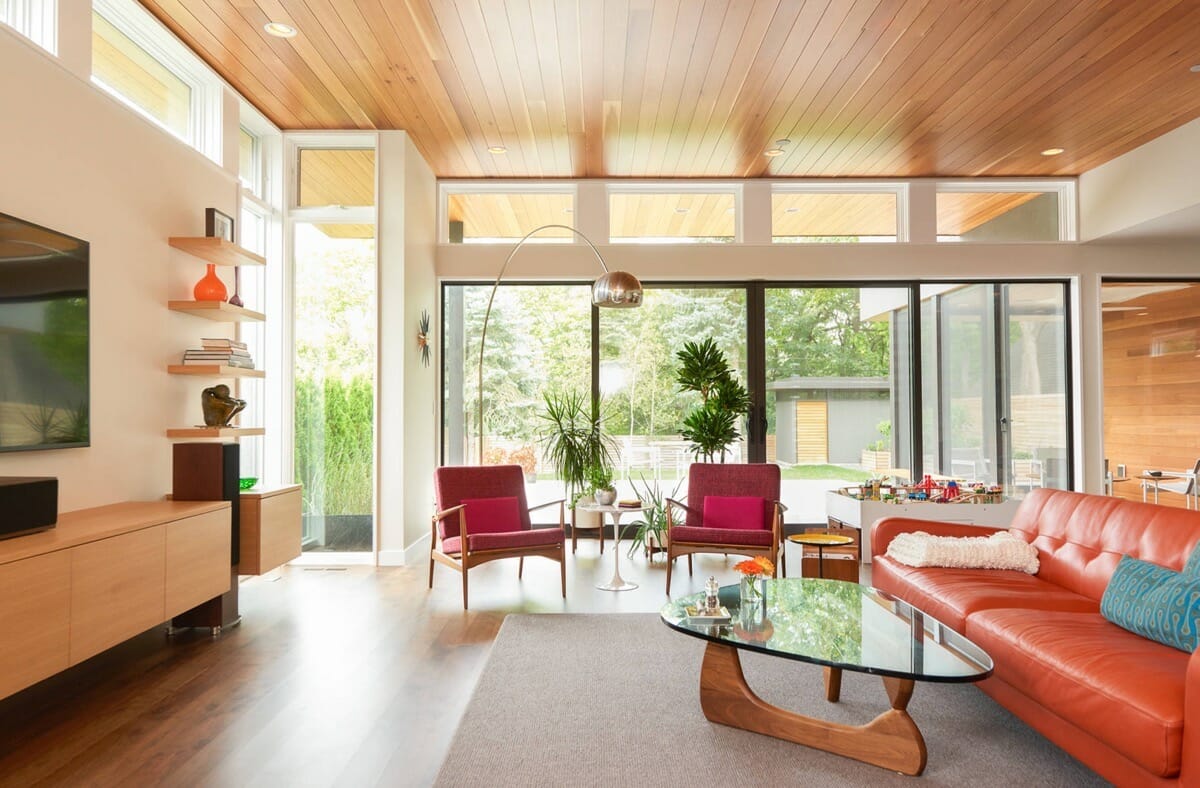 Simple yet sophisticated, functional yet fun – mid-century modern design is multifaceted. Its enduring legacy goes beyond clean lines and colorful palettes. Today, many embrace mid-century interiors because of the happy, uncomplicated vibe. One family wanted their project with Decorilla to accomplish just that for their new home. Read on to discover how this dream home became a reality!
The Challenge: Mid-Century Interior Design
Before choosing a design service, the clients did their research. They knew what they wanted for their home: a tasteful and updated mid-century modern style. But the clients also used Decorilla's mid-century design tips to refine their inspiration. So, to exceed their expectations and succeed, the designer had to:
Decorate the interior in a mid-century modern style that feels timeless and contemporary

Design the second bedroom and bathroom to have a woodsy and rustic national park lodge feeling

Incorporate an area rug with nostalgic value into the guest bedroom's design

Choose pet-friendly materials and avoid delicate or light-colored fabrics

Use a cohesive style and color scheme throughout the mid-century modern interior 
Love the behind the scenes look into amazing before and after transformations? Then,

Sign Up

to have the latest room reveals delivered directly to your inbox!
The Inspiration: Mid-Century Modern Décor Ideas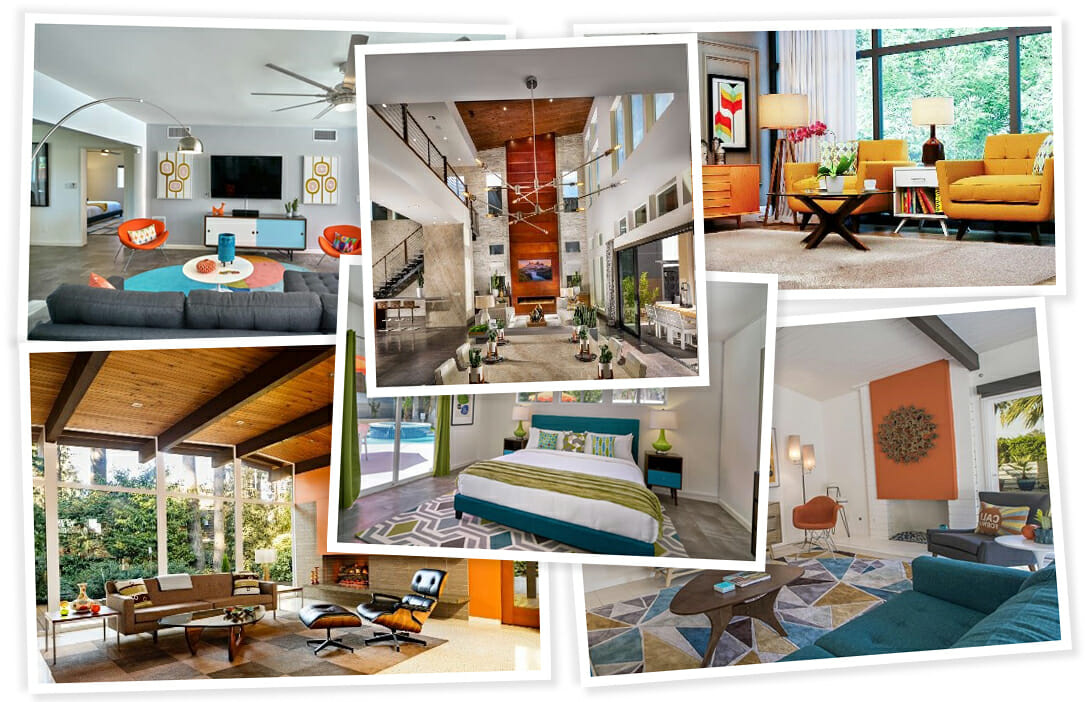 The clients not only needed an online living and dining room design but a complete home solution. Fortunately, they had plenty of ideas. For starters, the clients' inspirational images show their love of mid-century modern décor. They also gravitated towards comfy furniture with simple shapes and straight lines. Additionally, their favorite spaces prioritize functionality and embrace organic influence. 
When it comes to the colors, vibrant shades of teal, orange, and yellow top the clients' list. These bright hues not only make spaces pop, but also suit mid-century interior design. Although they had a good idea of what they wanted, they were open to suggestions. The only thing they wanted to keep was an iconic Eames Chair.
Mid-Century Interior Mood Board & Design
As the clients were so sure about which style they liked, it took them no time at all to finish Decorilla's initial process. They started with a quick online interior design style quiz, after which they set their mid-century modern design brief. Once complete, they submitted everything to the team. Decorilla then used the information to identify designers perfect for the project.
From there, two interior designers used the clients' brief to create a moodboard each. Both concepts include a teal, orange, and yellow color scheme and feature mid-century modern décor. 
In the end, the clients decided to go with Casey's bright, cheerful design. From décor to finishes, colors, and patterns – it ticked every box. Plus, it included that sought-after Eames chair. Casey managed to put together a concept that felt retro yet timeless. She also took extra care picking out durable materials and quality pieces that could withstand daily wear from pets.

Mid-Century Modern Design Results
Ultimately, the final mid-century interior is a fantastic representation of the era. Plus, the design is perfectly suited to contemporary times as well. Whether stepping into the foyer for the first time or relaxing in the open-plan living and dining room, nostalgic awe is sure to sweep over visitors. It's all thanks to the mid-century modern décor and furniture, chosen and arranged with a designer's touch.
Welcoming Mid-Century Modern Style Foyer 
As the first point of contact, the foyer sets the tone for the rest of the home. From the indoor plants to the geometric patterns and the artwork – the mid-century modern décor makes quite the impression. 
An abundance of rich, dark wood adds warmth and structure to the space. It's typical of the design period and contrasts beautifully with the off-white walls and colorful hues. The entryway is also clutter-free. Additionally, light walls, a round mirror, and a linear layout ensure that the space feels open and airy.
Combined Living & Dining Room
Wood features throughout the combined living and dining room, as well as the rest of the house. The dark floor creates a grounding base, while lighter wood furniture and accents bring warmth. 
Additionally, an uplifting orange, teal, and yellow color scheme adds contrast and balance. Together, the warm wood and bold colors create a cozy mid-century interior. Touches of white add a modern touch, while greenery invigorates the atmosphere.
The focal point of the living room area is the L-shaped orange couch with its scatter cushions. It's fun and contrasts the sophisticated black leather Eames chair. These pieces sit atop a funky triangle-patterned area rug by the fireplace.
Despite sharing a space, the lounge, kitchen, and dining area feel distinct. The designation is due to the clever placement of the kitchen counters, a decorative room divider, and an L-shaped sofa. They might act as dividers but also enable traffic flow throughout the room.
In the dining area, the focal point is a stunning live wood and epoxy table. Paired with abstract blue-green wall art and faux bird of paradise, this space has a tropical feel. The mix of white and orange chairs, as well as a striped carpet, warms the mid-century interior design.
Finally, the shared space enjoys plenty of natural and artificial light. Large windows, a high ceiling, and white walls allow sunlight to stream in and bounce around. Then, at night, each area gets illuminated by statement lighting. These include two starburst chandeliers, pendants, an arched floor lamp, and a table lamp.
Mid-Century Modern Style Master Suite
The color scheme adjusts slightly in the master bedroom. By swopping out orange for green, the room feels more relaxed and tranquil – and thus more appropriate for a bedroom. Mustard and moss-colored mid-century modern décor balance cooler hues while adding some coziness. 
In addition to confident hues, the bedroom also features a play on straight and curved lines. Curves and straight edges retract and expand throughout the design – from the retro wallpaper to the rug, furniture, and table lamps. The upholstered headboard is the ideal midway. Its teal color is grounding and its shape features curved padding as well as straight lines.
Although different patterns appear throughout the space, they complement the mid-century interior. They're also softened and united by plenty of white accents. Also, because of the neat space, efficient layout, large mirror, and windows, the room feels open and airy.
On-suite with Mid Century Modern Bathroom Design Ideas
As part of the master suite, the main bathroom is a spacious celebration of modern shapes and materials. Here, mid-century modern bathroom ideas led to the stylish straight-lined tub and upright green cabinet. It also brought organic-shaped mirrors. The space is at once stately and calming – reinvigorated mid-century design at its best.
The bathroom consists of an open shower-and-bath area as well as an enclosed toilet. The closed-off space, however, is far from ordinary thanks to an abstract wallpaper. As for the rest of the bathroom, different floor and wall finishes line separate zones. For instance, the shower floor has dark tiles, while the wall tiles resemble deep wood. The dark tiles bring depth and contrast with the lighter bathtub and basin countertop.
Guest Bedroom & Bathroom
The guest bedroom and bathroom differ from the rest of the mid-century interior. However, they share core similarities. All rooms throughout the home feature wood, organic elements, and straight lines. The rustic guest bedroom is no different. Earthy colors, simple patterns, and natural textiles create a contemporary park lodge feeling.
Once again, the bathroom features wood-style wall tiles, although these have a weathered look. Rugged details, like the mirror and floormat that resemble raw wood slices and the stone basin, give the space a lovely tactile quality. Finally, mossy green towels add softness to the rustic guest restroom.
Relaxed & Stylish Porch
Just beyond the interior lies the porch – also decorated in a mid-century modern style. It shares the same color palette as the foyer, living, and dining areas, but the design feels more casual. A trio of round minimalist side tables pairs well with an equally mid-century modern and minimalist sectional. 
It's a whimsical setup too, thanks to a hanging egg chair, as well as abstract artwork and decorative cushions. All in all, the porch is a perfect transitional space for this fun mid-century modern home.
Mid-Century Modern Décor Online Shopping List
Putting together a mid-century modern space has never been easier! Every Decorilla client receives an online shopping list. Not only does it contain all the necessary décor, but instructions on how to make it all come together at home as well. Better yet, each shopping list also includes exclusive trade discounts!
Our Top Picks for a Mid-Century Modern Design Home
With some core pieces of décor, you too can enjoy a colorful mid-century modern home. Use our top picks below as a guide for your home design.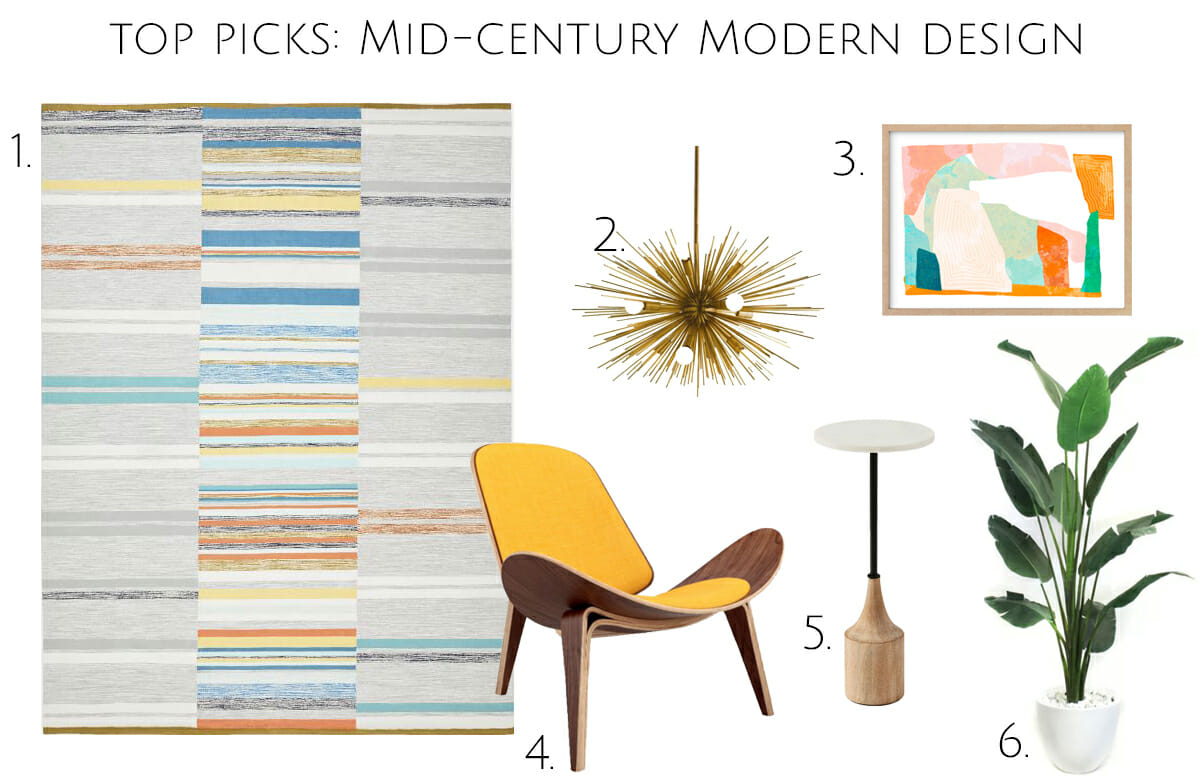 Want your own mid-century interior?
If you're feeling inspired to update your interior but need some help getting the look just right, schedule a Free Interior Design Consultation for expert assistance getting started today!

[images: 1, Decorilla project images]