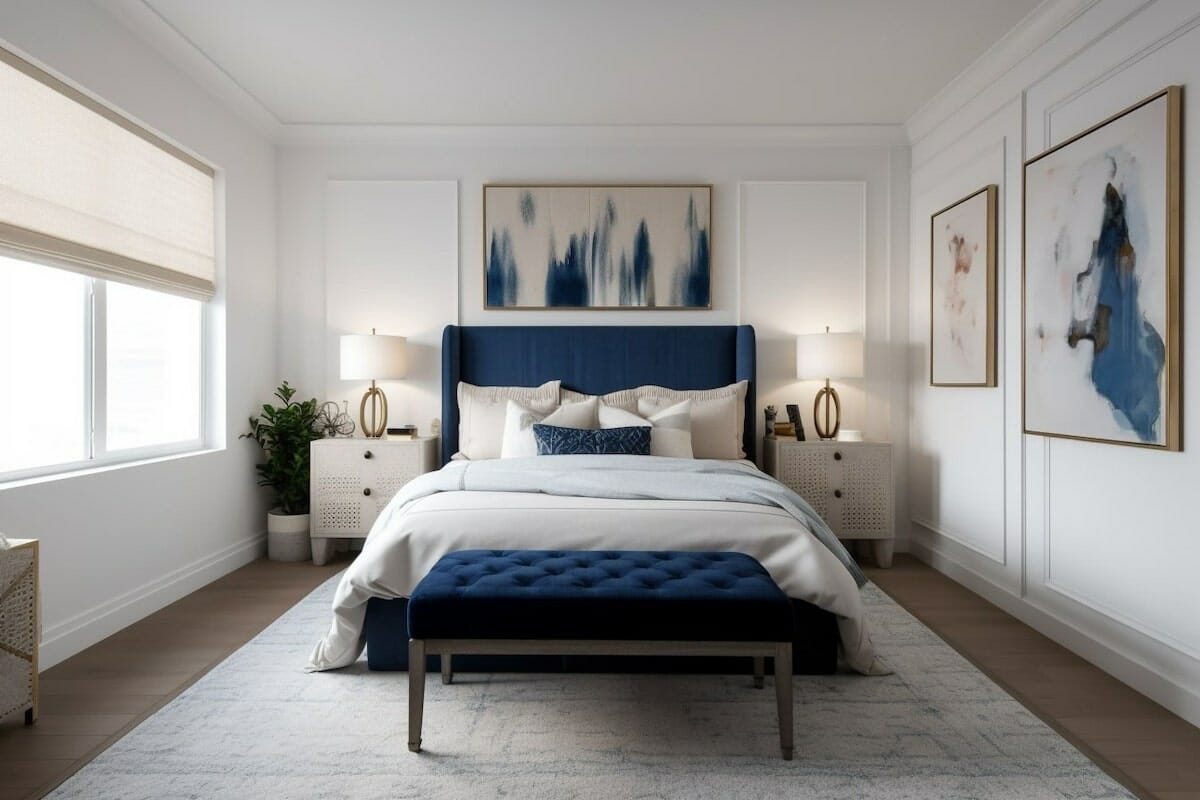 Indulge in the serenity of an upgraded bedroom with a few calming pops of color as we reveal our latest design transformation. Discover the harmonious blend of soothing hues, plush textiles, and carefully curated decor that turns this space into a captivating bedroom with blue accents, offering a tranquil retreat for relaxation and rejuvenation.
The Challenge: Blue and White Bedroom
Remodeling a bedroom is no small feat, and our recent project was no exception. The client recently moved into a new apartment with stunning views of the river. After settling a few priorities, the time had finally come to transform their function-only bedroom into a tranquil oasis full of style. The space presented a few challenges, including a slightly awkward shape and restricted size. To create a stunning bedroom design an experienced designer was required to:
Come up with a fresh, tranquil bedroom layout

Keep the bedroom interior design simple but with a dash of glam

Source new furniture and accessories, focusing on organic and visually interesting forms

Add a touch of blue to the décor 
Pro Tip: Create a tranquil bedroom that matches your interior design style. Not sure what that is? Then take our

Free Interior Design Style Quiz

to find your true decorating style!
Inspiration for a Tranquil Bedroom With Blue Details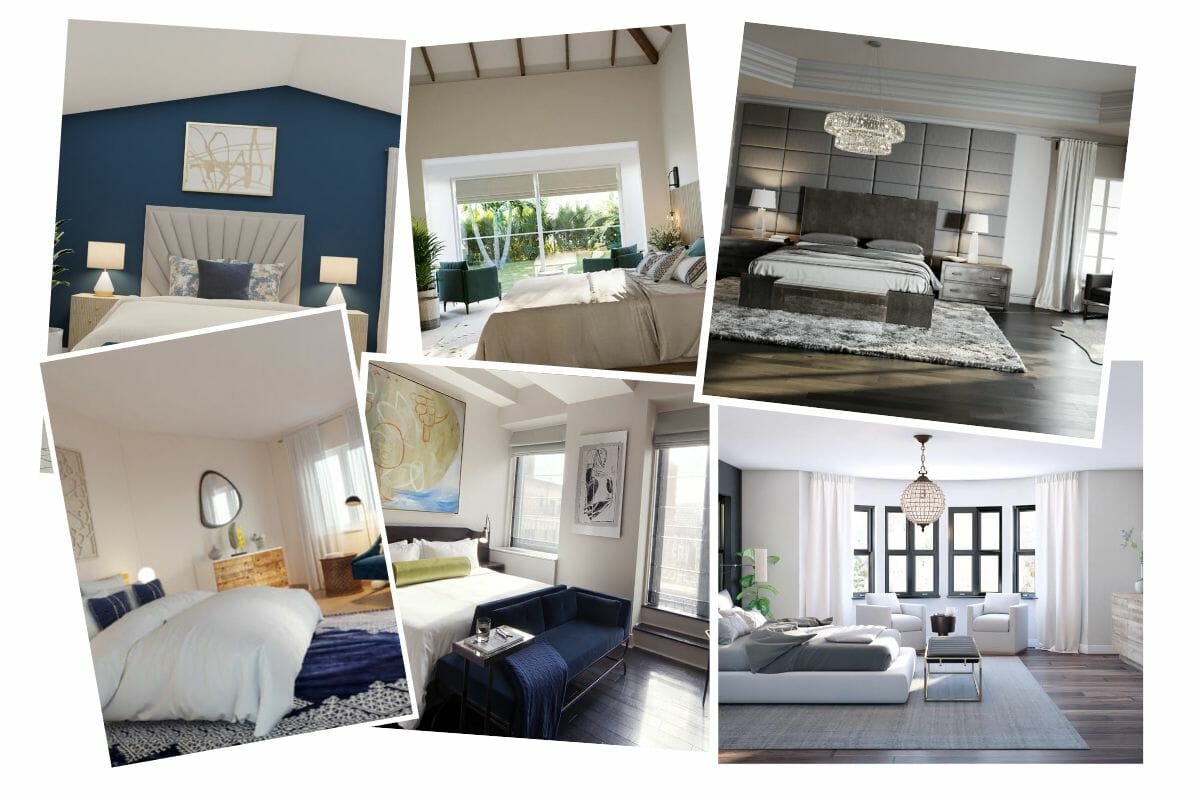 When the client approached Decorilla with a vision for their master bedroom design, she knew precisely what she wanted to achieve. It was all about the right kind of atmosphere, tranquil and elegant, modern yet timeless. The gallery of images she provided featured an array of white bedrooms with blue details, from cool and deep navy shades to soothing cornflower tones, each radiating a sense of serenity. Meanwhile, curated decor and intricate accent patterns provided a strong visual statement, dynamic but coherent. 
Blue Bedroom Ideas & Moodboard
For the Decorilla team, this gallery of images served as a powerful tool for inspiration. The design questionnaire also helped them understand the client's needs and lifestyle in order to find the ideal interior designer for the project. 
Not one, but two experienced bedroom designers offered creative blue and white bedroom ideas that could bring the client's vision to life. Their moodboards captured the essence of a peaceful and serene space in every detail, making a choice between them challenging. Finally, the client opted for Sonia C. and her tranquil white bedroom with blue elements.
A popular color scheme proved the best choice for achieving this atmosphere. Sonia's blue bedroom ideas exuded calmness and relaxation, making it the perfect retreat after a long day. And when it comes to furnishing the blue and white bedroom, simplicity was the key. By opting for sleek and minimalistic furniture pieces, she evaded the trap of overwhelming the confined floor space. 

Blue and Neutral Bedroom Design
The final design result is a tranquil space that inspires rejuvenation. Thoughtfully crafted, the room's layout maximizes both functionality and aesthetics. It flows seamlessly, taking into account the size and shape of the room, while attention to detail is evident in every element. Meanwhile, soft lighting complements the choice of blue and white decor, carefully selected to avoid feeling cluttered or overpowering.
The trim paneling on the wall provides a perfect background for artwork to hang above the bed, making it the key focal point of the room. The layout allows for a full-size bed while still feeling open and airy, and a blue bench that plays a multifunctional role. Besides providing lounging space, it makes an elegant centerpiece concealing the heat/ac unit at the same time. Complemented with hanging planters, it also forms a stunning vignette, underlining both the organic and glam room vibes.
Blue and neutral bedroom elements effortlessly work together to set the right tone. The upholstered bed frame and wooden nightstands perfectly complement the existing dresser, while the area rug enhances the set's organic character. Paired with blue accents, such as a soft throw, bench, and art, they create a cohesive and soothing ambiance. As a result, these blue and white bedroom ideas turn a simple room into an oasis of tranquility.
Before the Transformation
A skilled designer knows how to overcome all obstacles in a practical and creative way. Consequently, this once purely functional space has been replaced with a cozy and stylish retreat. Enhancing a simple white bedroom with blue and neutral tones resulted in a serene atmosphere, inviting one to unwind and relax after a long day. In addition, the subtle balance between the calming palette, sleek furniture, and elegant adornments has created a sense of effortless elegance that exceeded the client's expectations. 
Bedroom With Blue Accents Shopping List
Decorilla's innovative interior design process paves several clever shortcuts to turning bedroom visions into reality. It includes furniture and decor options meticulously selected to fit the clients' ideas, lifestyles, and budgets. All creative solutions are showcased in captivating 3D visuals and complemented by expert tips and comprehensive implementation guides. Moreover, with exclusive trade discounts available through the shopping lists, homemaking has never been more effortless or affordable.
Blue and White Bedroom Ideas & Top Pics
When setting up a tranquil bedroom, you should carefully consider every detail. Check out our top picks & ideas for creating a cohesive and calming atmosphere dedicated to rest and rejuvenation: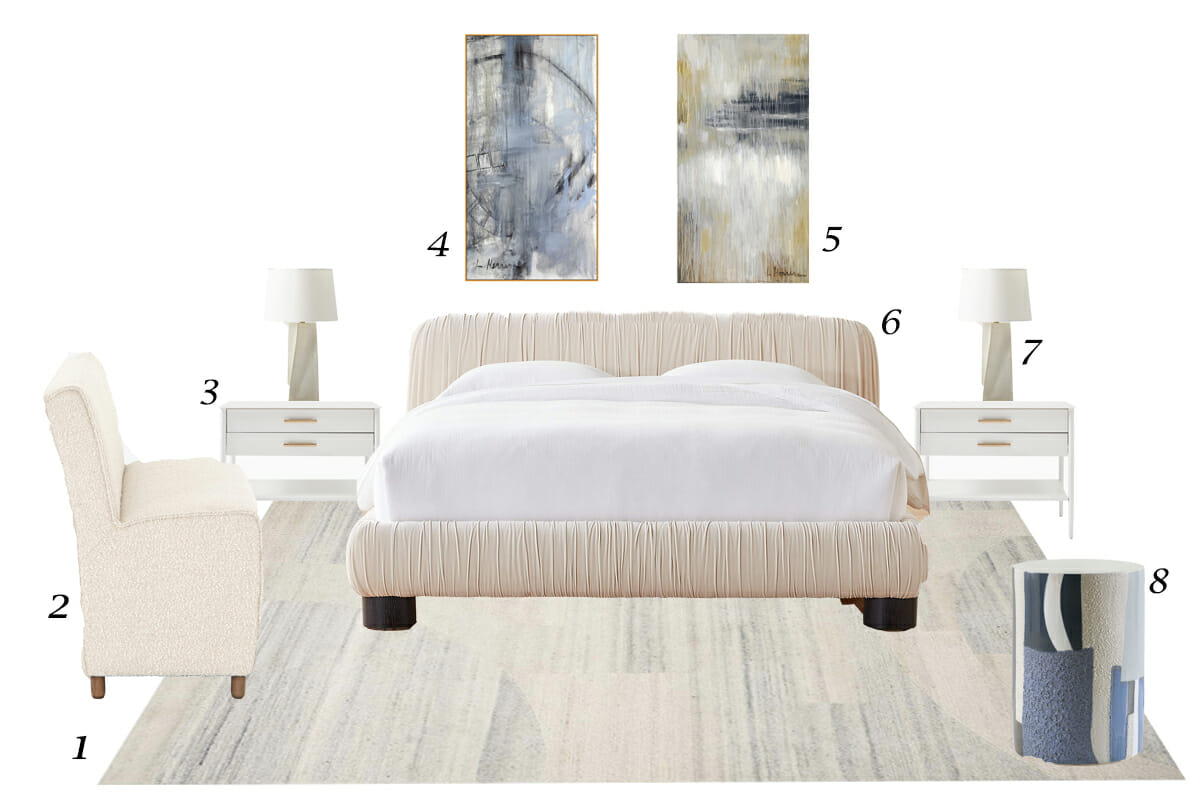 Ready to try online bedroom design?
Getting the room of your dreams is easier than ever with our expert design team. So, schedule a Free Interior Design Consultation to learn more today!