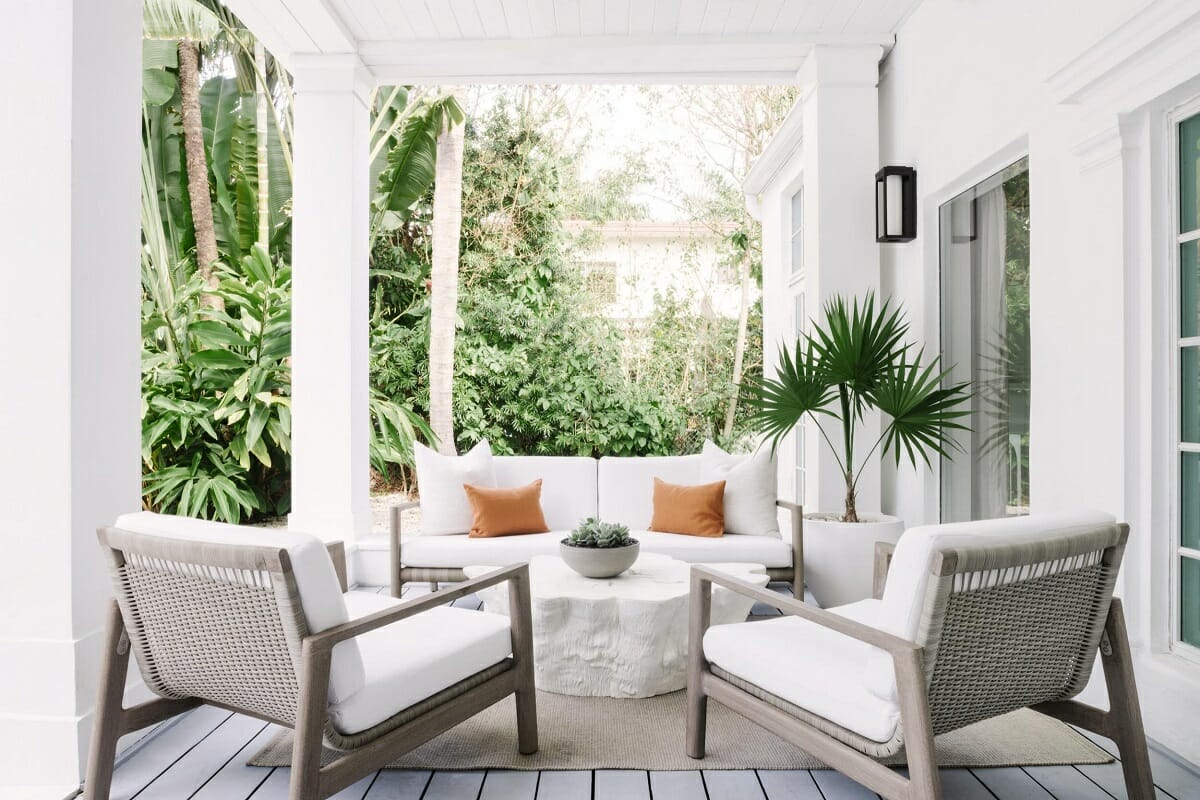 Spending time outdoors is a fantastic way to decompress. Therefore, if you can create a beautiful backyard, you must! Recent clients bought their first home and required expertise to bring their backyard porch ideas to life. So, they turned to Decorilla for help. Fortunately, with the right designer, these clients found decorating a small porch a breeze! Read on for the stunning result.
The Challenge: Porch Design
The clients wanted a cozy yet practical online patio design. Fortunately, the clients also had clear backyard porch ideas in mind. However, even though the client was clear on their requirements, every project still has its challenges. For this project in particular, the following difficulties needed to be solved:
Add a screened fence around the porch

Use a neutral color scheme

Include a practical console table

Ensure the layout is comfy, yet functional

Provide ample seating
Want to see what style matches your backyard porch ideas? Then take our

Free Interior Design Style Quiz

to find your personal style!
Small
 Back Porch Designs & Ideas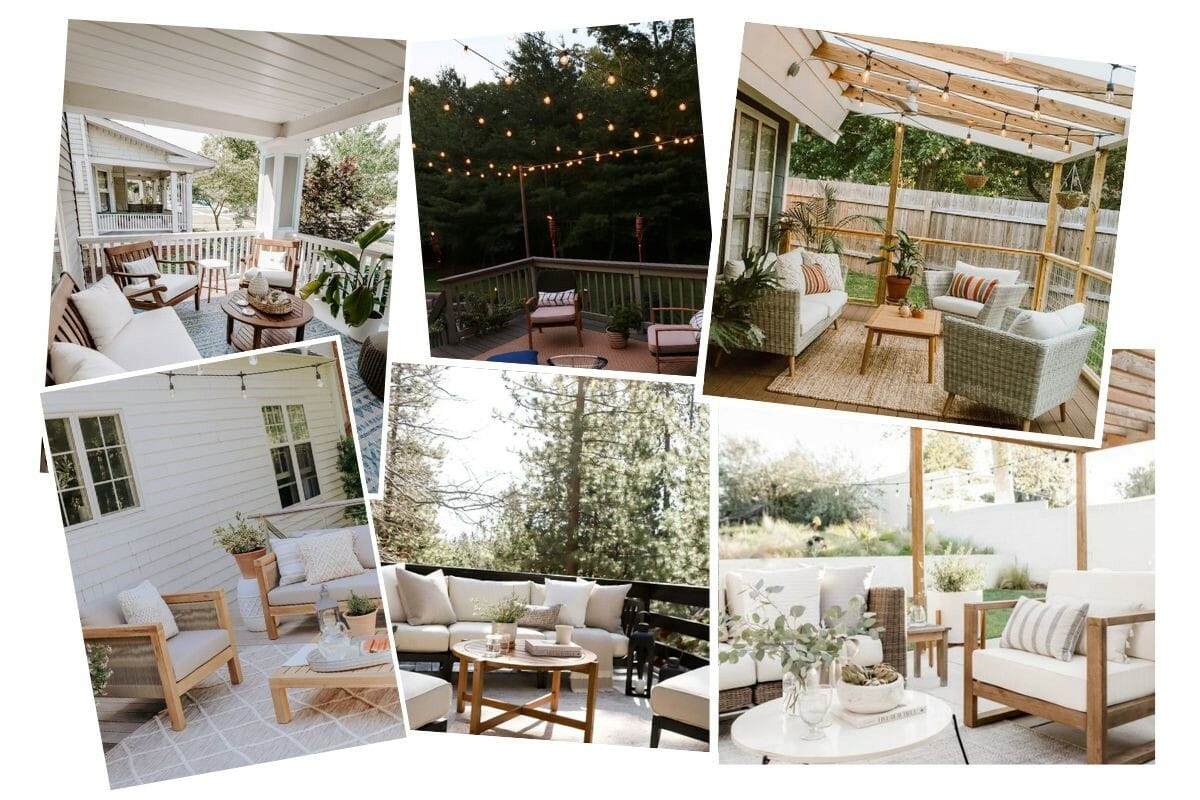 The client provided inspirational images of their favorite small porch ideas. These showcase light and summery outdoor furniture ideas and décor. Overall, they chose backyard porch concepts perfect for morning coffee and hosting casual grill nights. In addition, wood features in the furnishings, along with cream-colored upholstery to give it a modern organic feel.
Moodboard & Porch Design
The Decorilla online process ran smoothly. Once the client completed a quick quiz, they dialed into a virtual consultation with Decorilla. With the client's vision, the team could help pinpoint two designers to create the perfect concepts. While it was tricky to choose between the two, the client opted for Liana's design.
Liana's concept ticked everything on the client's wish list. She suggested a contemporary mix of furniture for the backyard design. Furthermore, she included a screen around the patio in her layout. As for décor, Liana opted for minimal touches, such as scatter cushions and greenery. A unique aspect of her small porch decorating ideas is the outdoor string lighting, which cloaked the space in a warm atmosphere.

Porch Design Result
The designer's backyard porch ideas uplift the client's outdoor space. This includes a screened-in deck design, a console table, ample seating, and a cozy patio. Overall, there is a neutral color palette with organic materials. Consequently, there is a calm and serene feel about this outdoor space. That's not forgetting the greenery in the planters that result in a natural and abundant feeling of outdoor life.
Nothing stands in your way on this backyard porch. The flow is natural and effective, which allows the eye to roam freely. Moreover, it allows one to take in the cohesive aesthetic and coordinated layout. This arrangement is enhanced further by a thoughtful lighting scheme. For example, the string lights add ambiance and appeal to this intimate porch.
Clever Small Porch Ideas
The small porch is a cozy yet open space. As the patio fits neatly outside one of the home bedrooms, the layout feels contained and secure. In addition, the deck sits inside stylish railing. This enhances the patio's coziness and is ideal for the clients as they have young children. Similarly, the seating's upholstery ensures easy maintenance should there be dirt marks or pet fur.
The organic wood texture of the furniture and the plants mimic the feeling of the outdoor space. The chairs and tables are cohesive in their color coding and materials. Moreover, they are accentuated by round granite side tables, plants, and an anchoring rug. The coffee table, pedestals, and console tables allow plenty of surface for activities. These can range from enjoying a meal to playing board games.
Small Porch Decorating Ideas
The decorating of the porch design is consistent and uniform. To anchor the seating space, a cream rug has been placed under the outdoor sofa and accent chairs. In addition, a coffee table sits in the middle. A patio daybed has been placed in the corner, adding an area for lounging. Lanterns, greenery, and brass vases are included for interest. Lastly, the string lights set the tone for this comfortable space.
The brown and cream colors are coordinated in the decorating, resulting in a feeling of harmony. Pops of accents come through greenery, brass accents, and granite stone side tables. Moreover, the throw pillows hold a geometric pattern, adding depth and dimension. The use of different planters and greenery is visually attractive too.
Online Shopping List for Backyard Porch Ideas
In addition to expert designs, each Decorilla project comes with a detailed shopping list. Plus, exclusive trade discounts are included! With these helpful tools and photorealistic 3D renderings, clients can easily recreate their ideas at home. They can also visualize how it will look before making a final decision. Finally, a white glove concierge service will handle all the ordering and shipping. So you receive your orders conveniently and timely!
Our Top Picks for Small Porch Ideas
A striking outdoor area begins with great backyard porch ideas. It's amazing what a few simple tweaks can do! If you enjoyed the look of this project, why not recreate it in your own space? We've compiled our top picks for an outdoor haven below.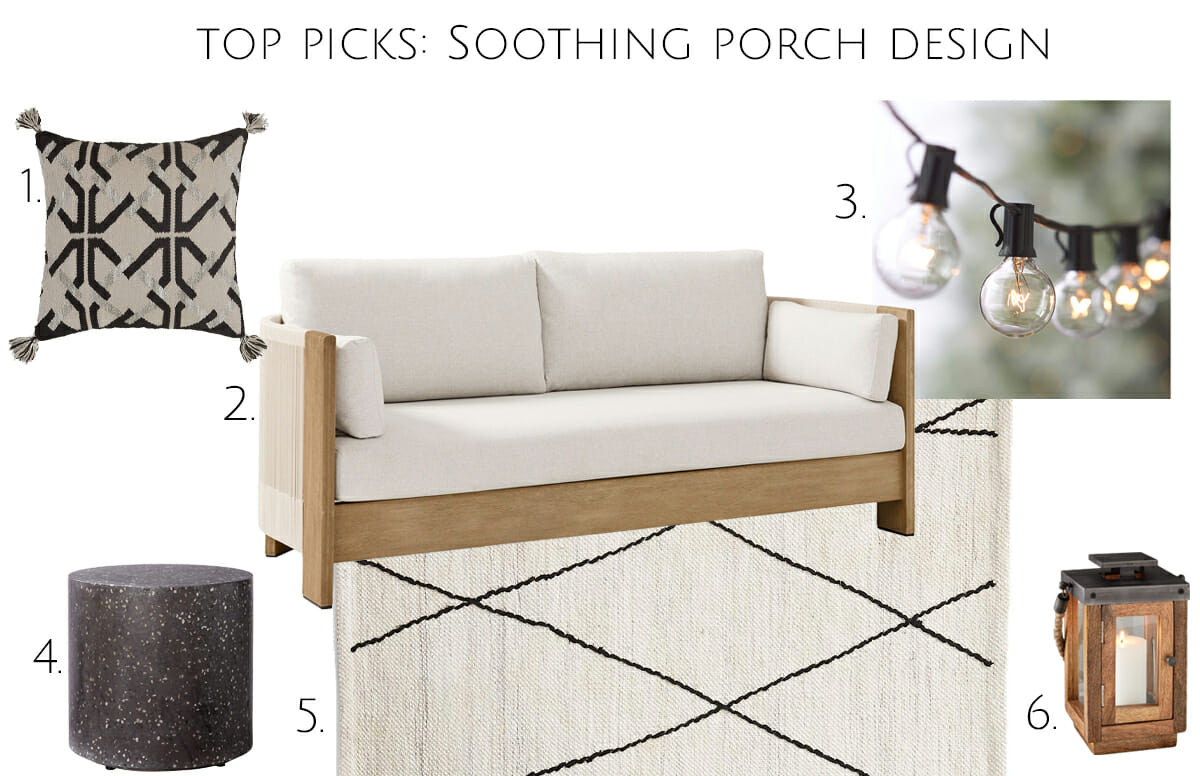 Want to refine your background porch ideas? 
Upgrade your outdoor space with the help of our leading team of expert designers. Simply schedule a Free Interior Design Consultation to learn more today!

[images: 1, Decorilla project images]