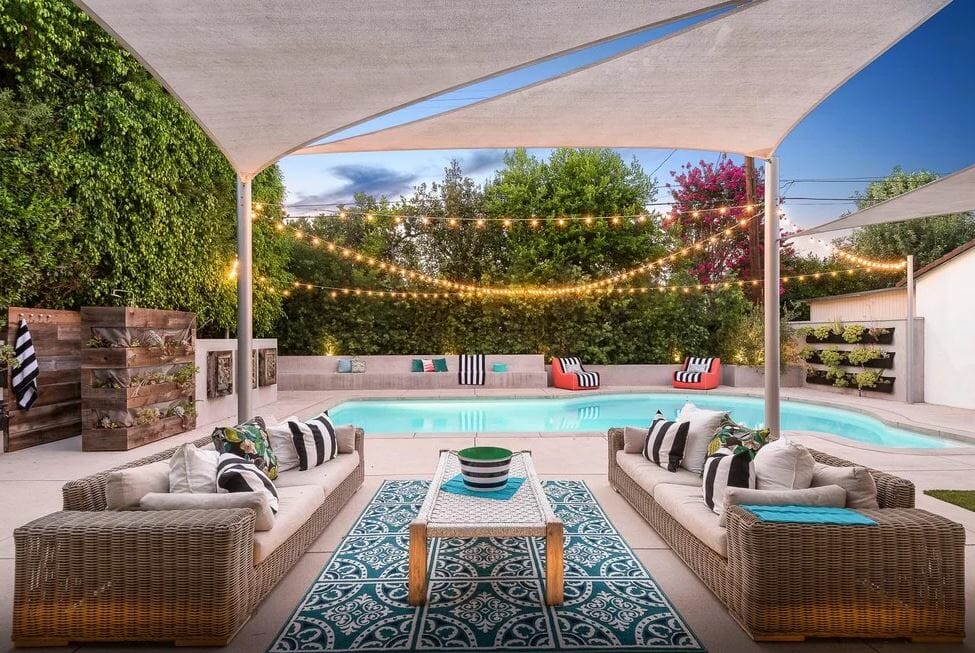 There is no better way to celebrate summer than with spending a relaxing day outside on your patio surrounded by family and friends.  Make your get-togethers even more special with a few easy tips and tricks Decorilla interior designers love to use. These beautiful backyard patio ideas on a budget will certainly have you sipping on a cocktail in style in no time. Read on to get Refreshing Outdoor Patio Ideas for a quick update.
1) Comfy Seating for a Relaxed Outdoor Design
Casual outdoor seating is the number one most important Design Essential For Your Outdoor Living Space. Happy guests are certainly comfortable. With this in mind, it's essential to make sure everyone has a comfy seat. For example, updating the cushions of your existing patio furniture or adding vibrant scatters can make a get-together more fun. Weather-proof scatters with playful and summery patterns can also add a fun twist to your outdoor design.
No furniture, no problem! You can create a bohemian picnic with blankets, cushions, and your coffee table. Not only can you use large patio cushions for laidback seating, but you can also add seat structure with pallets. A pallet bench is one of the many affordable DIY backyard patio ideas that can make your outdoor design standout.
2) Luxurious Patio Design Ideas: Flowing Fabric
Soft material can make a sweeping difference to a bland outdoor design. In fact, your favorite flowy fabric can provide your deck with shade and a striking touch of luxury. Attach inexpensive brackets and curtain rods to the inside of pillars or pergola edges then drape your chosen curtain where you want it.
Adding white curtains is one of the DIY backyard patio ideas that will instantly refresh your outdoor design. Be sure to choose a material that can endure the weather or remove soft textiles after an outdoor event.
3) Romantic Backyard Patio Ideas on a Budget: Soft Lights
Warm lighting can make a deck feel magical at night. Copy the effect of candlelight with fairy lights. The welcoming glow makes string lighting one of the most popular backyard patio ideas on a budget.  Drape strings of fairy over a pergola, loosely wrap them around your porch railing or bunch them above a table for a soft sparkling centerpiece.
If you like vintage furniture, decorate your backyard with old statement light pieces. Just remember to hide electrical wiring. If you want to add a statement light to your outdoor area, get online patio design Help From Interior Designers here.
4) Backyard Patio Ideas DIY: Pebble Paving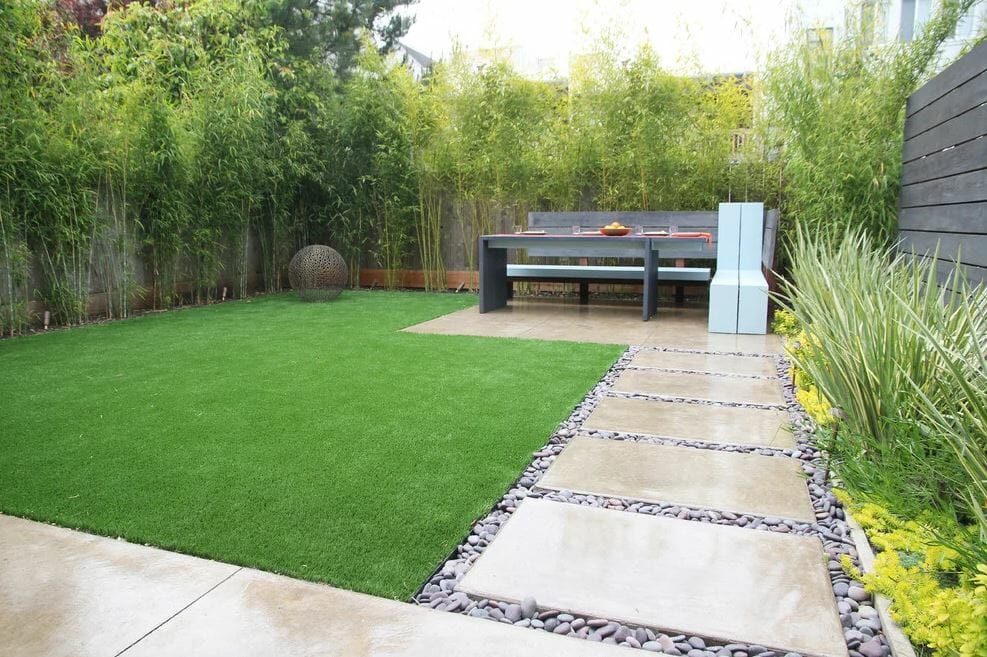 One of the top DIY backyard patio ideas on a budget is all natural. You can update your patio design ideas, big or small, with a bag of pebbles. Pick up a bag (or two, depending on the size of your pathway) of stones from your local hardware store and create a walkway to or from your BBQ deck.
Inspirational backyards have it all: stylish seating, a beautiful deck, and a manicured landscape. Pebble pathways will not only keep your guests off of the lawn but will also add sophisticated definition to your backyard.
5) Backyard Patio Ideas DIY: Paint a Rug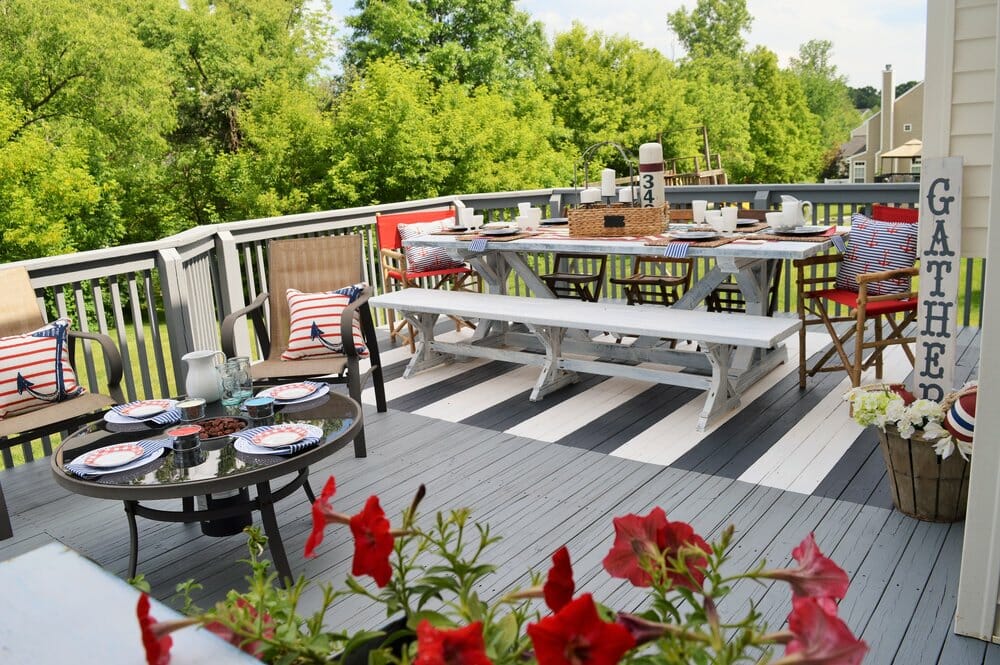 Who said a patio needs to be one color? Update your outdoor design by painting a faux rug onto your deck. This is one of the DIY ideas that fits into any budget. Measure and mark the area first to ensure that you're happy with the placement; underneath an outdoor dining table or a patio lounge is ideal. Have fun with the color; you can always change it next summer.
Backyard Patio Essentials: Natural Elements
Summer Pinterest boards overflow with patio ideas, and the inspiration doesn't end with affordable DIYs. A few essentials done right can make patio design ideas come to life. To make the most of your outdoor area, adding natural elements is a must. The basic elements, (fire, air, water, and earth) can completely transform a boring backyard. Adding nature is simple. With a few tweaks to your garden or deck area, and you'll be all set.
Fire: Incorporate the welcoming glow of fire into your outdoor design with a firepit. A firepit is certainly useful throughout the whole year
Air: Good airflow is non-negotiable for outdoor areas. But what should you do when the air is humid and still? Use outdoor fans with a built-in water mister to ease the heaviness of the heat. If you like the sound of wind chimes, hang one or two in the treas or from your pergola to add a musical ambiance.
Water: The sound of water is naturally calming and relaxing. Plus, water features also look good. Ask your landscape designer to add an artificial stream into your backyard (if you have space) or choose small waterfall or fountain structures to add calm.
Earth: Greenery not only looks good but also gives humans a health boost. Take care of your garden, add tactile elements like stone and gravel or create a vertical garden if you don't have a lawn.

You can conquer backyard patio ideas on a budget and host an incredible alfresco celebration. But if you need a little extra help to define your exterior with online patio design, Schedule A Free Interior Design Consultation Today!