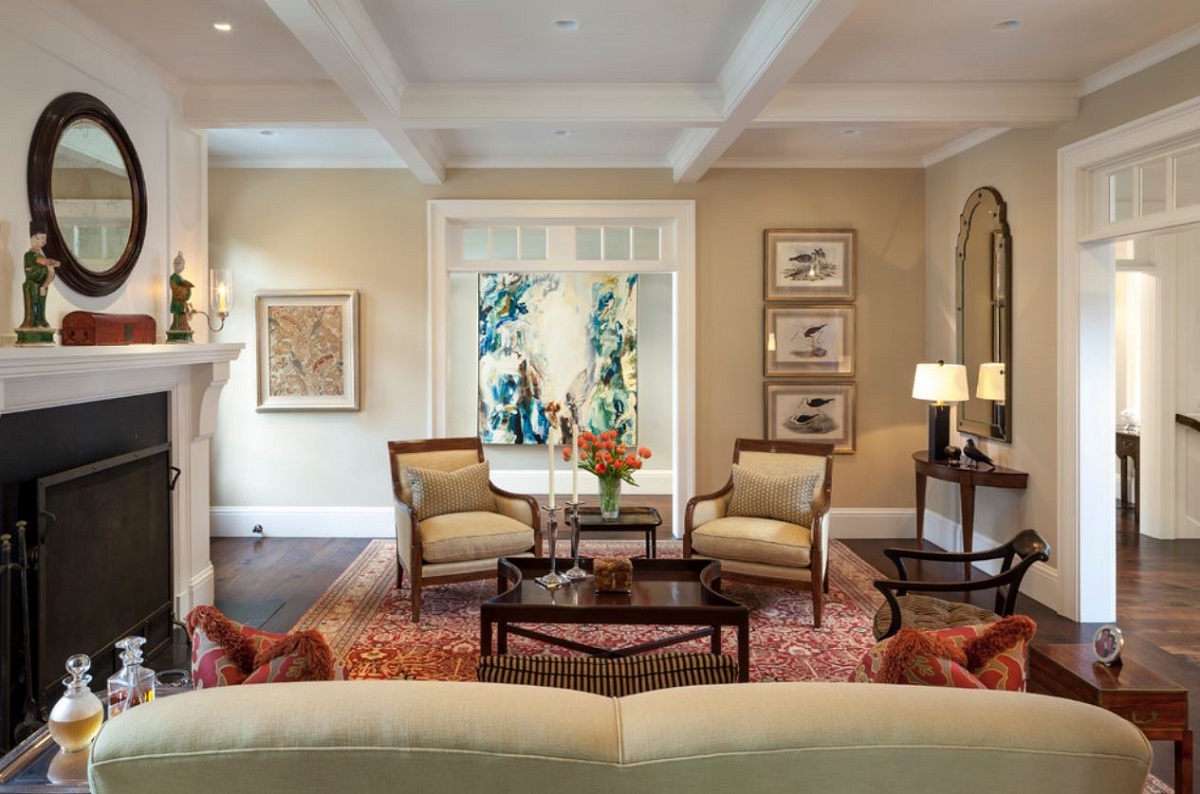 Stately and classic, an English Manor style is certainly covetable for many reasons. For starters, they emanate refined indulgence with patterned fabrics and floral bouquets. Yet these spaces have a masculine air to balance the feminine details. A recent client wanted their home to exude just this look, which is why they turned to Decorilla. See the tasteful traditional living room result complete with an elegant coffered ceiling!
The Challenge: Traditional Living Room with a Coffered Ceiling
Clutter can make a space feel neglected and disorganized. And so, a lack of arrangement and uncertain furniture placement made the home feel frumpy. It needed a lift. But to get it right, the design team had to take on challenges unique to the project. More specifically, the designer had to:
Incorporate the elegance associated with an English Manor into a home in the US

Design a traditional open plan with a few existing furniture and décor pieces

Create a coffered ceiling

Include a dining nook while ensuring a free flow layout
Want to see more stunning transformations? Then, simply

Sign Up

for the latest room reveals delivered directly to your inbox!
Inspiration: Traditional Living Room Furniture & Decor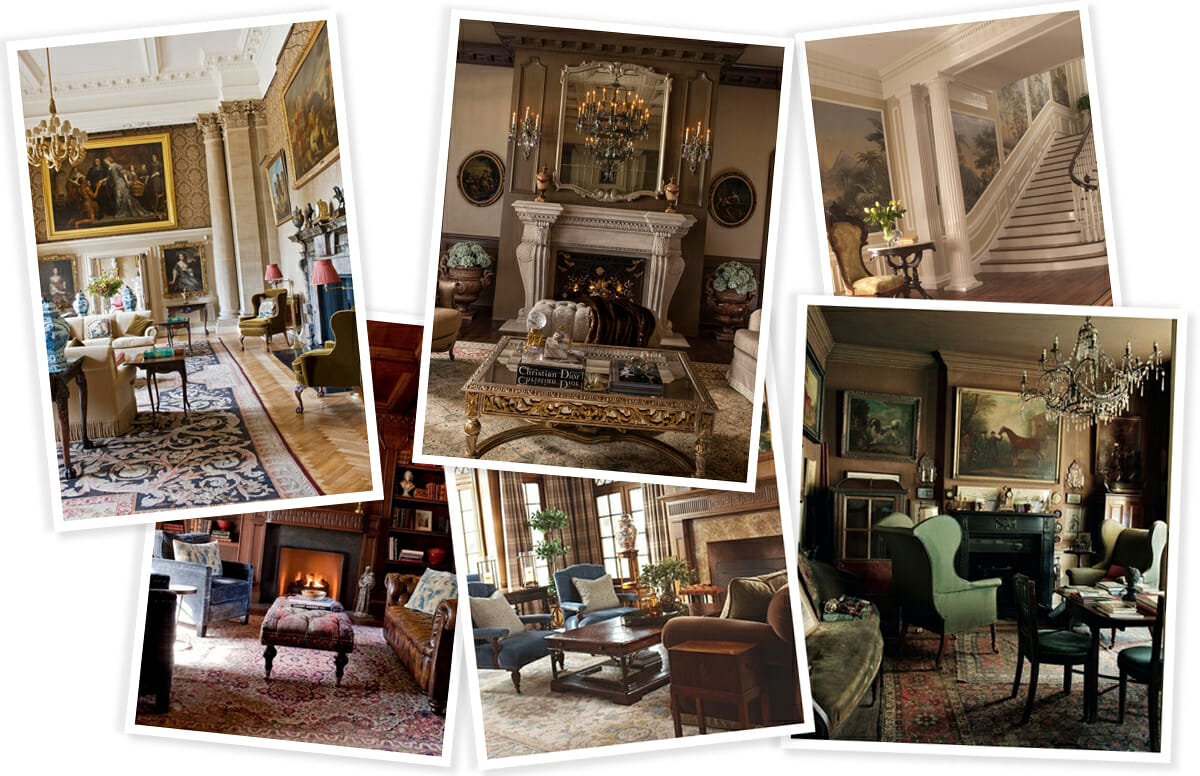 Grand, impressive, and formal spaces filled the client's inspiration gallery. These interiors feature traditional décor pieces, like mirrors, artwork, and intricate rugs. Furniture items have bold round arms, deep cushions, tufted upholstery, and ornate chair legs. Above traditional interior design, the client also loves detailed cornices and coffered ceilings.
Mood Board & Online Interior Design
After the client set the brief, designers could create and present their initial concepts. Considering distinct online interior designs by two designers was tricky as the client loved both. However, it was the proposal by Drew F. that triumphed. His promising warm scheme would set the tone for a cozy coffered ceiling living room. 
To instill the classic ambiance of a manor, Drew chose traditional living room furniture with a light yet warming color scheme. His concept merges Tudor-style and structural features to highlight the home's architecture.
Drew suggests a timeless dining table and chairs for the dining nook. As for the lounge, contrasting leather furniture set the tone for a handsome interior. He also chose decorative scatters, traditional rugs, and elegant lighting to round off the open concept design.

Traditional Dining & Living Room Result
After the update, a coffered ceiling living room and dining nook certainly show off style and direction. A cohesive and nature-inspired color scheme creates an elegant but welcoming atmosphere. The accents also complement the natural stone tiles and fireplace with its wood mantelpiece. This sets a balanced base for traditional living room furniture and décor.
Coffered Ceiling Living Room
A new coat of paint covers the walls and ceiling, providing plenty of surface area for light to reflect off and warm the interior. This light base ensures the coffered ceilings are clearly visible. As a result, the ceiling is a showstopper, especially combined with Rococo-style crystal and iron chandeliers.
To continue the flow of light, a downlight sits in each square to emphasize the overhead detail even more. Additional lighting certainly creates a layered effect. Candles adorn the fireplace mantelpiece and transitional floor lamps frame the feature bookshelves.
Traditional living room furniture and décor echo natural hues, perfectly suited to a manor house. Although darker in hue, the furniture pleasantly contrasts with lighter elements. Instead of feeling heavy, they are grounding and tasteful. The tufted sofa and black chairs also accentuate velvet green and paisley accent pillows.
An antique rug continues the play of opposites: intricate curved shapes and strong straight lines. Most importantly, it brings together the room's details and furnishings.
Black wing-backed chairs flank the fireplace to create an impressive focal point. Central to this area is an heirloom painting in a black frame and the fireplace screen. The touches of black are just enough to define the fawn and toffee interior. 
Floor-to-ceiling curtains create an elongating effect, making the space feel tall and elegant. These window dressings feature geometric gable patterns that also match the accent pillows. The latter forms a pleasant repetition on the traditional living room's seating.
Traditional Dining Nook
The dining nook is uncomplicated yet intricate. Ornamentation comes through in shape and pattern. For instance, a hand-knotted olive rug features richly articulated floral details. In addition, 18th century-inspired Louis XVI chairs soften the look with their round backrests.
In addition, these French-style chairs complement the round marble dining table. With its white top, the dining table is certainly ideal for its position next to the window. Its light hue doesn't distract from the beautiful outdoors.
Traditional Living Room Before & After
Before the online interior design, the room had potential but lacked clarity. It was traditional but felt dated and unorganized. Thankfully, with design assistance, the client could create an interior with purpose. In the end, the updated living room shows careful consideration, distinction, and an elevated traditional style. 
Online Interior Design Shopping List
Each Decorilla package comes with an online shopping list and implementation guide. With these, the client can install the design at home while also benefitting from exclusive trade discounts. As a result, this means clients could save as much as the total of their interior design service when buying their traditional living room furniture.
Top Picks of Traditional Living Room Furniture & Decor
Creating a stunning interior certainly starts with inspiration and insights. For this reason, we've picked our favorite traditional living room décor to adorn a home. So, if you're looking for ideas, browse our top picks below.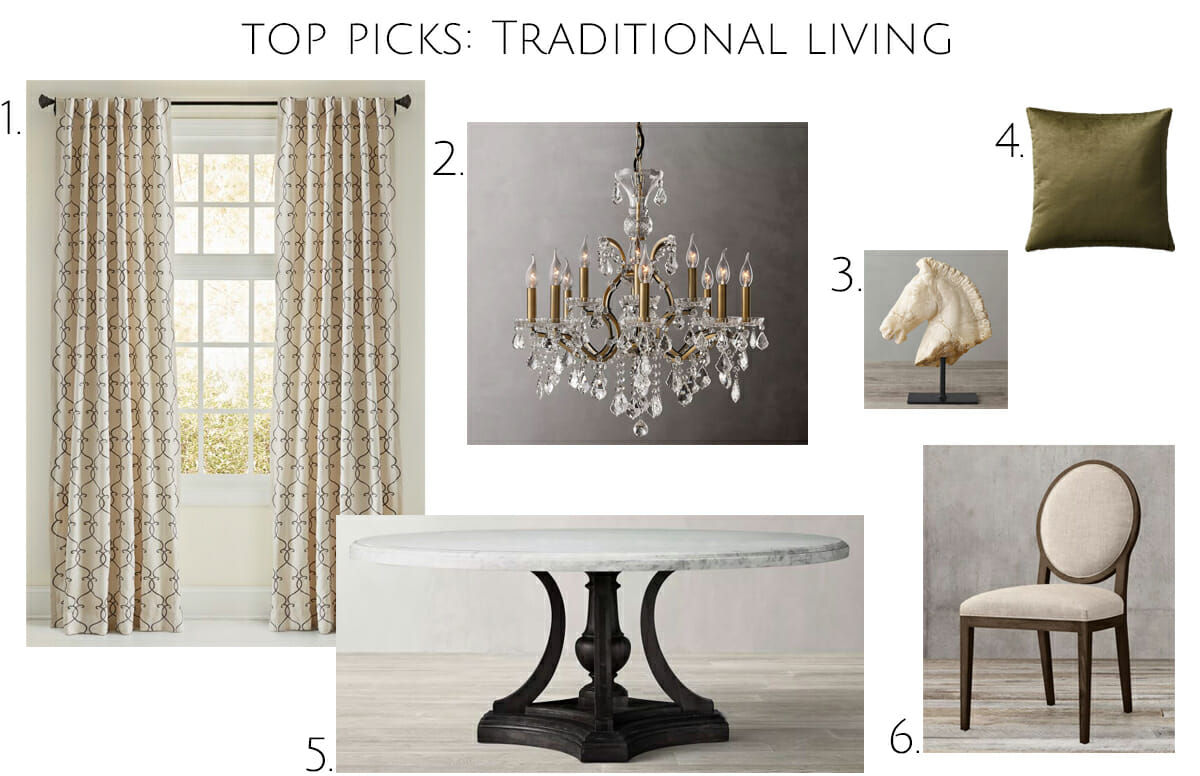 Want to try online interior design?
You too can see your dream room come to life! So, schedule a Free Interior Design Consultation to get started today!

[images: 1, Decorilla project images]