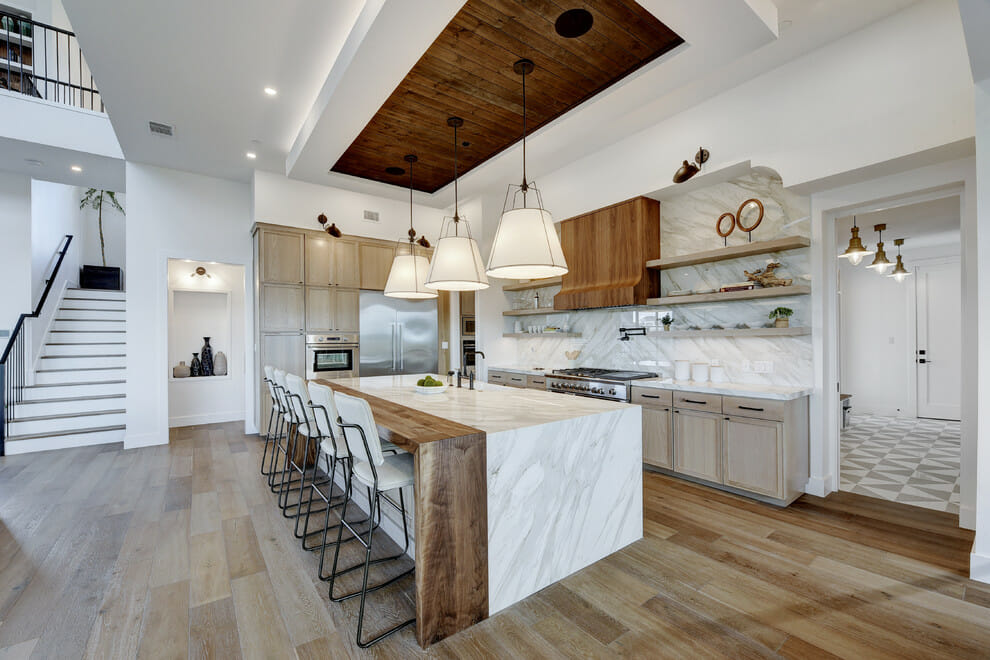 A new house certainly comes with the exciting opportunity to make a home exactly as you want it, whatever the style. One recent client quickly turned to Decorilla's online interior design services to make her rustic contemporary house dream a reality. Read on for the undeniably sumptuous yet cozy result!
The Challenge: Rustic Contemporary House
To start her journey, the client provided a wish list and aspects the designer needed to consider. With these, the online interior designer could more clearly grasp the challenges that will come with the project, such as:
Furnish an empty house to ensure a cohesive design throughout the home

Ensure the most practical and flowing layout for an open-plan L-shaped house

Include contemporary rustic décor that feels high-end yet inviting

Design an extension for the kitchen counter to allow comfortable bar stool placement

Keep the suggested zoning to make the most of the view
Not sure where to start with your own rustic contemporary décor? Then, schedule your Free Online Interior Design Consultation to learn more about your design options today!
The Inspiration: Rustic Contemporary Living Room & Bedroom Ideas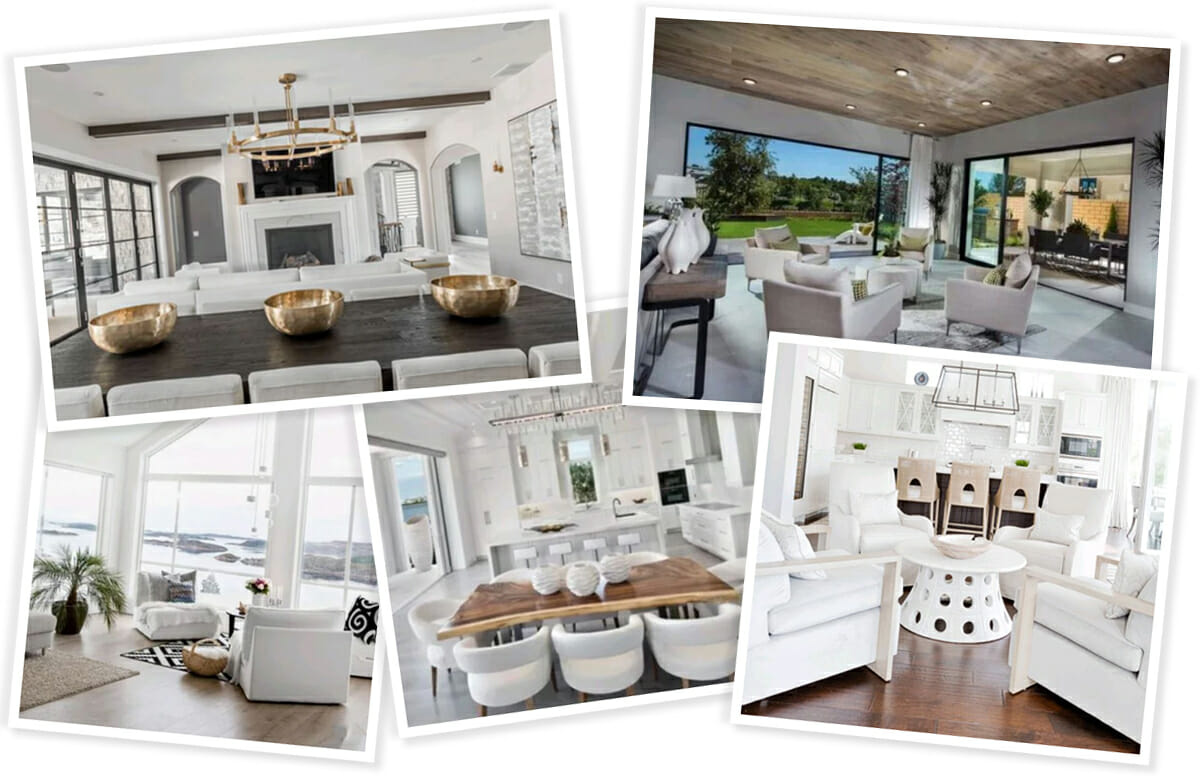 The client's inspiration ranged from refined transitional to elegant coastal interiors. Yet none of these ticked every item on her wishlist. Fortunately, some elements of these rustic contemporary houses overlapped. She loved a blend of modern furnishings against raw materials, like wood and jute, above all. Contemporary rustic décor also features and adds an organic touch to sleek designs. 
Rustic Contemporary Interior Mood Board & Design 
The client wanted out-of-the-box thinking to make the most of the home's layout. And by choosing online interior design, she made it all the more possible to tick off her requirements. After completing the initial questionnaire and consultation, the client received proposals from two designers best suited to her project. And it was online interior designer Lauren's rustic contemporary living room and dining concept that won the client's heart.  
To give the client a clear idea of the look and feel of her concept, Lauren included materials, décor, a color palette, and a suggested layout. For the material selection, Lauren opted for jute detail, wood décor, marble, and linen. Neutral colors with hints of smoky grey, for instance,  provide a sophisticated backdrop for the combination of contemporary, transitional, and rustic furniture.   
Lauren also included a rustic contemporary bedroom mood board to help the client visualize the look before finalizing the 3D renderings. Combined, plush bedding, soft rug details, earthy woods, and materials provide a contemporary but comfy concept. 
Crowdsource your decorating project today and
save!
Learn More

WATCH A VIDEO TO SEE HOW IT WORKS
Rustic Contemporary Living Room & Dining Room Result
With rustic contemporary interior design, the designer could turn the blank canvass into a trendy mix of organic and sleek. The dining area features an earthy jute rug that grounds the look set against the beautiful stone floor. From there, an industrial-style dining table, bench, and contemporary rustic dining chairs form an appealing dining area with a slim industrial chandelier overhead. Backless seating and the open-leg chairs ensure the room still feels bright and airy while creating a visual impact.  
The dining room leads to a full rustic contemporary living room on one side and an intimate lounge on the other. This smaller sitting nook serves as extra seating for those gathered around the kitchen, perfect for casual entertaining and conversation. Guests can also enjoy the view from the slip accent chairs. Moreover, the designer took care in ensuring every part of the house is practical, aesthetically pleasing, and a joy to use. And, although maximized, the interior is airy and uncluttered. 
The casual lounge has a few highlights, including a shaggy rug, a clustered chandelier, a tree stump coffee table, and oversized wall art. By playing with scale, the designer could create an impressive statement above all, without overwhelming the limited square footage. In the kitchen, the kitchen island sports an extension made from wood to allow comfortable seating for the bar stools. 
Rustic Contemporary Bedroom Result
The bedroom is certainly the pinnacle of tranquility in the rustic contemporary house. A mix of smooth, rough, and fluffy surfaces makes the room delightfully tactile. As a result, these surfaces combined with unique shapes, like the cut-out end table and folded vases, paint an interesting visual. The color scheme sticks to the main theme but features more contrast through white, black, and charcoal. 
Practicality and style are most important in this rustic contemporary bedroom. To this end, the designer included enough storage and surfaces while ensuring they bring visual value to the interior. The shelving unit, for instance, doubles as a display unit, and the end tables and bench are as beautiful as they are useful. By installing wall sconces, there is more free space on the bedside tables. The rug also is just the right size to frame the bed and make the room feel spacious. 
In addition, a sweet sitting area provides a peaceful place to unwind before bedtime. Here, terrarium-style planters and a minimalist end table decorate the space by adding a pop of green color. The armless lounge chairs are also slender enough to easily fit in the contemporary bay window. 
Bathroom with Contemporary Rustic Décor
Rustic contemporary interior design continues in the bathroom with a touch of transitional. Accordingly, a classic shelving unit makes a lovely contrast to the extended modern chevron tiles of the shower. To add color, the designer also included a dark grey floor tile as well as a dark blue feature wall. 
Online Shopping List for a Rustic Contemporary House
Like every Decorilla project, the rustic contemporary interior design comes with an online shopping list. Here, clients receive guidelines on implementing their designs, product specifications as well as exclusive trade discounts. These discounts, in fact, could amount to the price of the online interior design package, which means this service can pay for itself! 
Shop the Rustic Contemporary Look 
In reality, updating an interior can mean a small change here and there. As a matter of fact, you can spruce up your home with contemporary rustic décor in no time at all. With this in mind, look at our top picks below for inspiration!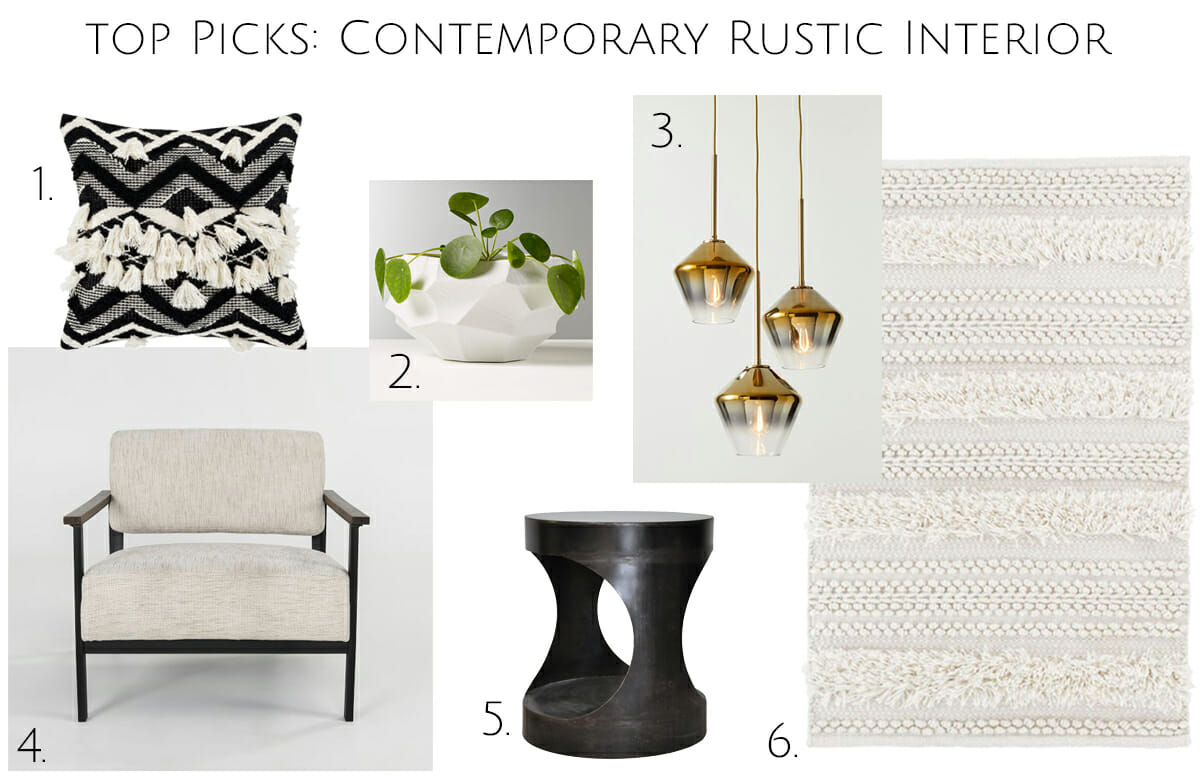 Design Your Rustic Contemporary House
Want to update your home with more than décor? Online interior design can give you the home makeover you've been craving. Schedule a Free Online Interior Design Consultation today to get started!

[images: 1, Decorilla project images]