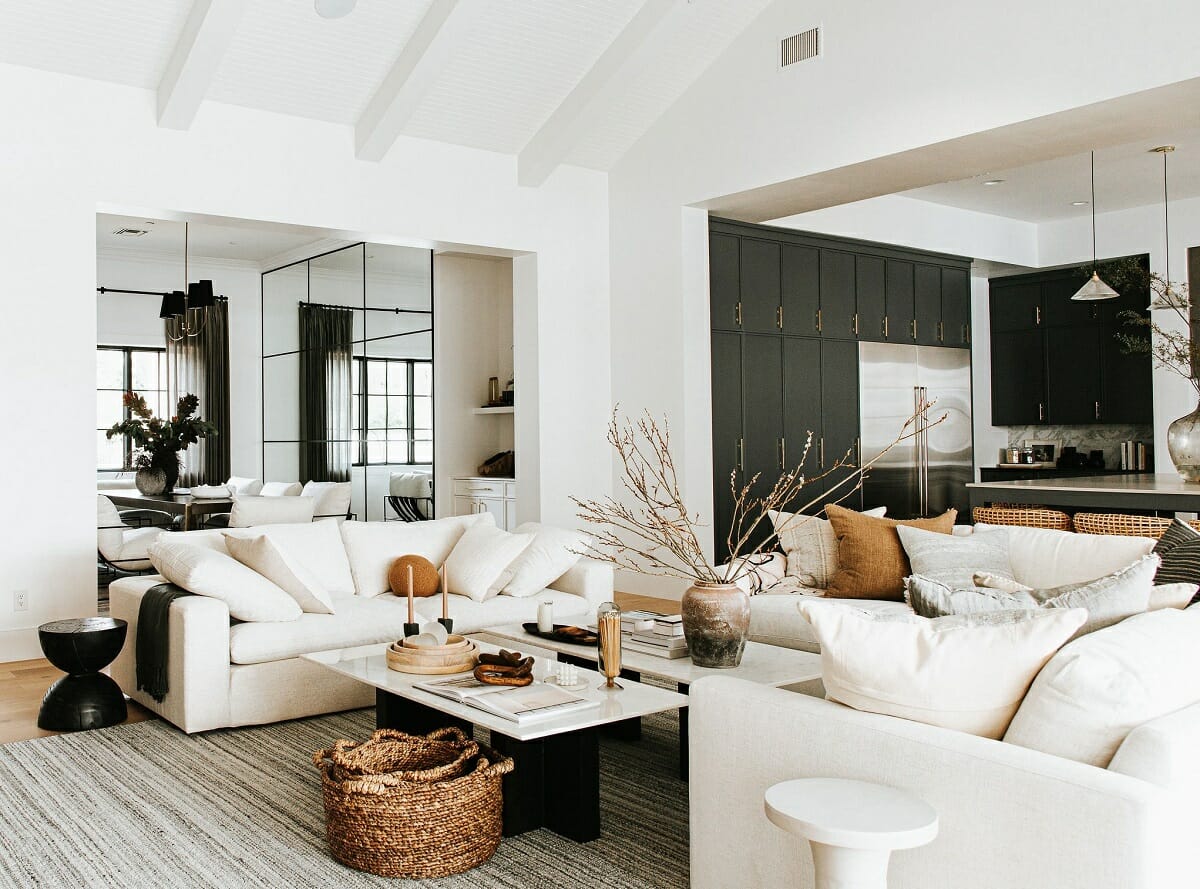 Fresh, clean, and stylish – new build interior design is becoming increasingly popular worldwide. With an empty space, you can experiment and inject character into a room. A recent client also wanted to put their stamp on a new build home with unique interior design ideas. Read on to discover how Decorilla helped create an attractive result!
The Challenge
: 
New Build Interior Design
New build designs are exciting because of their endless possibilities. That said, there are many challenges too! Fortunately, the client had a clear style preference: contemporary interior design. It gave the designer a sound framework. That said, to meet the client's vision of success, the designer needed to:
Design a modern and moody living room combined with a classic contemporary dining space

Incorporate a chic, contemporary 

kitchen design

Create a serene and fresh bedroom suite

Ensure a cohesive contemporary interior design throughout the home

Include modern accents through décor and furniture pieces

Use light monochromatic colors to ensure an open atmosphere
Pro tip: Set the tone for your new build with your favorite design style. Not sure what that is?

Then, take our

Free Interior Design Style Quiz

to discover your unique decorating style today!
New Build Home Interior Design Ideas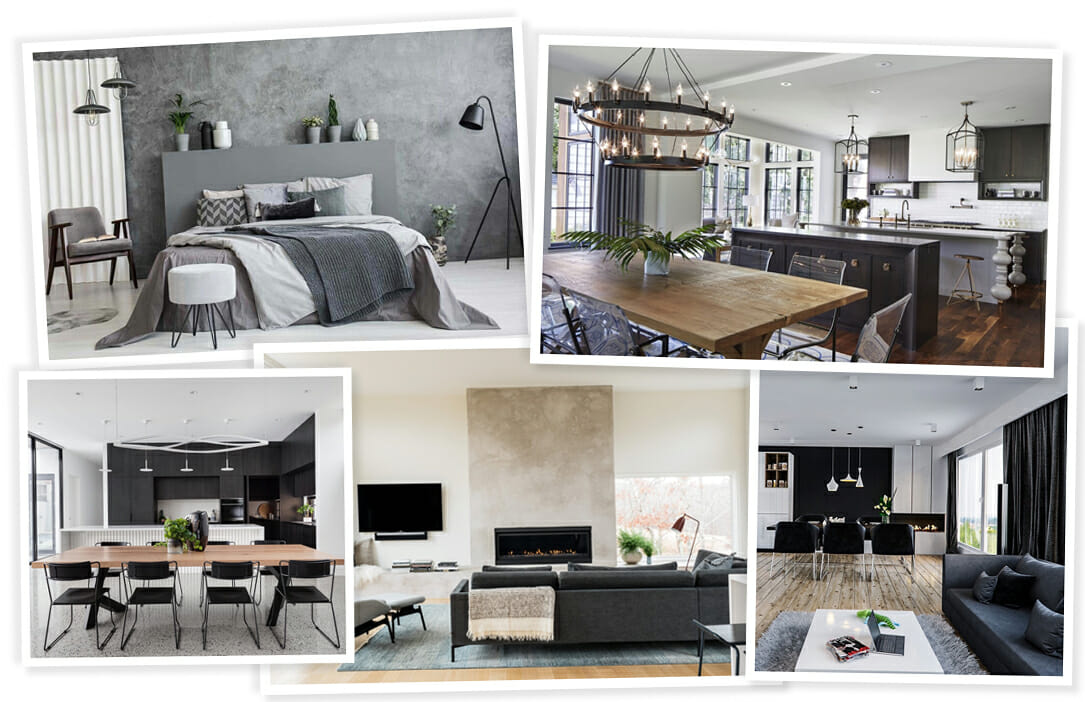 With a firm grasp of their favorite styles, the client could provide a full gallery of inspirational images. Their new build home interior design ideas certainly fit a luxe yet casual look. Monochromatic schemes with a natural hint permeate their ideal interiors. Additionally, detailed lighting and modern fireplaces elevate the overall feel. Contemporary interior design undoubtedly reigned in their favorite rooms. 
Moodboard for a Contemporary Interior Design
Whether precise or a jumble of ideas, inspiration can go a long way in helping the design team. Decorilla's quiz and follow-up consultation also pinpoint a project's exact scope. That meant the client could refine their needs with the team's assistance. And from there, Decorilla matched two designers to the brief. 
Picking between two attractive proposals was tough. But in the end, the client opted for designer Ryley B. Her new build home interior design ideas aligned perfectly with the client's vision. Ryley's proposal was calm, clean, and contemporary by nature. Monochrome tones, defined lines, and minimalistic furniture and finishes filled the moodboard. 
Natural elements, like wood, promise to add warmth and texture to the spaces. Moreover, stand-out decor would certainly draw the eye in the final room. 

Results for the New Build Contemporary Interior Design
The result is a serene and modern new build with a moody contemporary interior design. A once empty space now holds loads of character. Each area has a distinct feel while forming an intimate, cohesive whole. Bold décor and furniture dot the room, creating striking focal points. Plus, layered lighting creates a dramatic and airy atmosphere.
Classic Contemporary Living and Dining Room 
The contemporary style living room is trendy yet timeless. Black and white color the living and dining areas but they feel light and airy. The kitchen, on the other hand, has dark wood and slate defining the design. Altogether, the interior has a cozy feel despite its high-end design.
Deep hues also create a contrasting focal point in the living room. Here, a modern fireplace with slate tiles cozies the interior. Its dark tone, alongside select décor, brings depth to the light scheme. Natural elements, like hardwood, wool, and organic cotton, warm the interior.
Though part of an open concept, the contemporary dining room feels intimate. Flowy floor-to-ceiling curtains and plush chairs are certainly the reason. Black and white furniture create a beautiful backdrop to appreciate the lush green view. Besides, the grand windows are captivating.
Two contemporary cable and wood wine racks line the wall. Additionally, a hand-knotted brown rug adds warmth. As a final touch, an industrial-style chandelier casts a modern glow. 
Sophisticated Contemporary Kitchen Design
A bold, modern hub connects the dining area and living room. This contemporary kitchen design has many stylish characteristics. For one thing, lighting highlights black marble backsplashes to dramatic effect. Moreover, wood cabinet detail complements the sleek white, gray, and black color palette.
The space is not only aesthetically pleasing but also practical. The island and seating are ideal for relaxed meals too. Plus, it's the ultimate entertainer's kitchen. The host can mingle with guests while cooking or prepping cocktails.
The kitchen has a drop ceiling (with the option of extending to the dining area) that creates a feeling of coziness. Varied ceiling heights also help designate zones in an open-concept interior. A simple technique with a warm effect!
Serene and Fresh Bedroom
A clutter-free, minimal contemporary bedroom design creates a refreshing environment. Tones of gray fill the room while natural light streams in from the large glass windows. Two bedside lamps stand out with their golden hue. In an otherwise subtle room, these lamps make a statement. They also frame the focus and double light because they're in front of slender mirrors. 
A dark cupboard and accent chair sit at the opposite end of the bedroom. It creates a peaceful nook. The windows are ample, encouraging an airy feel as a result. They have black frames to also tie in with other finishes. Brass metal lines the cupboard and shapes the accent pedestal. In the end, the new house is certainly full of character!
Online Shopping List
As with all Decorilla projects, the new build interior design comes with an online shopping list. Here, the client can secure their products through simple product links. Trade-exclusive discounts are also available, equally significant savings. What's more, an implementation guide comes with the final renderings to make the process of homemaking simple. 
Our Top Picks for a New Build Interior Design
A few elements can change the entire look and feel of your home. If you enjoyed reading about this project, why not start your own interior design makeover? Use our suggestions below to guide your contemporary update!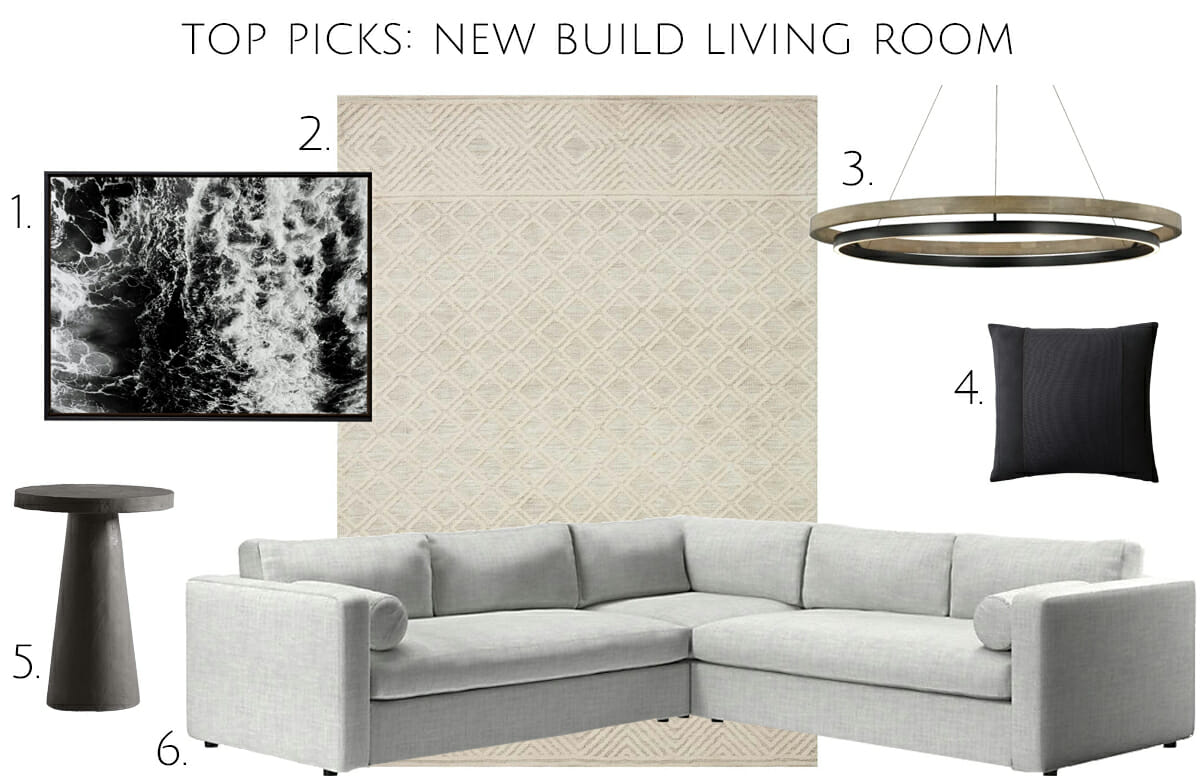 Want your own professional interior design?
You can design your dream home with an online interior designer too! Schedule a Free Interior Design Consultation to start right away.

[images: 1, Decorilla project images]