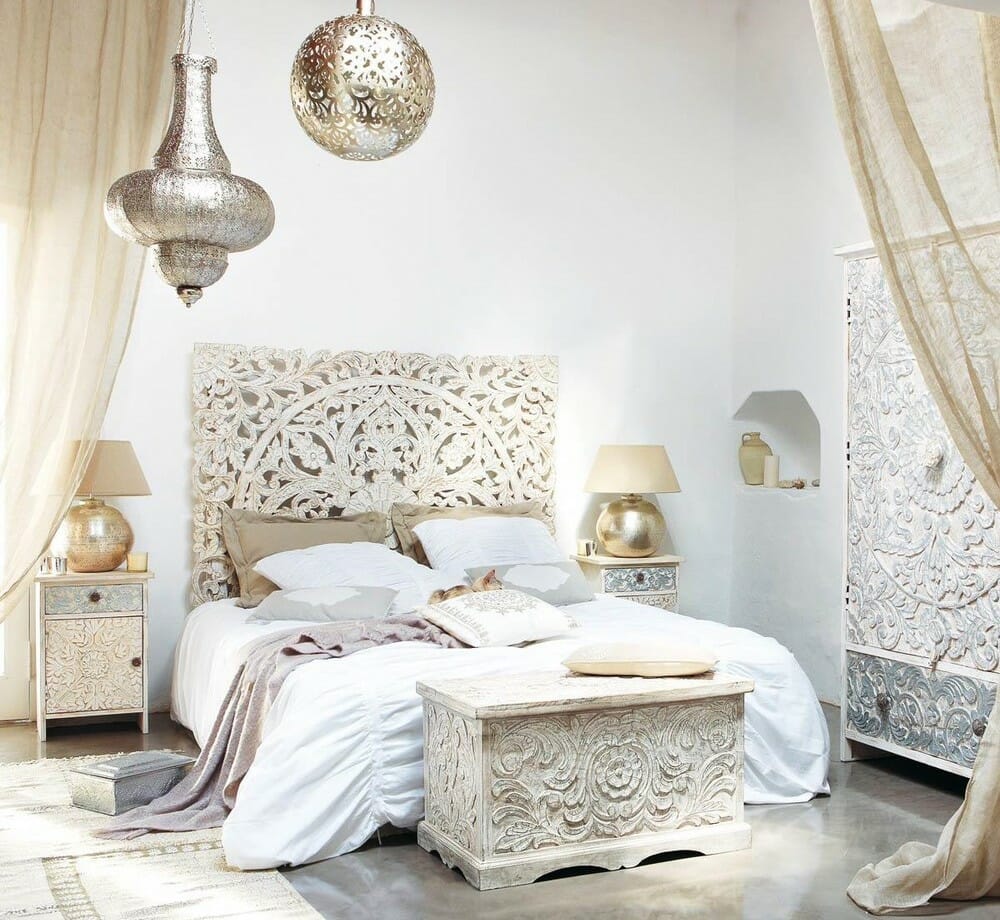 There is something undeniably attractive about Moroccan interiors. These vibrant spaces are full of texture, pattern, and details above all else. These elements inspired a recent client to create a subdued Moroccan-inspired bedrooms and living room of her own. And with the help of Decorilla, she could do just that – see the modern mix below!
The Challenge: Modern Moroccan Interior Design
Besides structural considerations, the designer had to be mindful of a young family's needs. Additionally, the client liked Moroccan, bohemian, shabby chic, and coastal designs and hoped to find a midway between them for her home. More specifically, to tick off all the requirements, the designer had to:
Create a stylish princess-mermaid themed bedroom for the client's 5-year old daughter

Separate the Moroccan-inspired living room and dining room to make them feel like distinct spaces in an open-plan interior

Design a minimalist Moroccan-inspired main bedroom with coastal chic accents

Maximize the spare room's potential with a sleeper couch and Moroccan style wall art 

Ensure the interior is invigorated but neutral
Want to see more amazing before and afters? Then, simply

Sign Up

for the latest room reveals delivered directly to your inbox!
Moroccan-inspired Living Room & Bedroom Ideas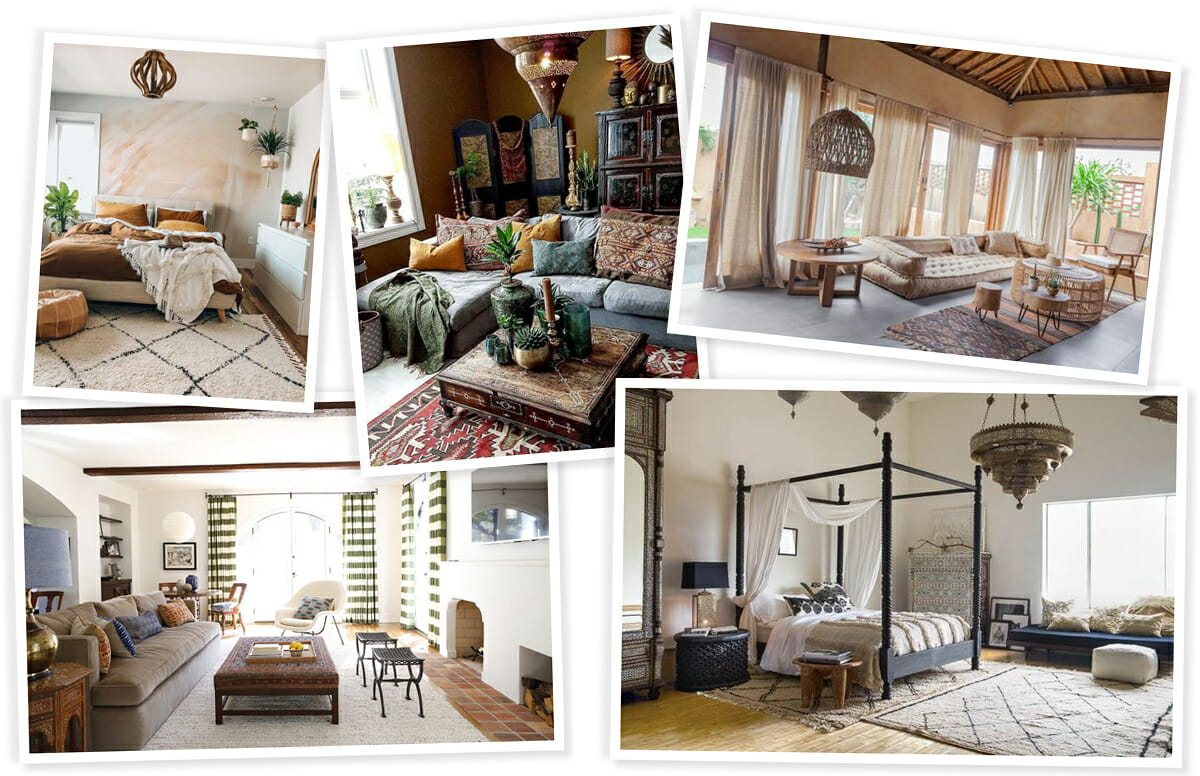 Shaggy rugs, bold neutrals, layered textiles, and ornate lighting flooded the client's inspiration. She loved Moroccan-style interiors and bohemian interior design above all. But modern coastal and shabby chic spaces also appealed to her sense of style. Nevertheless, whatever the design narrative, she wanted a predominantly white interior design.
Moroccan-Inspired Mood Board & Design
To get started, the client completed a questionnaire and consultation. With the completed information in hand, Decorilla could match the client with two designers best suited to her style and needs. The designers then presented their concepts from which the client could pick her favorite. In the end, the client fell in love with the modern Moroccan-inspired living room by Casey H. 
Casey's Moroccan interior design style blends contemporary aesthetics with boho coziness. To balance modern lines and add a global touch, she included Moroccan poufs, textured throw pillows, and blankets. Her suggested statement lighting would also add a stunning touch. Altogether, her concept is stylish without being cold. It's the perfect mix of modern and layered.

Result: Moroccan Style Interiors
Throughout the interior, warm white walls form a neat base for a peaceful atmosphere. The modern Moroccan interior design is subtle but effective thanks to accents and material richness. Carved furniture and handcrafted lights add an intricate quality to the modern design.
A Trio of Moroccan-Inspired Bedrooms
The master suite features both coastal and Moroccan-inspired bedroom decor. The white color scheme makes the room feel airy and spacious. It also creates a calming atmosphere. Moroccan-style nightstands and a headboard match the weathered look of the shabby chic dresser. While a pointed arch wall décor and hanging pendants elongate the room.
The spare room had to cater to the needs of a small family as well as occasional visitors. As such, the space is kept roomy but well decorated with a sleeper couch as the main feature. Once opened, the sofa bed can hold some of the most beautiful Moroccan-inspired décor. Moreover, the bedding is a vivid burnt orange, matching the artwork. As a result, the bedroom is simply whimsical. 
The client's daughter wanted a mermaid-themed bedroom, and the result is both fun and classy. A soft scheme of pastel green, blue and pink creates a dreamy kid's room. The candy-colored interior also features white for its neutral base. Cute artwork and a scalloped mirror adorn the walls. And last, but not least, a hanging chair amplifies the playful spirit of the room.
Moroccan Inspired Combined Living and Dining Room
Not only is the Moroccan-inspired living room stylish, but it's also comfy and enjoyable. For instance, leather poufs cater to the younger members of the family, while a mix of mid-century modern seating brings structure. Additionally, a compact storage bench in the entryway is perfect for changing shoes or stowing handbags.
The lounge layout creates an intimate setting around a media center. Its plush shaggy rug is large enough to ground the entire space while adding style and unrestricted coziness underfoot. The upholstery of the sofa and accents chairs is child-friendly and stain-resistant. That means the fabric is durable but pretty too.
Moroccan interior design style can have luxurious touches of gold and brass, which is why this home has a healthy dose of glitz. Yet it feels very homey and laidback. This is due to the blend of generous textures, natural materials (like wood and rattan), and plants. In the end, the interior is balanced and an ideal family setting.
The dining room feels like a separate, distinct space like the client wanted. It has a transitional flare with a fringe boho pendant and Moroccan style wall art. On the opposite wall, a gallery layout is great for showcasing favorite family photos. The high-back chairs bring an air of formality to the space that complements the symmetric arrangement of the wall art.
Online Design Shopping List
Every Decorilla design package comes with an online shopping list. It makes buying products a breeze, plus it has details essential for making it work at home. What's more, all items needed for the modern Moroccan interior design come with exclusive discounts. The latter often amounts to the cost of online interior design – which means the service can pay for itself!
Moroccan Interior Design Style Top Pick
You can spice up your interior with a few exceptional pieces. For this project, we've put together our favorite Moroccan-inspired décor below. Use them as inspiration for your own update!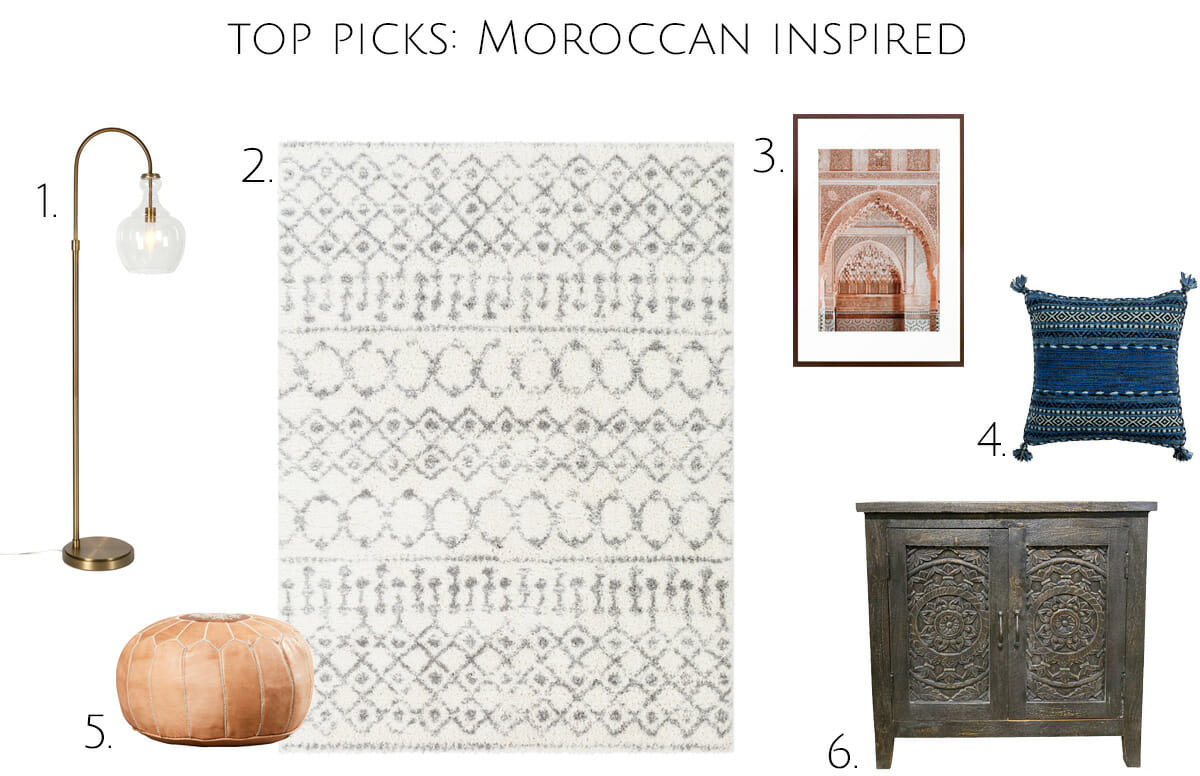 Create Your Own Moroccan Interior Design
Whatever your style preference or location, you can create your ideal interior. Get started with a Free Online Interior Design Consultation to find out more today.

[images: 1, Decorilla project images]