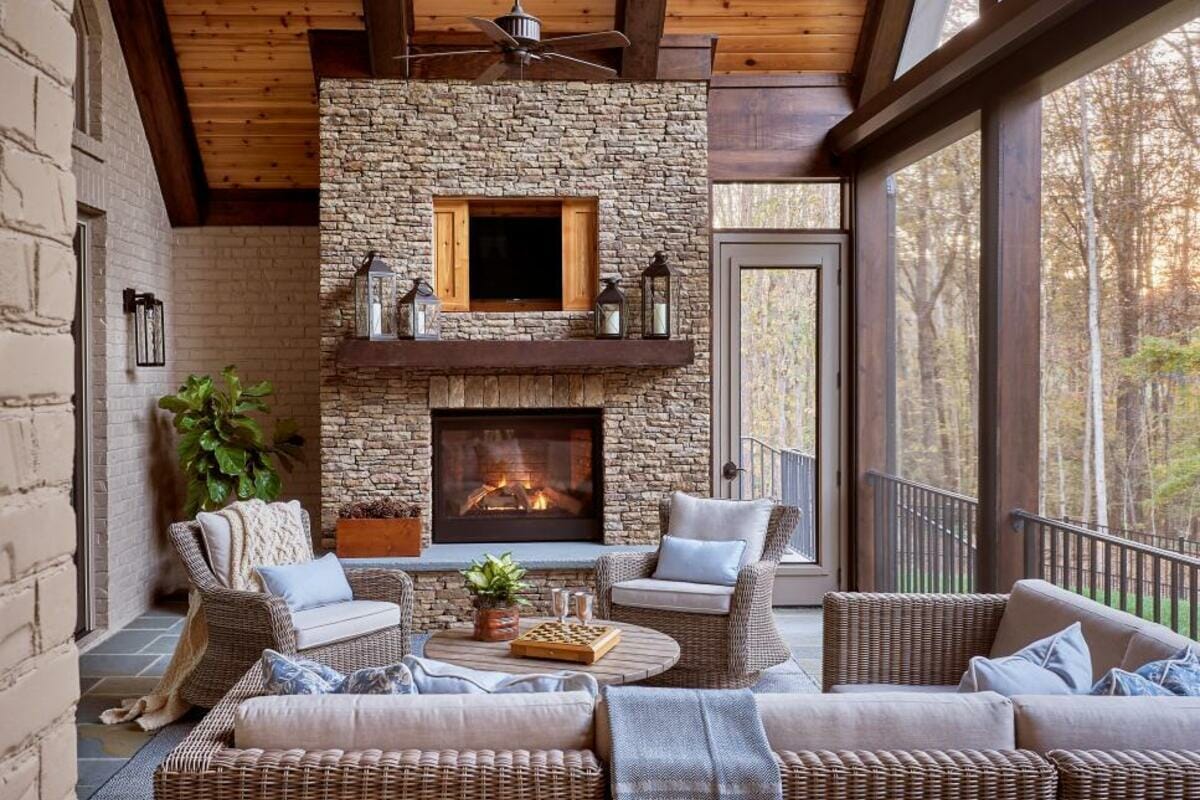 Family rooms are a great place to spend time together, relax, and entertain guests. If they come with the bonus of an attached porch, even better! A recent transformation featured clients lucky enough to have both. However, they were in need of some design help to make the spaces their own. Read on to see how this modern rustic family room and gorgeous screened-in porch became worthy of an at-home retreat! 
The Challenge: Modern Rustic Family Room With a Porch
When thinking about designing the new living room, the clients had one specific asset in mind above all. A screened-in porch would be a great place to enjoy the warmer months while also adding some extra space to the main room. They wanted it to be cozy and comfortable enough for everyone to relax in. They were looking for a designer to:
Come up with some modern rustic family room ideas

Integrate a small breakfast nook into the family room design 

Translate the same style to the screened-in porch design making it all work like one space

Ensure plenty of seating for family and friends
Not sure if modern rustic is the right look for your home?

Then, take our

Free Interior Design Style Quiz

to discover your unique decorating style today!
Modern Rustic Interior Decor Inspiration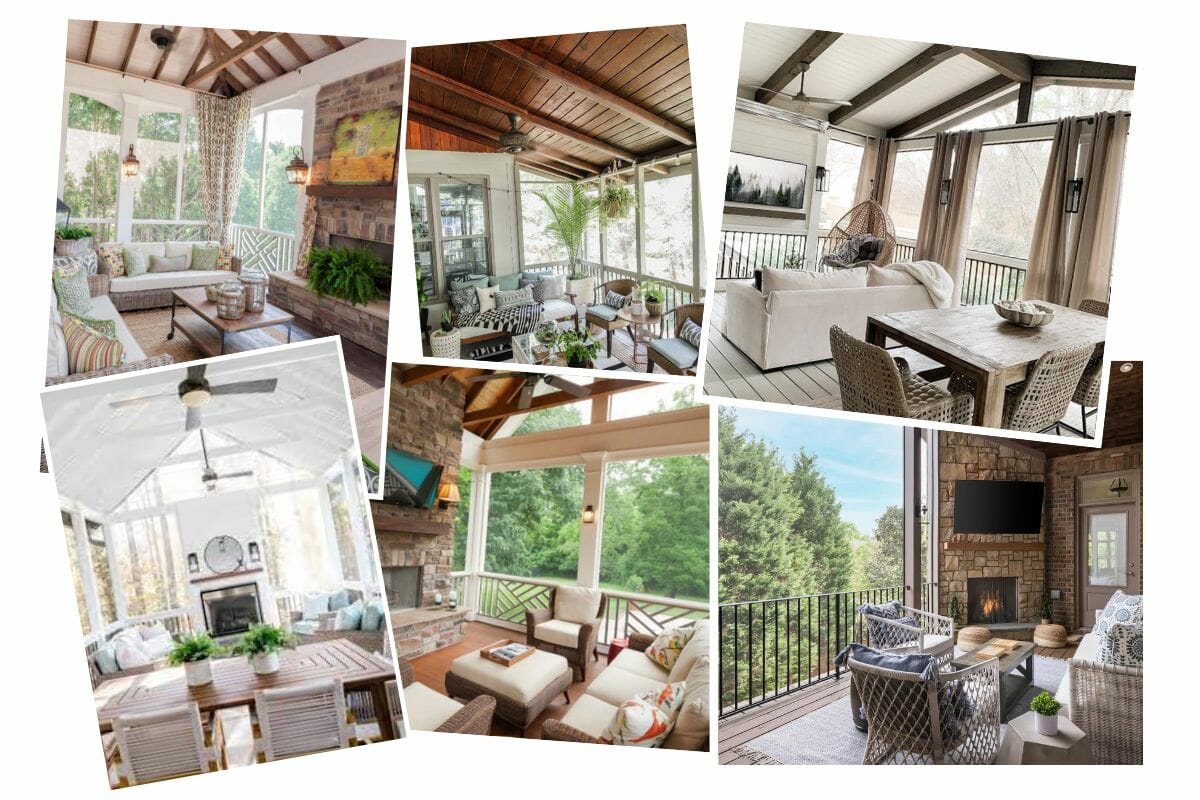 While the clients had no specific family room ideas they could start with; they knew they wanted something unique. The inspirational gallery they provided featured some traditional wood paneling, relatively heavy furniture, ceiling beams, and similar elements of a modern rustic aesthetic. It was clear they wanted an updated look that wasn't overly formal. 
Modern Rustic Family Room Ideas & Moodboard
To continue with the online interior design process, the Decorilla team connected the clients with two suitable designers, both proficient in the desired style. Both delivered moodboards showcasing a warm and inviting space characterized by rustic elements like exposed beams combined with modern touches like clean-lined furnishings and accent lighting. The decision was tough, but in the end the family decided to proceed with the concept from Courtney B.
Courtney's modern rustic family room ideas succeeded in finding an interior design solution that precisely reflects the homeowners' personalities. Her focus on comfort and style conveyed a warm and inviting space for a whole family to enjoy as a result. Using natural materials, like wood and stone, helped create a sense of connection to the outdoors. At the same time, modern furnishings maintained the desired feeling of here-and-now.  

Modern Rustic Interior Design
The modern rustic family room design conveys a casual yet put together feel. It also strongly relies on a neutral palette as its base. Meanwhile, a few pops of color and textural elements provide just enough contrast. The floors throughout are unstained white oak, complemented by coffered wood beams on the ceiling. However, the real focal point of the room is a modern grey fireplace, tiled floor-to-ceiling in an eye-catching herringbone pattern. 
A soft, distressed rug anchors the space, providing a pop of color at the same time. A large sectional sofa in performance fabrics allow for ample, comfortable seating. The comfort is expanded further with two slatted accent chairs. Besides functionality, they also enhance visual interest via their shape, lines, and wood tones. 
An extra large coffee table stretches the length of the living room. It's complemented by a few occasional tables scattered throughout the space for convenience. Meanwhile, two movable ottomans ensure a cozy footrest and put a stamp on the eclectic aesthetic of the room.  
Screened-in Porch Design
The screened-in porch design features all the necessary elements to enjoy the outdoors without having to deal with bugs or bad weather. Its modern rustic appeal conveys an inviting and stylish flair, acting as a genuine outdoor living area. The elements coordinate properly with the adjacent spaces, using textures and accents to provide interest and charm. All seating is made from light natural wood, while the outdoor fireplace acts like a raw, rustic version of its modern indoor counterpart. 
The cohesive flow of the family room continues outside with the help of a similar, neutral color palette. In order to maintain the bright and breezy vibes, white dominates the modern rustic porch furniture and décor items. All chairs and loveseats are enriched with thick, soft upholstery to ensure maximum comfort. A durable outdoor rug grounds the arrangement and defines the area, conveying an unbeatable cozy sensation.
Meanwhile, the modern rustic decor of a screened-in porch incorporates modern elements such as elegant metal light fixtures and minimalist planters. The outdoor dining table is topped with a sophisticated set of vases with a matte metallic finish. In addition, the vibrant green of a potted fig livens up the arrangement with a dash of freshness. A notable, sleek black fan fixture also hovers over the seating area, enhancing visual dynamics and playing a vital functional role during summer months. 
Before & After: See the Change
To start with, the family room and screened-in porch presented great bones and character, but were blank slates in need of a designer's eye. By coordinating furniture and decor with the the architectural features of the home, Courtney was able to transform the empty spaces into stylish and cozy rooms for the family to gather in for years to come.
Modern Rustic Interior Design Shopping List
Apart from connecting you with professional designers masterful in your desired style, the packages also provide further benefits. Each client receives comprehensive support and guidance throughout the process. In addition, there is a tailored shopping list filled with exclusive trade discounts. And last but not least, a shopping concierge takes care of the ordering and delivery so that the clients can enjoy the new design without any hassle.
Modern Rustic Decor Top Picks
Your living room aesthetic can be easily refreshed with a few well-chosen new elements. Check out our top picks for a modern rustic living room & screened-in porch design: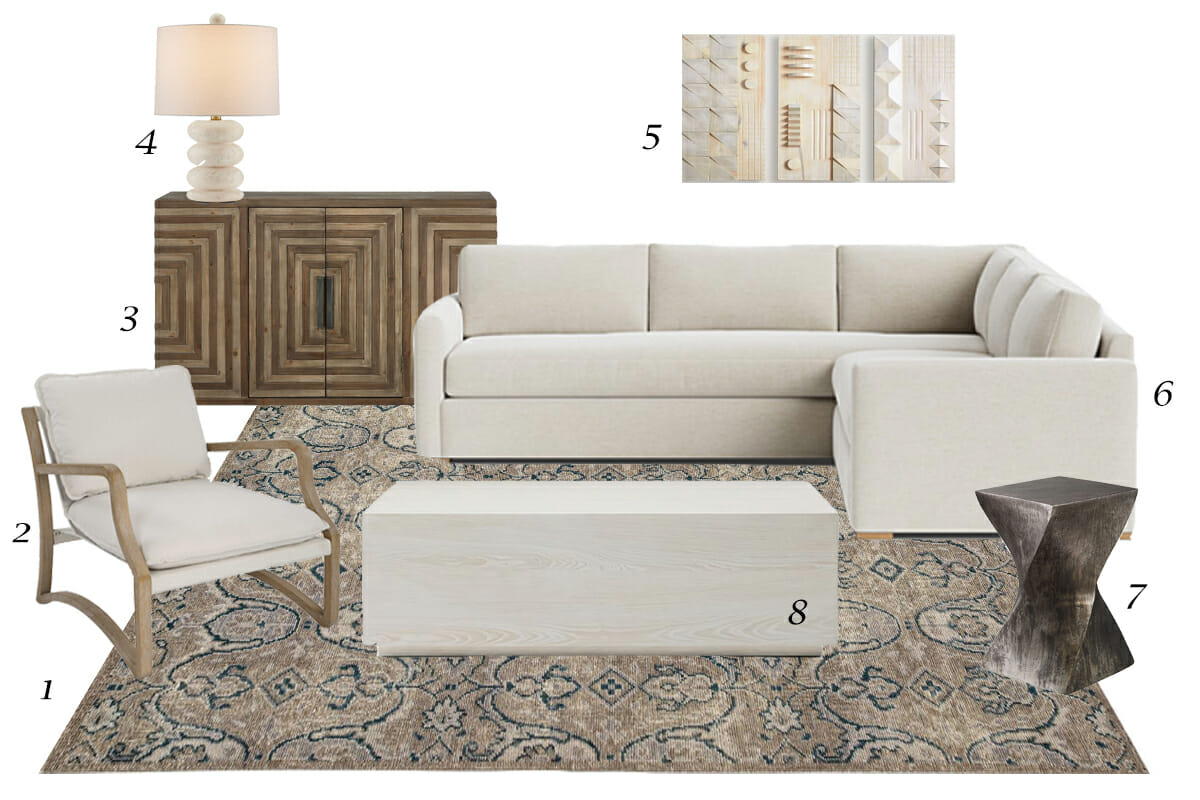 Want a modern rustic family room in your home?
Your home can have an equally beautiful transformation. Simply schedule a Free Online Interior Design Consultation to start your dream space today!

Featured image: [1]