Today's masculine interiors go far beyond a blue color selection and leather sofas. As a matter of fact, their sophisticated lines and plenty of open space promote a life of style. With this in mind, a bachelor looking to up his home's interior approached Decorilla to help him achieve this. Read on to see his new construction gets a masculine interior design update!
The Challenge: Masculine Interior Design
The client saw his house as a blank canvas in need of personality. With many rooms under construction, most elements were up for change. This gave the Decorilla team free rein to try masculine room ideas and be creative. However, big projects like this come with a set of unique challenges. So, for this project to be successful, the designers had to:
Complete 

stunning masculine designs

 for five rooms in total

Select wall colors, furniture, and masculine decor that complement modern farmhouse architecture

Fill the space without creating clutter or losing the masculine interior aesthetic

Give each room its own identity while ensuring the overall style is uniform

Include enough storage for the client's gaming systems
Love masculine interior design, but not sure how to pull off the look? Then, schedule a Free Interior Design Consultation to learn more about your design options today!
Masculine Room Ideas & Inspiration
Each project starts with a questionnaire and the clients' inspiration. Here, the client loved the rustic look of impressive man caves. He especially leaned towards warm industrial design with Scandi and contemporary finishes. Natural materials and lighter color palettes make his dream interiors feel cozy and welcoming. With so much space to fill, he was open to including artworks and a variety of manly decor. 
Mood Board & Masculine Interior Design Concept
With each new project at Decorilla, clients receive two proposals from different designers. From here, the client can see how each designer interprets the brief before making a decision. After looking at his two concepts, the client chose the rustic, cozy proposal by Casey. 
With a room that gets so much natural light, the color options are broad. To keep options open for furniture and decor selections, Casey H. chose an off-white hue with an eggshell finish. This will go with most color schemes and generally gives the whole room a spacious feel. Raw materials also look right at home in this neutral palette. 
The master bedroom mood board ticks all the boxes for the men's bedroom interior design. The foundation color here is a serene darker blue which complements the earthy furniture and decor. With plenty of natural sunlight, this slightly darker palette can work magic.

The Reveal of the Masculine Interiors
With the 3D rendering complete, we get a glimpse of how these masculine room ideas have come together.
Home Office with Manly House Decor
This little home office is the first room one sees when entering the client's home. For this reason, it needed something extra special. Boasting some good morning sun, the idea was to keep the theme natural. And earthy greens and browns do just that and more. In fact, it sets a radiant foundation for the entire masculine interior. 
The study varies from the rest of the masculine interior design. Elements of industrial design are still present in the shelving, but there is a lean towards a more organic, even mid-century modern design. The greenery inspires the lighter and softer palette, with artwork and rug to match. A large L-shaped desk brings practicality. It ensures plenty of space for gaming and working alike. 
With sun seeping through the high windows, a lounging area is a must. A raw and rugged wooden coffee table draws attention, while the rounded edges of the furniture soften the interior.
A Lounge filled with Masculine Room Ideas
Now the client has a light and airy living room with clean and natural finishes. Such a large space can easily seem bare, but with the flood of natural light reflected by the interior, contrast is easy to inject. A dark L-shaped sectional delivers maximum comfort and robust contrast.
High ceilings are ideal for flanking bookshelves and statement artwork. Merged with the mantelpiece and chimney, these shelves serve to add levels and dimensions to a uniform wall space. Artwork hung up high above the eye line draws further attention to the enormity of the space.
These verticle details make the room feel impressively proportioned. To warm up the vast room, a woven rug and earth-colored decor bring comforting touches. 
Industrial-Style Men's Bedroom Interior Design
The men's bedroom result boasts nothing but style and elegance. A wooden panel wall behind an industrial steel framed bed sets the tone. Here, rugged materials meet a clean masculine line. 
With a lower ceiling, expansive windows and floor-to-ceiling drapes add vertical space. Layered with charcoal and blue, a single chair and ottoman fill out the room. This adds a sophisticated edge but also practicality. A gentlemanly reading nook is essential for those extra minutes of quiet time.
The ceiling fan is the client's own and is accented by other black metal finishes in the room. To brighten the room further, a few angular lamps complete the masculine decor touches.
Dining Room with Masculine Decor
The combined living and dining room has plenty of potential for masculine room ideas. To coordinate with the main living space, the same light and neutral colors form its base. But the addition of a slate blue touch adds a social yet relaxed atmosphere. Softer furniture and rugs further make the room more comfortable for both morning coffees and Sunday brunches.
This multipurpose living and dining area came together with the same theme across the board. Natural organic certainly meets masculine industrial charm. Fortunately, an industrial-style chandelier centers these two styles. In addition, furniture in warm grays, adds the shapes characteristic of masculine interiors.
A large wooden entrance frame neatly separates this room from the living room and TV area. Both rugs pick up the tones of the different woods in the furniture. This further layers the color scheme and final integration of the room.
This little corner is made for lounging and conversation. With light flooding in from two angles in the dining room, a mirror above the console table reflects light into a potentially dark corner.
Monochromatic & Masculine Bathroom
The bathroom needed masculine decor to complement its strong lines and black accents. The monochromatic interior set the tone for contrasting off-whites and earth colors. To balance harsh contrast and soft texture was the aim, and select pieces make it happen.
The en-suite bathroom's leading feature is a dark tiled bathtub. The mirrors, floating shelves, and overhead light mirror the tub's strong horizontal lines. With a high contrast theme continued, masculine decor and bold accents round off this interior. 
Online Shopping List with Masculine Decor
Every online interior design project comes with a curated shopping list specific to each design. Shopping becomes a breeze with a a click of a button for purchases from multiple vendors. In addition, the Decorilla team handles everything from ordering to tracking and delivery. And the best part is the savings available can more than pay for the cost of the online interior design services.
Design Your Own Masculine Interiors
If you want to spruce up your interior, you can. Use our top picks from this project to implement some of these masculine interior design ideas into your home.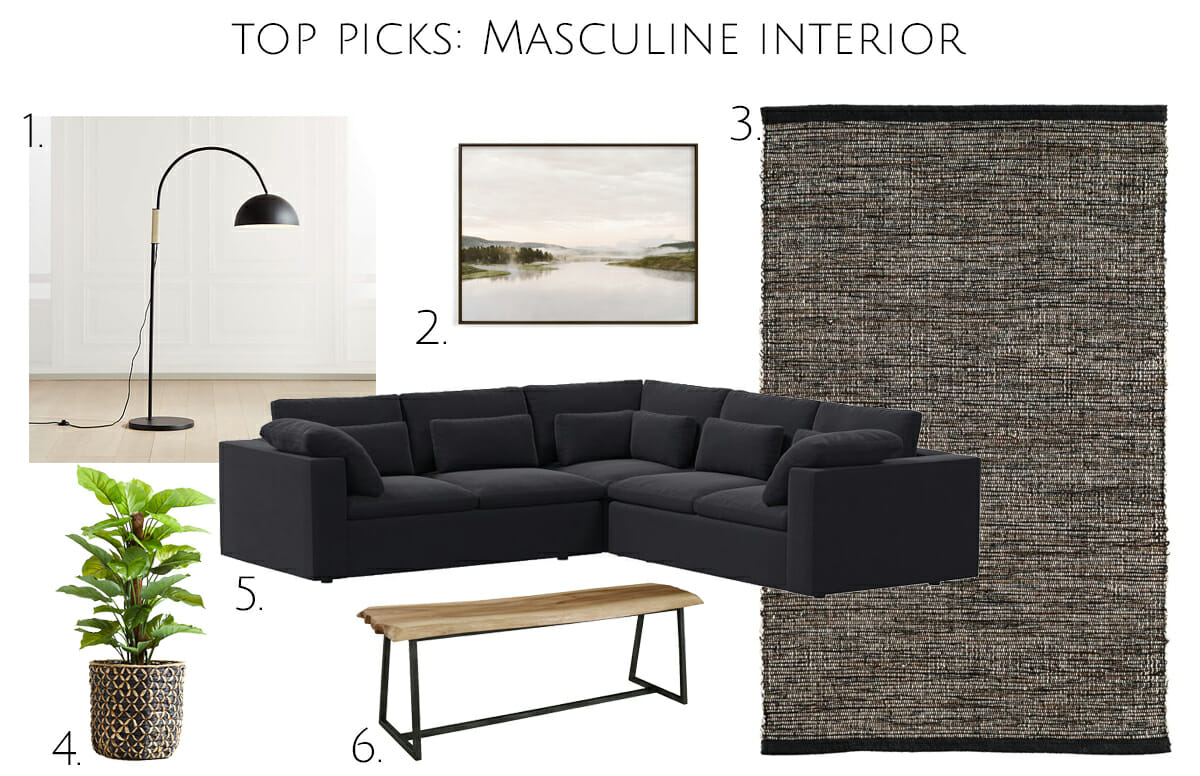 Want to learn more about online interior design?
A charming masculine interior is within your reach. Schedule a Free Interior Design Consultation today to find out how to get your own tailored design. 

[images: 1, Decoirlla project images]