Dark and contemporary has a way of creating memorable spaces. While this look fits any room in a house, a masculine bathroom design is one that never goes out of style. A recent client wanted to bring this style to their master suite. That's why they turned to Decorilla! Once you see the result, you'll know why – read on for the reveal!
The Challenge: Moody Masculine Bathroom
Every interior design project comes with its own unique set of challenges. Despite not being the centerpiece of a home, bathroom designs require expertise and creativity. This particular masculine bathroom design had to overcome a few hurdles. Here is what the designer had to do:
Include sufficient storage without cluttering the bathroom.

Select a large-format tile for the backsplash of the shower. These tiles also needed to be easy to clean and maintain in a moist environment.

Ensure there are enough light sources while being practical and aesthetically pleasing. This is important to create an airy feel, despite the dark theme and small space. 

Choose a dark color scheme that is uplifting and inviting too.
Pro Tip: Match your masculine bathroom decor to the aesthetic of the rest of your home. Not sure what that is?

Then, take our

Free Interior Design Style Quiz

to discover your unique decorating style today!
Masculine Bathroom Design Ideas & Inspiration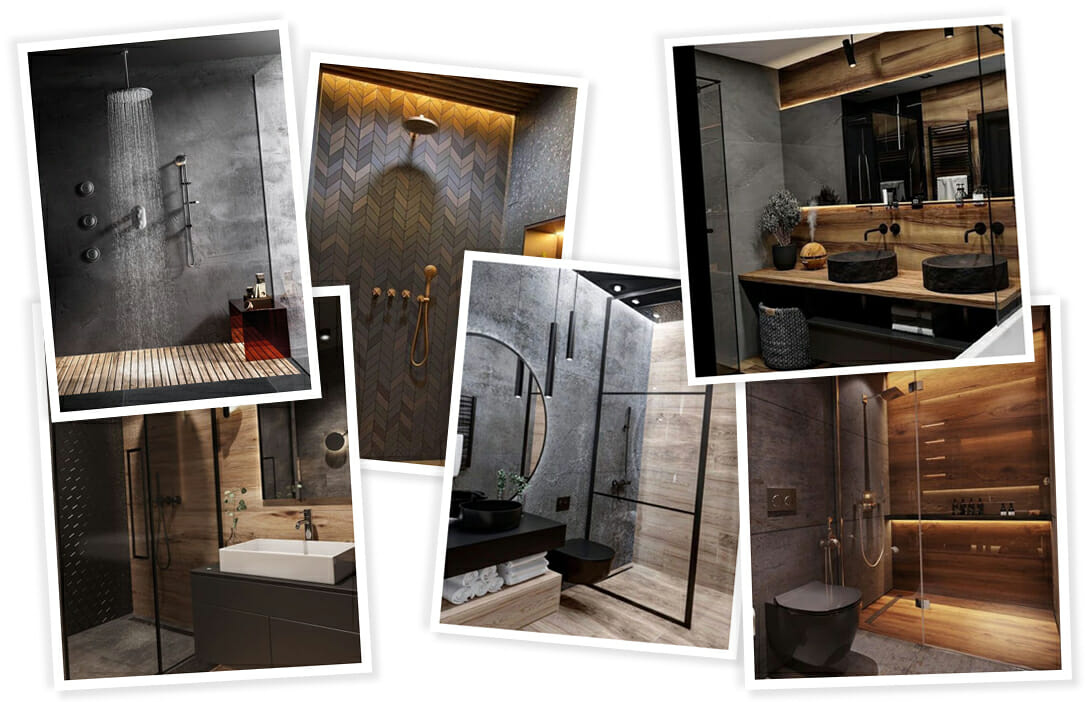 The client's inspiration for their renovation was clear as masculine bathroom ideas topped every list. Neat, straight edges, dark shades, and metal accents were a must. In addition, moody lighting emanated from all corners to illuminate key features.
The client's inspiration catalog gave the designer a peek into their favorite masculine interior design ideas. Textures, dark hues, and durable materials contributed to the overall contemporary style. A touch of nature, in the form of wood or plants, balances the coolness of these interiors too.  
Moodboard and Masculine Bathroom Design
Next, the client needed to set their project scope. Fortunately, Decorilla's online interior design process forms a perfect outline. This meant the clients could easily specify their tastes and budget requirements.
Their wants clarified even more during a virtual call between the parties to discuss their masculine bathroom ideas. It also allowed the team to deepen their understanding of the project. Soon, Decorilla selected two designers to submit their take on a project with a dark interior design.
While both designers delivered captivating concepts, the client had a firm favorite. Maya's proposal stood out for its modern grey color palette and wooden finish. The client also found that the masculine bathroom décor and design ideas were perfectly aligned with their personal style!

Moody Masculine Bathroom Design Result
The result is a sophisticated masculine bathroom design. Packing the compact space full of eye candy was a top priority. As a result, the interior is undeniably handsome, yet practicality is equally important.
Despite the bathroom being a relatively small space, storage is ample and the interior feels roomy. A black pull-out cabinet covers the left wall while a floating vanity provides more drawers. Key features such as glass shower doors, lighting, and tilework also help to make the room feel spacious and refined. 
The Vanity
One of the most striking features of the masculine bathroom design is an elegant, spherical backlit mirror. It not only casts a welcome glow, but also illuminates the wooden vanity with its contrasting white porcelain top. It's undeniably contemporary and has a futuristic appeal.
When thinking of dark masculine bathroom décor ideas, the designer limited true black to accents. As a result, these features add depth and definition as they dot the room. Black door frames, handles, and other fittings certainly give the bathroom a masculine and moody feel.
The Color Palette
Charcoal and slate hues make exceptional schemes for contemporary and mysterious masculine interiors. Similarly, black and grays make a bold backdrop in this design. They are great neutrals that complement natural hues, like brown and white. Here these tones come in many ways – from a chevron-patterned wall to accents and painted walls. The tiles' unique finishes are both appealing and practical, as they are easy to clean.
Masculine bathrooms rely on dark colors, clean lines, and a mixture of appealing décor items. This particular bathroom makeover has incorporated all of these elements.
The Shower
The shower features a tasteful, dark showerhead and rainfall ceiling mount. These fixtures contrast beautifully with the wood-like tiles. Moreover, the high-end showerhead can be dismounted for practical use but operates as if it were installed into the wall. The wooden bench is a durable solution for accessible seating during showers. It also neatly folds away when not in use.
The shower floor is complete with a wooden, waterproof tile that matches the vanity drawers. The natural aesthetic of the wood also adds to the masculine feel of the design.
The Lighting
Lighting was essential when considering masculine bathroom décor ideas. Expertly placed lighting adds dimension and brings the room to life. Most importantly, the lighting comes in layers of light to make the most of the design.
As a result, the lighting in this bathroom is both aesthetically pleasing and practical. A large mirror illuminates the space, while extra lighting is provided by recessed downlights and a designer pendant. This was important for the designer to consider when looking at masculine bathroom ideas. The correct lighting should create an airy and spacious feel.
Online Shopping List
for Masculine Bathroom Décor Ideas
Creating a bathroom – or any other room – is easy with Decorilla's help. Once a project is complete, you can bring a room to life with easy-to-follow instructions and accurate 3D renderings. That's not forgetting the useful shopping list that contains items, such as masculine bathroom décor ideas, needed to create your new space. Moreover, these contain exclusive trade discounts not available to the general public! 
Our Top Picks for a Masculine Bathroom Design
Only a few masculine bathroom décor items are required to recreate the masculine bathroom design of your dreams! Use our top picks below to create your own space with fresh and trendy additions.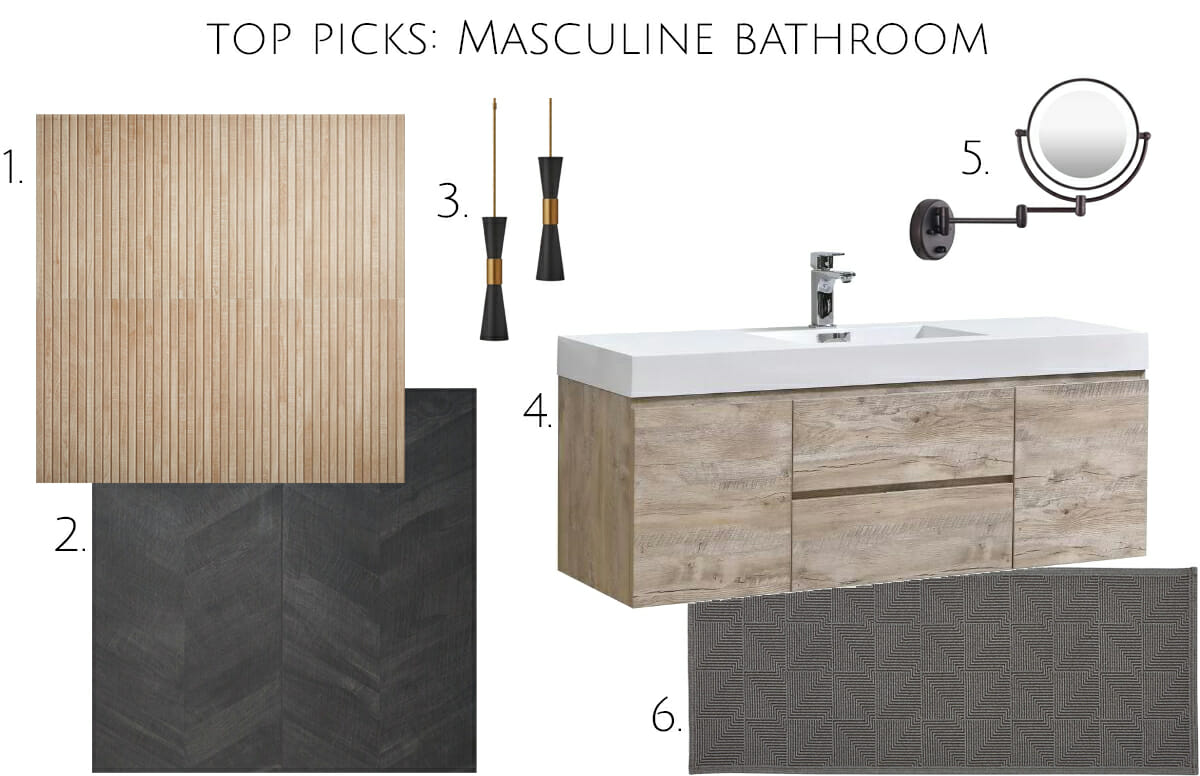 Want your own masculine bathroom interior design?
Bringing your interior design ideas to life is now easier than ever. Schedule a Free Interior Design Consultation with our leading designers today to get started! Your space can also undergo a breathtaking transformation!

[Images: 1, Decorilla project images]