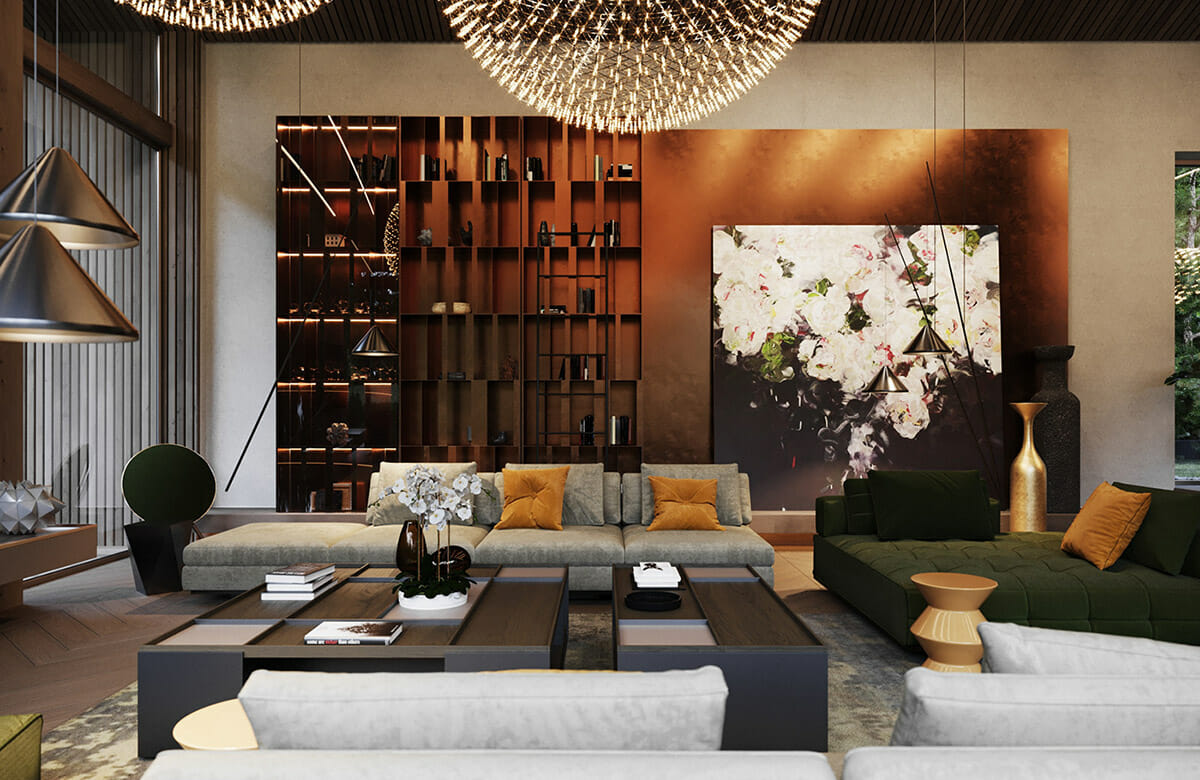 In one ranch owner's home, double doors opened up to a soon-to-be luxurious interior. But first, it needed an expert's touch to turn the empty space into something wonderful. Now, thanks to Decorilla's team, this gorgeous glam living room is all about the décor details. Check out the amazing transformation below!
The Challenge: Glam Living Room 
Similar to other online interior design projects, this one came with a set of challenges. Fortunately, careful planning and thoughtful execution brought a stunning glam style living room. To get such a beautiful result, the designer had to address key issues, which included: 
Design a refined luxurious interior with glamorous décor but not something flashy

Maximize seating despite the space constraints to entertain enough guests

Include statement furniture pieces that are opulent and stylish

Keep the high-end design's cost within the strict budget 
Living Room Inspiration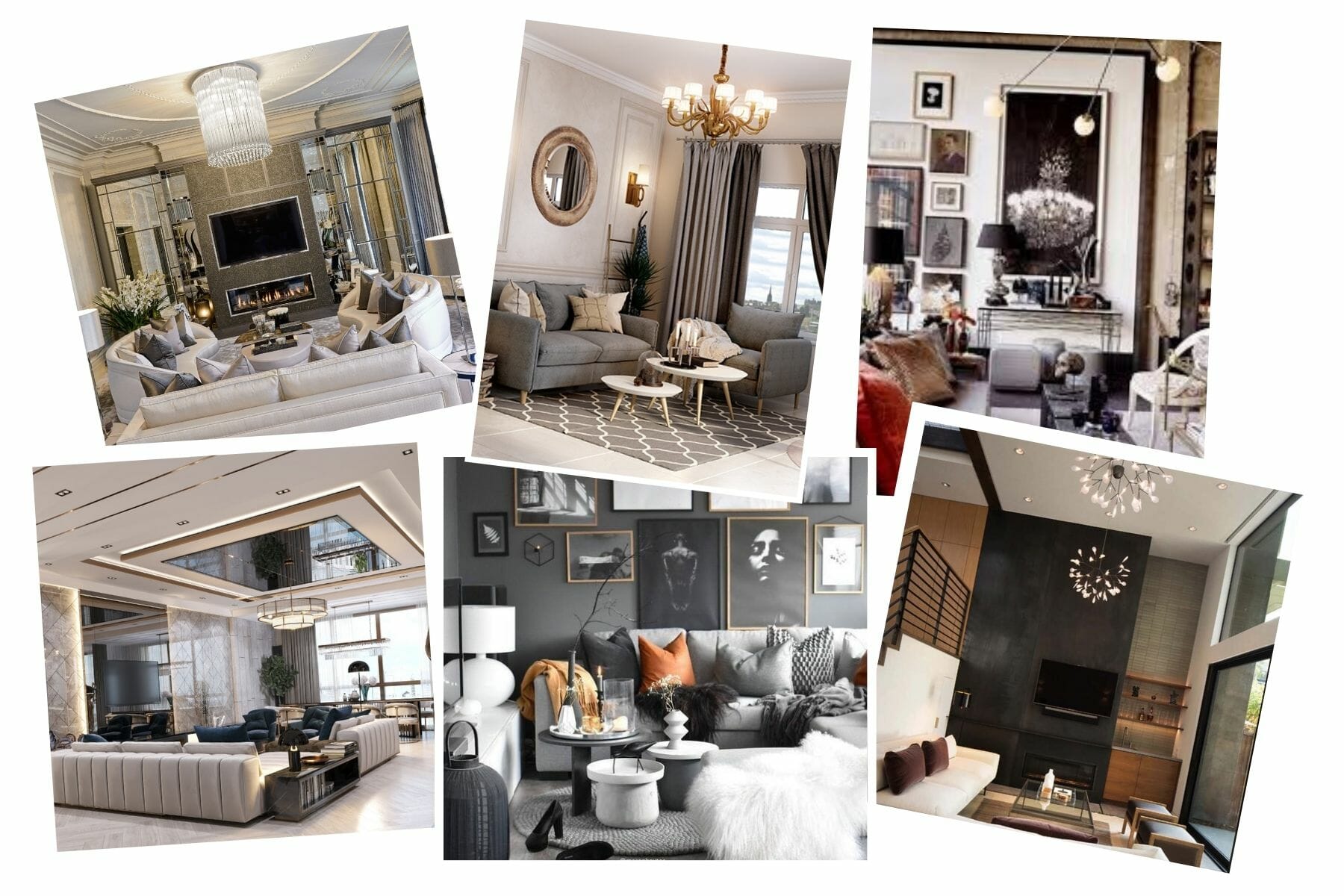 The client focused on glam living room décor while setting the specifics of her design brief. In particular, she loved dramatic walls, floor-to-ceiling curtains, and statement lighting. All her favorite interiors were draped in rich textures and warm color palettes. In short, the client adored luxury living room décor ideas with a wow factor. Moreover, she had a blank room to start with which acted as a perfect canvas for the designer to work on.
However, browsing through endless images online made the client feel overwhelmed and lost. Fortunately, she turned to Decorilla's design team. And by using the client's inspiration library, the designer could create a high-end living room makeover.
Are you looking for some inspiring glam living room ideas for your home makeover?? Then schedule a 

Free Interior Design Consultation

to get started with a design pro today!
Luxury Glam Living Room Concept
When the client reached out to Decorilla, she knew what she wanted. Yet, she needed the right interior designer to bring her ideas to life. And she found the perfect fit too! After receiving proposals from two creative interior designers, the client fell in love with Casey's concept. There was something about the dark colors and eclectic furniture that made the clients choose Casey H. at once. Furthermore, the designer's keen eye for style married a ranch with luxe living. As a result, the client could envision a plush interior tailored for her ranch-style home. 

Glamorous Style Living Room Design 
The living room formed part of a ranch home and the client wanted a stunning design to welcome guests. The room's architecture was beautiful with ample sunlight coming in through large windows. That's why dark furniture and glam living room décor work perfectly for this space.
In addition, the concept included a unique color palette that included shades of orange, purple and brown. The warming hints of citrus and chocolate is certainly memorable. To achieve a spectacular air, the designer also suggested wall molding to elevate the space's structure. Paired with the dark brown paint, the walls have a grandeur feel to them.
Glamorous Living Room: Result 
Furniture is the first thing that strikes attention in every space and this room was no exception. With tufted seats and a curved sofa in the center, the designer was able to pull off a statement look. To make things more playful and daring, she combined plenty of eclectic pieces. For instance, tan armchairs give the interior an added dimension. In addition, to soften the formal rigidity, a lounge armchair with a curved headrest sits next to the sofa. But what's truly one-of-a-kind is the stunning console! The special brass legs and wooden top make it a stunning piece.
Another indispensable feature of glam living room décor is the use of textures. For this space, the designer used a myriad of lush textures like velvet, brass, leather and wool. As a result, the living room looks sophisticated and classy. Furthermore, the accessories in this living room are spot-on! From contemporary artworks to assorted cushions, everything perfectly fits the elegant living room. To finish the look, a subtle and neutral rug brings comfort underfoot. And as an integral part of glamorous décor, chandelier lighting punctuates the whole room.
Before the Change 
The living room was once a blank canvas. There was no design theme or concept but the room had immense potential. The client was clear in her mind about her desires and requirements. As a result, the whole design process was easier to comprehend. And only with a few tweaks and amendments, the glam living room décor looked nothing less than heavenly.
Online Interior Design Shopping List
Every online interior design project comes with a detailed final package. It makes it easy for the clients to achieve their dream interior at home with next-to-no effort. Additionally, detailed plans and realistic 3D renders help clients visualize their rooms. This is great for deciding on changes before committing to designs. In the end, a shopping list and design execution kit further help the customer to accomplish the design effortlessly.
Glam Living Room Decor Top Picks 
Decorilla designers love experimenting with different styles and décor. For every design style, there are few key pieces that can instantly bring about the look and feel. While designing a luxury living room, for instance, a tufted sofa, glass chandelier, and statement artwork work best. So, if you are looking for some glam living room ideas, here are some top finds for you!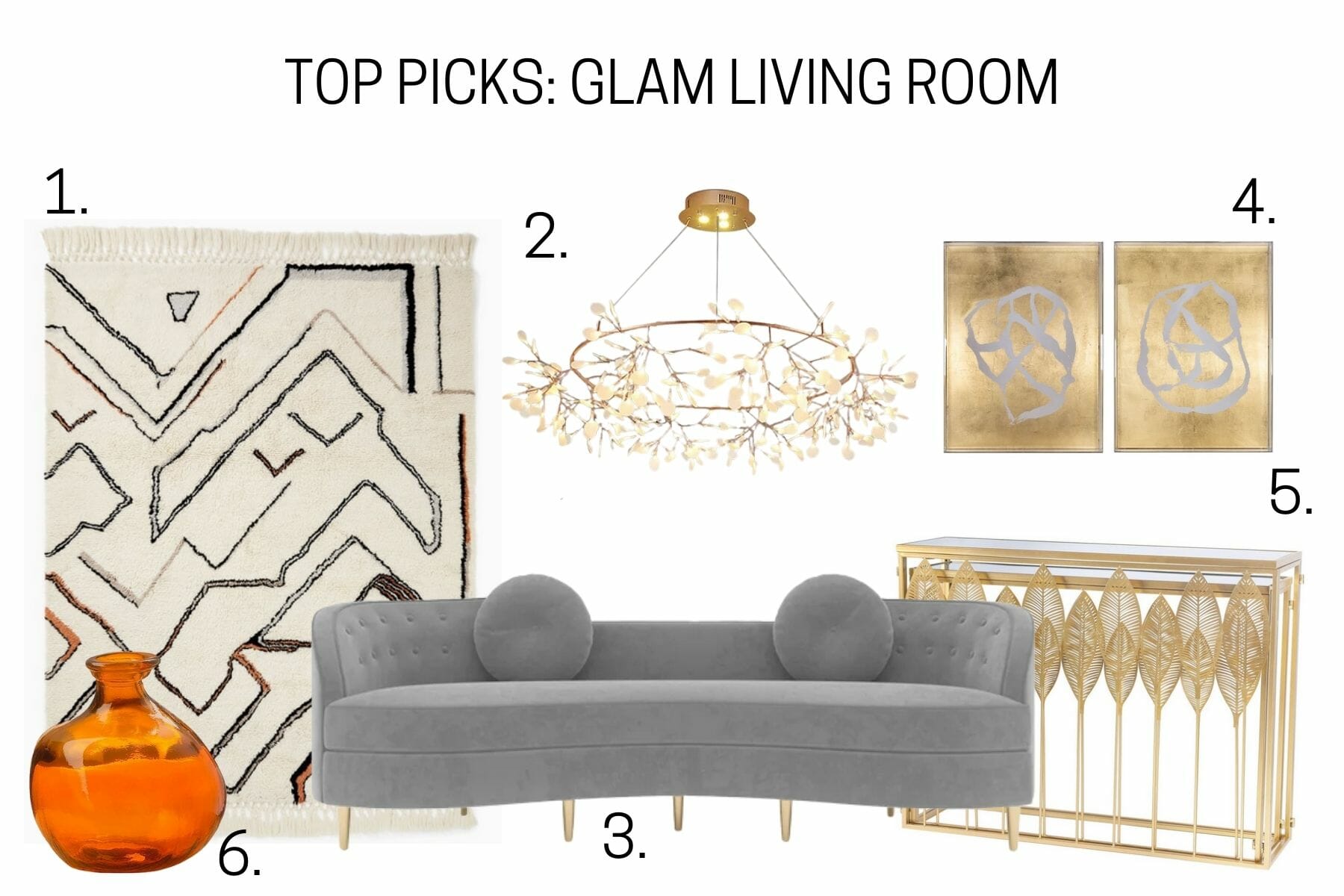 Are you looking for trendy living room ideas?
Decorating a living room from scratch can be overwhelming and intimidating. Fortunately, Decorilla's design team can help in bringing your home dreams to life. Schedule your Free Interior Design Consultation to learn more today!

[Images: 1, Decorilla project images]