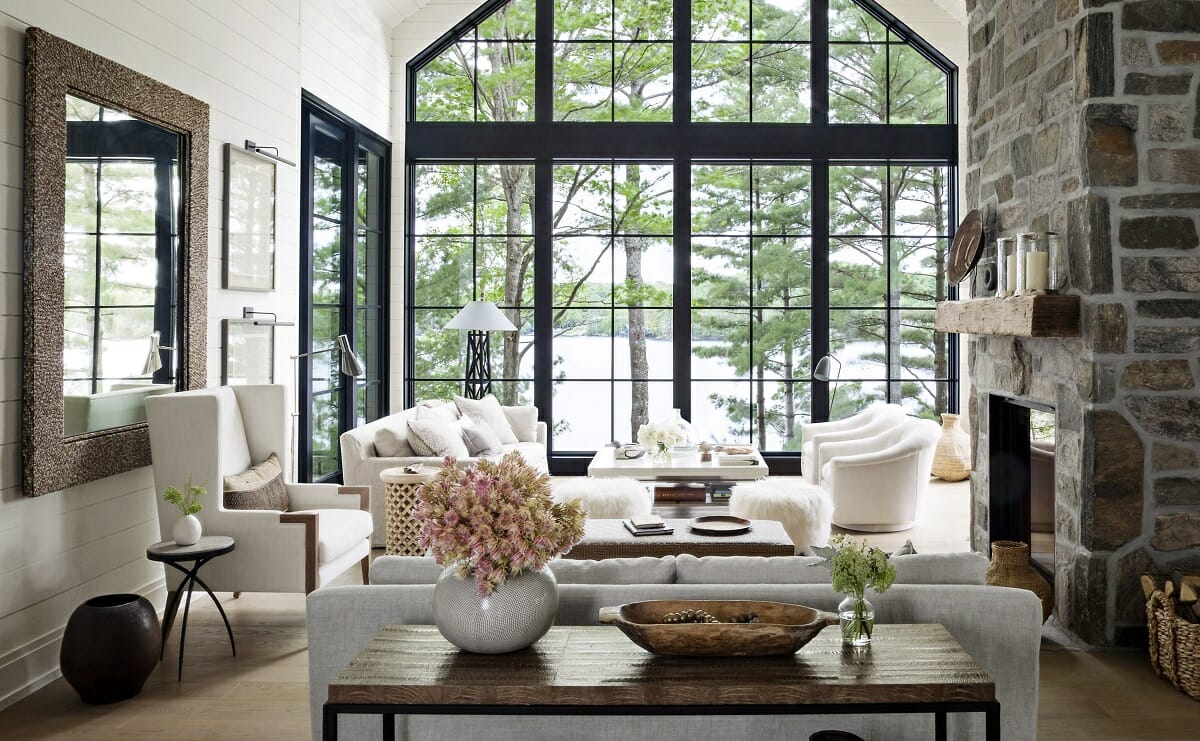 How do you style a Cape Cod-style home far from the coast? Be true to your surroundings! One recent client wanted to create a cozy interior to match their home's woodland setting. And soon, there was a contemporary rustic living and dining room worth showing off. Read on to see how Decorilla's designer transformed the space!
The Challenge: Contemporary Meets Rustic Interior 
An open space offers so many possibilities. You can tailor the interior to suit your exact likes and needs. That said, some architecture styles lean more toward some designs than others. The client's Cape Cod-style home, for instance, was perfect for those who love blending comfort with wild nature. This formed a great base for the interior but, to succeed, the designer also had to:
Find a happy middle between contemporary and rustic styles for the open concept living and 

dining room ideas

Incorporate transitional furniture elegant yet very comfortable

Stay true to the naturally warm and cozy atmosphere of the architecture

Include a custom contemporary rustic dining table that honors the natural, rough grain of raw wood
Pro Tip: Your interior design style can be a blend of different styles like contemporary and rustic.

 Take our

Free Interior Design Style Quiz

to discover your unique decorating style today!
Contemporary Rustic Living Room Ideas & Inspiration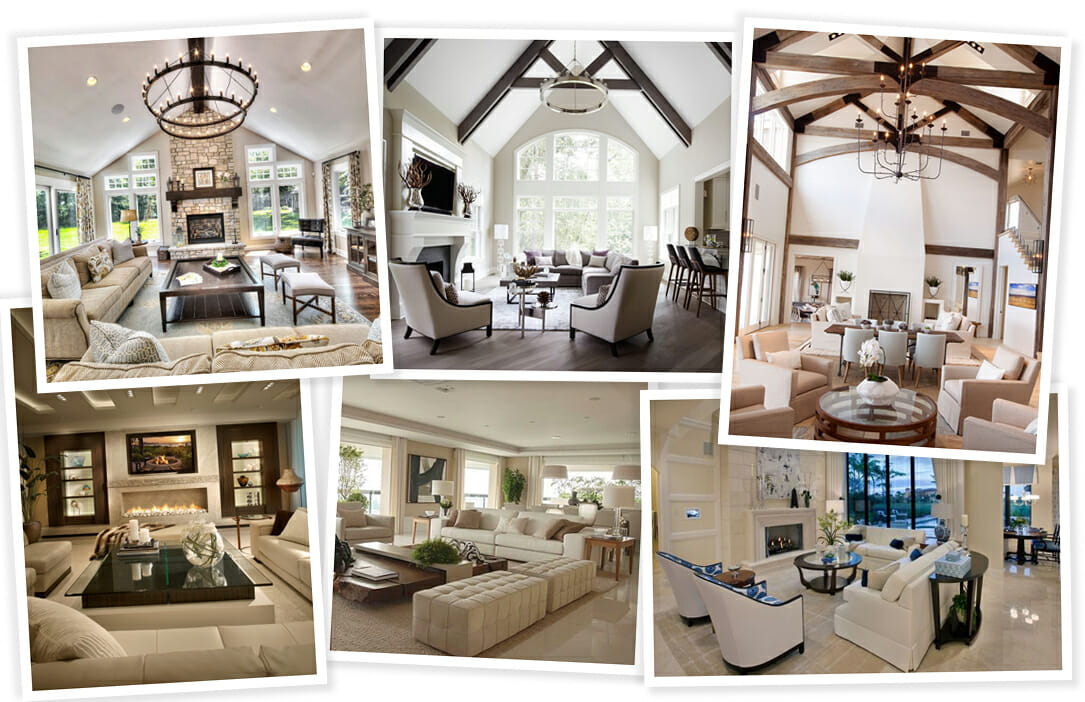 The client was drawn to rustic interior design but with a modern twist. Their favorite rooms are very bright, neutral, and feature dark wood. Many of these interiors also have A-frame roofs. The tall walls bring a wonderful sense of scale and highlight the exposed wood beams. In addition to light transitional furniture, these rooms have statement fireplaces. Overall, their contemporary rustic living room ideas were sophisticated yet inviting.
Moodboard & Contemporary Rustic Design 
Before the clients could create a stunning online living room design, they needed to set their project scope. Fortunately, Decorilla streamlines the process with a questionnaire and brief consultation. As soon as the client completed both, the team could select two designers best matched to the project. From here, it was up to the client to choose their favorite proposal.
Choosing between two concepts by highly talented designers wasn't easy. But after discussing some of the features with both designers, the client picked Selma. Her moodboard showed tranquil yet stylish contemporary rustic living room ideas. As a preliminary concept, it underwent a few tweaks before finalizing the renderings. Convenient client-designer communication ensures the outcome is tailored to what the client wants.

Contemporary Rustic Living & Dining Room Result
The final design is superb. A warm yet neutral color scheme complements the structure's natural materials and the setting. Yellow wood floors and a matching ceiling make an exquisite setting. With the expansive windows, the space boasts a flood of light. Moreover, light furniture and walls enhance the inviting glow.
The layout of a contemporary sofa, curved accent chairs, and a pair of ottomans further emphasize the welcoming atmosphere. A woodsy abstract pattern covers the ottomans and is echoed in the layered scatter cushions. As a result, the interior feels made to be – cohesive and in tune with its exterior.
All in all, the interior beckons guests and whoever descends the stairs to sit for a while and take in the inspiring view. Contemporary and rustic accents adorn the living room, giving it a transitional and timeless air.
Another aspect that makes this interior so successful is the detail. A chandelier high above is sure to give a romantic glow, characteristic of a cozy cabin. At eye level, a glossy mirror, marble table lamp, and branches in a vase balance contemporary glam and raw nature. The trio of candles and ceramics creates a beautiful vignette up close on the coffee table. It's certainly insta-worthy, wherever you look.   
Earthy Luxurious Dining Room 
The exquisite design flows over to the contemporary rustic dining room. Here, trendy Mili & Lalo dining chairs give structure and a designer's touch to the narrow space. What's more, a custom-made dining table reminds diners of their natural environment. Beautiful light and dark hues layer the natural grain creating a feature in itself.
Scale also plays a role in this intimate setting. A contemporary chandelier dangles, almost weightlessly, above the dining table while a trio of woodland art lines the wall. Floor-to-ceiling curtains and a large plush rug give a dramatic effect. Plus, they add to the coziness of the design.  
Before & After: How did design create a home? 
The previous owners opted for a traditional design. It was quaint and comfy but didn't maximize the room's potential. Since the new homeowners had to work with an empty canvas, they could create whatever they wanted. And it's where they and the designer could use contemporary rustic living room ideas to the fullest.       
Layers and Style
The empty home held many opportunities, but without a guiding hand, it could feel dark very easily. So, first on the designer's itinerary was to repaint the walls. A lighter off-white with an eggshell finish would complement the woody tones just right. Plus, it would bounce plenty of natural light into all corners of the open plan space.
Next was the rug. It anchors and binds the other furnishings together. From there, seating – some curved, one angular, and two backless – add variety yet a sense of symmetry. Then the nesting coffee tables and console provide structure and a place to show off select décor. And finally, lighting rounds off the rustic living room.
The final living room not only complements its outdoor setting but also matches the stone fireplace. Its sandy, stone, and light gray hues echo in the furniture and décor. And as a result, the space feels like it was meant to be; harmonious. 
Online Shopping List 
Decorilla includes valuable resources, like a set-up guide and an online shopping list with exclusive trade discounts, to make implementing the designs easy. With them, clients can recreate the look without a hitch. And for this project, the outcome was just as simple. Soon the clients had a rustic contemporary interior to be proud of!
Top Picks for a Contemporary Rustic Living Room 
If you want a quick home change or contemporary rustic room refresh, use our top décor picks to guide your update. These ideas are sure to boost any interior look.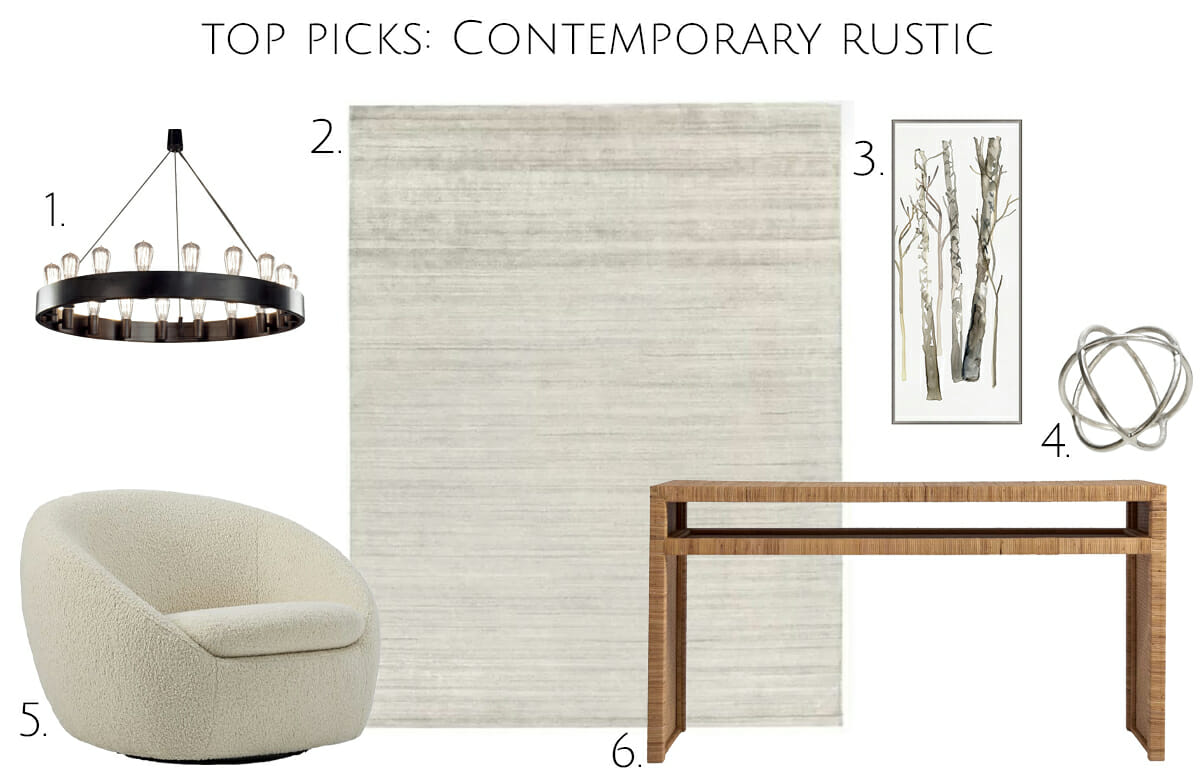 Ready to design your home? 
Decorilla offers a team of industry-leading designers to anyone wanting to create their dream space. Plus, it comes at a fraction of the cost as traditional interior design! Schedule a Free Interior Design Consultation to get started today!

[images: 1, Decorilla project images]