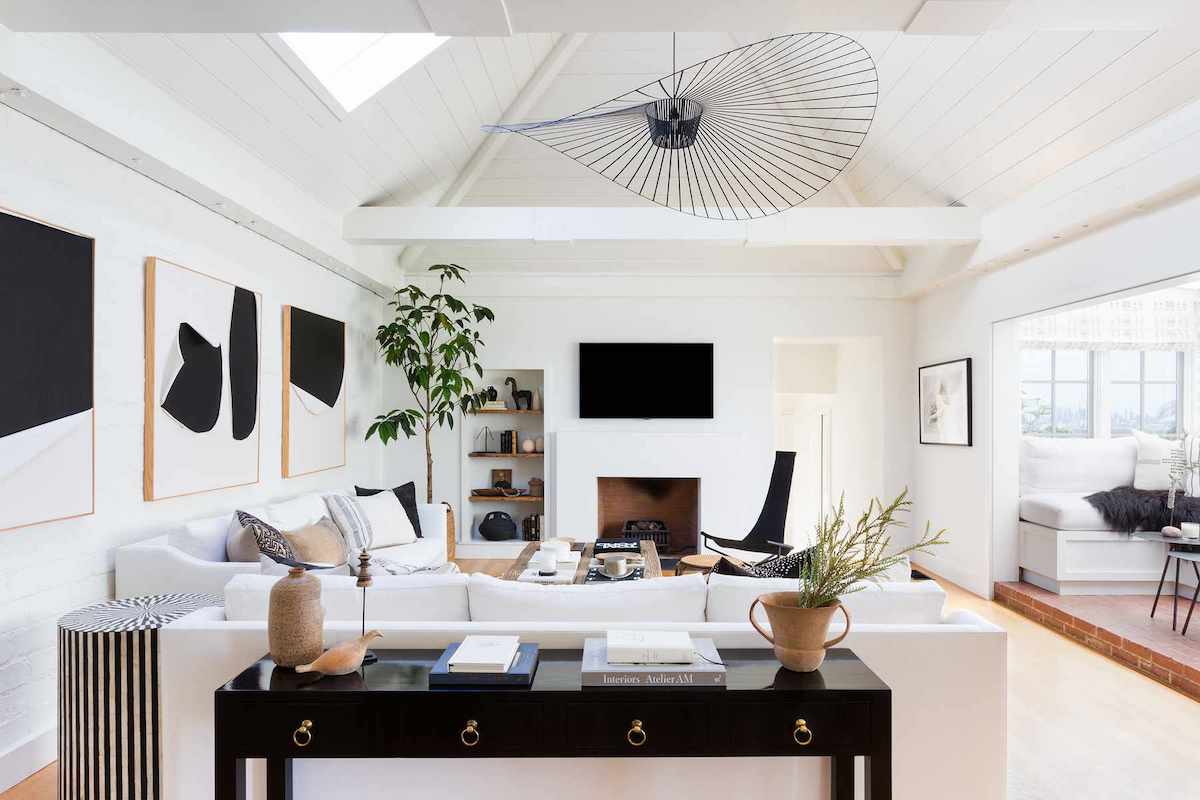 Black and white interior design delivers a levels of class and sophistication unlike any other color combination. And this was just the look and feel recent Decorilla clients were after. They desired an elegant monochromatic design for their entire home. Read on for their polished black and white home interior design reveal!
The Challenge: Black and White House Interior
Passionate about entertaining, the clients wanted their home to exude an inviting atmosphere. Their interior not only needed to serve them well daily, but also make their guests never want to leave. The clients also wanted a striking high-contrast theme. But they were open to suggestions and more black and white interior design ideas. To succeed, the designer needed to solve a few challenges:
Ensure both the dining and living room is suitable for hosting 

Find a dining table that can comfortably seat more than four people without taking up too much space

Identify storage solutions for the bedroom since it lacks a dresser and practical nightstands

Turn an unused closet into an organized wine cellar

Use black and white interior design accents throughout all the rooms for a cohesive look
Love black and white interiors but not sure how to incorporate the look into your home? Then, schedule a

Free Interior Design Consultation

to get started with a top designer today!
Black and White Modern House Interior Inspiration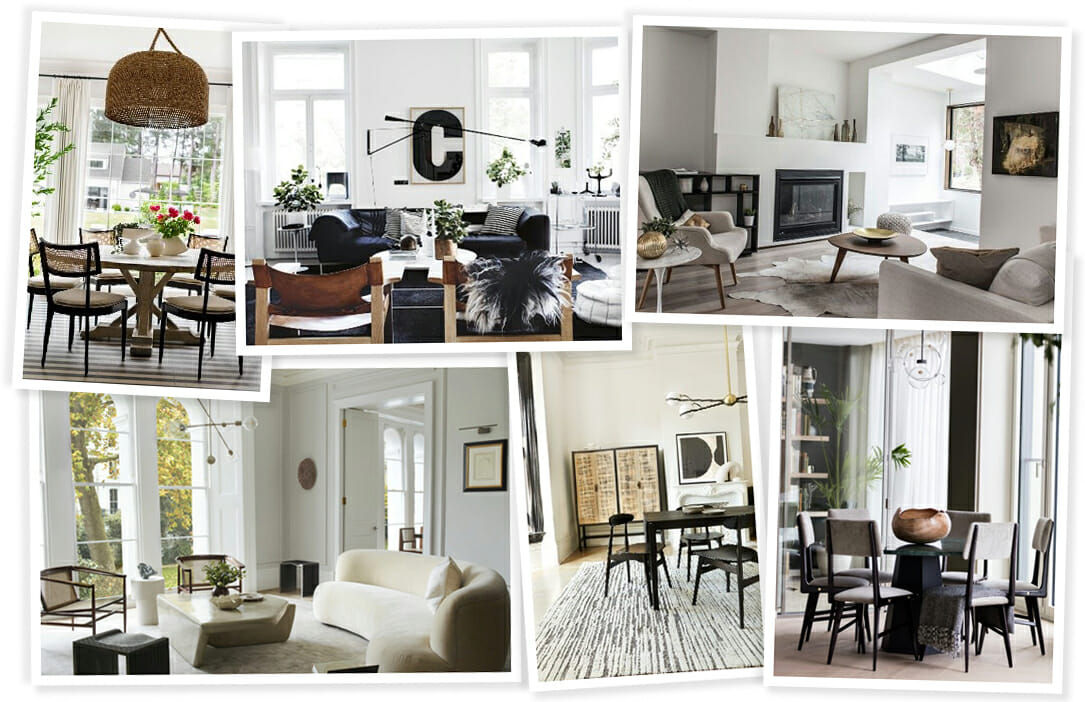 There's a clear theme throughout the clients' inspirational images. First, monochrome is certainly a must, as are hints of organic influence. Secondly, indoor plants, as well as wooden and cane accents, are present throughout. Subtle golden touches are another element the examples have in common and add an air of refinement. 
It's also noteworthy that these spaces feature more white than black. This leads to an interior design color psychology profile that's light and harmonious but with some dramatic flair. Overall, the rooms are well-balanced, contemporary, and inviting.
Black and White Interior Design & Moodboard
Because the clients already had a good grasp of their interior design issues, completing the initial process took them no time at all. It started with a quick questionnaire and virtual consultation. Next, Decorilla's team used their details to identify two designers best for the project.
Using the client's brief, the interior designers created a custom moodboard each. Both featured chic black and white interior design ideas, so deciding on a favorite was tough. Ultimately the clients chose Casey's elevated organic concept.
Staying true to the clients' wishes, Casey kept to a transitional look. However, she added some high-contrast, contemporary accents and artwork into the mix too. This unexpected twist blew the clients away. Different shades of black and white, combined with warm, wooden tones, and pops of green, resulted in a well-rounded concept.

Black and White House Interior Design Results
In the end, the clients were in complete awe of their monochrome interior results. Aside from being more practical, every space now also looks incredible on its own and when seen as a whole. The various rooms share a color palette and style, yet each feels special and unique. Like the clients' dreams, their black and white interior became the ideal living and entertainment space.
The Sleek Black and White Bedroom Interior
Serenity reigns in the black and white bedroom interior design. The furniture is unfussy yet undoubtedly luxurious. In the same way, a round chandelier and canopy bed add a dash of romance. A black ceiling, next to white walls, creates a cozy, intimate look as it visually lowers the ceiling. 
Where it once lacked storage, the room now has plenty, thanks to two dressers, as well as roomy bedside tables. Additions like blackout curtains and a storage ottoman contribute functionality and style. Finally, indoor plants add color and life, while a gray area rug grounds and centers the space.
A Living Room Ideal for Entertaining
In the living room, like the rest of the black and white home interior, the furniture shares a classy, modern look. Crisp, clean lines and plenty of texture result in a contemporary atmosphere. There's ample comfy seating available as the room features a sectional couch, two lounge chairs, and two small benches. The simple yet chic woven area rug anchors the furniture and décor against the dark wood floor. 
The black and white interior design makes the petite room seem spacious. The white walls and ceiling give the space a light, airy feeling too. Also, the predominantly light color scheme and lighting keep the interior looking nice and bright. Black elements, on the other hand, create contrast and add depth. 
Visual interest is abundant thanks to different textures, patterns, and artwork. Plus, indoor plants bring color and life to the room. And to finish the room, hints of gold from pieces like the floor lamp and accent table give a sense of luxury.
Stunning Black and White Dining Interior
The same black and white home interior color palette continues in the dining room. Yet, there is a decadent difference – textured black wallpaper! It creates an undeniable elegant backdrop. Lightness in the form of the white ceiling, patterned area rug, pooling curtains, and abstract art contrast and balance the moody dark. Additionally, two lamps on the sideboard and a pendant light ensure the room remains bright. And finally, a warm brass pendant light adds an old-world charm.
Although the space is small, a round table allows six people to dine comfortably. The cane chairbacks pair well with other organic materials, like the wooden floors and blinds. They also give the dining room an inviting, natural atmosphere. An indoor plant placed in a dead corner breathes life into this black and white house interior.
The Striking Lounge, Wine Cellar, and Home Gym
To mix things up in the black and white house interior, a formal lounge features two olive armchairs. The pair in their rich upholstery certainly make a luxurious focal point. The setting is also very symmetric. Two glass end tables flank a plush white couch and, along with a tiered coffee table, complete the sitting area. 
A plush contemporary rug grounds the area and its line motif adds to the formality of the space. Since natural light streams in, the mainly white space feels bright while the monochrome theme continues. The space also has an air of exclusivity as black curtains, throw pillows, and other details frame the room. 
Neat and fuss-free, the wine cellar also has a black and white interior. It's a well-organized space, thanks to several wall-mounted wine racks. Their golden hue stands out beautifully against the black wallpaper, as does the huge abstract wall art.
Instead of artwork, the home gym's walls feature stunning gold, black, and white wallpaper design. Here, the room has an exercise bike and an indoor plant. However, there's enough space to accommodate more equipment or yoga mats.
Black and White Interior Design Online Shopping List
Working with Decorilla is stress-free. Just like during the black and white interior design process, all clients receive a detailed online shopping list. It makes creating the look at home a breeze. Other handy tools clients get to enjoy include layout plans and exclusive trade discounts.
Our Top Picks for a Black and White Home Interior
When recreating an interior design style, start with a few key pieces to establish the ambiance. To put together a similar black and white house interior to the look above, consider our top pick ideas below.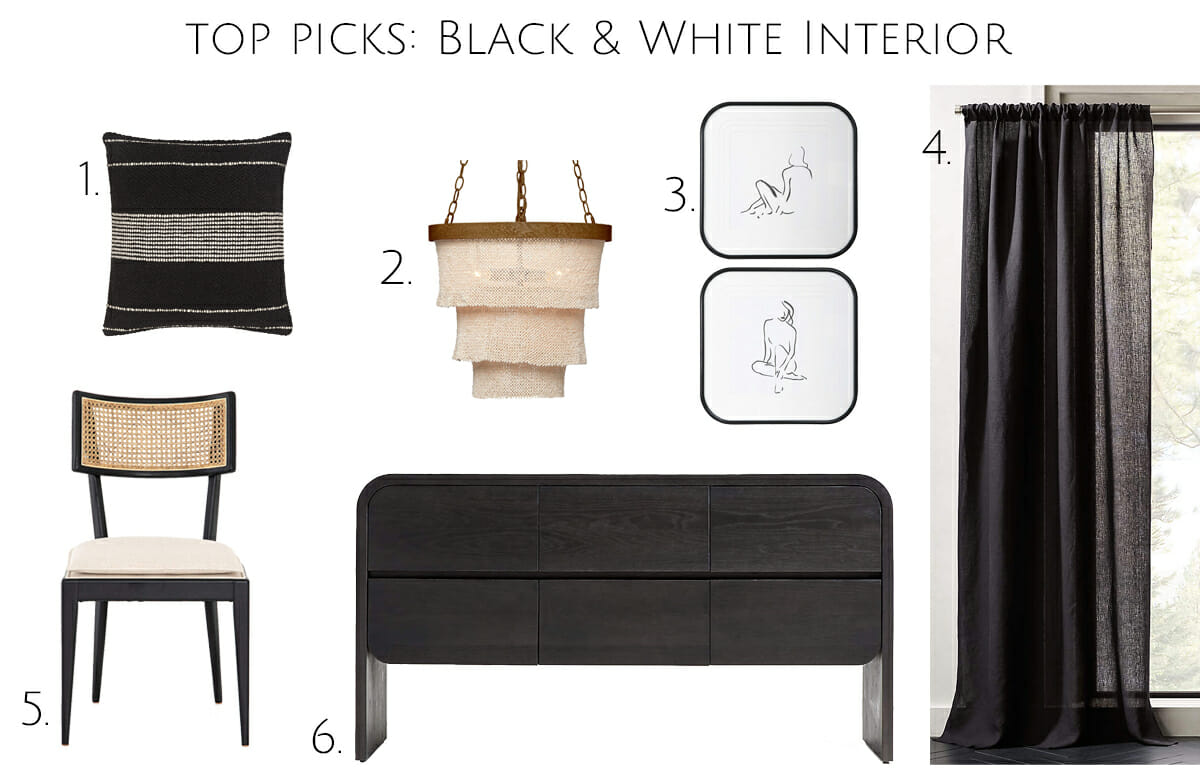 Want your own black and white home interior?
Whatever the interior design need or vision, Decorilla can help make it a reality with ease. Start a project by scheduling a Free Interior Design Consultation to learn more today! 

[images: 1, Decorilla project images]