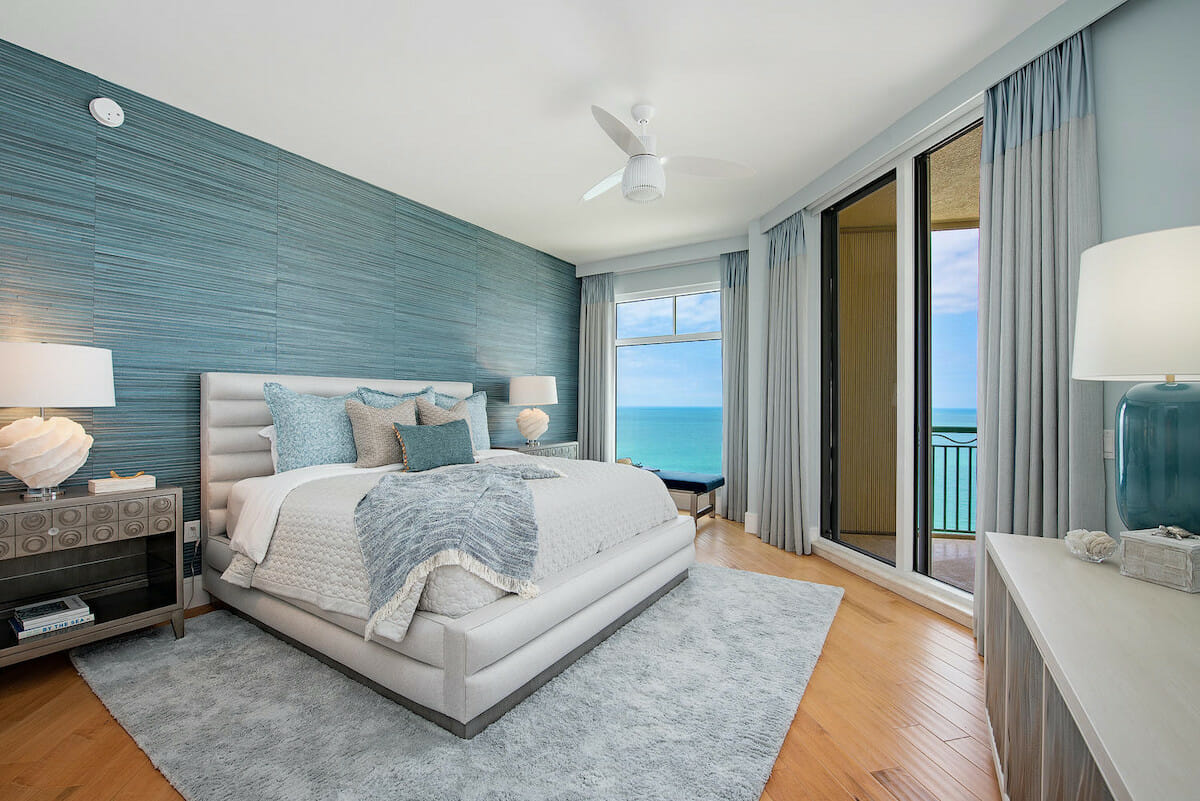 Beach-style bedrooms capture the spirit of perfect seaside days into a restful retreat at home. And it was this personal oasis that a recent Decorilla client was after. She wanted to transform her bland builder-grade bedroom into a cool and welcoming space. Read on to see the dreamy results of this beach-inspired bedroom makeover!
The Challenge: Beach-Style Bedroom
Creating a beach-style bedroom is no small task, but the right touch can produce truly stunning results. And that's what a recent Decorilla online interior design client was after. Her existing bedroom was fine and new but lacked charm and distinct character. As with most interior design updates, challenges presented themselves. Therefore, the designer was asked to:  
Reconsider the existing layout for better flow

Update the wall colors to an ocean-inspired hue

Use beach interior design concepts to create a laid-back atmosphere

Improve storage options for an uncluttered look

Complete the look with curated beach-style bedroom decor
Not sure if beach style is the right look for your bedroom? Then, t

ake our

Free Interior Design Style Quiz

to discover your unique decorating style today!
Beach Style Bedroom Decor Inspiration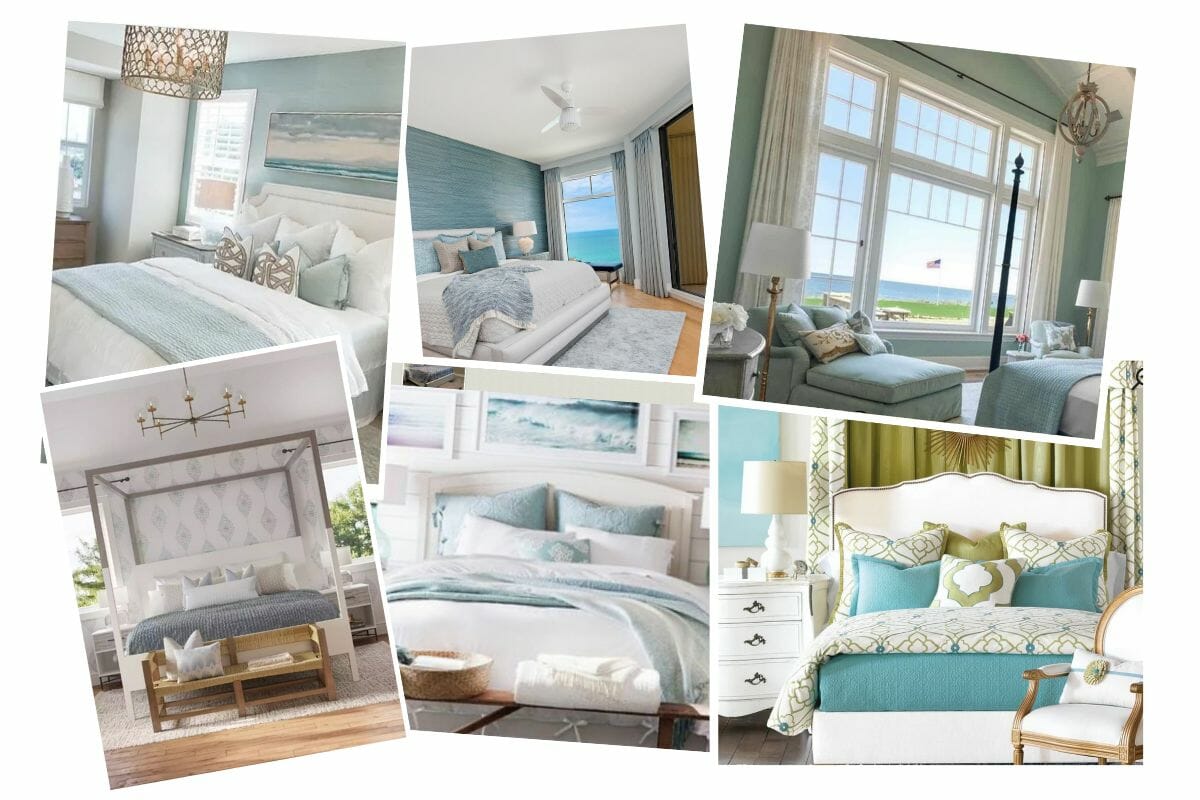 Every image in the client's inspirational gallery depicted the particular impact of beach-style bedroom decorating ideas in the space. Although the ambiance varied from rustic to glam, all rooms had many elements in common. There were a lot of bright walls, obligatory pops of all shades of blue, seashell decorations, and beach-inspired furniture designs. Taken together, rattan accessories, neutral wood undertones, and minimal decor produced a relaxed yet inviting look for an optimal bedroom design.
Beach Bedroom Ideas & Moodboard
The client began the online interior design process by filling out a helpful questionnaire, noting a few interesting details. First, she genuinely disliked the current room colors, flooring included. However, changing the floor covering was not an option at the moment, so the new palette had to complement the existing state. In addition, the presence of several furry residents meant avoiding fragile elements and anything that could be easily turned "into a scratching pole." With all that in mind, two Decorilla designers offered their beach-style bedroom ideas. However, it was the moodboard assembled by Sierra G. that ticked all initial boxes.
Sierra's moodboard captured the essence of standing among the sand and shallow waves, translating it into a beach-style bedroom. Rather than going for an apparent nautical look, she opted for subtle coastal accents. The overall bedroom atmosphere communicated tranquility and relaxation, with a dominantly neutral crossover between feminine and masculine design. 

Beach Interior Design Results
The position of this beach-style bedroom allows it to receive mainly early morning sun. For that reason, it was paramount to avoid any look that would make it feel dark and dreary during the rest of the day. Placing the mirror opposite the windows helps reflect and disperse some much-needed light throughout the space. Meanwhile, a combination of a white bed and nightstands with teal walls comes out as a winning combination for several reasons. Along with providing the desired beach vibe, teal is also one of the client's favorite colors. 
With a beach interior design, the potential for chic styling becomes infinite. And yet, it takes only a few tactically picked and placed elements to quickly make the place feel stylish and serene. Since the walls are already brightened up with teal blue, bright decor compliments them in a refined and relaxed manner. In addition, the media cabinet the client wanted to keep enhances visual interest with its creamy wood texture, allowing the blues to really pop. 
Meanwhile each finishing detail is well thought out. Floor to ceiling curtains trick the eye and heighten the room, making it feel larger than it is. The textile details continue at the bed, where an array of throw pillows welcome the homeowner to curl up with a book or fall into a restful night's sleep. Here, small teal accents tie the room together with other hints of oceanside hues found among the area rug and sleek bedside lamps. Lastly, tasteful beach prints form a gallery above the bed without being overly kitsch.
Before Beach-Style Bedroom Ideas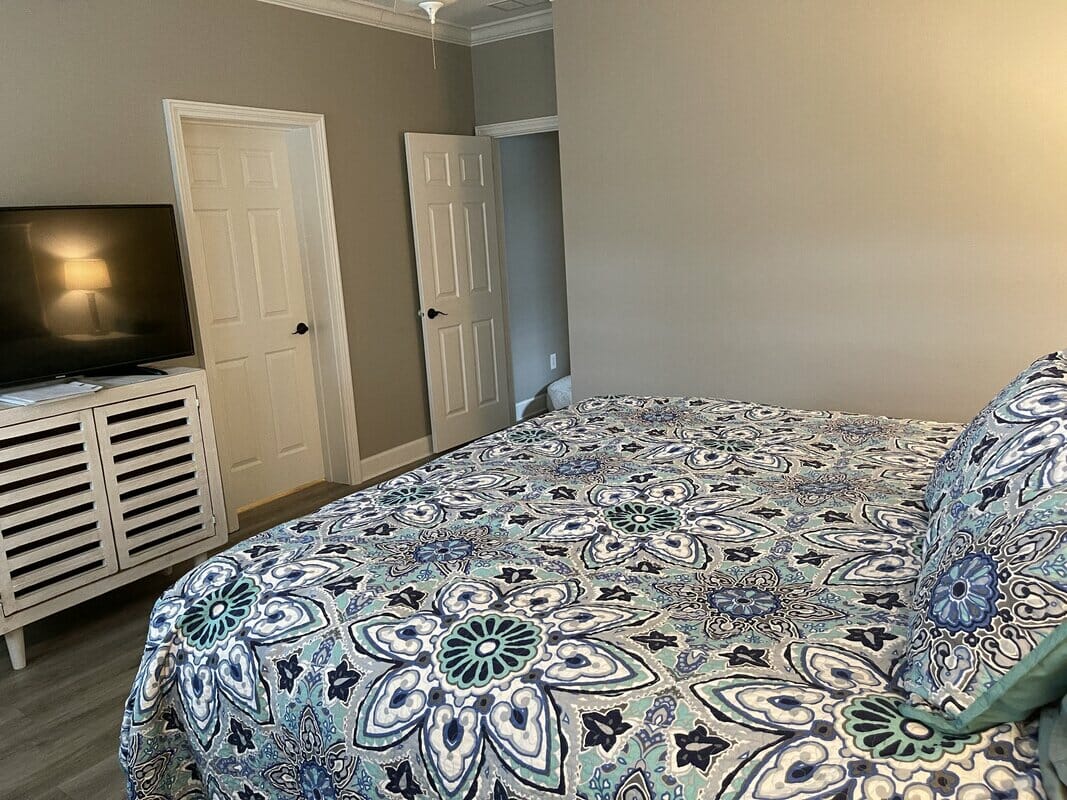 Before this bedroom saw a designer's eye, it seemed to be stuck in a limbo of undefined styles. It was clear that the space wasn't living up to its full potential, making an excellent example of how even minor changes can make a powerful impact. The creamy tones of the walls and furniture set a comfortable base, visually blended into a flat, almost two-dimensional scene. Employing a few clever beach bedroom ideas enhanced the look while exuding a rest-friendly atmosphere.
Beach Style Bedroom Ideas Shopping List 
Creating a beach-style bedroom—or any other dream room—has never been easier. Decorilla projects guide you through every step of transforming your home, sweetened by a range of additional benefits. Along with 3D visualizations, each client receives expert guidance and implementation tips. The packages also include a custom-made shopping list with exclusive trade discounts and a white-glove shopping concierge service. 
Beach Style Decorating Ideas: Top Picks
Does your bedroom feel more dark and cluttered than like a serene oasis? If you're longing for a beach-style bedroom that feels sophisticated and relaxed, take inspiration from our top decor picks inspired from this transformation: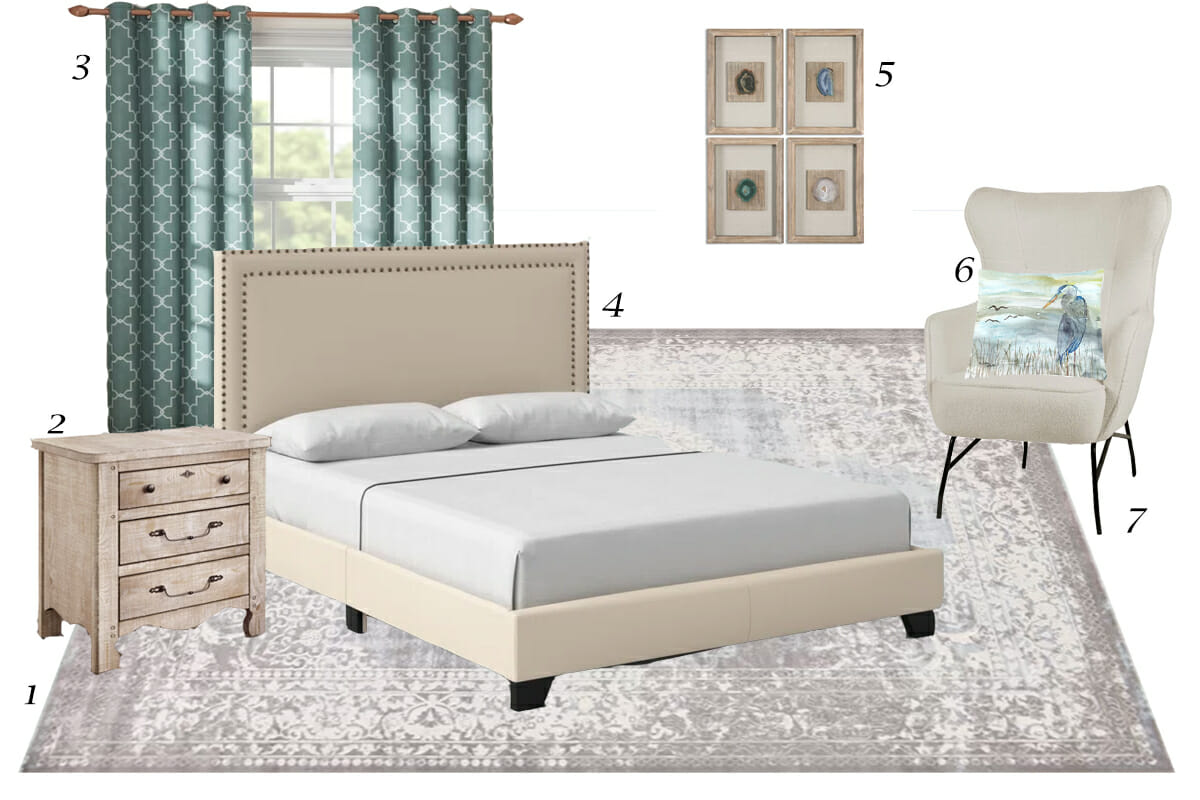 Looking for beach-style bedroom ideas of your own?
You can also turn your bedroom into a tranquil oasis that promotes relaxation and better sleep. Schedule a Free Interior Design Consultation to get started with our top bedroom designers today! 

Featured image: [1]