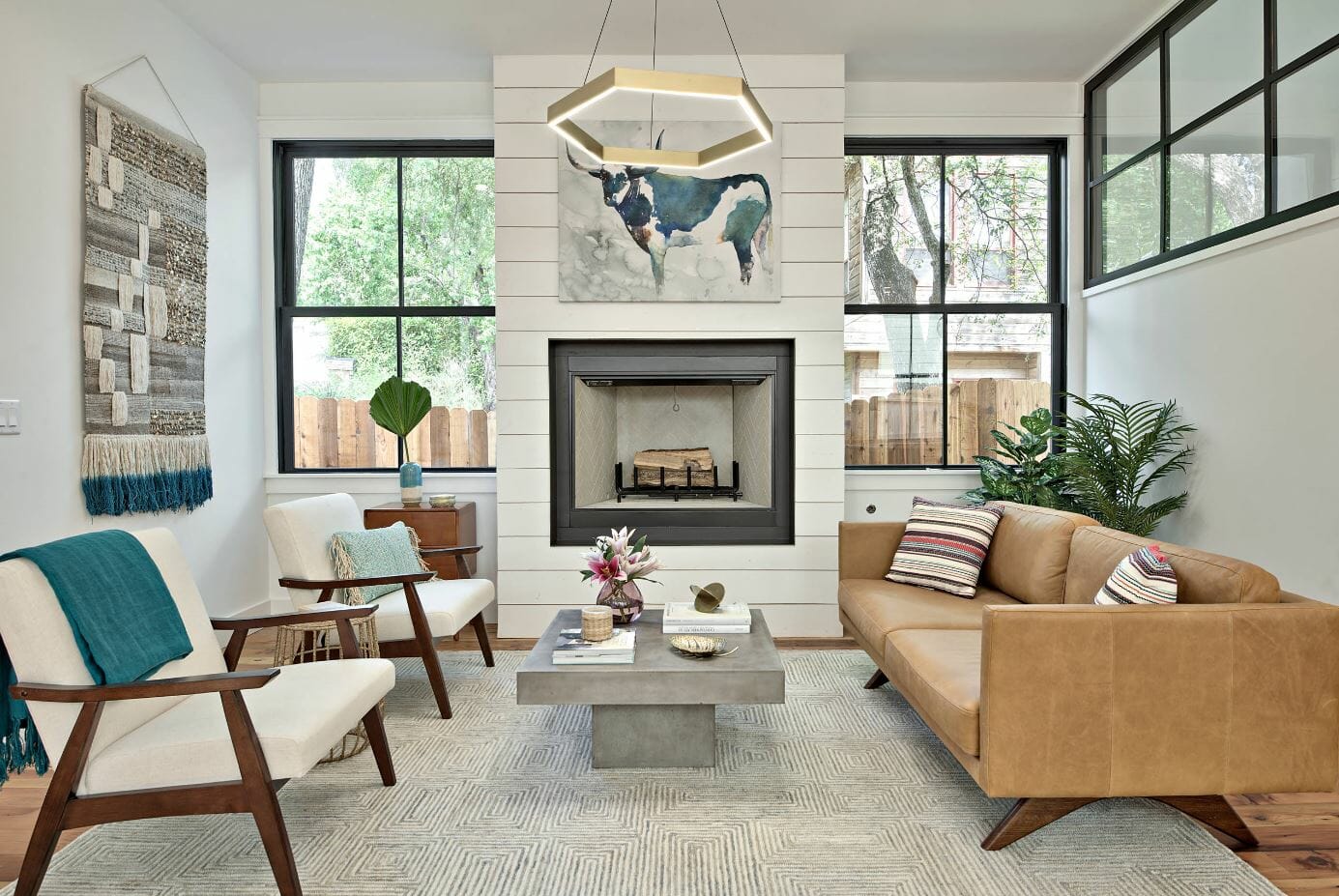 The farmhouse trend has been around in the interior design industry for quite some time. We can't help but swoon over the most recent twist on this classic look, modern farmhouse style. While classic farmhouse interiors may be too traditional for some of us, this modern take on the style is so incredibly versatile and gorgeous. Read on for our designer-selected top 7 essentials for incorporating modern farmhouse interior design in your own home!
What is Modern Farmhouse Interior Design
Modern farmhouse is one of the most popular design styles we keep seeing again and again. The contrast between the texture of traditional farmhouse style and the clean lines of modern make for the ideal combination. The resulting interiors exude comfortable sophistication, showcasing refinement without being overly pretentious.
Not sure if modern farmhouse is the right look for you? Take our Free Interior Design Style Quiz to help discover your perfect style today!
You've probably become familiar with this design style through the work of Joanna Gains. She's mastered the look, creating light and bright interiors that perfectly balance touches of rustic charm against clean contemporary lines. However, the great news is you don't need a celebrity designer to achieve the look in your home. Simply follow these guidelines below for foolproof modern farmhouse design.
1. Layered Textures Galore
The majority of farmhouse interiors have a great sense of hygge. The feel cozy and welcoming from the moment you step into the room. This is because of the layering of textures in modern farmhouse decor. Using fur and leather throw pillows to contrast against the hardwood and stone finishes will result in an inviting and interesting space.
Another way to bring in additional texture is to incorporate items directly from nature. We love seeing pops of greenery in potted plants and cuttings (whether natural or faux). Lastly, area rugs are an essential texture must-have that also add coziness to the space.
2. Mixing Metals
Farmhouse interior design isn't the only design style that loves to mix metals. This growing trend is here to stay. Contrast is your friend and there's no longer a need to have all the metals in a room be in the same finish. So mix and match to your heart's desire.
Black, gold, silver, oh my! They all work together so beautifully when you pay attention to detail. This especially holds true for sleek kitchen and bathroom design ideas. However, there's no need to stop there. Mixed metals can look stunning in any room of the house.
3. Modern Farmhouse Interior Design Ideas: Focal Kitchens
Kitchens no longer blend into the background. We love that modern farmhouse design isn't afraid to make a bold statement with the heart of the home. Bold trends like herringbone backsplash tiles, colored cabinets, and bold fixtures are common features seen throughout this fixer-upper paradise.
Don't forget to look up! Statement pendant lights over the kitchen island are another great way to incorporate the modern farmhouse design into your own home. Let your creativity shine – literally. Your design choices are limitless when it comes to pendants.

4. Large Dining Tables
When thinking of modern farmhouse design it's easy to think of large family gatherings around the table. So be sure to include a dining table large enough to fit a group! It's so important to gather around the table and have conversations with the ones you love. What better place to do it than a beautifully designed dining room.
If you're short on space, consider an expandable table that can be brought back down to a more compact size when guests aren't over. The extra dining chairs can always be tucked off to the side or used as accent seating in an entryway or living room.
5. Modern Farmhouse Style: Neutral Color Palette
Perhaps one of the most consistent features we see is a neutral color palette. There are often contrasting colors used to create interest in the room. When you do see pops of color typically we see more subtle colors that can be found in nature. Deep navy blue, sage green, and burnt orange are a few of our favorites.
Keeping the walls a white or off white color gives the perfect blank slate to let the texture of the furniture and accessories do the talking. If you have large windows in the room keeping the color palette neutral also allows for the view to take center stage.
6. Industrial Accents
While we haven't been seeing as much industrial design prominent in the design field in recent years, that doesn't mean it's not making its way into other trends just like this one. Subtle industrial touches such as concrete accents are a great way to bring in a raw and natural feel into the room. The perfect contrast to an otherwise farmhouse interior.
Metal accents in furniture and lighting are also a great way to incorporate industrial touches into your modern farmhouse home. We love the mixture of wood and metal. It gives off such a raw yet sophisticated vibe that we can't seem to get enough of!
7. Greenery & Plants
Arguably a tip that should be in most interior design trends is adding greenery. Bringing the outdoors in is good for the mind, body, and spirit. Not only does it purify the air, but you can also use this tip in a practical sense by planting an herb garden in your kitchen. No farmhouse interior design is complete without greenery.
In addition, avoid "dead corners" by adding a floor plant to fill the vertical space and soften the overall feel of the room. The designers have spoken and it's safe to say this modern farmhouse trend is not going anywhere anytime soon. And we couldn't be happier.
Get Started on Your Modern Farmhouse Interior Design
Love modern farmhouse, but not sure where to start with pulling off the look in your home? Schedule a Free Interior Design Consultation to work with an industry-leading designer today!