Vaulted Ceiling Rustic Living Room Design


Dimensions
16 1/2 feet at top of the vault H and 10 ft at the lowest part- 16 ft 8 in w 15 ft 10 in L









Items you want to keep

Details
Room Label
My Living Room
I want this room to feel more masculine/feminine/neutral
Neutral
What type of sunlight does this room receive?
Late afternoon light
What do you currently dislike about the room?
We want to be able to have plenty of seating but this sectional is less than a year old and didn't hold up and is just too low to the ground. We want to fill in opening to coffee bar and want over all furniture to fit well and be beautiful and functional for a big family.
What pieces of existing furniture, lighting, art or accessories do you want to keep in the design?
We are open to changing it but my kids like a soft ottoman instead of a hard coffee table so if we can make sure new option has that. There is a walkway that needs to stay open behind sofa (see pic) that is 3ft 8 inches. We want to keep vaulted ceiling.
Are you open to changing your wall colors?
Yes
Do you have a preference for either paint or wall covering, or are you open to both?
Open to both
Are you open to changing your floor covering?
Maybe
Additional comments to designers
Since room is open to breakfast room then it has a soft stop on that side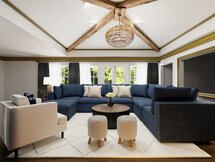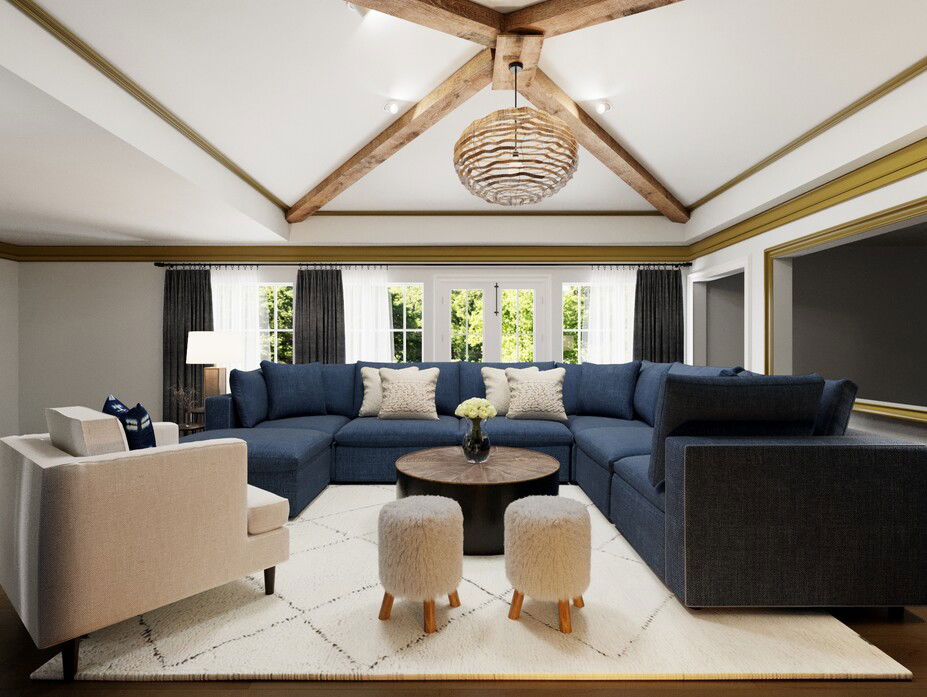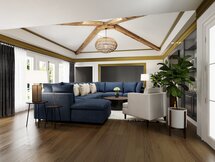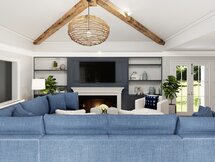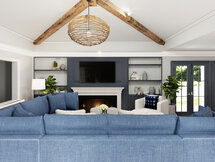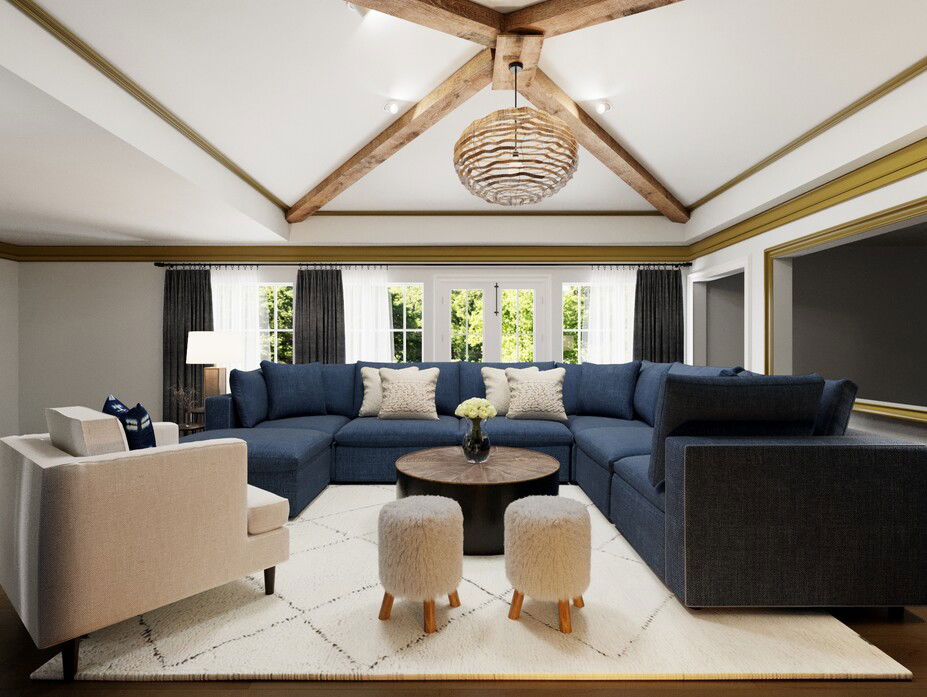 1
Sectional
2
Coffee Table
3
Side Table
4
Arm Chair
5
Stool
6
Table lamp
7
Floor Lamp
8
Area Rug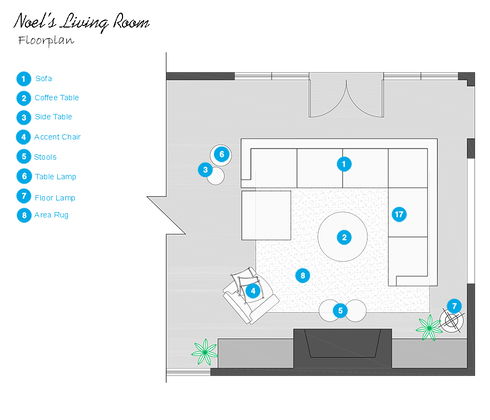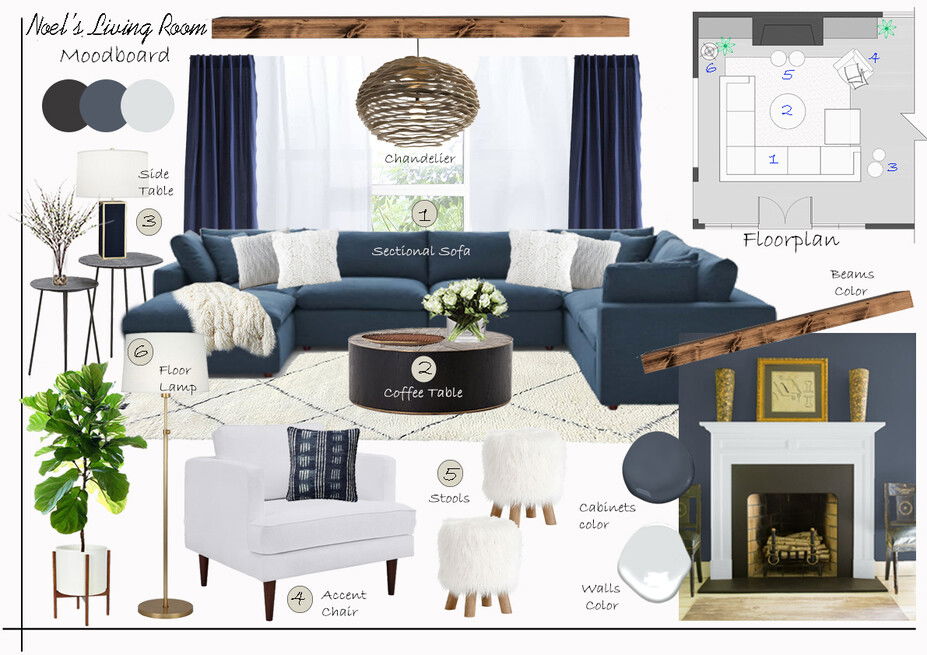 Living Room:
Since your room is large your color options with this room are quite broad.

For your main color, we chose to use white/off-white as it offers a fresh, clean, feel to the space. White and off-white colors are often a favorite for walls because they are light, neutral, and match most color schemes. They are known to make rooms feel more airy and spacious. For your second color, we chose to use blue because it is calming, relaxing, and serene. This color will make your living room modern and amazing!

Use a matte finish paint because it will be helpful in camouflaging those surface imperfections such as bumps and cracks as it does not reflect light. Just be careful because matte finish is more difficult to clean. You may also need to touch up scratches or marks by adding more of the same paint in the future.
Living Room Colors:
Shopping List:
Decorilla Discount
Photo
Name
Description
Link
Dimensions
Decorilla Discount
Global Views


Sectional

A haven for cozy relaxation, Commix features plush comfort, clean-lined design, and spacious profile, that makes an attractive statement in the modern home. Upholstered in soft polyester and linen fabric, this living room set comes with solid wood construction and cotton and down cushions for a luxurious sink-in feel.
Order & Save
119"L x 158"W x 35"H
DwellStudio


Coffee Table

Bring on the drama. A deep brown oak top is cut in a starburst texture, framed by deep ebony sides and encircled by bright brass rings.
Order & Save
15.5'' H x 40'' L x 40'' W
Pottery Barn


Side Table

Table top is cast of aluminum and MDF with wrought iron legs.
Order & Save
Small Table Overall: 14.5" wide x 11.5" deep x 18.5" high Large Table Overall: 17.5" wide x 16.5" deep x 22" high
Mitchell Gold + Bob Williams


Arm Chair

Versatility abounds in the streamlined silhouette of this armchair. Whether mid-century, contemporary or modern décors suit your style: the clean lines, squared edges, tapered wood legs with non-marking foot caps of this low-profile piece is sure to make a statement in virtually any setting.
Order & Save
4.5"L x 35"W x 34.5"H
Pottery Barn


Stool


Quantity: 2
Fixed legs feature a hand applied Pecan finish.
Order & Save
16" diameter, 20" high
Global Views


Table lamp

Base Color: Faux Navy Snakeskin
Order & Save
28.75'' H x 19'' W x 19'' D
Perigold


Floor Lamp

Finish: Aged Natural Brass
Order & Save
68.5'' H
Surya Collection


Area Rug

Perfectly plush! Hand-knotted wool blue area rug features luxurious New Zealand wool.
Order & Save
8' x 10'
Get Our Free Inside Scoop!
Contains our handpicked top five posts on latest decor trends & advice delivered to you monthly!


Ready to get started?
Get a designer room you'll
love, guaranteed!
Start Now