Samantha's Rustic Chic Living/Dining Room Design

Details
Project Title
Samantha's Rustic Chic Living/Dining Room Design
Project Description
Looking for a farmhouse/rustic feel to our combined living and dining room, but still clean and chic.
Location
West New York, NJ , United States
What are some of the interior design brands or stores that you like to shop at?
crate and barrel, pottery barn
Which colors do you dislike?
Hot Pink, Aquamarine, Fuchsia, Lawn Green, Chartreuse, Aqua
What are your favorite colors for walls?
Beige, Blanched Almond, Cornsilk, Navajo White, Tan, Wheat, Burly Wood
What are your favorite colors for furniture and accents?
Red, Orange Red, Fire Brick, Orange, Dark Olive Green, Wheat, Dark Magenta, Indigo
Dimensions
14'w x 31' long x 8'h










Items you want to keep














Details
Room Label
My Combined Living/Dining
I want this room to feel more masculine/feminine/neutral
Neutral
What type of sunlight does this room receive?
Morning light
What do you currently dislike about the room?
Ugly PTAC underneath otherwise beautiful windows! (Don't want to inhibit airflow, but do want to decorate around it)
What pieces of existing furniture, lighting, art or accessories do you want to keep in the design?
We'd really like the keep the two sofas. They are both off white.
We have four of the cushioned dining chairs (off white) that'd be nice to keep, but we're open to not using them. We also have two of the criss-cross backed chairs (from IKEA) that we're open to not using, but could be nice to keep.
Coffee table we are open to discarding, but if it can be useful in some way we're open to keeping it.
The image uploaded is not our actual bookcase, but it's the same style. We bought ours from Crate and Barrel and it is a darker brown as shown in the picture. We are definitely keeping this and would love to have it in the dining/living room, but we may be able to incorporate it into our bedroom instead.
We love our rocking chair! We won't throw it out, but we can put it in another room.
The small sofa chairs are off white and are from IKEA. We have two of them. For context, they are about 5 inches shorter than our couches. We would like to keep these, but might be able to put them in another room.
We are going to keep all of the art/pictures, but are open to putting different pieces in different rooms. The more we can incorporate into our living room/dining room, great.
Are you open to changing your wall colors?
Yes
Do you have a preference for either paint or wall covering, or are you open to both?
Open to both
Are you open to changing your floor covering?
No
Additional comments to designers
We need a number of things in our combined dining/living room:
-I need a desk to work at. It needs to be on the longer/larger side as it will need room for a printer, two laptops, an additional monitor, and speakers. Perhaps we can incorporate shelving in/around the desk.
-Our two sofas are basically the only two things that we really, really want to be able to incorporate into the design.
-We are planning to buy a TV to put on a wall.
-We want to distract attention away from the HVAC as much as possible, but we do not want to disrupt airflow. Perhaps we can put shelving/window seating near it?
-We don't have a ton of silverware/glasses and so we don't need any additional storage when it comes to the dining room area
-Our entryway more or less leads into the dining room. We want to have some kind of bench/storage to sit on to take off our shoes in that area between the main door and the closet (not the pantry). We're wondering how to do this in a way that is separate but flows with the dining room area.
-Lighting is really important to us. In choosing to buy this house, the big windows were the selling point. We're really excited for suggestions around the overhead lighting above the dining room area and in the entryway. We like the recessed lighting we have in the living room area. If you had to choose more or less lighting, we'd go for more.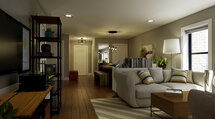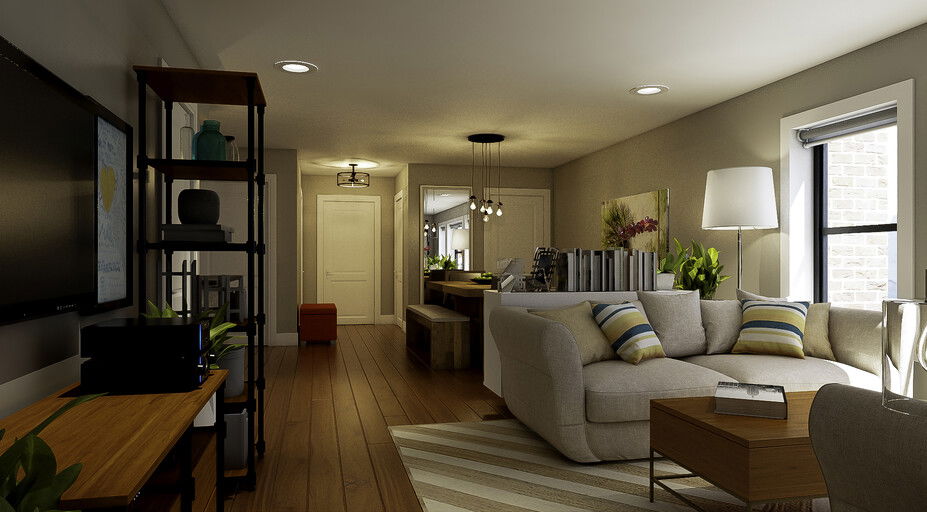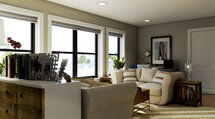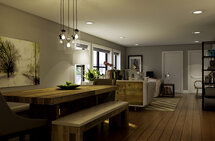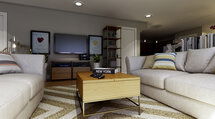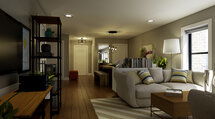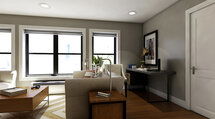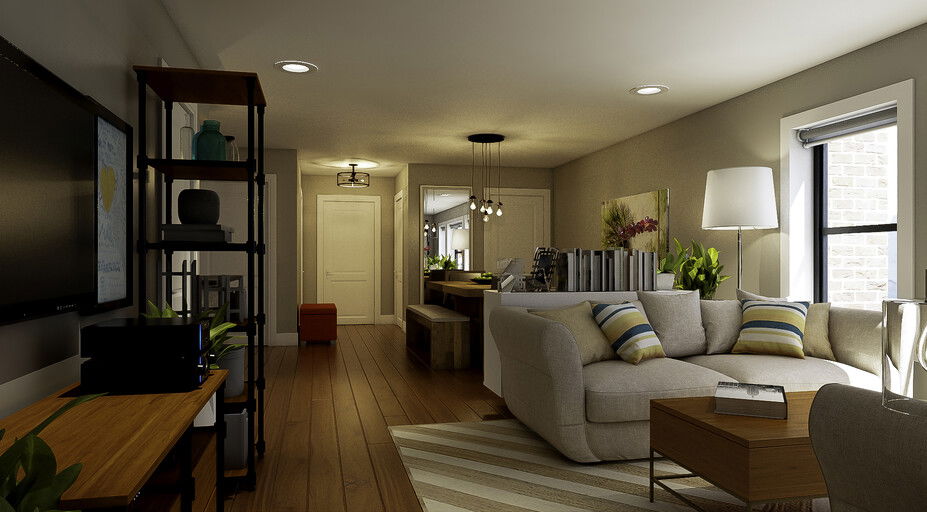 1
Royce Desk
2
Curved Leather Chair
3
Pipe Media Console - Long
4
Pipe Bookcase - Narrow
5
Rubicon Jute Rug
6
Storage Coffee Table - Walnut/Antique Brass
7
Metal + Wood Side Table
8
Lens Table Lamp
9
Mid-Century Overarching Floor Lamp
10
Emmerson Reclaimed Wood Dining Table
11
Emmerson Reclaimed Wood Dining Bench
12
Curved Leather Chair – Elephant
13
Reclaimed Wood + Lacquer Buffet
14
Floating Wood Floor Mirror (White Lacquer)
15
Mid-Century Swivel Counter Stool
16
5-Jar Chandelier
17
Glass Jar Pendant - Clear / Tall
18
New Harbor 4 Light Semi-Flush Mount
19
Patriot Upholstered Storage Bench
20
Grey Peak by Parvez Taj Graphic Art on Canvas
21
Chesapeake Bay by Claire Day Graphic Art Plaque
22
Wooden Ombre Vases
23
Luster Floor Vases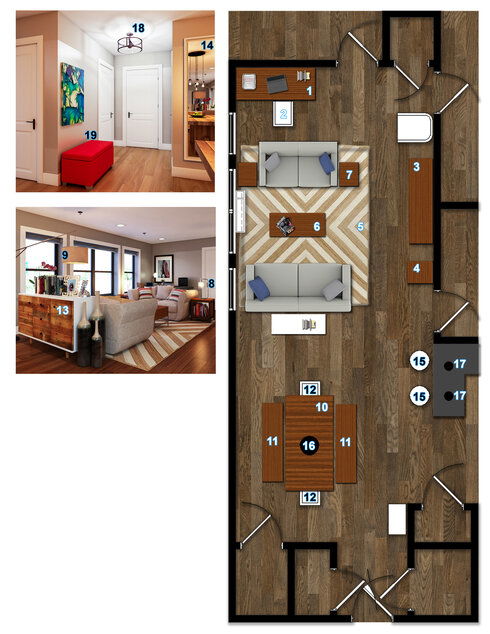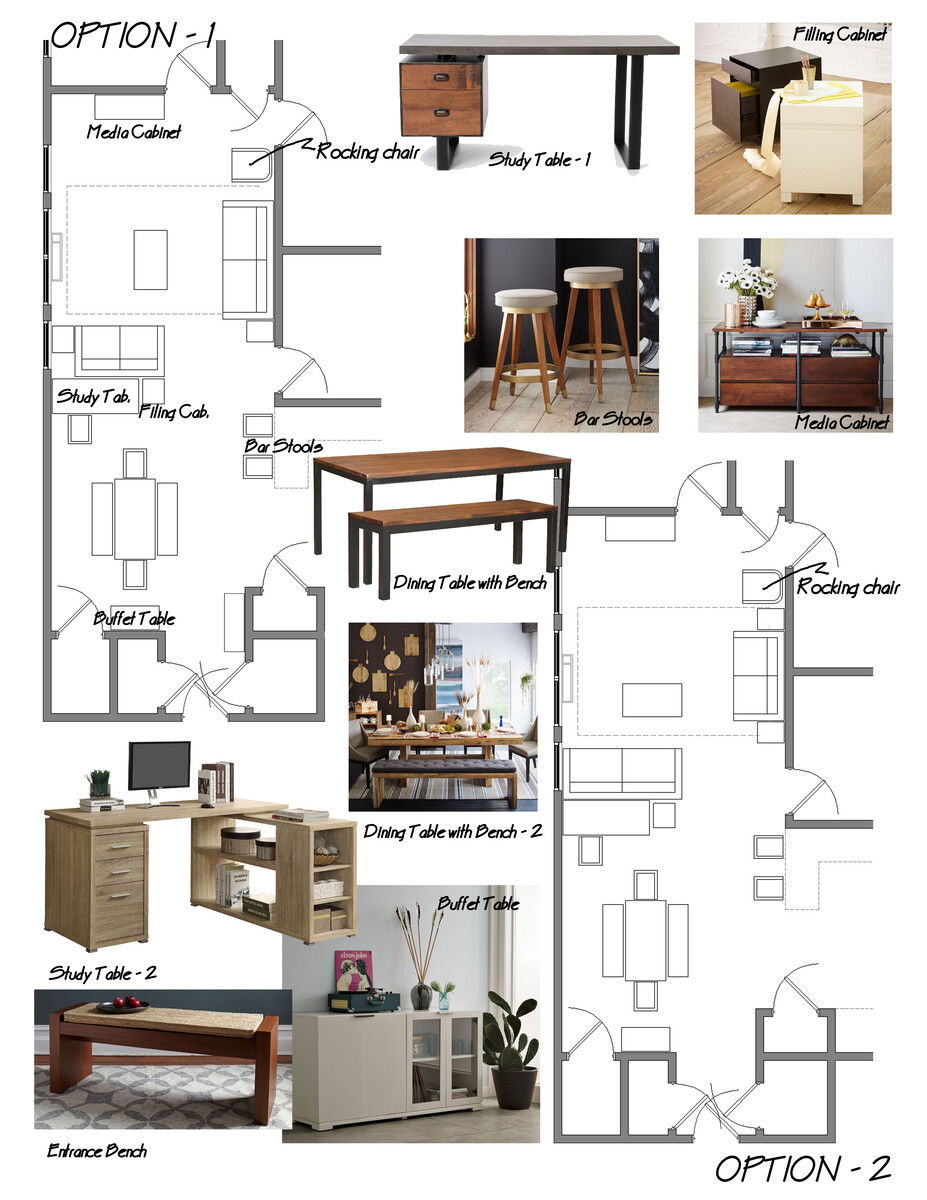 Combined Living/Dining:
Since the design have a lot of warm wood tones and have a lot of rustic design in it I chose this cool grayish color to balance all those warm tones,

I didn't picked any accent colors because the design didn't need it, our accents will be all the wood rich furniture pieces in the space.

we have 2 finishes for this one paint, a matte finish that will act as a border and a the main band in the middle will be in semi - glossy finish, the semi glossy will basically be the same size as the height of the windows minus the trim, and whatever is left will be the matte borders
Combined Living/Dining Colors:
Shopping List:
Available to project holder only
Get Our Free Inside Scoop!
Contains our handpicked top five posts on latest decor trends & advice delivered to you monthly!


Ready to get started?
Get a designer room you'll
love, guaranteed!
Start Now