Modern Rustic Living Room Interior Design


10k-20K
Non-Project Room Photos

Details
Project Title
Modern Rustic Living Room Interior Design
Project Description
Moving into a new construction townhouse in late August/Early September. I have dimensions of the living room and the bedroom and window placements as well as some of the interior finishes we selected such as the flooring and fireplace. I'd like to continue to use some existing furniture...but would need an entire room from paint, window treatments, furniture, art, decor, and placement.
What are some of the interior design brands or stores that you like to shop at?
pottery barn, RH, wayfair, pier1, arhaus, even macy's online furniture sometimes has cute stuff
Dimensions
22'11"x18'0" x 10' h


Items you want to keep






Details
Room Label
My Living Room
I want this room to feel more masculine/feminine/neutral
Masculine
What type of sunlight does this room receive?
Mid-day light
What do you currently dislike about the room?
This is a new construction, so I currently don't have any dislikes - it's an open palette to work with!
What pieces of existing furniture, lighting, art or accessories do you want to keep in the design?
I would like to be able to use one of two existing sofa options I have. I am open to looking at other sofa options, but if we can make one of my current sofa's work, even better. I have a Chesterfield purchased from Pier 1. I will send the sofa dimensions in another attachment. Pier 1 still carries this sofa, but not in the color that I purchased it in originally. The sectional that I have was purchased from Thomasville in 2013. I will also send the dimensions in another attachment.
Are you open to changing your wall colors?
Yes
Do you have a preference for either paint or wall covering, or are you open to both?
Open to both
Are you open to changing your floor covering?
No
Additional comments to designers
I am sending a PowerPoint to Devin with all information. This questionnaire won't let me attach a PowerPoint file.
I'll be giving you access to my pinterest boards to give you a sense of my style. I've attached pictures of the exterior of the townhome as well. It has the look of a refurbished brick warehouse on the exterior. I wanted to extend the urban feel inside but also incorporate my style with pops of an equestrian feel. I want the living room to give a "wow" feeling when it's finished.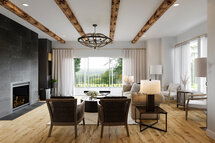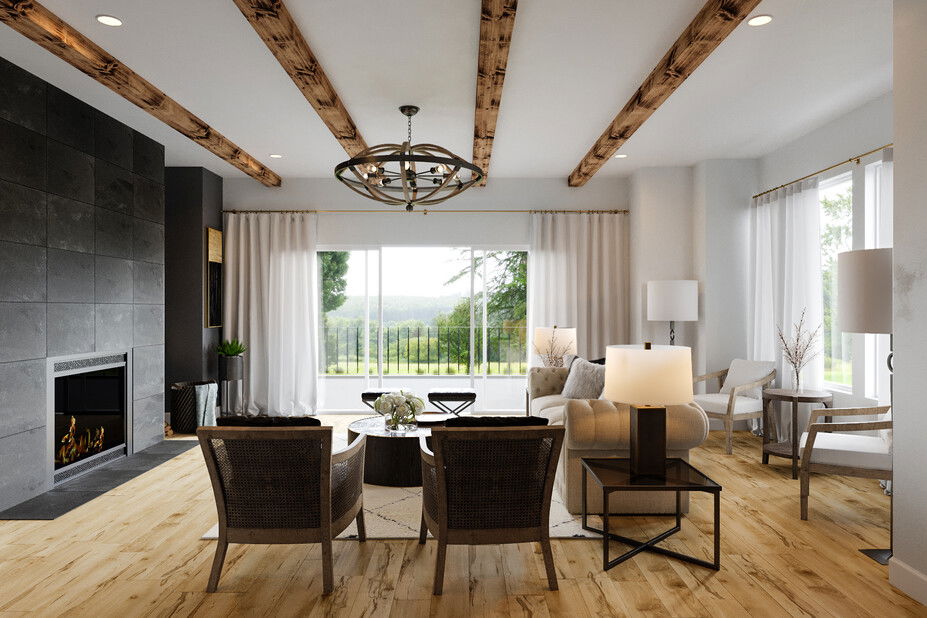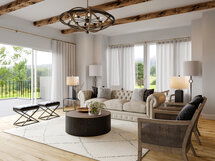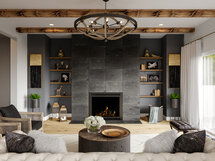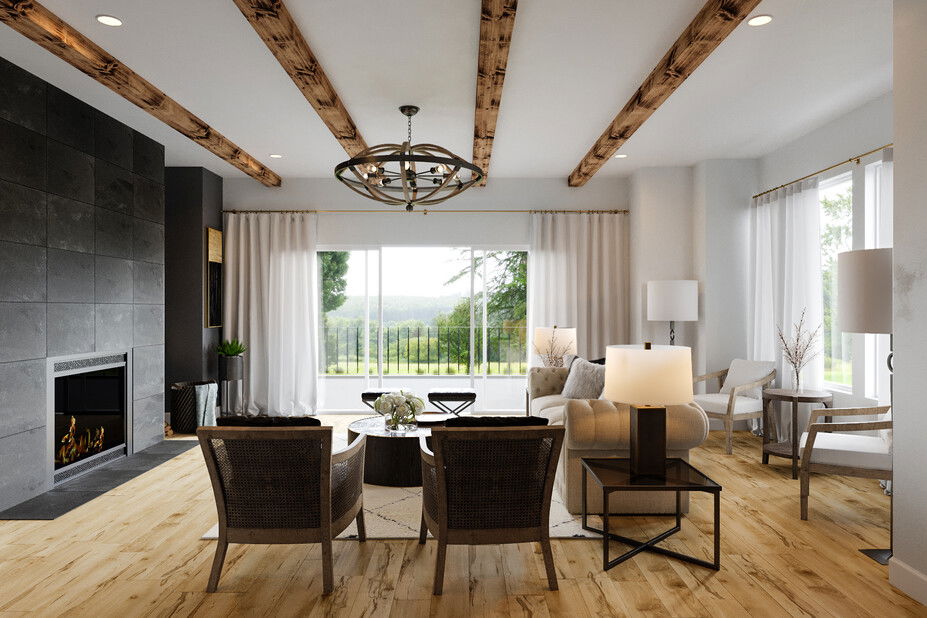 1
Coffee Table
2
Accent chair
3
Side Table
4
Table Lamp
5
Table Lamp
6
Stool
7
Area Rug
8
Area rug
9
Floor Lamp
10
Accent Chair 2
11
Side Table
12
Curtain
13
Chandelier
14
Pillow 1
15
Pillow 2
16
Wall Shelves
17
Wall Art
18
Planter
19
Lantern small
20
Lantern large
21
Basket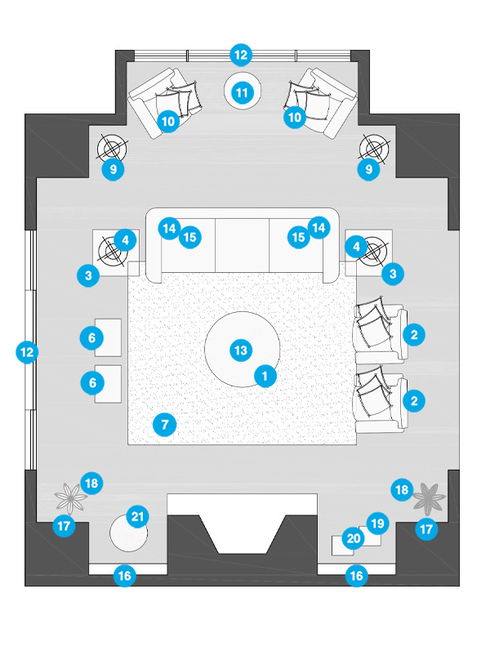 Living Room:
Since your room gets plenty of sunlight your color options are quite broad.

For your main color, we chose to use light gray because it is neutral and seen as elegant and classy. It compliments many colors such as white, blue, and yellow and works well as part of a color scheme in any room.

Use a matte finish paint because it will be helpful in camouflaging those surface imperfections such as bumps and cracks as it does not reflect light. Just be careful because matte finish is more difficult to clean. You may also need to touch up scratches or marks by adding more of the same paint in the future.
Living Room Colors:
Shopping List:
Decorilla Discount
Photo
Name
Description
Link
Dimensions
Decorilla Discount
Noir Furniture


Coffee Table

Bring on the drama. A deep brown oak top is cut in a starburst texture, framed by deep ebony sides and encircled by bright brass rings.
Order & Save
15.5'' H x 40'' L x 40'' W
Uttermost Collection


Accent chair


Quantity: 2
High supportive back and curvy flair arms make a grand style statement in a warm, washed and hand rubbed sandstone exposed hardwood finish with cane sides and tailored in a durable yet lush dark gray fabric.
Order & Save
29 W X 33 H X 31 D (in)
Crate and Barrel


Side Table


Quantity: 2
Smoked glass brings a tint of grey to our black iron accent table.
Order & Save
Width: 24.25"Depth: 24.25"Height: 17.5"
Pottery Barn


Table Lamp


Quantity: 2
The geometric form errs on the side of modern, but the timeless marble transcends style.
Order & Save
Overall (without shade): 5" diameter, 24" high
Koket Collection


Table Lamp


Quantity: 2
Color: Faux Brown Snakeskin/Aged Brass
Order & Save
28.75'' H x 19'' W x 19'' D
Pottery Barn


Stool


Quantity: 2
Kirkham Tufted Leather Stool is wrapped in top-grain Italian leather and expertly distressed for an antique look that highlights the natural variations in the hide.
Order & Save
20" wide x 14" deep x 18.5" high
Loloi Collection


Area Rug

Perfectly plush! Hand-knotted wool blue area rug features luxurious New Zealand wool.
Order & Save
8' x 10'
Lulu & Georgia


Area rug

Bring naturally chic style into your home with this Moroccan shag rug, hand-knotted using undyed wool. Inspired by traditional Beni Ourian designs, it features a distinctive geometric motif characteristic of the aesthetic, plus braided fringe for a touch of texture.
Order & Save
8'x 10'
Pottery Barn


Floor Lamp


Quantity: 2
Crafted of aluminum, brass and mild steel.
Order & Save
11" wide x 8" deep x 66" high
Crate and Barrel


Accent Chair 2


Quantity: 2
Audra takes opens up the iconic mid-century cane back chair to modern living spaces.
Order & Save
Width: 26.75"Depth: 28"Height: 33"
Revelation


Side Table

Rustic, open-grained hardwoods enhanced by a smoked java finish, set into a concentric circle pattern on the top and lower shelf with gently arched legs.
Order & Save
24 W X 26 H X 24 D (in)
Perigold


Curtain


Quantity: 6
Lush 100% Linen Solid Color Room Darkening Single Curtain Panel
Order & Save
55'' W x 96'' L
Perigold


Chandelier

The distinct saucer shape of the chandelier combines wood with metal.
Order & Save
19.5'' H x 48.75'' W x 48.75'' D
Perigold


Pillow 1


Quantity: 2
Upgrade your ski resort look with our rustic. Complete with cozy cotton flannel and faux fur trim, you won't want to leave your private lodge setting.
Order & Save
22'' H x 22'' W x 3'' D
Surya Collection


Pillow 2


Quantity: 2
Front: 82% Acrylic,18% Polyester, Back: 82% Acrylic,18% Polyester Faux Fur Knife Edge Colors: Front: White Pillow Shell with Down Insert
Order & Save
18" x 18"
DwellStudio


Wall Shelves


Quantity: 4
Tired of all the cheap and flimsy floating shelves online? Well, we got you covered! We are a small business on a mission to bring quality back to online décor.
Order & Save
2'' H x 24'' W x 6'' D
Revelation


Wall Art


Quantity: 2
Hand pieced layers of multi directional pine wood strips, creating a dramatic textural effect finished in a deep charcoal black and metallic gold leaf.
Order & Save
16 W X 47 H X 2 D
Crate and Barrel


Planter


Quantity: 2
Dundee elevates a clean-lined cylinder finished in antique bronze on a short handcrafted stand with a minimalist design of slender legs and tripod crossbar supports.
Order & Save
Height: 26" Diameter: 11"
Pottery Barn


Lantern small

Handcrafted in a classic silhouette, the Chester Lantern features a softly curved top and a rounded handle.
Order & Save
9" square, 21" high; holds a 4 x 4.5" pillar candle
Pottery Barn


Lantern large

Handcrafted in a classic silhouette, the Chester Lantern features a softly curved top and a rounded handle.
Order & Save
12" square, 26" high; holds a 4 x 8" pillar candle
DwellStudio


Basket

House a potted plant or keep cozy blankets close by as you curl up on the couch with this versatile basket.
Order & Save
20'' H x 18'' W x 18'' D
Get Our Free Inside Scoop!
Contains our handpicked top five posts on latest decor trends & advice delivered to you monthly!


Ready to get started?
Get a designer room you'll
love, guaranteed!
Start Now