Modern Master Bedroom Transformation


Details
Project Title
Modern Master Bedroom Transformation
Project Description
We just bought a home last year and would like to renovate our master bedroom and home office.
From our inspiration photos attached, what we are primarily drawn to are great looking wall accents such as large porcelain panels or concrete slabs that hide the plain white wall look. I came across Dekko Concrete which is what inspired me for this look. We do not like the carpet we have now but we are not against a modern area rug to help fill the room. Also, I do like the look of curtains behind recessed ceilings but that may be difficult with the way our ceilings are angled. Lastly, my wife would like to incorporate a modern bedroom vanity such as the one shown in "inspiration 7" that is not over obtrusive to the rest of the room.
Location
Discovery Bay, CA , USA
What's your favorite decor style?
Modern
What are some of the interior design brands or stores that you like to shop at?
BoConcept,RoveConcepts, Dekko Concrete, Crate&Barrel, Modani, Room& Board






Details
Room Label
Master Bedroom
I want this room to feel more masculine/feminine/neutral
Masculine
What type of sunlight does this room receive?
Mid-day light
What do you currently dislike about the room?
Carpet, plain walls
What pieces of existing furniture, lighting, art or accessories do you want to keep in the design?
None
Are you open to changing your wall colors?
Yes
Do you have a preference for either paint or wall covering, or are you open to both?
Wall covering
Are you open to changing your floor covering?
Yes, Wood, Tile, Stone, Concrete, Area Rugs
Additional comments to designers
There are some awkward angles on the walls and ceilings but below are some rough dimensions of it. I can get more precise measurements if needed.
Dimensions: 15ft x 18.5 ft
Height: 8ft high wall closest to bed in photo. 12 ft high on wall with bathroom entrance
Width: 18.5 ft from window to wall with office entrance. 15.5 ft from wall closest to bed to office entrance wall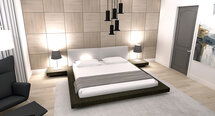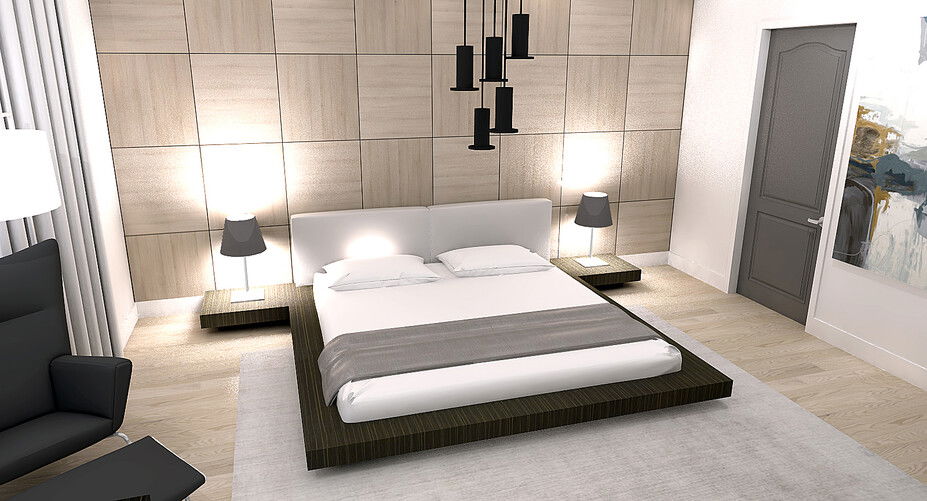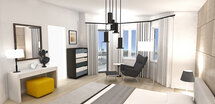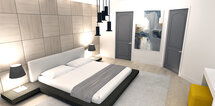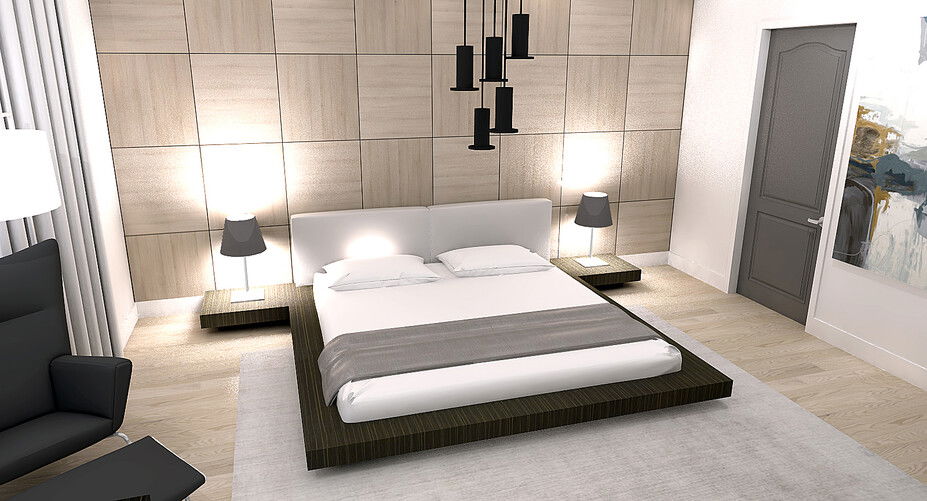 1
Polished Nickel Lamp
2
mirror
3
area rug
4
table lamp
5
tall dresser
6
wing chair
7
Wing Chair Ottoman
8
chandelier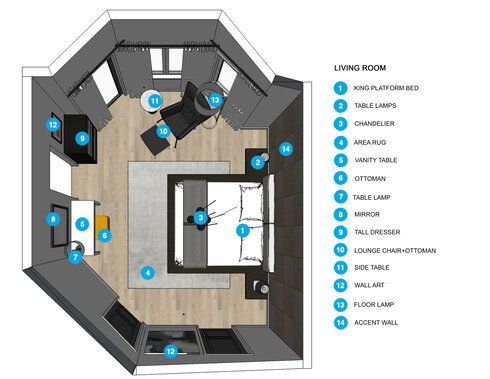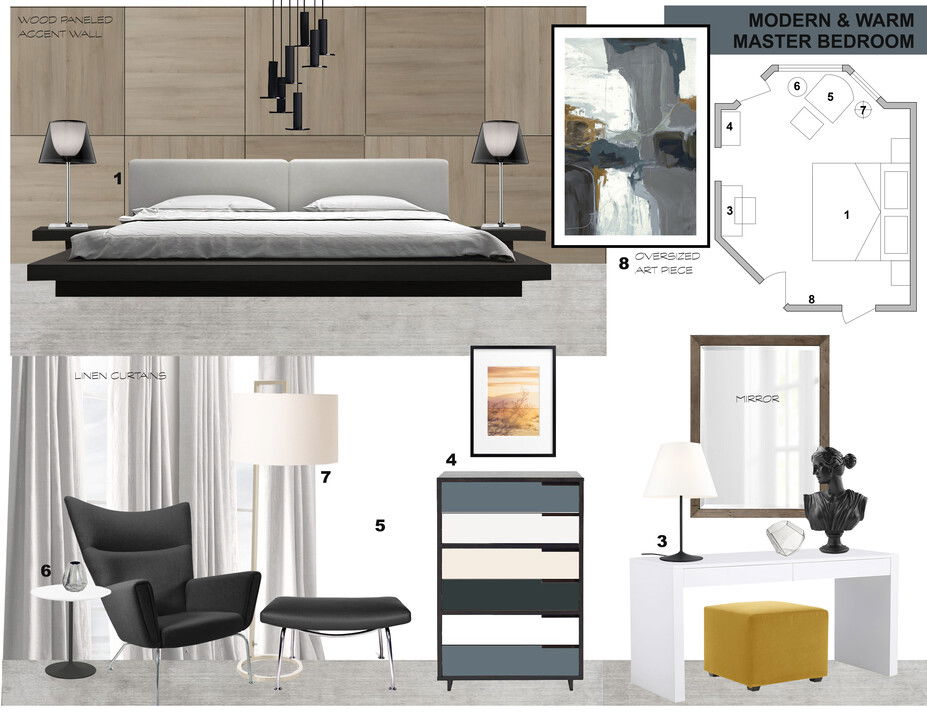 Bedroom:
Using lighter colors in your room will make it feel more airy and bright

For your main color, we chose to use white/off-white as it offers a fresh, clean, feel to the space. White and off-white colors are often a favorite for walls because they are light, neutral, and match most color schemes. They are known to make rooms feel more airy and spacious.

Use an eggshell finish paint which has a very light touch of shine (similar texture to an eggshell as implied by its name). This finish is very often used for walls and is more durable and easier to clean than matte finish
Bedroom Colors:
Shopping List:
Decorilla Discount
Photo
Name
Description
Link
Dimensions
Decorilla Discount
Arteriors Collection


Polished Nickel Lamp

Simple polished nickel floor lamp topped with an off-white crinkled linen shade. Full range dimmer.
Order & Save
58.42" L x 0" W x 162.56" H
Crate and Barrel


mirror

ash gray
Order & Save
Width: 42" Depth: 1.5" Height: 32"
Surya Collection


area rug

Order & Save
8'x10'
Modway Furniture Collection


table lamp


Quantity: 2
chrome body smoke shade
Order & Save
22" h | base: 8.1" w | shade: 12.4" dia. | 8.7" h
Blu Dot


tall dresser

body: Graphite on Oak DRAWER 1 Grey Blue DRAWER 2white DRAWER 3 Ivory DRAWER 4 Slate DRAWER 5white DRAWER 6 Grey Blue
Order & Save
32"x 18" x H50"
Uttermost Collection


wing chair

dark granite **please check fabric swatches before ordering
Order & Save
35.4 in x 38.2 in x 42.1 in
Uttermost Collection


Wing Chair Ottoman

dark granite
Order & Save
23.6 in x 18.9 in x 15 in
Design Within Reach


chandelier

black
Order & Save
H 9" Diameter 18.5" Maximum drop 131", 17 lbs.
Get Our Free Inside Scoop!
Contains our handpicked top five posts on latest decor trends & advice delivered to you monthly!


Ready to get started?
Get a designer room you'll
love, guaranteed!
Start Now