Minimalistic Living Room Design


Details
Project Title
Minimalistic Living Room Design
Project Description
We like the minimal feel, but want a professional touch.
What's your favorite decor style?
Contemporary
What are some of the interior design brands or stores that you like to shop at?
Mid-range shops like west elm and lazzoni
Which colors do you dislike?
Pink
What are your favorite colors for walls?
White
What are your favorite colors for furniture and accents?
Orange Red, Custom Color #1, Purple, Clear, Chrome, Dark Brown
Dimensions
12' W * 21'7" L * 8'8" H








Items you want to keep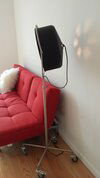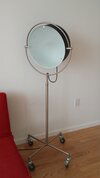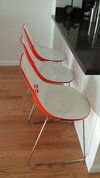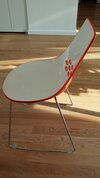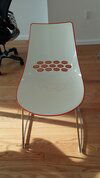 Details
I want this room to feel more masculine/feminine/neutral
Neutral
What type of sunlight does this room receive?
Late afternoon light
What do you currently dislike about the room?
Don't like the sofa, pillow, tv stand, and rug most. Would like some art on the wall, but not too much because we still want it to look minimalist.
What pieces of existing furniture, lighting, art or accessories do you want to keep in the design?
We don't need to keep anything, but if possible wouldn't mind keeping the mirror, TV, speakers, red chairs, 3 side tables, and maybe lamp
Are you open to changing your wall colors?
No
Are you open to changing your floor covering?
No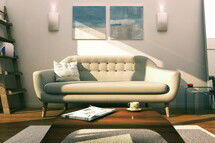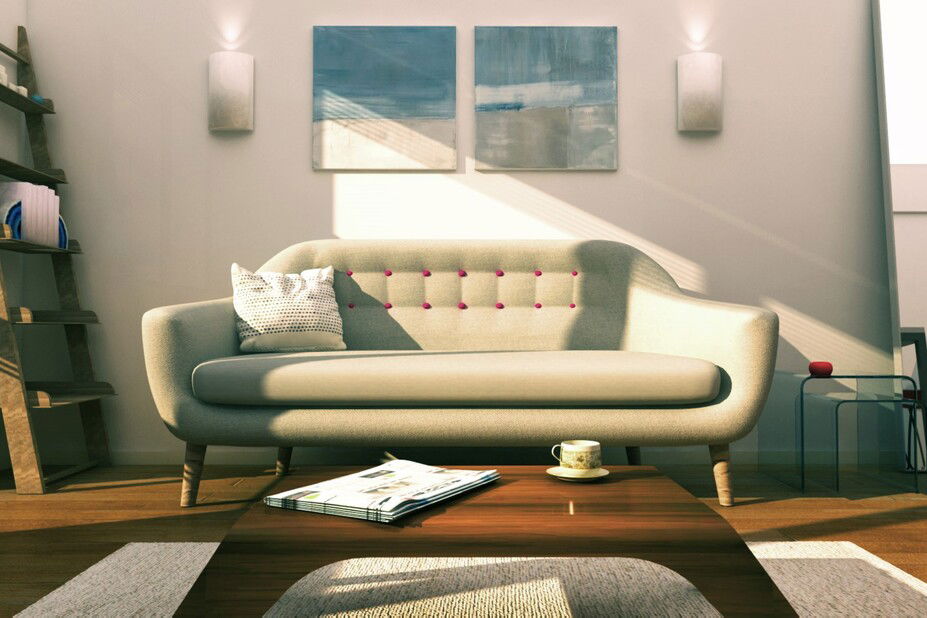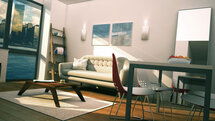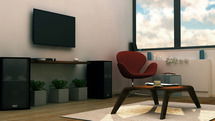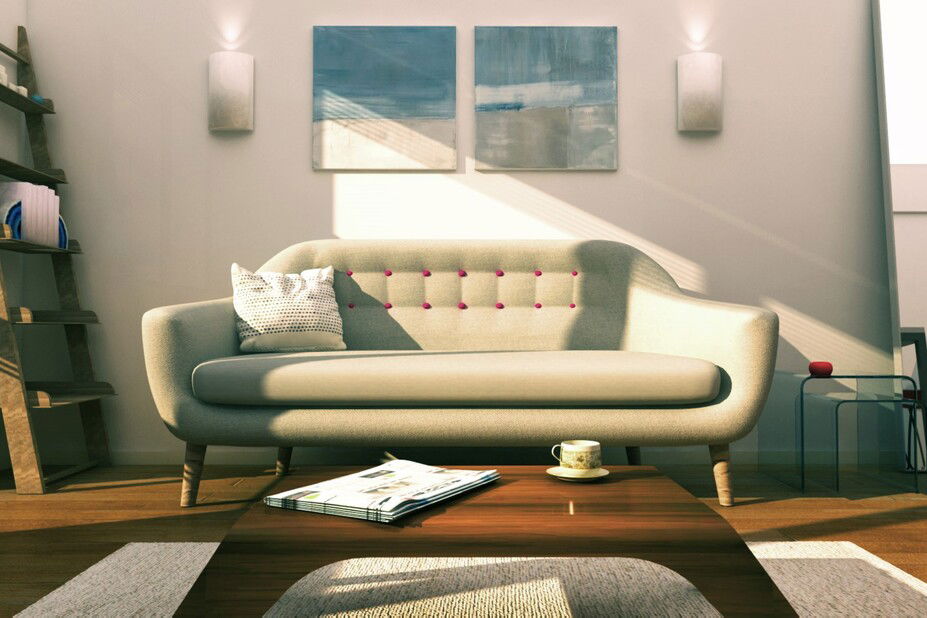 1
Wall Shelf
2
Cement Containers
3
Mini Pebble Jute Wool Rug
4
Modern Swan Chair
5
Coffee Table
6
Solid Oak Shelve
7
Canvas Paintings
8
Silk Pillow Cover
9
Wall Sconce
10
Modtro Sofa
11
Wall Clock
12
Blue Agate Book Ends
13
Dining Table
14
Jam Chair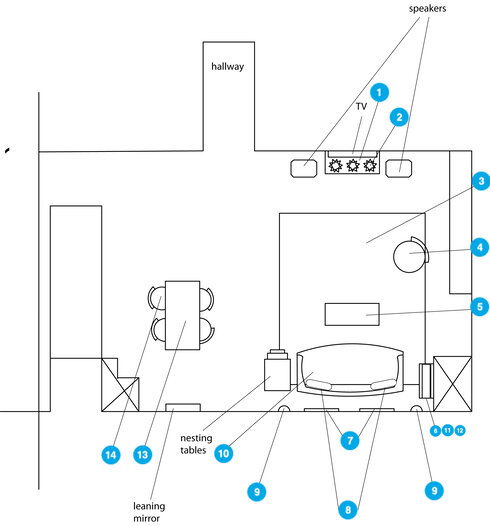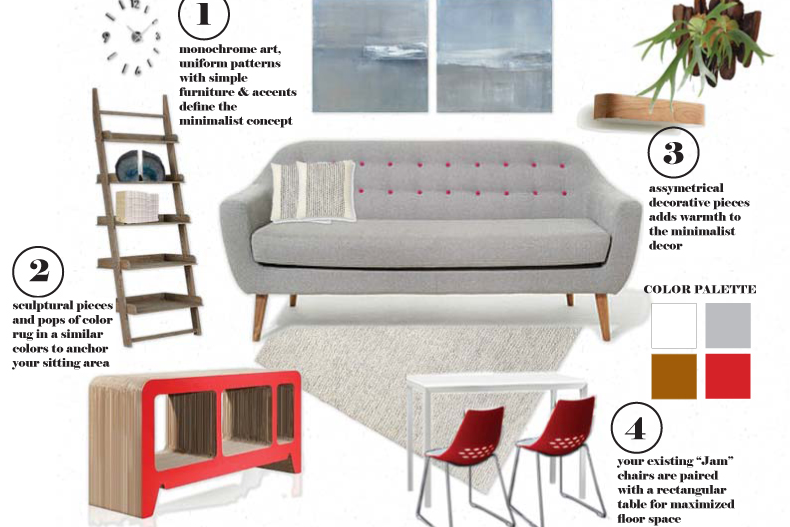 Studio:
Since your room is smaller using a light and pale color will enhance the light and the space in your room.

The Decorator's White is a great color for all the walls, and ceiling in your spaceFor your main color, we chose to use white/off-white as it offers a fresh, clean, feel to the space. White and off-white colors are often a favorite for walls because they are light, neutral, and match most color schemes. They are known to make rooms feel more airy and spacious.

Use an eggshell finish paint which has a very light touch of shine (similar texture to an eggshell as implied by its name). This finish is very often used for walls and is more durable and easier to clean than matte finish
Studio Colors:
Shopping List:

Decorilla can pay for itself!

$480 in Savings
Decorilla Discount
Photo
Name
Description
Link
Dimensions
Decorilla Discount
Room & Board


Wall Shelf

Handcrafted in North Dakota, our floating shelves are perfect for displaying decorative items or as much-needed storage in a small space. Each shelf holds up to 20 pounds.
Order & Save
48"l x 2"w x 8"d
Jamali Garden


Cement Containers

These heavy cement containers have a matte, white wash finish. They are sealed about halfway up on the inside so they can also be used as vases for fresh flower arrangements.
Order & Save
8" x 8" x 8"
West Elm


Mini Pebble Jute Wool Rug

Jute in a dress suit. Without being a scene-stealer, our Mini Pebble Rug slips seamlessly into almost any space, instantly making a room feel pulled together and complete. Wool softens jute's natural texture in a subtle marled mix.
Order & Save
8'w x 10'l
Ebay


Modern Swan Chair

Stunning modern reproduction of this Arne Jacobsen classic is as timeless as the original. This item is a high quality reproduction of the original.
Order & Save
26"l x 28"w x 29"h
Fashion for Home


Coffee Table

Premium walnut veneer Eye catching design Sturdy construction
Order & Save
13.8"h x 42.7"l x 23.6"d
Oka


Solid Oak Shelve

Read more: Hanna Solid Oak Shelves - OKA http://www.okadirect.com/hanna-solid-oak-shelves.aspx#ixzz2fm4VGyzB Our Hanna shelves have a clever open design which gives plenty of storage whilst not dominating a space. The shelves get progressively deeper towards the bottom, allowing storage of a wide range of items. They are perfectly stable when free-standing against a wall, and there are brackets for more permanent fixing if required.
Order & Save
31.5"w x 19.7"d x 82.7"h
Petit Tresor


Canvas Paintings

These paintings (a pair) are custom made especially for you upon order. It takes 3 weeks after order date to receive paintings.
Order & Save
30"w x 30l" x 1.5"d 
West Elm


Silk Pillow Cover

Brightly colored threads are handwoven to crate the fresh polka dot pattern on these silk pillow covers. Each is made with a subtly textured silk that is hand loomed.
Order & Save
18"l x 18"w
Lamps Plus


Wall Sconce

Etched white glass. Satin nickel accents. Takes two 60 watt bulbs (not included). ADA compliant.
Order & Save
14.5"h x 6"w x 3.5"d
DwellStudio


Modtro Sofa

Upholstery: Vence 276 Gray, Grade 1 Oak legs Single removable seat cushion Contrast button tufting detail on this small mod sofa add a punch of flavor Fun yet simple desig
Order & Save
28"d x 34"h x 74" w
Ebay, Chongqin12


Wall Clock

DIY wall clock, simply stick the digits on your wall You can stick the clock on whatever backdrop you choose so it'll match your decor You can also organize the numbers in different ways; there's no reason they have to form a circle. Just use your imagination
Order & Save
15" circle
Phoenix Orion


Blue Agate Book Ends

Brazilian Agate Geodes are sliced and polished to create natural bookends that show off the beauty of both the rough and polished stone. Blue Dyed Agate bookends have two polished sides for each bookend and the bases have a felt lining.
Order & Save
5lbs
Crate and Barrel


Dining Table

Stainless steel with brushed finishLow-emission engineered wood tabletop with powdercoat finish. Seats four
Order & Save
48"d x 28"h x 29.5"w
Inmod


Jam Chair

You already have this fun, simple, lively chair. I'd like to add another to your table to make a complete set of 4. As these are sold in minimum quantities of 2, you can skip this purchase to avoid having an extra chair.
Order & Save
32.5"h x 20.375"w x 21.375"d
Get Our Free Inside Scoop!
Contains our handpicked top five posts on latest decor trends & advice delivered to you monthly!


Ready to get started?
Get a designer room you'll
love, guaranteed!
Start Now