Details
Project Title
Let Light into my Room
Project Description
Need help with master bedroom.
Location
Lafayette, CA , United States
What's your favorite decor style?
Traditional
What are some of the interior design brands or stores that you like to shop at?
Restoration Hardware, Pottery Barn, Serena & Lily, Crate & Barrel, Williams & Sonoma
What are your favorite colors for walls?
White, Beige
What are your favorite colors for furniture and accents?
White, Navy, Beige
Dimensions
18'4" x 13' x 8' closet is 5' wide, as such one wall is 23' to entry door
















Items you want to keep


Details
Room Label
Master Bedroom
I want this room to feel more masculine/feminine/neutral
Neutral
What type of sunlight does this room receive?
Morning light
What do you currently dislike about the room?
My wife got rid of all of our bedroom furniture about a year ago. We had owned the furniture for over 20 years (since our wedding). She worked with an interior designer who came up with a design she didn't like. She had originally said she like the navy blue option with white. The design was a little too far out there. They had proposed a navy blue wall covering with a white inside. She was intimidated and scared away.
I just want some furniture and need a nightstand to put my phone and stuff on at night.
We don't currently have anything on the walls. This is usually a hard thing for her to decide on. We have discussed more contemporary art or maps to put on the wall.
What pieces of existing furniture, lighting, art or accessories do you want to keep in the design?
There is currently a massage chair that I would like to keep. I would also like to keep the location of the bed and the TV placement.
Are you open to changing your wall colors?
Yes
Do you have a preference for either paint or wall covering, or are you open to both?
Open to both
Are you open to changing your floor covering?
No
Additional comments to designers
My wife's style is more of a mix between traditional, modern farmhouse, with tones of beach cottage.
I think it would be safe to stay with the all white tones and very neutral beiges and browns. Maybe a little accents of Navy Blue. I appreciate the fact that the Dark Brown massage chair creates a little bit of a challenge.
The area under the TV and the corner is pretty big. I have toyed with the idea of one of those fake fireplaces or something else. I suppose a table is the easiest. Open to ideas here.
She really likes wood molding, paneling, and/or framing on the walls. Would be very open to this.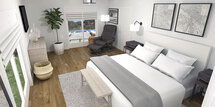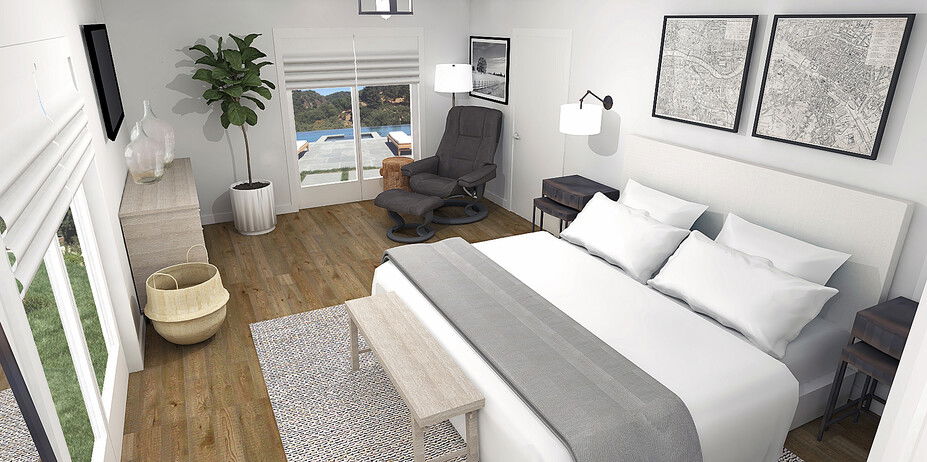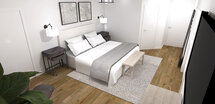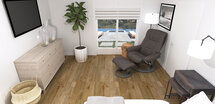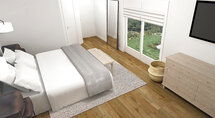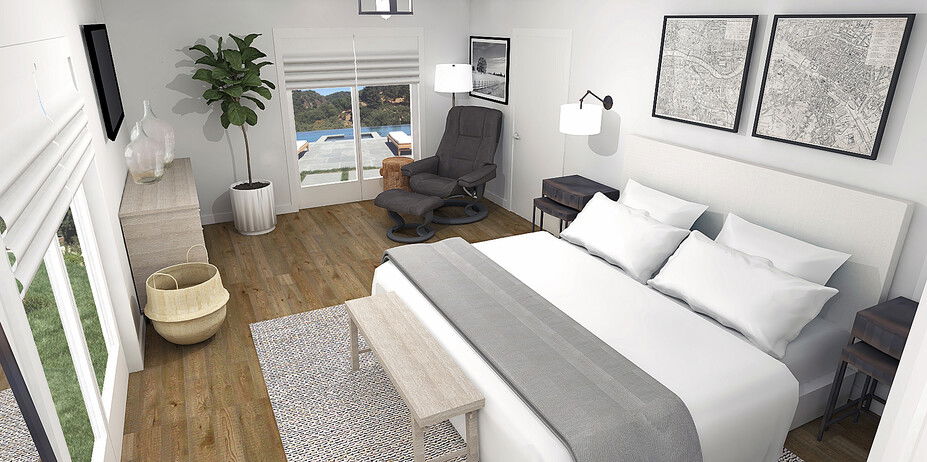 1
night tables
2
dresser
3
jute rug
4
floor lamp
5
bench
6
table lamps
7
glass vases
8
floor mirror
9
basket
10
sconces
11
HEADBOARD
12
bedding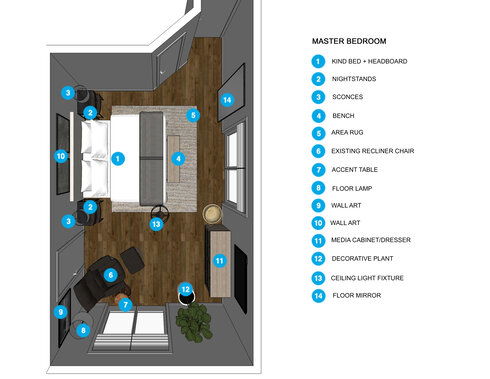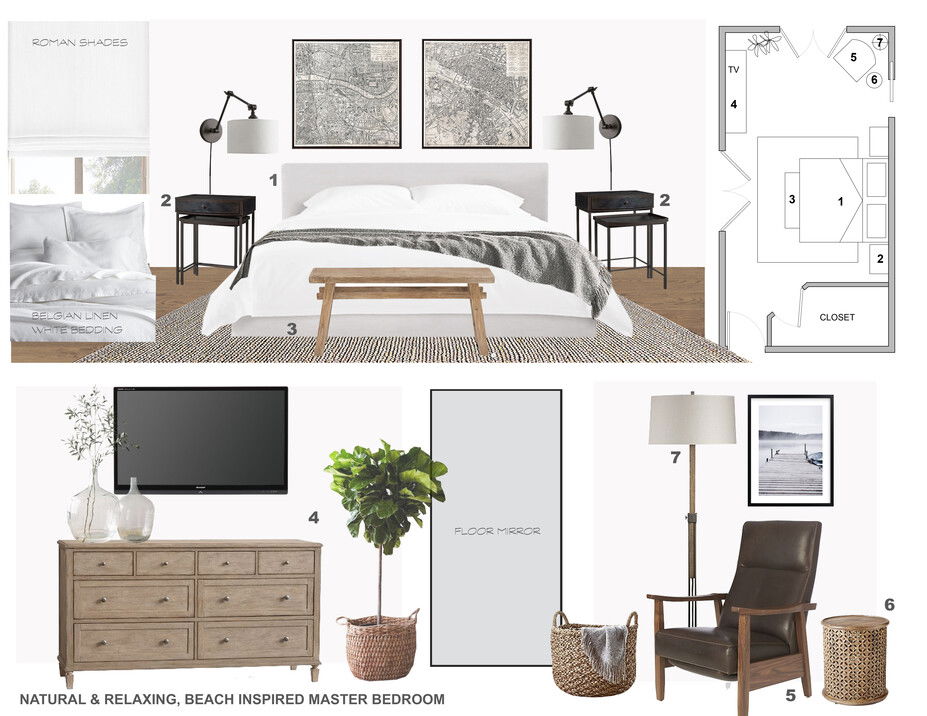 Bedroom:
Since your room gets plenty of sunlight your color options are quite broad.

For your main color, we chose to use white/off-white as it offers a fresh, clean, feel to the space. White and off-white colors are often a favorite for walls because they are light, neutral, and match most color schemes. They are known to make rooms feel more airy and spacious.

Use an eggshell finish paint which has a very light touch of shine (similar texture to an eggshell as implied by its name). This finish is very often used for walls and is more durable and easier to clean than matte finish
Bedroom Colors:
Shopping List:
Decorilla Discount
Photo
Name
Description
Link
Dimensions
Decorilla Discount
Uttermost Collection


night tables


Quantity: 2
Dark Bronze Finish
Order & Save
Small Overall: 20.75" wide x 16.5" deep x 23.5" high Large Overall: 24" wide x 18" deep x 30" high
Pottery Barn


dresser

Order & Save
Overall: 66" wide x 20" deep x 36" high
Surya Collection


jute rug

silver or platinum **it's recommended to see colors in real**
Order & Save
8'x10'
Crate and Barrel


floor lamp

bronze
Order & Save
Overall Dimensions Height: 40.5" Diameter: 18.5" Adjustable Height Min Height: 40.5" Adjustable Height Max Height: 66.5"
Modway Furniture Collection


bench

Order & Save
W 46.5" / D 12" / H 21"
Pottery Barn


table lamps


Quantity: 2
clear glass
Order & Save
Overall with shade: 17.5" diameter, 28.25" high
Pottery Barn


glass vases

2 sizes
Order & Save
30 Liter Overall: 13" diameter, 22" high 50 Liter Overall: 17" diameter, 24" high
Pottery Barn


floor mirror

Order & Save
Overall: 36" wide x 78" high x 1" deep
Crate and Barrel


basket

Order & Save
Height: 20" Diameter: 20"
Pottery Barn


sconces

**set of 2 BRONZE
Order & Save
Sconce: 15.5" wide x 5" deep x 9" high Small Shade: 10" diameter, 6.25" high Medium Shade: 14" diameter, 9.5" high
Uttermost Collection


HEADBOARD

*different fabrics/colors available - please see possibly swatches in real ** 2 Height available
Order & Save
King Headboard: 77"W x 4"D King Headboard Heights: 58", 68"
Pottery Barn


bedding

**white king duvet + shams (sold separately)
Order & Save
king
Get Our Free Inside Scoop!
Contains our handpicked top five posts on latest decor trends & advice delivered to you monthly!


Ready to get started?
Get a designer room you'll
love, guaranteed!
Start Now