Home YouTube Studio Design


Details
Project Title
Home YouTube Studio Design
Project Description
Design a home office to serve as my full time office and occasional set for youtube videos and video conferencing.
Home Office Ideas
Primary: Transitional, Contemporary, Refined Industrial
Secondary: Mid Century Modern, Minimalist
I recently purchased a new home, and need to design a home office. I spend the bulk of my work time on my computer and on video conference calls, so need a comfortable, clutter free, workspace that feels good for me to be in, and provides a nice backdrop for video conferences, using the webcam in my laptop.
I also film a variety of videos. YouTube videos for my industry, professional presentations for clients, and contributor segments for TV business shows (CNN, GMA, CNBC). So I need be able to use the office as a set for these higher quality videos.
I need my video camera, lights, teleprompter, etc… to be able to live into the space to make it easy/appealing to film without a lot of setup.
I need ample storage, to make stuff easily accessible without being an eye sore. In my current condo I use a small den for storage (photography equipment, computer equipment, etc…), and a use a small bedroom as my home office, with my video camera and gear permanently sitting on my built-in L-desk.
Most of my videos should have a practical background (a bookshelf, plant, piece of art, etc.. something real but not too cluttered). Occasionally I need to shoot a video with a plain background or green screen. So I want to mount some roll-down backgrounds on a wall or ceiling to pull down when needed.
I'd love an option for soft seating (sofa or chair) to have a comfy place to work in addition to the desk.
I do need a decent amount of desk space, but instead of the permanent L desk I have now. I"d like to buy two desks to make an ad-hoc L, I'd keep my permanent office equipment (second monitor, video switcher, laptop stand and docking station) on one desk, but have a second desk that can be pulled away from the wall to be a simple clean desk in the middle of the room for filming. I'd like that send desk to be an adjustable standing desk for greater flexibility. I'll mount my video camera behind it (or on a tripod behind it) rather than sitting on the desk as I do today. So the surface of the desk can be in my video shot when desired.
Oakdale_second.png is a floor plan of the second floor of the home we purhcased. The front bedroom will be my new home office (furthist from the primary bedroom).
IMG_0065.JPG is a photo of the bedroom now. You can see the vaulted ceilings.
Location
Chicago, IL, USA
Timeline
As soon as possible
Dimensions
17' 10" x 12' 11"

Details
Room Label
My Home/Small Office
Additional comments to designers
Note: Floorplan 2 is annotated with the major features I was thinking for the room.
In terms of storage, I do need some typical office storage. Office supplies, etc... And some photo storage (cameras, lenses, computer cables), and a place to store/use all my battery chargers for cameras, lights, etc...
For the two desks I was thinking something like these uplift sit/stand desks: https://www.upliftdesk.com/uplift-v2-standing-desk-v2-or-v2-commercial/
The photo backdrop are paper rolls, I'd put on a mounting system like the attached photo to pull down when needed.
For the soft seating, I do like Eames style chair, but am open to anything or a even a sofa.
My wife is using Benjamin Moore Dove White for a lot of our rooms. I'd like at least one accent wall in the office. I was thinking a relatively neutral but darker compliment to the Dove White, like BM Cheating Heart. It's not clear how to paint the vaulted ceilings if an accent color is used on one wall int eh office.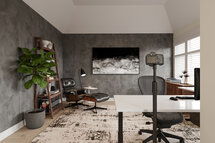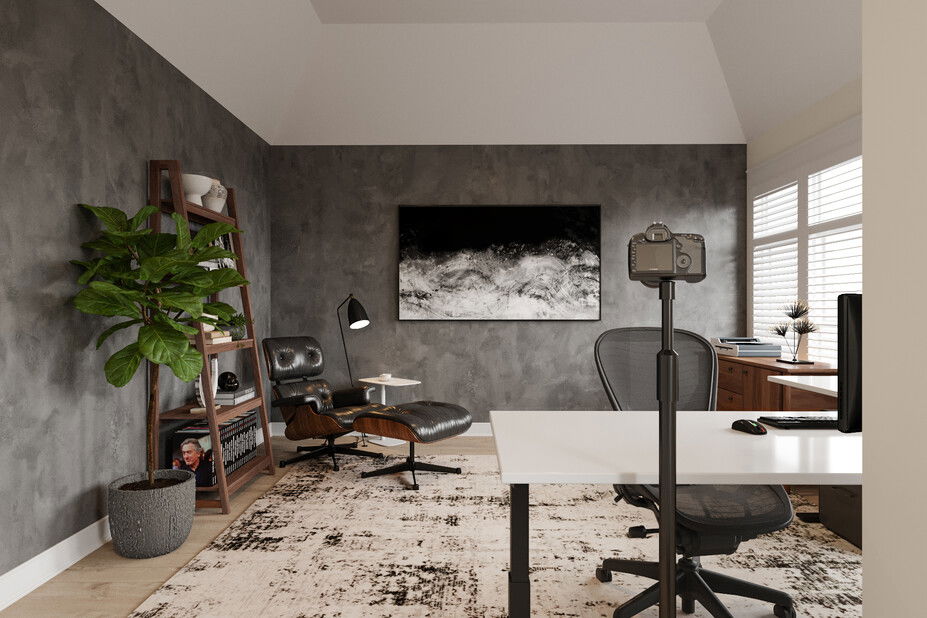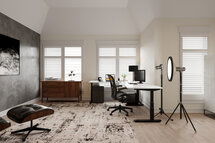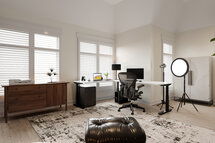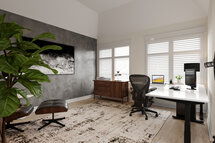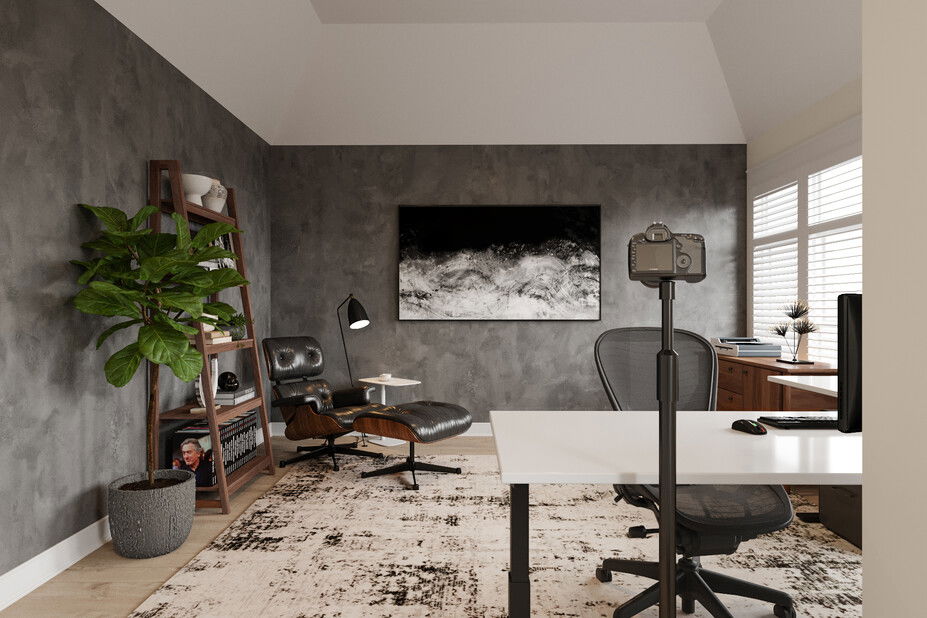 1
Alchemy ALC-04 7'-11" x 10'-6"
2
Eames Lounge Chair and Ottoman
3
Circulus Cabinet
4
In the Rough Sea
5
Humanscale® Diffrient World Mesh Swivel Desk Chair
6
UPLIFT Standing Desk (V2 & V2-Commercial)
7
Greenpoint Mobile Pedestal
8
Folsom 33" x 73" Tall Bookcase
9
Fluted Column Side Table Grey
10
LUCILLE FLOOR LIGHT
11
UPLIFT Standing Desk (V2 & V2-Commercial)
12
MONROE TABLE LIGHT
13
Serif™ 1045 DESIGNED BY JEFF BARE-Salt
14
Black Stow 3-Drawer File Cabinet
15
Faux Potted Fiddle Leaf Fig Trees
16
Concrete Fluted Planters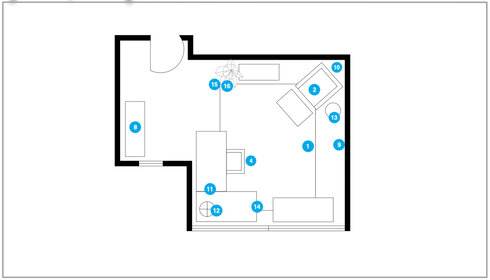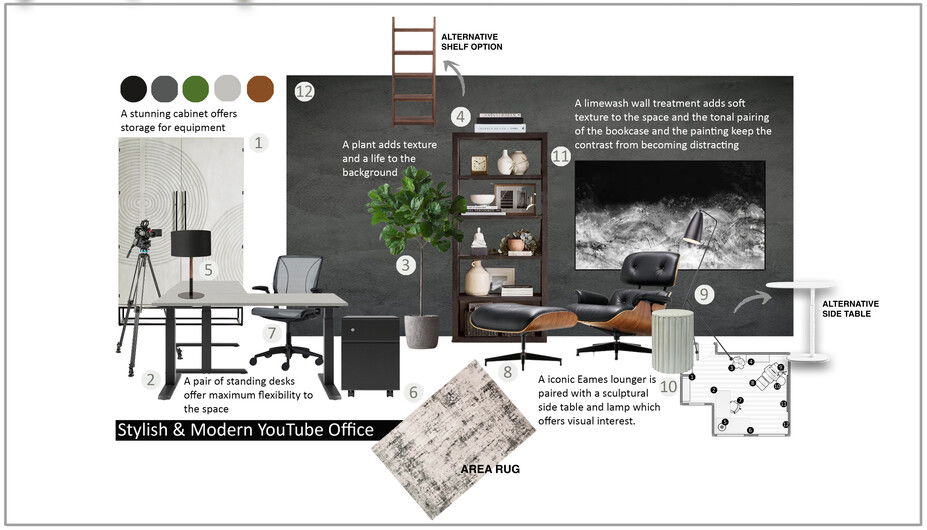 Home/Small Office:
The combination of the light and dark walls will create a really nice contrast. The lime wash black walls with create a really interesting back drop for your you tube videos, while the remainder of the room stays bright and fresh for you to work in.

I have provided a few different options for off whites. I recommend testing them out in person, directly on the wall, so you can see which you prefer. Same thing goes for the blacks.

I recommend speaking to a trade professional about how to do the finishing treatment of the lime wash. They will be able to guide on on which paint is best for that finish.
Home/Small Office Colors:
Shopping List:
Decorilla Discount
Photo
Name
Description
Link
Dimensions
Decorilla Discount
Loloi Collection


Alchemy ALC-04 7'-11" x 10'-6"

Power-loomed of polypropylene & polyester, the Alchemy Collection is awash with colorful details. With its high/low pile combined with a playful color palette, Alchemy offers a high-end look at an attractive price. Plus, each piece is highly durable and never sheds.
Order & Save
10'6" L x 7'11" W
DTS (Design Trade Service)


Eames Lounge Chair and Ottoman

One of the most significant designs of the 20th century. Pairs soft leather or mohair with molded wood. Stamped with a medallion on the chair's underside to signify authenticity.
Order & Save
Standard Chair:31.5" H 33.5" W 35" D Ottoman:17.13" H 20.75" W 21.5" D
Crate and Barrel


Circulus Cabinet

Transform your bedroom with Circulus, a furniture collection reimagined with one-of-a-kind artistry, rhythmic pattern and a light wood finish. Incised lines with a hand-drawn look radiate out in expansive circles across the door fronts of this impressive cabinet.
Order & Save
40"Wx18"Dx60"H
Leftbank Art


In the Rough Sea

Order & Save
70x40
Herman Miller


Humanscale® Diffrient World Mesh Swivel Desk Chair

Simple, lightweight and beautiful, this task chair offers full functionality. Instead of traditional mechanisms, it utilizes the sitter's body weight to offer perfect recline, and a tri-panel mesh backrest provides custom back and lumbar support.
Order & Save
25.5" wide x 25" deep x 37" high
Noir Furniture


UPLIFT Standing Desk (V2 & V2-Commercial)

Maximize the comfort and productivity of your workspace with thoughtfully designed furniture and accessories from UPLIFT Desk.
Order & Save
72x30
Global Views


Greenpoint Mobile Pedestal

Right now, home is everything. So we joined forces with renowned office furniture company Steelcase® on a line that helps you optimize your at-home workspace. The Greenpoint Mobile Pedestal combines durable steel with chic veneers and includes a file-size drawer.
Order & Save
15"w x 18"d x 21"h.
Global Views


Folsom 33" x 73" Tall Bookcase

The simple, geometric construction of our Folsom Collection highlights the inherent beauty of the wood, where the visible grain and knots give the design its warm, individual character. The tall bookcase offers adjustable shelves for favorite reads, trailing plants and curated decor moments. This collection is proudly made at a Fair Trade Certified™ factory.
Order & Save
33" w x 14" d x 73" h
Uttermost Collection


Fluted Column Side Table Grey

Fluted edges inspired by Roman ruins ring these circular side tables. They are made of cement and feature an antiqued neutral finish that adds to their charm. Casual yet elegant, simple yet substantial, they are a perfect choice for today's homes.
Order & Save
22"H x 16"W x 16"D
Uttermost Collection


LUCILLE FLOOR LIGHT

Smart minimalism defines the Lucille bringing a compact design approach to standard floor lighting. The tripod base of the Lucille achieves a minimal footprint while the flexible shade angles and pivots to personalize the lighting environment.
Order & Save
23? x 19? x 48.5?
Noir Furniture


UPLIFT Standing Desk (V2 & V2-Commercial)

The V2 C-Frame is most popular. The V2-Commercial frame travels about 3" lower than the V2 Frame. Both are extremely stable and durable. The C-Frame design gives you more leg room while the T-Frame design is symmetrical.
Order & Save
60x30
Revelation


MONROE TABLE LIGHT

Subtle. Timeless. Brilliantly balanced. The Monroe table lamp behaves almost like a pedestal, showcasing the light diffused through its circular fabric shade. The lamp's radical simplicity extends to its 71-inch-long fabric-covered cord, colour-matched to its painted metal stem and base. Wood accents add contrast, texture, and visual interest without cluttering the concept.
Order & Save
13? x 13? x 22?
Uttermost Collection


Serif™ 1045 DESIGNED BY JEFF BARE-Salt

Adjustable Height Range of 20.5"—30.25" Pneumatic Lift Mechanism 25 lbs. Weight Capacity Indoor Use Only MATERIALS Powder Coated Aluminum Powder Coated Steel
Order & Save
20.5H x 21.75W x 13D in
Global Views


Black Stow 3-Drawer File Cabinet

Our best-selling Stow File Cabinet is the stylish shelter your files are seeking. Powder-coated steel construction with matching painted steel interior keeps documents and doodads super safe. One lock secures all three drawers, giving the entire cabinet the privacy it deserves. Features Stow File Cabinet with durable powder-coated steel construction stands up to movers and shakers Drawers are fully painted inside and out Equipped with 2 utility drawers and adjustable drawer-dividers to keep things tidy Hanging-file drawer goes letter and legal 1 lock secures all drawers Comes with 2 keys, in case your pockets have holes in them Cabinet ships fully assembled, even the handles...Yippee! The Stow File Cabinet Collection has achieved Indoor Advantage Gold Certification Meets or exceeds BIFMA's durability standards for office furniture Designed by Poppin in NYC
Order & Save
Overall Product Dimensions: 15.75"W x 20"D x 24"H Top and Middle Drawer Dimensions: 13"W x 16"D x 3.5"H Bottom Drawer Dimensions: 13"W x 16"D x 10"H We recommend that the drawer load not exceed approximately 20 pounds each for optimal performance over time.
Pottery Barn


Faux Potted Fiddle Leaf Fig Trees

Hand assembled of polyester and plastic with wire stems. Trees feature plastic vessel with burlap. Shown in Concrete Fluted Planter in Chalk (sold separately). Imported. Wipe clean with a soft, dry cloth. Do not use solvents or abrasive cleaners.
Order & Save
29.5" w x 26" d x 83" h
Uttermost Collection


Concrete Fluted Planters

Handcrafted of cement and natural fibers in Vietnam. This product celebrates and preserves artisan handcraft traditions around the world. Finished in a choice of Gray, Terracotta, White or Sage (each style and color sold separately). Drainage hole at bottom. Wipe with a damp cloth. Imported.
Order & Save
15.75" dia, 15.75" h
Get Our Free Inside Scoop!
Contains our handpicked top five posts on latest decor trends & advice delivered to you monthly!


Ready to get started?
Get a designer room you'll
love, guaranteed!
Start Now