Shelley A.
Shelley Anderson has 27 years experience providing extraordinary custom interior design services to successful professionals throughout Seattle, the greater Eastside and beyond. Shelley is a full service designer who offers everything from project management and space planning to window treatments and furniture selection to prominent clients in Redmond, Issaquah, Fall City, North Bend, Maple Valley and other area communities. A gifted interior consultant as well as designer, Shelley establishes long term relationships with her clients and helps them continually update and upgrade their homes to accommodate their changing lifestyles and interests. She has earned a reputation for creating unique, one-of-a-kind interiors. "Every client is different and faces different challenges, so, therefore every project I do is different," she says. "It's important to me to create uniqueness and diversity for each client, right down to the artifacts on the wall." Her design firm is backed by a team of some of the Northwest's premier contractors, flooring specialists, window covering experts, interior and exterior painters, electricians, plumbers and other professionals, as well as a national network of vendors and suppliers. Shelley is president of the Washington state chapter of the American Society of Interior Design, the nation's oldest and longest-established organization of design professionals. She is a Window Fashions Certified Design Specialist who earned a B.A. in interior design from the Art Institute of Seattle, where she graduated with honors. Her clients today benefit from the customer service, communication, fashion merchandising, project management and other skills she gained during her highly successful earlier career in retail and product development.
Describe your go-to style:
Casual Elegance. I coined this phrase years ago when I realized that the finished spaces I designed had a common thread. They are not stuffy or formal. My style invites you to kick off your shoes and come on in!
What drives you to design?
I love finding beautiful solutions to design challenges.
From where do you draw most of your inspiration?
My clients! Everyone has a story and I dig deep to discover each client's individuality to create a design that is unique and personal.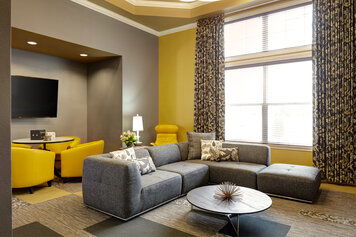 Hospitality Multi-function room