Salma o.
Salma A. graduated with a Bachelor of Architecture from the German University in Cairo. She has worked on several residential projects. She is now focusing her work on residential interior design and always trying to improve by taking new courses and learning new software. Her main goal in design is to provide a space that is functional and timeless. She believes that each client's personal space is a sanctuary that each and every client deserves.
We know you love designing, but what about it do you love most?
I love how you get to experience so many feelings when you walk into a room after it's done and see the amount of satisfaction that it brings to the client and how different it makes them feel by uplifting their mood by just staying in it.
Describe your go-to style:
I prefer to design with a neutral base and then layer up with different patterns and textures and adding accentuating accessories and statement pieces.I love creating designs that are timelessly chic and bring calmness to everyone who walks in.
Tell us your biggest design secret:
It's all about the small details that you don't really see at first but it's what makes all the difference, from that contrasting trimming on the cushion, to a textured fabric or a brass inlay in a piece of furniture.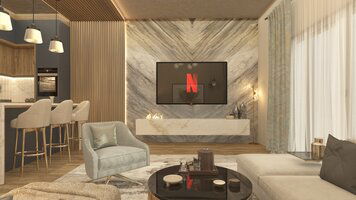 Modern Living room with kitchen and bar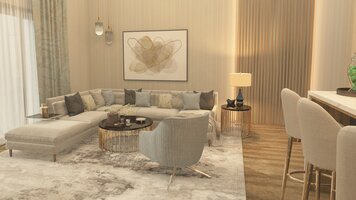 Living room with kitchen and bar