Rebecca MC
Rebecca McClurkin lives in Augusta, Georgia. With a Bachelor of Fine Arts in Interior Design from the Art Institute of Atlanta, she has gone on to work on several residential and hospitality projects. Rebecca loves all aspects of interior design, enjoying the new challenges that come with functional and beautiful design.
Describe your go-to style:
My go-to style is "comfort". Whether you want modern style, contemporary, shabby chic, or eclectic, my ideal is to choose pieces that will make the space comfortable to be in. I believe rooms should be beautiful but lived in, not stared at like stunning museum pieces that are too uncomfortable to use.
Describe your favorite project:
My favorite project thus far has been my beautiful 1941 home. It's not large but it's solid brick with beautiful original hardwood floors, woodwork, and great architectural bones like archways. From the moment we moved in I've been designing this space to be my ideal home in a contemporary casual style that fits our family life. Most recently I've redone our kitchen in colors of avocado and cream with stainless steel and copper mingling in accents and appliances.
From where do you draw most of your inspiration?
My inspiration comes from unique items. A rug, a painting, a light fixture, etc. That piece begins to define the room in my mind drawing me to other furniture and fixtures that make each space feel one-of-a-kind. The inspiration piece enhances the space, draws the eye and creates the tone that defines the design for me, and it could be anything!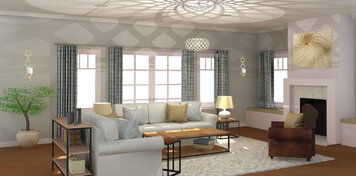 Blue & Gold Contemporary Living Room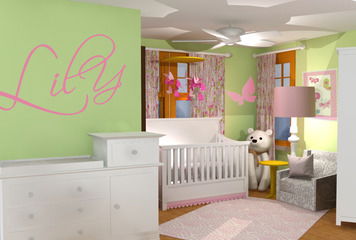 Pink & Green Cottage Nursery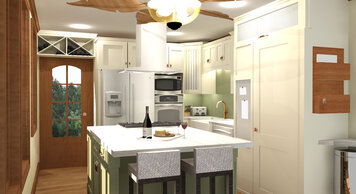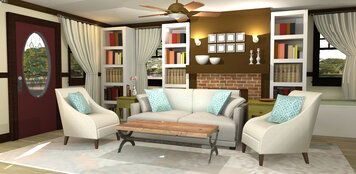 Farmhouse Whites Living Room