Jessica A.
Jessica is a seasoned designer with over 12 years experience in the interior design field. After receiving her B.S. in Interior Design from SFSU, she worked for notable design companies in San Francisco and L.A. before branching out on her own. In 2012, Jessica launched an online shop to showcase her love for product design, which includes handmade concrete decor, reclaimed wood art, textiles, and accessory designs. With her interiors and products Jessica aims to create clever designs with a distinct aesthetic.
From where do you draw most of your inspiration?
I find the convergence of the natural and man-made world inspiring and thought-provoking. As an artist and designer, I seek to create spaces that foster a harmonious relationship with nature's accents, whether this is an indoor plant, an agate candleholder, or piece of driftwood. I also find a lot of inspiration in color and texture combinations found in everyday life, for instance, seeing orange poppies next to a purple lilac tree and thinking that would be a really fun pillow color combo for a room!
We know you love designing, but what about it do you love most?
Part of why I love being an interior designer the most is to capture the personal styles of my clients that they can't quite express on their own. It's exciting for me to really hone in on small details to add originality to their home. Designs styles will come and go but if they have a space that really reflects their "life" style (fashion, hobbies, etc.) then the space will not only have a positive impact on their lives but the design will last a lot longer than a trend.
Describe your go-to style:
I'm a very eclectic person by nature. I love mixing and matching textures and patterns; bringing in new with the old. To me, being eclectic doesn't mean "anything goes", in fact, it can be more challenging at times to find that perfect balance between a collection of items. I enjoy accepting those challenges to create a melodic space.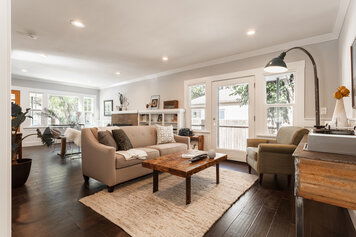 Organic Bungalow Living Room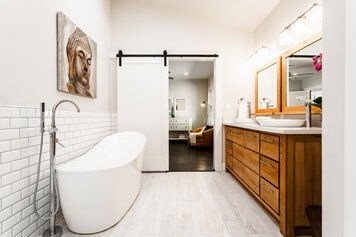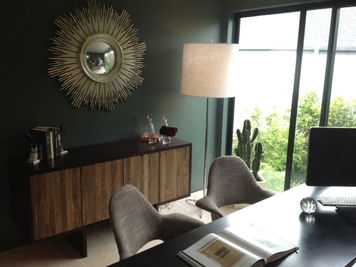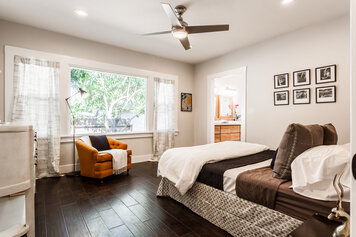 Light and Soothing Master Bed