Hannah R.
Hannah has a BA in Interior Design with a minor in Art History. She studied at both the Fashion Institute of Technology in NYC and Kent Sate University. She has worked as a designer in Cleveland, and Los Angeles. She believes in creating spaces that are not only beautiful, but also highly functional to the user. She wants to work with clients to express their own individual taste, and create a unique space for them to enjoy.
From where do you draw most of your inspiration?
I draw a lot of my inspiration from traveling! While studying in Florence, Italy I was immersed in beautiful interior design. I love the sleek lines in Danish furniture design, the creative vibrant Italian textile design, and visiting the Barcelona Pavilion in Spain was one of the most inspiriting experiences of my life!
Describe your go-to style:
My go-to style is guided by who I am working with! I love melding styles and working with clients to find the perfect style combination for them. My favorite go-to is a chic modern space that is comfortable and livable at the same time. Creating a beautiful space is important, and so is creating a space you can entertain, relax, and live in!
We know you love designing, but what about it do you love most?
My favorite part of the design process is space planning. I love creating the perfect layout that maximizes the unique space I am working on. I also really enjoy working with lighting because I believe it is one of the most important aspects of any space.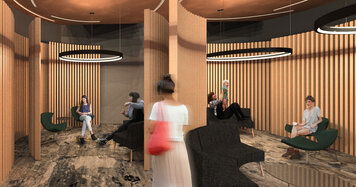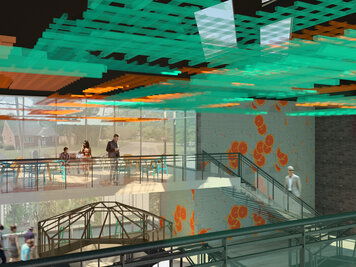 International Market Balcony