Autumn M.
Autumn has a Master's Degree in Architecture with an emphasis on Interior Design. She strives to create innovative spaces that enhance, elevate, and transform the client experience. Autumn has worked in architecture and design/build firms in Portland, Oregon throughout her career. She specializes in kitchen, bath, house remodels, concept development, 3D storytelling, visual presentations, space planning, casework design, fixture design, project management, construction administration, boutique tenant improvement, residential, retail, and workplace projects. She is well versed in current interior design trends; therefore, she can quickly pivot and respond to the current design ethos. She excels at using color stories, texture, pattern, novel materials, proportion, and scale to create brand-enhancing concepts that she transforms into reality. In her spare time, you can find her biking, running, hiking, dreaming up tiny spaces, planting trees, and working on too many house projects to count. Other times, you can find her hunting for design inspiration and vintage treasures at local thrift shops and estate sales with a green juice in hand. When in need of downtime, she is most likely found attempting to unsuccessfully get through a backlog of dog-eared New Yorkers.
Describe your go-to style:
My interior design style is organic modern with a touch of refined glam. Organic modern is the softer side modern. It is a style that focuses more on curvilinear shapes, natural materials, and various forms of movement in sculpture, art, or the furniture itself. I love layering eclectic locally sourced artifacts, sentimental pieces, or objects from travel with new pieces that tell the story of the space and its inhabitants. My "go-to" space is modern with clean lines because it provides the perfect canvas for the bold use of wallpaper, statement tiles, dramatic art, dazzling lights, and glamourous, playful furniture that bring the space alive.
We know you love designing, but what about it do you love most?
Whether it is figuring out the best use of space through furniture arrangements or remodeling an entire home, I love that design always presents a problem to be solved. Design is about finding solutions that transform and elevate the space in unexpected ways. There is nothing more satisfying than having a happy client who discovers a newly found appreciation of their space.
From where do you draw most of your inspiration?
My interior design inspiration comes from minimalist, European-inspired detailing, luxe Italian materials, mixed metals, and the natural world. I am very inspired by the refined, strong attention to detail found in European kitchens and casework design. I am also strongly influenced by the resurgence of bold, organic shaped furniture with exaggerated curves that add an element of chic meets playfulness to the space. I love a highly curated room that balances show-stopping pieces with minimalism. This provides the perfect opportunity to introduce mixed metals and luxe, textural fabrics to the mix. I have found that wallpapered bathrooms and living rooms are the perfect places to experiment and introduce something bold.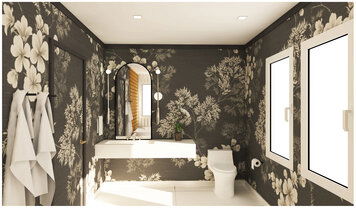 Transitional Master Bathroom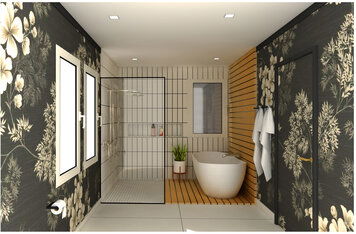 Transitional Master Bathroom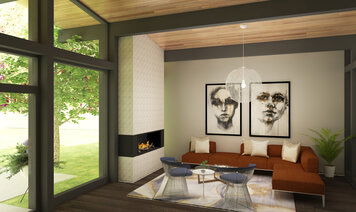 Mid-Century Modern Living Room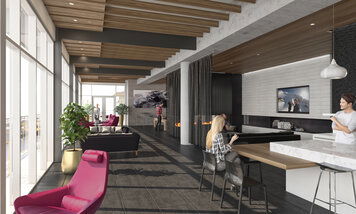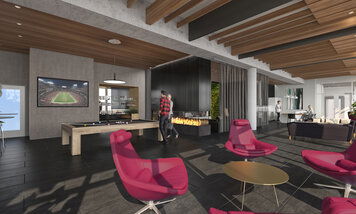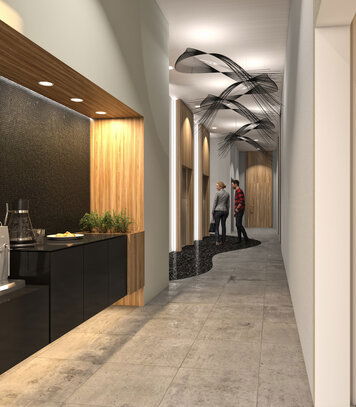 Multi-Family Elevator Lobby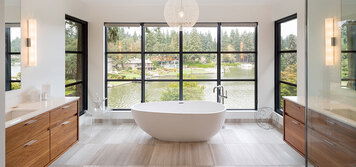 Lake Front Home Bathroom Renovation
Condominium Kitchen Renovation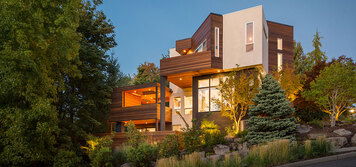 Pacific Northwest Exterior Renovation