Anna S.
Anna has a BA in Art History and has studied decorative arts and design at RISD, Sotheby's London, and the Smithsonian Institution in Washington D.C. She believes good design can and should be affordable for everyone, and works relentlessly to find the best deals and budget-friendly solutions for her clients. As a mother, she understands the design needs of living with children and loves to create happy, beautiful, and functional spaces for modern families.
From where do you draw most of your inspiration?
As a lover of mid-century modern and Scandinavian design, much of my inspiration comes from the beautiful spaces I see from Sweden, Denmark, etc. Other times a photograph or work of art is all I need to feel inspired—if it evokes a certain feeling, then I try to recreate that in the room.
We know you love designing, but what about it do you love most?
Creating beauty. When a project comes together in the right way, the space just sings. I want everyone to have that in their own home—I'm always amazed at the effect a well-designed, attractive space has on our emotional well-being.
Tell us your biggest design secret:
Simply put, plants! Bringing greenery into your space is one of the most cost-effective ways to totally transform a room. And with succulents as popular as they are now, you don't need a green thumb to keep them thriving. But choosing the right plants for a room can be just as tricky as picking paint colors--you have to know what you're looking for.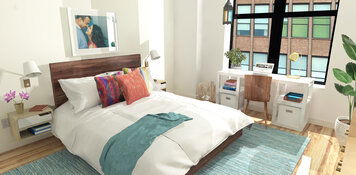 Bright, Modern, Bohemian Bedroom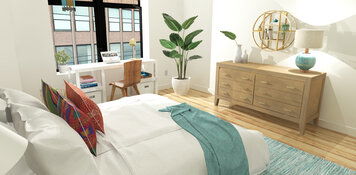 Bright, Modern, Bohemian Bedroom