Amanda K.
Amanda knew from an early age that she wanted to be an Interior Designer. This creative aptitude only was enhanced while attending College as a Creative Arts major, studying fine art, art history, and theater. She continued her love of Art & Interior design and was able to experience all of the great design, architecture and culture through out her career and she has worked on a variety of projects, including condominium public spaces & corridors, restaurant design, and commercial office spaces.
What's your prediction for the next big trend in design?
Home offices are going to become the next home away from home. These spaces need to accommodate everyday workload with also being a flexible space as the home life has been drastically altered during this pandemic. Keeping an organized and aesthetically pleasing work space can help be more productive as well efficient to still allow for a Life | Work balance.
From where do you draw most of your inspiration?
Inspiration comes in many forms, from nature, travel, art, history to fashion I have embraced all of these things to create and inspire me to tell a story through design. I enjoy telling these stories by implementing a mood, feeling, historical piece of furniture that can harmoniously tie an entire home together.
Describe your go-to style:
Growing up in the mountains and now living by the water my go to styles are a Coastal Modern and Modern Mountain as these are true to my aesthetic. Both of these have similar lines and attributes however the relative design pallets are opposite. This allows for a range of design inspiration that can be applied to either of these styles.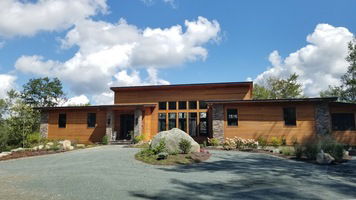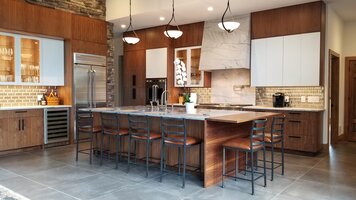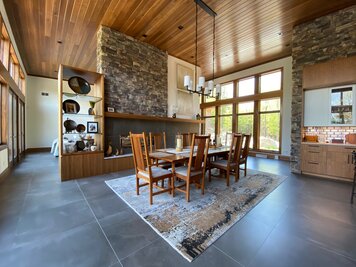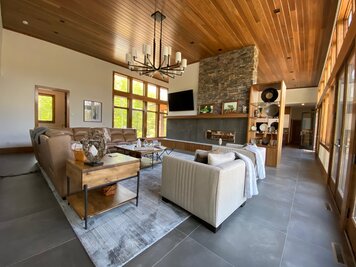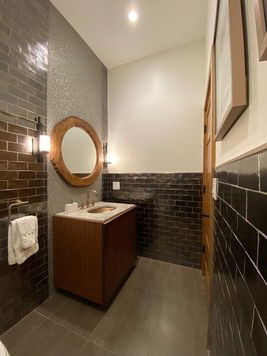 Mountain House Powder Room