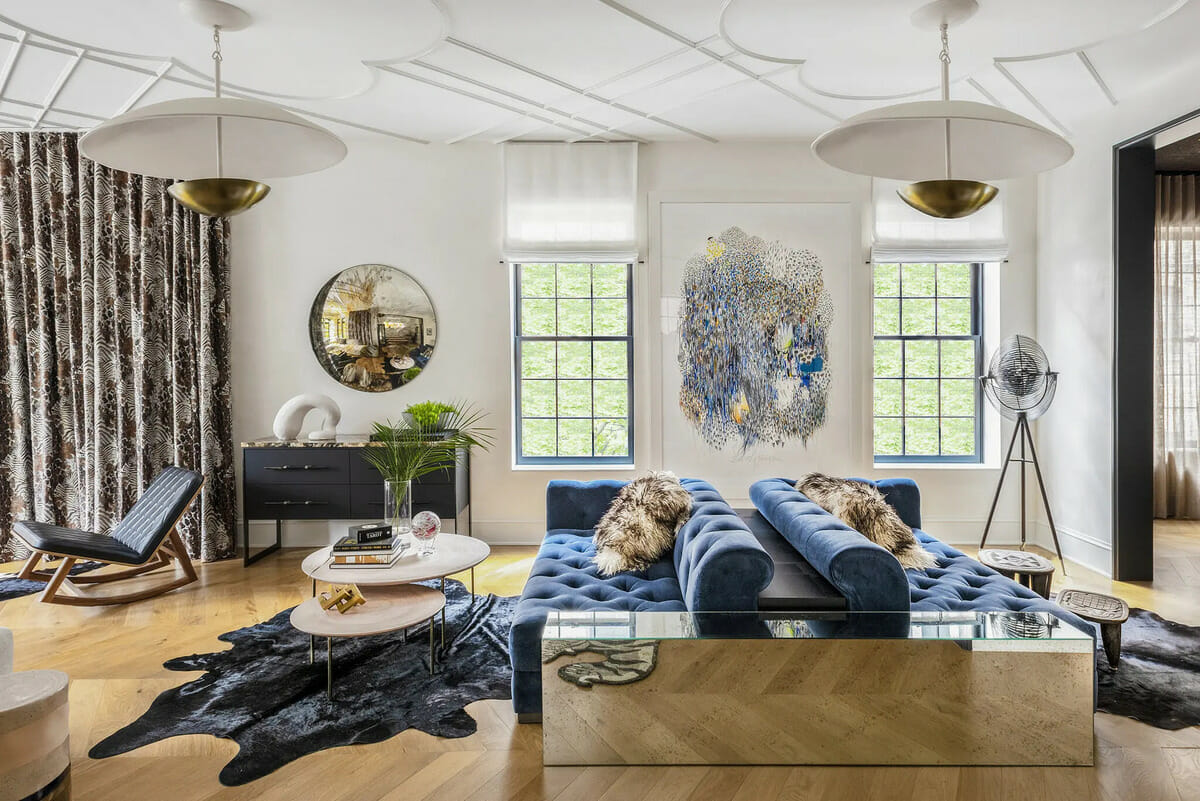 If you're looking to spruce up your home but can't decide which style really resonates with you, then a transitional style living room might tick all boxes at once. In this blog post, we'll delve into two spaces – a living room and a bedroom – transformed from basic to beautiful. The designer used transitional decor style pieces to inject vibrancy and personality without breaking the bank. Read on for all the before & after inspiration for a stunning home design!
The Challenge: Transitional Style Living Room & Bedroom
The clients were not new to the concept of online interior design, having had a few successful cooperations with Decorilla before. This time, it was about their new home and a new transitional decor style for a living room and a bedroom. They were open to exploring new looks while also asking the designer to: 
Source completely new furnishings for both rooms

Find a stylish way to integrate the client's piano into the new transitional style living room design

Increase the bedroom appeal from the existing navy accent wall, using it to convey a contemporary feel

Embellish the rooms with some of the clients' favorite geometric art pieces

Replace the fan with a statement light fixture
Unsure if a transitional style is right for you? Try our

Free Interior Design Style Quiz

to discover your style and get started on your design today!
Transitional Interior Design Style Inspiration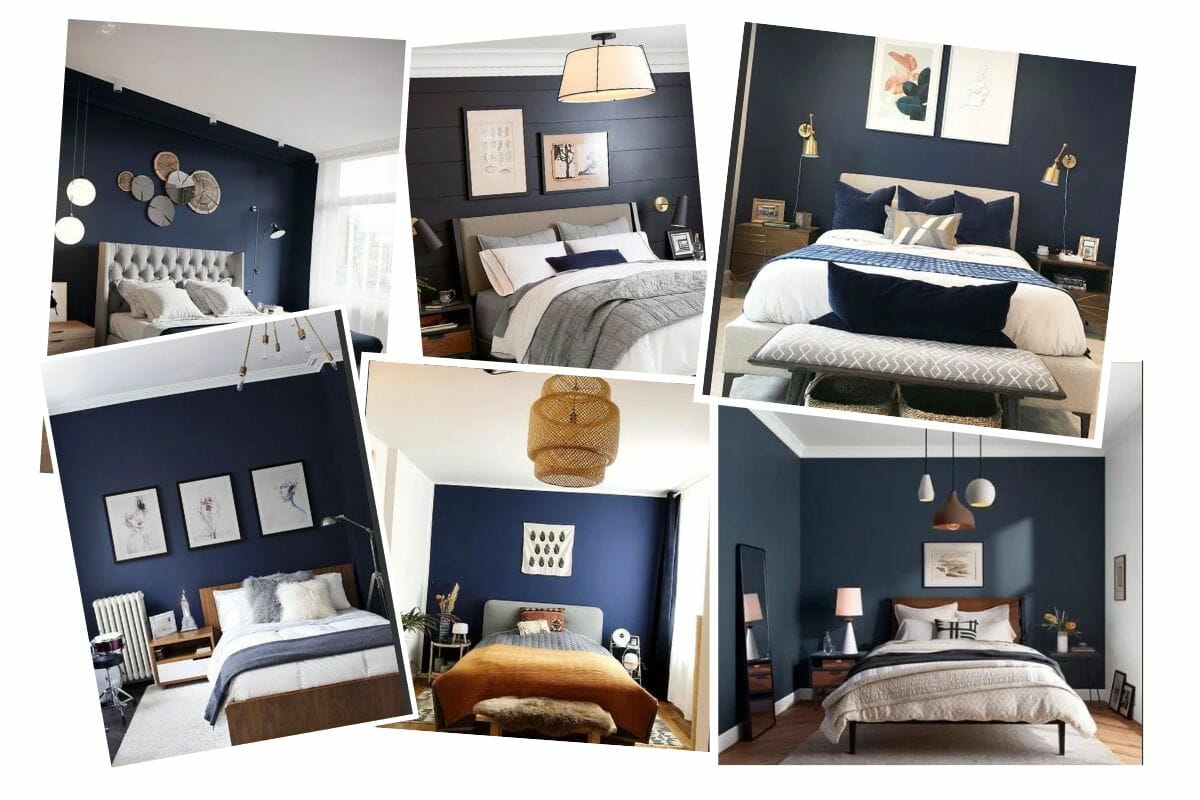 The client presented a captivating transitional interior design style portfolio for inspiration. The rooms typically featured plush, elegant furniture, and glistening metallic accents. The sophisticated designs were further characterized by artful accessories, all sitting on a blend of soothing neutrals and popping jewel tones. There were also pattern-rich cushions, soft & thick area rugs for texture and contrast, and statement lighting fixtures to illuminate the space beautifully.
Transitional Home Interior Ideas & Moodboard
After carefully evaluating all supplied information and considering the client's questionnaire results, the Decorilla team suggested the most suited designers. They had in common an appreciation for a transitional home interior with vibrant color pops and shimmering metallic accents. The challenge was now to select just one concept. The clients finally opted for Selma A., with whom they had already successfully cooperated in their prior engagement with Decorilla. 
Selma's transitional style living room moodboard depicted cultured yet highly livable interior design ideas. Despite the apparent designer stamp, it oozed a homey, family-friendly vibe. The walls of crisp white provided the perfect backdrop for layered details, while colorful accents and metallic finishes lent hints of sophistication. The arrangement also included an alluring jewel-blue velvet sofa and elegant decoration. An elegant wet bar was flanked by shelving with wooden tones to complement the piano. In addition, a gallery of abstract art completed this harmonious setting.

Transitional Style Living Room Design
The transitional style living room comes out as an oasis of homey tranquility, still filled with a genuine design flair. Crisp white walls and a stone fireplace provide the perfect backdrop for timeless comfort, adding just a dash of rustic feel for added warmth. Gleaming brass accents add finesse, from a striking coffee table and floor lamp to fashionable bar chairs, also brought together by elegant, streamlined shelving across the wet bar. 
An inviting jewel-blue velvet loveseat beckons the owners and visitors to relax, despite oozing some upscale glam vibes. At the same time, two ochre midcentury leather armchairs complementing the sofa while balancing the glam. Additional ochre hues dominate throughout the living room, creating cohesion between the elements and the client's stylish piano. And finally, livening up this space are abstract black & white art pieces and a bubble chandelier – delivering a classic stamp of character and style with elaborate, elevated detail.
Transitional Bedroom Decorating
The navy wall and contemporary feel provided a chance to create something truly special in this bedroom. Per the client's wish, the transitional bedroom decorating involves all brand-new furniture except the mirror. Its brass frame is complemented with matching art frames and modern light fixtures. Meanwhile, the abstract geometric display acts as a central focal point, adding more dynamics to the arrangement. 
A pair of navy curtains allows control of both light and privacy in the bedroom, improving visual balance at the same time. In order to maintain a fresh and airy atmosphere, the designer opted to juxtapose the navy background with a plethora of white elements. Those include the upholstered bed complemented with a pair of soft square ottomans, cabinetry, and a rug. 
A pair of chic white drawer sideboards also fulfill the client's wish to use an armoire as a statement piece. Their contemporary circular pattern adds quite a level of flair as well. In addition, by placing a tall, narrow freestanding mirror in the corner, the designer shook things up, providing a stylish element of the unexpected.
Transitional Home Interior Shopping List
Decorilla offers a unique approach to designing and shopping for home decor. By creating realistic 3D renderings, the designers offer an accurate feel of how your space will look. That way, you can feel sure about every detail before investing in furniture or other items—saving time, effort, and hassle! What's more? There is a comprehensive online shopping list with exclusive trade discounts on every item. In addition, the concierge service takes care of all the delivery details, so you don't have to worry about a thing.
Transitional Style Bedroom & Living Room Top Picks
What we love most about this kind of design is its versatility. If you share our fondness for transitional decor style, you might find a few new favorites in this list.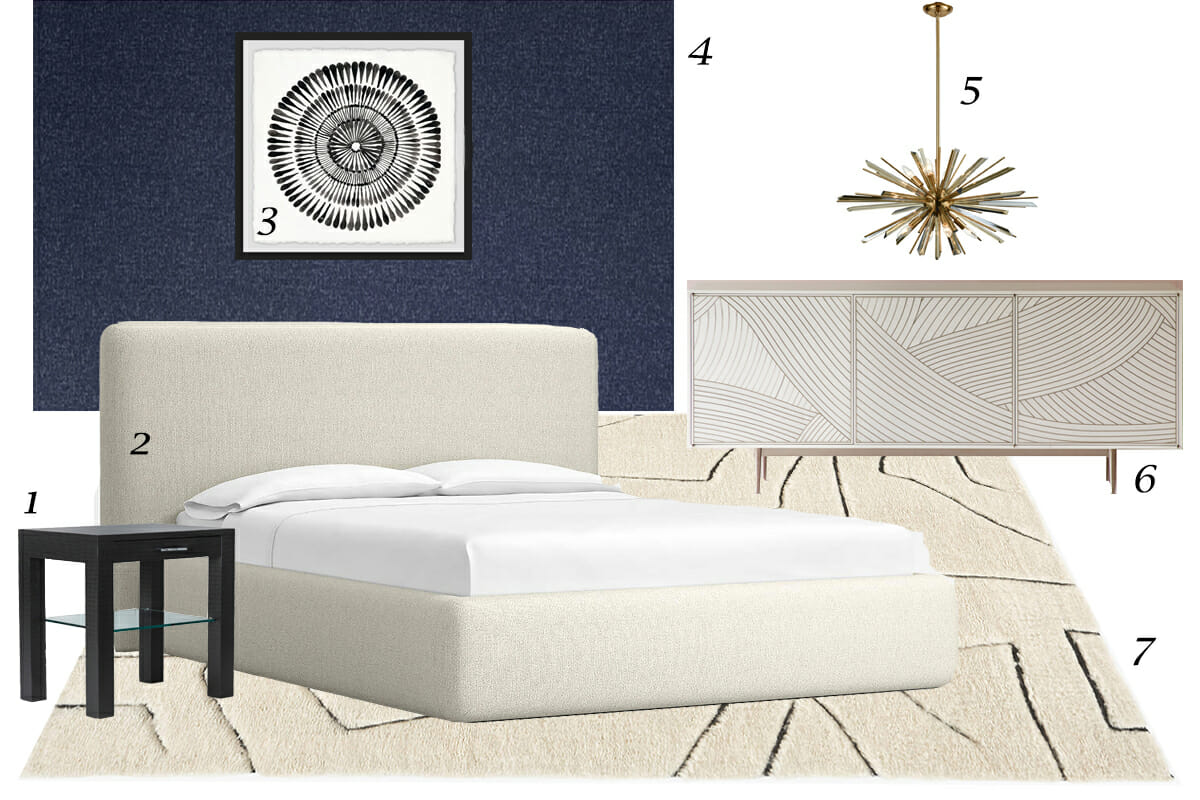 Looking for tailored transitional style living room & bedroom ideas?
Hiring a professional interior designer delivers stunning results in return. Schedule a Free Interior Design Consultation to learn more today!

Featured image: [1]