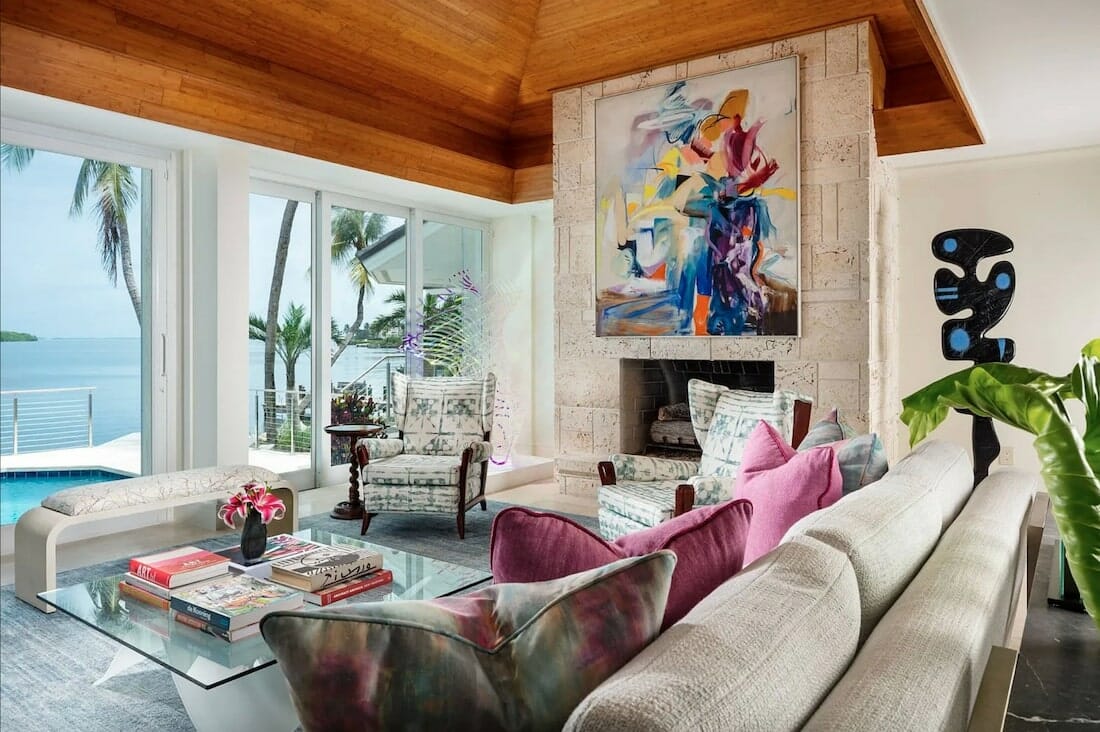 Did you know, you can enjoy vacation vibes all season long without leaving the house? In fact, all it takes is getting creative with some summer decor ideas. The best part is there's a solution for every room, level of effort, and need. Here's your guide to putting together a summer staycation-worthy interior!
Summer Decor Ideas: Quick Tips
Even with little time or a set budget, it's possible to turn any house into a cool summery retreat. Consider the following summer home decor trends for quick and convenient transformations.
1. Fresh Flowers: Cheerful, Budget-Friendly Summer Decor
Everyone can agree: flowers make such a big difference in a room. Whether store-bought or from the garden, beautiful blooms not only radiate summer energy. They also make the house smell divine. Opt for arrangements in warm, seasonal colors like sunshine yellows, zesty oranges, and bright pinks. Deep reds and rich purples suit other seasons best.
Need help creating your own staycation-worthy home? Schedule a Free Interior Design Consultation from one of Decorilla's top designers today.
2. Bring in Biophilic Summer Home Decor
Take the fresh flower bouquet a step further with biophilic interior design. Add tropical indoor plants, like peace lilies and kentia palms, for a boost in summertime ambiance. Natural accents such as wood, stone, and cork further enhance the surrounded-by-nature feeling.
One easy way of adding these accents is through summer wall art, like a wood-framed gallery wall. Include vacation photos, abstract leafy artwork, or lush, green nature scenes.
3. Summer Decor Ideas Feature Bright & Happy Accents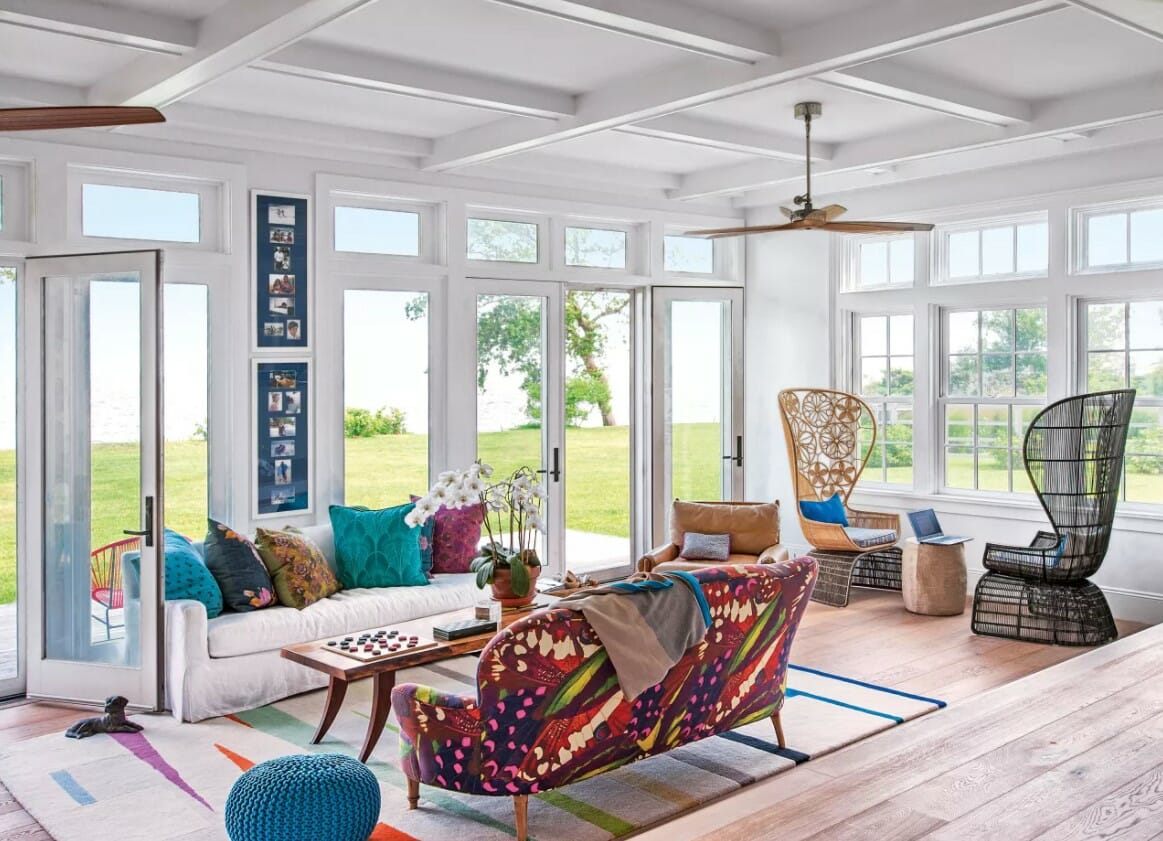 Bold and cheery colors are closely associated with summer. Another effortless way of giving a space a summer makeover is by adding accent pieces in shades reminiscent of the season. Bright tones of yellow, fuchsia, coral, and blue can really make a room pop – especially against a light backdrop.

Summer Living Room Decor
Whether calling a sleek city apartment or sweeping mansion home, there are ways in which you can design your living room for summer. Create a laid-back, light, and airy space for relaxing with loved ones this sunny season.
4. Light & Flowy Curtains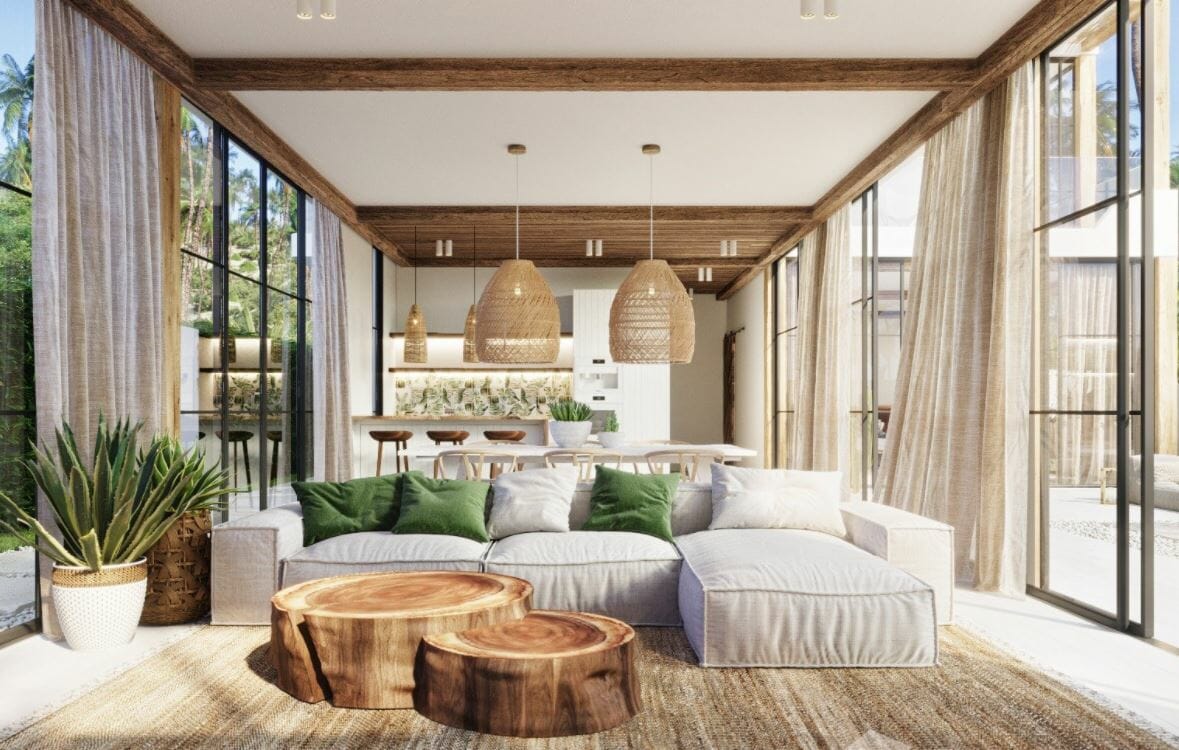 It's incredible what difference new curtains can make as living room summer decor. Swap out any thick, heavy drapes for light, flowy ones during summertime. They'll make the living room appear cooler and airier – especially when gently swaying in the breeze. 
5. Create a Beachy Vibe with Summer Home Decor
Summertime and beach days go hand in hand. Make every day a beach day by creating a coastal living room. Neutrals and pastels act as the perfect backdrop for more vibrant colors like azure, coral, and teal. For example, pair a white couch with aquamarine scatter cushions.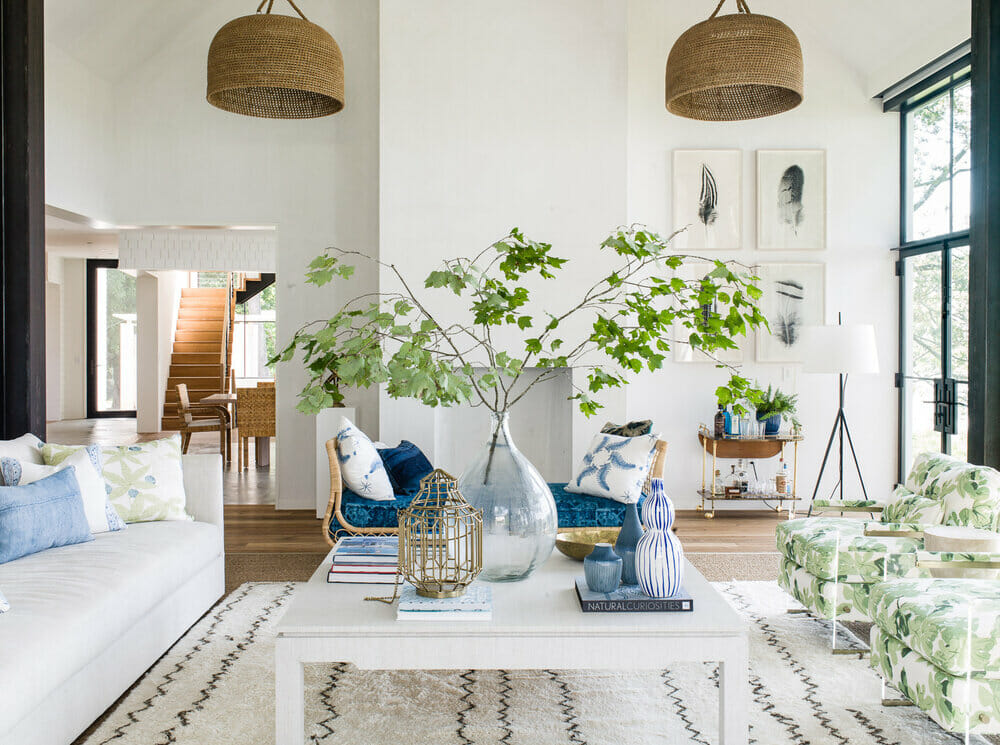 To complete the look, include seaside-inspired pieces such as:
Driftwood sculptures

Jute or sisal rugs

Weather-worn lanterns

A statement coral or shell

Bluegreen glass vases
6. Refresh the Fireplace with Accents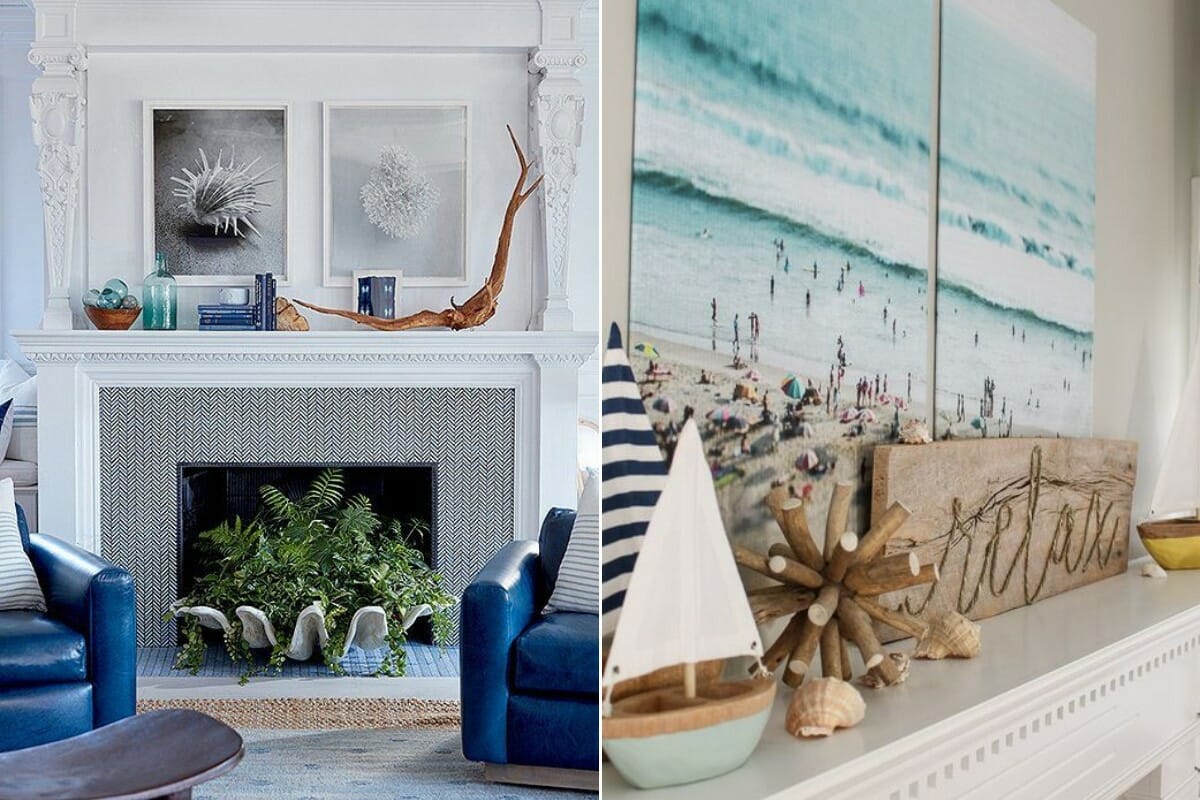 Indeed, fireplaces don't see much use during the summer months. However, they can still add ambiance to living rooms. Instead of stacking them with firewood, get creative and place a planter, driftwood, or pieces of coral inside. As for summer mantel decor, consider petite vases of fresh flowers, succulents, fruit, or other items that remind you of summertime.
You can also channel the tranquility of a spa getaway by pairing green and white. The refreshing combination is undeniably enchanting and sure to promote feelings of relaxation and peace.  
Summer Kitchen Decor
Keep things fresh and simple in the kitchen this summer. That goes for meals, as well as interior design. For designer-approved tips and tricks on creating a casual cooking area, consider the following summer kitchen decor ideas.
7. Go All-Out on the Bar Area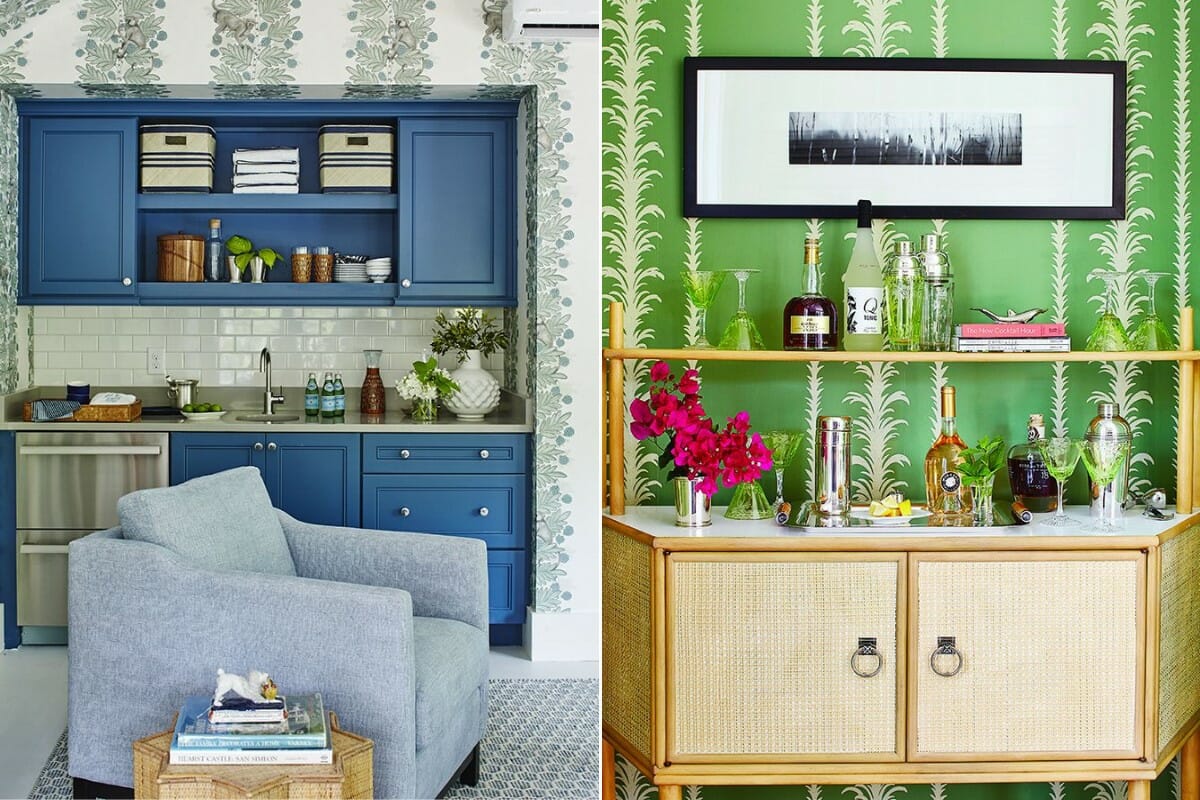 Few seasonal treats are as refreshing as a fruity cocktail on a hot summer's day. Assign a corner of the kitchen to cocktail-making and turn a drink station into a feature. Be sure to display classy cocktail glasses and bar equipment, along with elegant bottles of liquor. When faced with limited countertop space, invest in a console or even a bar cart.
8. Outdoor Kitchen + Summer Decor = The Perfect Match
There's no better time to enjoy al fresco meals than summer. Take full advantage of the good weather with an outdoor kitchen. Wicker or rattan furniture work especially well for an adjoining outdoor dining area because of their cool and casual air.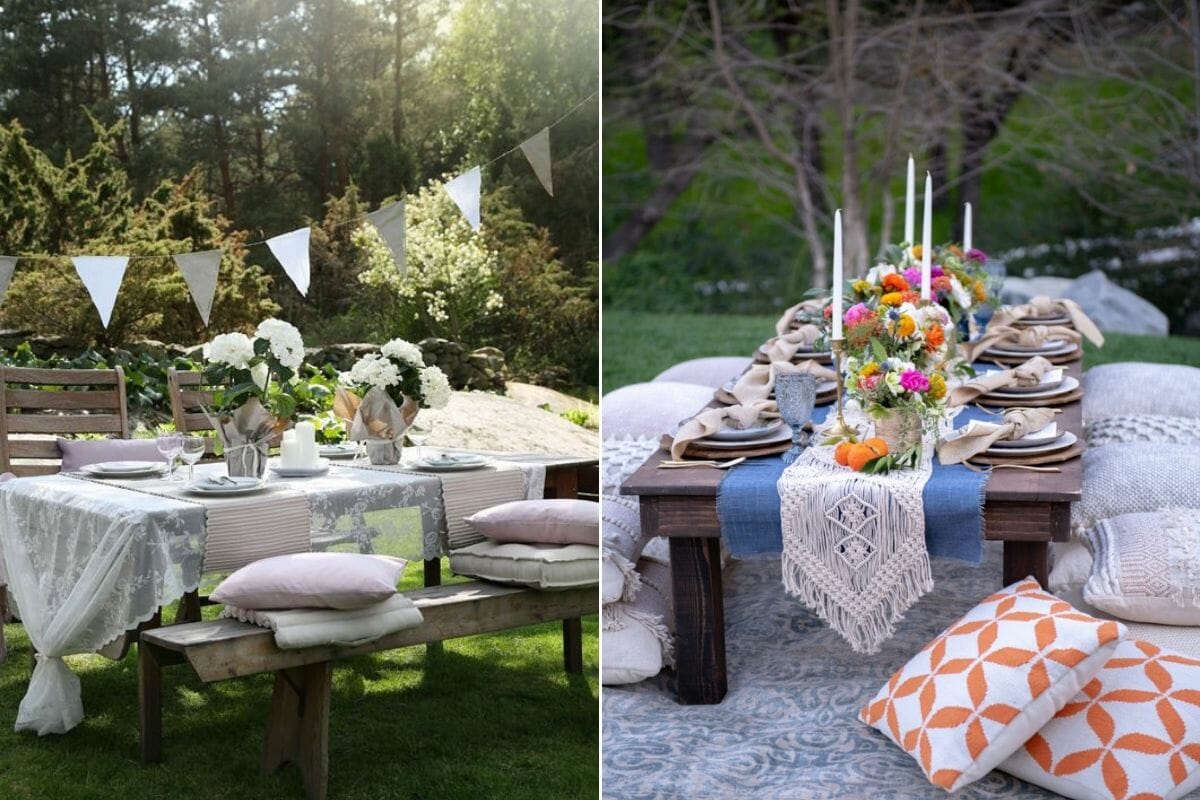 Before entertaining guests, play around with fun summer centerpieces for tables. They can be as simple as banana leaves in clear vases or an arrangement of beach treasures, including shells, dried starfish, and sea glass.
9. Use Seasonal Fruit as Summer Home Decor
That's right – seasonal fruit makes for a summery focal point that's equal parts lovely and simple. Yellow citrus and red or green apples are particularly eye-catching, thanks to their vibrant colors. Just fill a beautiful bowl with fruit and place it alongside a vase of flowers on the kitchen island for an effortless summer arrangement.
Summer Bedroom Ideas
Summer room ideas should also extend to the bedroom. Breathe new life into this important space to enjoy relaxation and sweet dreams, guaranteed.
10. Canopy Bed Summer Decor Ideas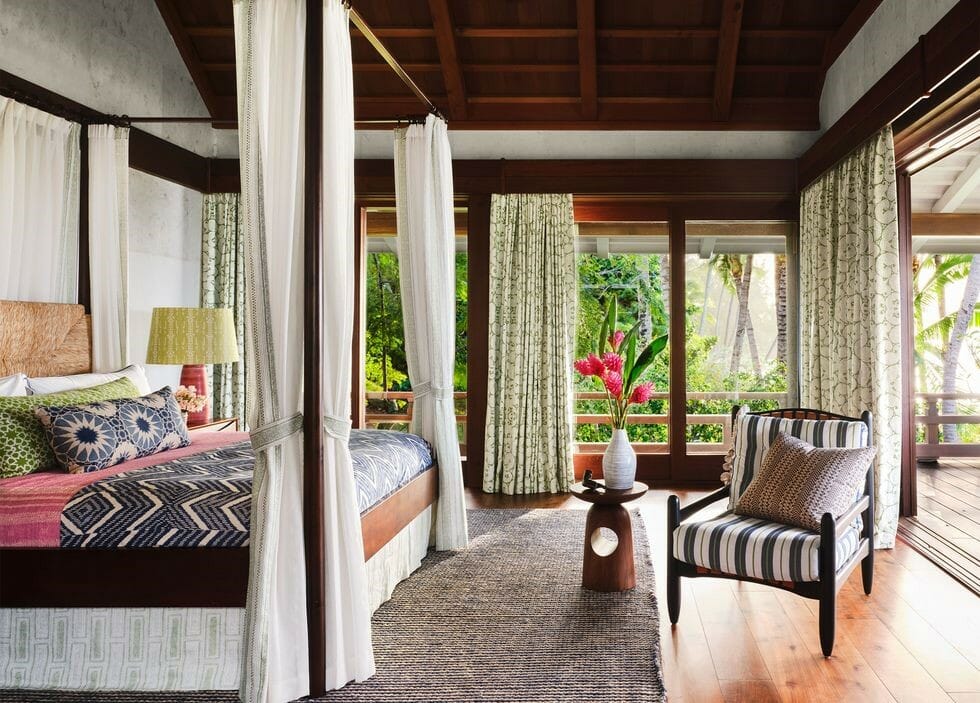 Recreate the feeling of lying on the grass, admiring the clouds on a warm summer afternoon with a pure white canopy bed. Similar to light, flowy curtains, the canopy's panels lend a freshness and airiness to the bedroom.
11. Opt for Natural Lamp Shades
Yes, white lampshades are classic. However, swapping them for richer beige or wheat ones will mimic the warm and cheery sensations associated with summer. The bold may even like to change their lampshades to a vivid tone that's analogous to their bedroom's palette. It'll make them stand out and add to the fun.
12. Classic Summer Decor Ideas for Bedrooms: Natural Patterns
Incorporate bold botanical patterns into the bedroom for a lively summer atmosphere. There are plenty of ways to do this, including wallpaper, bedding, and accessories.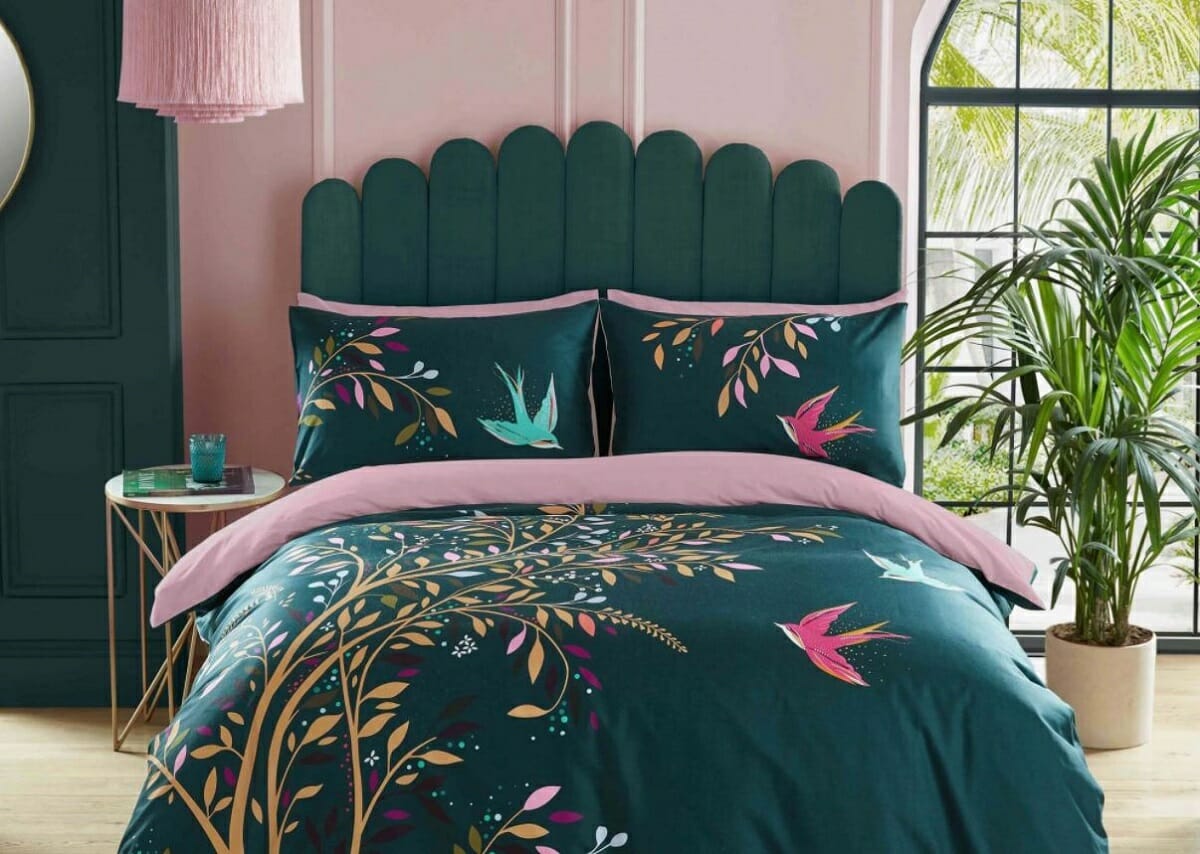 Of these, bedding is the easiest, most affordable way of creating a bright summer bedroom. Just keep in mind that vivid bedsheets look best in a room with neutral walls and minimal accessories.
Summer Front Door Decor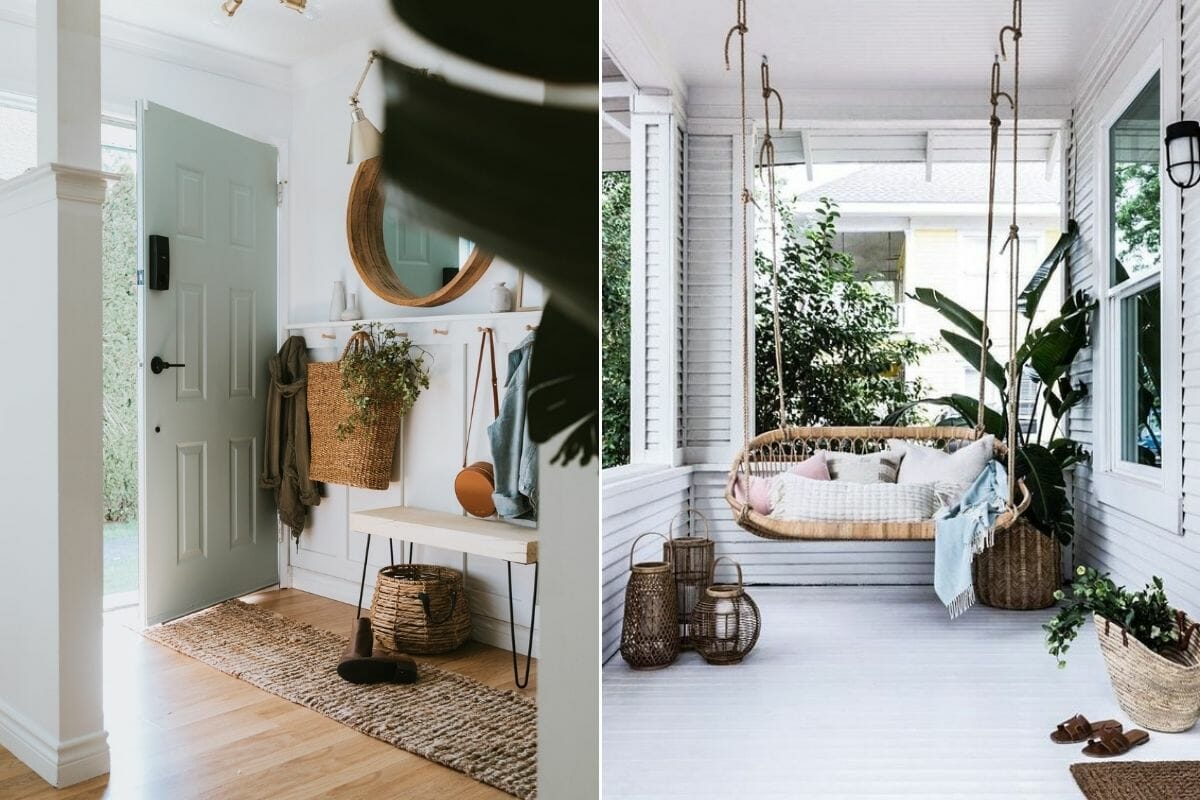 Put visitors at ease with a warm welcome at the front door. After all, summer house decor works best when used throughout the home, right from the first point of contact.
13. Paint the Patio Furniture for a Summer Decor Refresh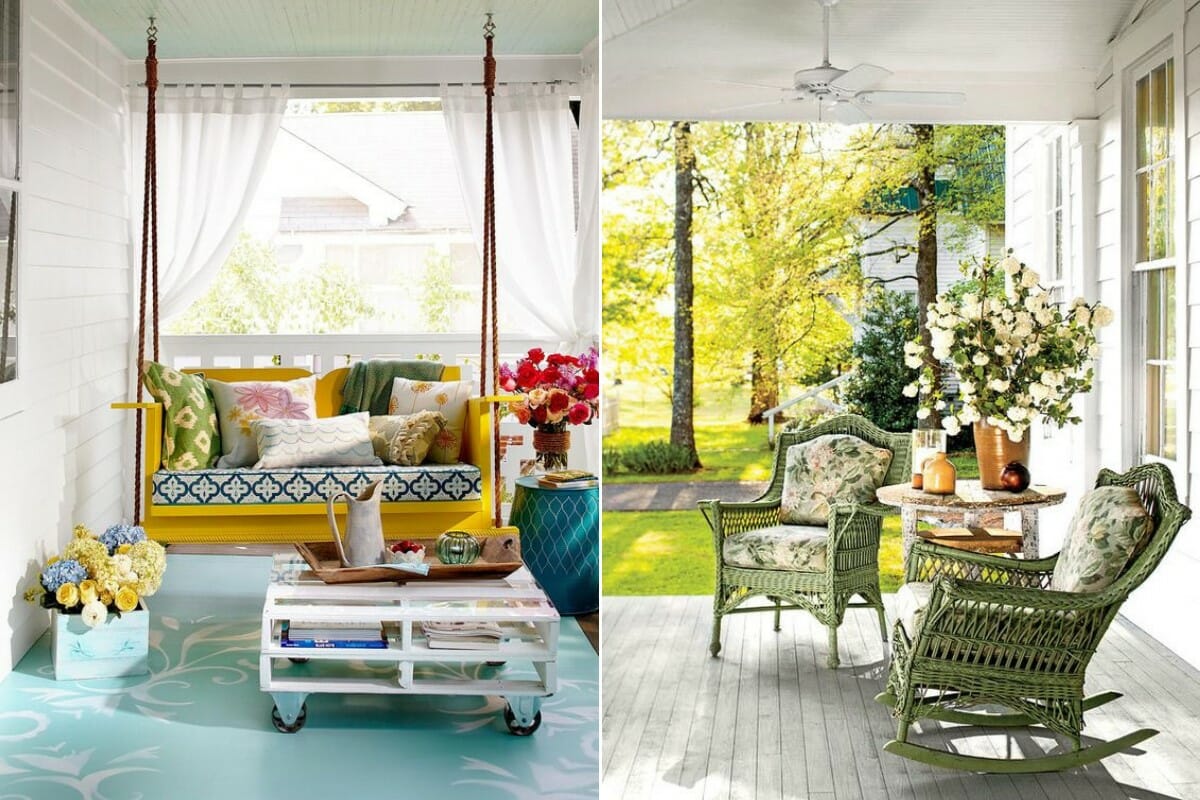 Give old or mismatched patio furniture a new lease on life with a fresh coat of paint – it's a simple yet stylish solution. Choose a happy summer color to embrace the spirit of the season.
14. Add Chiming Summer Home Decor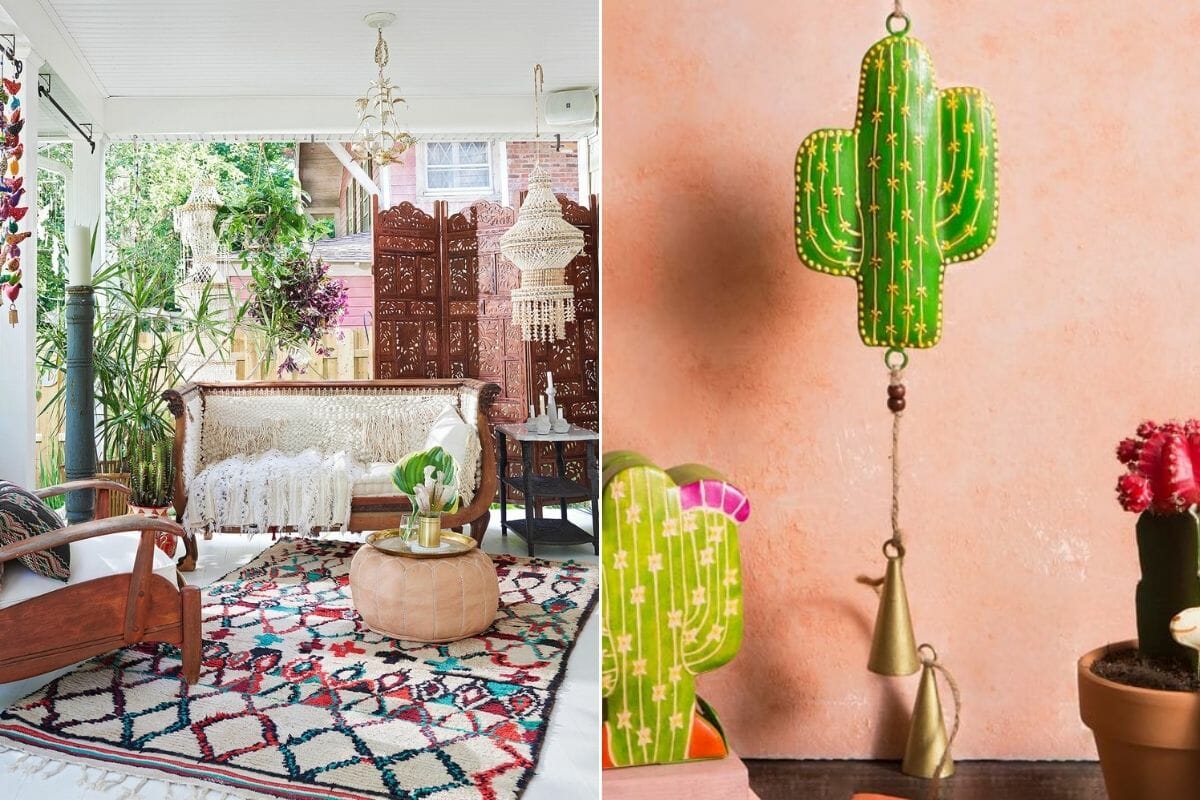 Not only do wind chimes create beautiful melodies in a summer breeze, but they look pretty as well. Making ones are also a fun DIY project – use driftwood, sea glass, and pebbles for a coastal-themed wind chime. Alternatively, opt for a delicate chime with an eclectic and fun design. 
15. Plush Summer Decor: Porch Swing Piled High with Pillows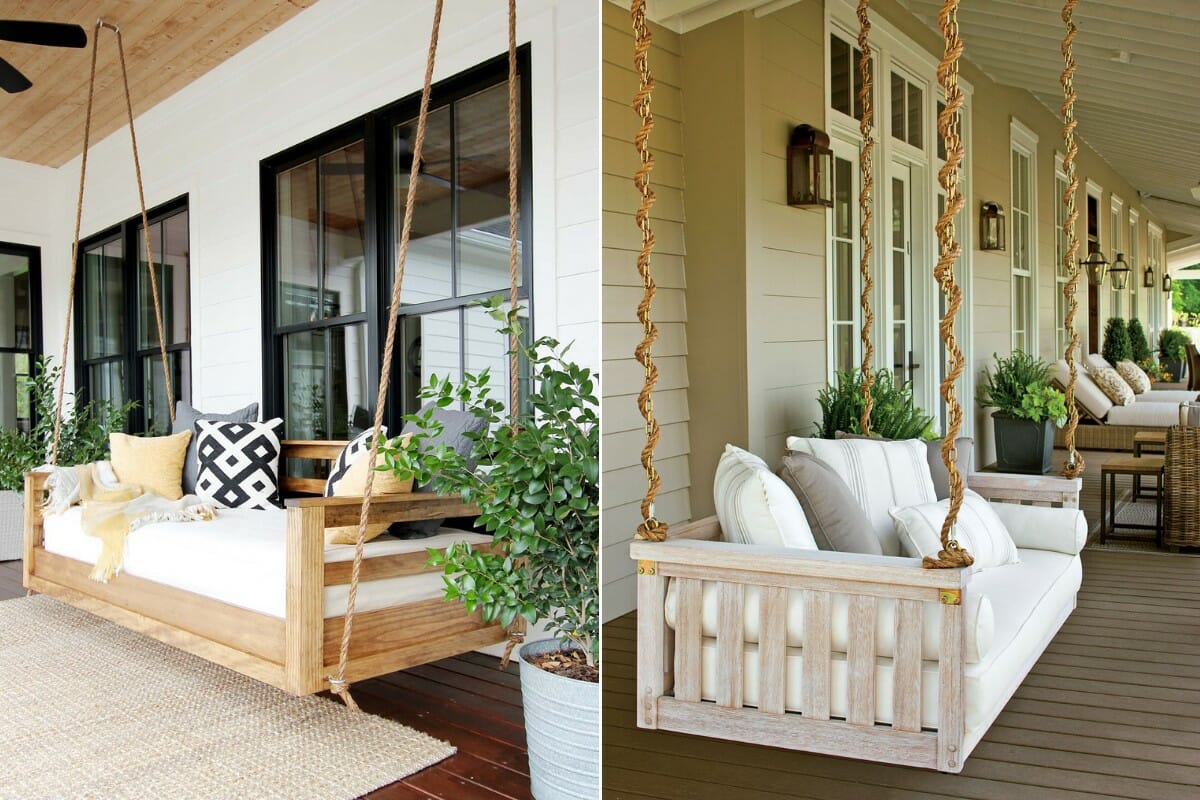 Putting up a porch swing by the front door is one of the best summer investments. Make lounging around, even more, relaxing by including plenty of playful, plush throw pillows.
Want a summer home decor update?
Your home can overflow with good vibes, perfect for summer. If you need help in making that happen, chat with Decorilla's team of vetted interior designers. Schedule a Free Interior Design Consultation to find out more!

[images: 1, 2, 3, 4, 5, 6, 7, 8, 9, 10, 11, 12, 13, 14, 15, 16, 17, 18, 19, 20, 21, 22, 23, 24, 25, 26, 27, 28, 29, 30, 31, 32, 33]