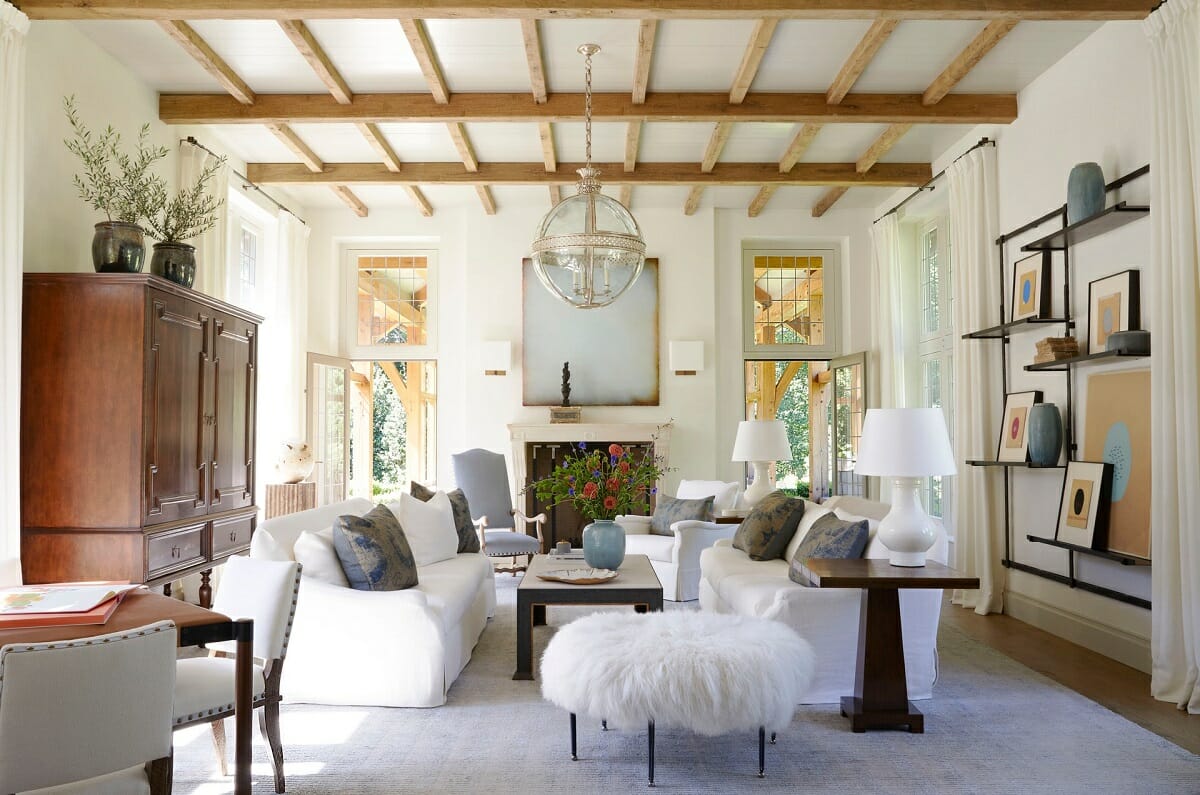 Let's be honest: holiday décor can so often make a house seem tacky. However, there are tasteful ways to celebrate special dates through home décor. With Valentine's Day drawing near, you can add an air of romance to an interior without the space becoming too sugary sweet. Join us as we take a closer look at the top romantic room ideas for a love-filled home this Valentine's.
Stirring Romantic Room Ideas
Romantic room decoration done right can make all the difference in setting the desired mood. Plus, it also goes well beyond the bedroom and rose petals. Feelings of ardor, warmth, intimacy, and tenderness can all be evoked throughout a house with the appropriate romantic décor. Read on to discover romantic and simple Valentine's Day design ideas, as well as more elaborate renovation projects.
Ready to update your home with romantic room ideas, but not sure where to begin? Schedule your Free Interior Design Consultation to get started with award-winning interior designers today!
Our Best-Loved Romantic Bedroom Ideas
Effortlessly turn any bedroom into a refined love nest by taking inspiration from our romantic bedroom décor ideas. To fully appreciate these subtle yet effective changes, be sure to take some before and after romantic bedroom snaps. Looking back, the transformation should be mind-blowing!
1. Keep Things Cozy
What better way to inspire the warm fuzzies than layering texture? Super tactile fabrics are among the top bedroom ideas for couples. Incorporate more plush, soft, and rich fabrics into the bedroom by adding scatter cushions, throws, and rugs. Consider faux furs, silk sheets, and velvet headboards for the ultimate romantic style décor.
2. Stoke the Fire of Fervor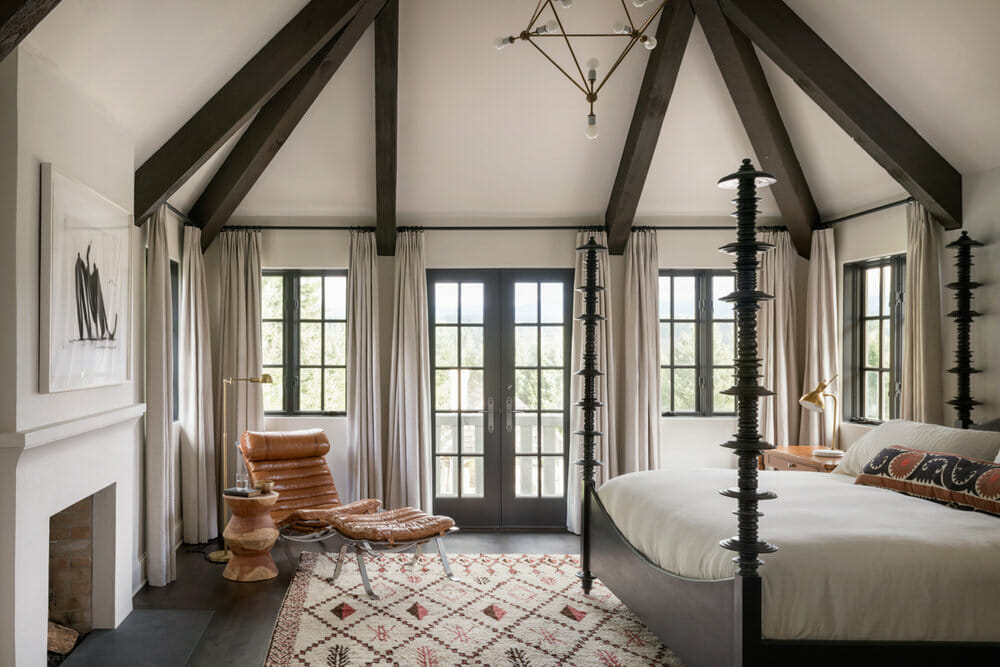 What do the smoldering intensity of a fireplace and the soft flickering of candlelight have in common? The sensuality of fire. Depending on your budget, upgrade your bedroom with some scented candles or the far grander addition of a fireplace. Both options are counted amongst the favorite romantic bedroom ideas.
3. Try Romantic Bedroom Wall Décor
Take a stroll down memory lane by creating a gallery wall featuring sentimental moments together as a couple. It's not just romantic wall art, but nostalgic as well. Other romantic wall décor options for the bedroom include framed sweetheart initials, delicately patterned wallpaper, and fairy lights. An intricate headboard can also make a striking romantic statement against a bold wall.
Lovely & Romantic Living Room Ideas
Spread the love throughout the house by giving the living room a chic Valentine's makeover. From cuddling up on the couch to simply enjoying each other's presence, the living room is a great space for appreciating romantic home décor.
4. Opt for Soft Colors
First and foremost, a living room should be a relaxing space. By incorporating more soft and mellow colors, the room will have a tranquil, romantic air about it. Moreover, pastels, baby pinks, muted shades of turquoise, and dreamy neutrals are all fantastic choices for your romantic living room décor.
5. Light Up the Room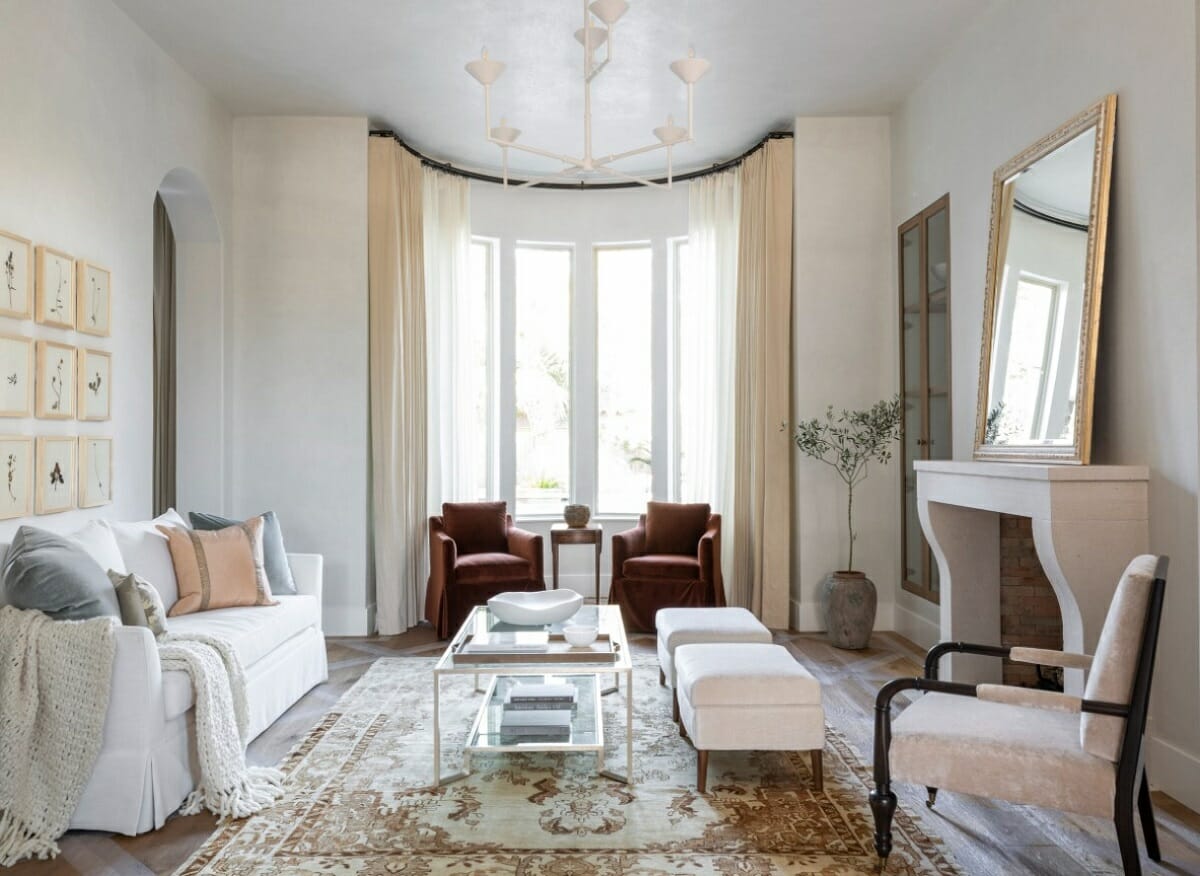 There's just something magical about a room bathed in natural light. For a romantic living room effect, make sure the space gets enough light. A great way to enhance the room's dreaminess is to cover any floor-to-ceiling windows with light, billowing curtains. Furthermore, be sure to invest in floor and ceiling lights that emit a mellow glow.
6. Include Some Decorative Pieces
Nothing says romantic interior design quite like decorative pieces of furniture. Elements such as button tufts and carved details add an atmosphere of old-world romance. However, it's important to keep moderation in mind. Never overdo it – stick to only a few core decorative furnishings.

Sweet Romantic Bathroom Ideas
With all the time the average person spends getting ready throughout their life, it's completely worth making the bathroom a dreamy one. Turn it into an indulgent escape with the right romantic bathroom décor.
7. Make a Statement with Mirrors
It may seem like a practical addition to any bathroom, but the humble mirror can be so much more! Not only does a well-placed mirror (or two) create the illusion of a far grander bathroom, but it also makes for sensual décor.
8. Add Accent Furniture
Whether a chair, a chaise lounge, or a plush bench, accent furniture can add much-needed softness and warmth to a bathroom. It's the perfect luxurious arrangement for keeping a partner company while they enjoy a soak in the tub.
9. Put Your Best Claw-Foot Forward
The Victorians certainly knew a thing or two about style. Bring the romance of the past to life in a modern bathroom by investing in a claw-foot bathtub or decor from the romantic era. Pair this vintage-style tub with romantic bathtub decorations like metallic taps for a truly regal feeling.
Gorgeous  Romantic Dining Room Ideas
Why limit romantic dinners for two to only Valentine's Day? Enjoy meals in a restaurant-quality dining room from here on out. Simply follow our romantic décor ideas below.
10. Say It With Flowers
Adorn your dining room table with an arrangement of fresh flowers. Not only does it look romantic, but makes the room smell heavenly as well. It doesn't have to be an expensive bouquet of roses either. Visit your local supermarket for a pretty mixed bunch or venture out into your garden to pick your own.
11. Charm the Room With a Chandelier
Glamorous and eye-catching, a chandelier can certainly elevate an entire dining room. However, be mindful when looking for this particular piece of romantic dining room décor. When shopping around for the right chandelier, remember to consider the room's existing furniture. It should complement the other furnishings and be the right size for both the table and space.
12. Keep it Clean & Classy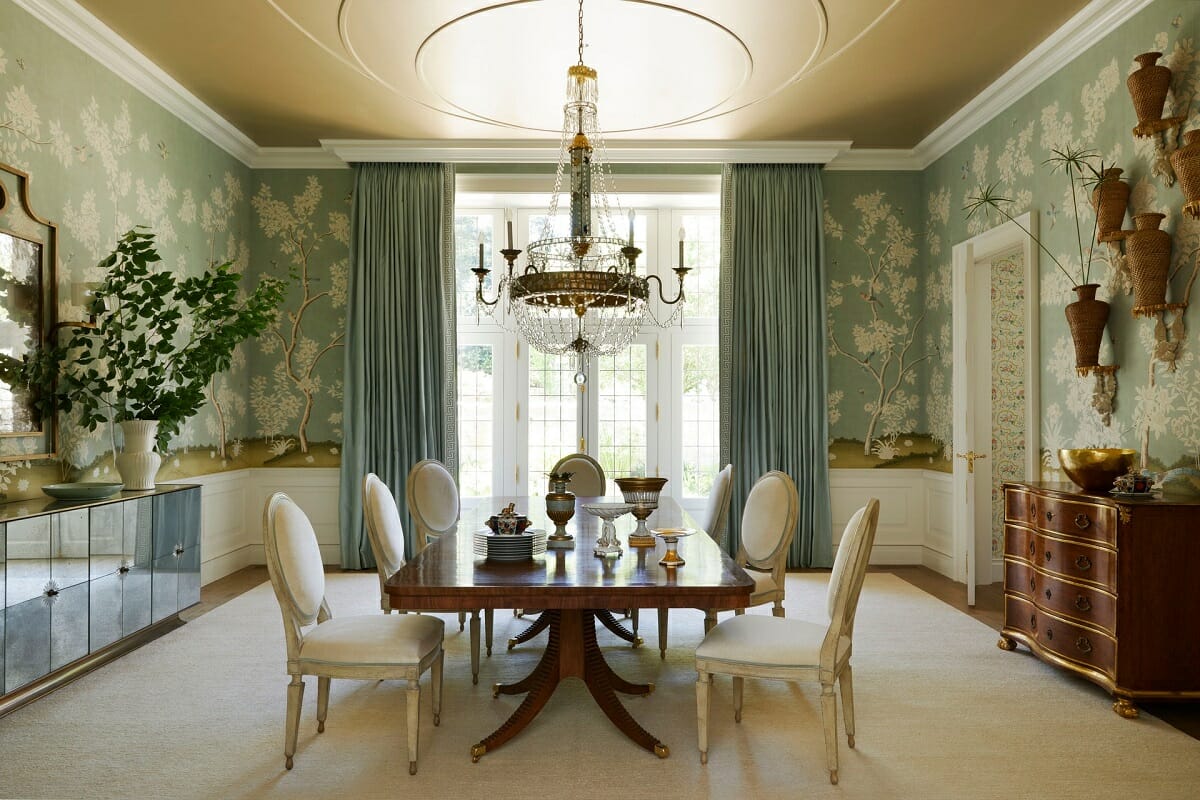 Whatever your romantic décor ideas, avoid cluttering the dining room with needless knick-knacks. This is especially the case when setting the table for Valentine's or any other occasion. Certainly, nothing sours the mood quite like an overcrowded space. A clean, classy look is the way to go and will leave the room feeling fresh and comfortable.
Spruce Up Your Home with Romantic Décor Ideas
If you need help making your romantic room ideas come to life, get in touch. Schedule a Free Interior Design Consultation for expert assistance getting started today!

[images: 1, 2, 3, 4, 5, 6, 7, 8, 9, 10, 11, 12, 13, 14, 15, 16, 17, 18, 19]