Fantastic news, vintage lovers: retro-style décor and furniture are making a comeback! It was bound to happen since the interior design of the past exuded personality and pizzazz. After all, what was once seen as old eventually becomes fresh and new again. Read on for a guide on retro interior design and making it work in a contemporary world.
Retro Interior Design 101
Modern retro interior design is a term used to describe an eclectic mix of vintage and contemporary features. In other words, a blend of the interior design trends of 2022 and those of eras past. Although any period can serve as inspiration, here it refers to those within the mid-century modern and postmodern periods. Thus, the 50s through to 80s. Each of these eras has a distinct style of furniture, décor, patterns, and color schemes.
Love retro style but not sure how to incorporate it into your home? Then, schedule a

Free Interior Design Consultation

to get started with a top designer today!
Vintage-Style Décor Ideas for Each Decade
Putting together a stunning retro interior is simple when you know which décor and furniture to use. The postmodern and mid-century interior design tips below will help make any 50s, 60s, 70s, or 80s-inspired space come alive.
Classic 50s Retro Interior Design
From Scandinavian furniture to pastel colors and beyond – the 50s was an exciting time for interior design. Use vintage décor and reproduction pieces to create a 50s-style living room or even a whole interior with a few designer changes.
1. 50s Modern Retro Interior Design Icon: The Eames Chair & Ottoman
Few timeless furniture pieces of the 50s are as iconic as the sleek Eames chair and matching ottoman. Invest in an original or reproduction set for a sophisticated – or even debonair – focal point.
2. Pretty Pastel Kitchens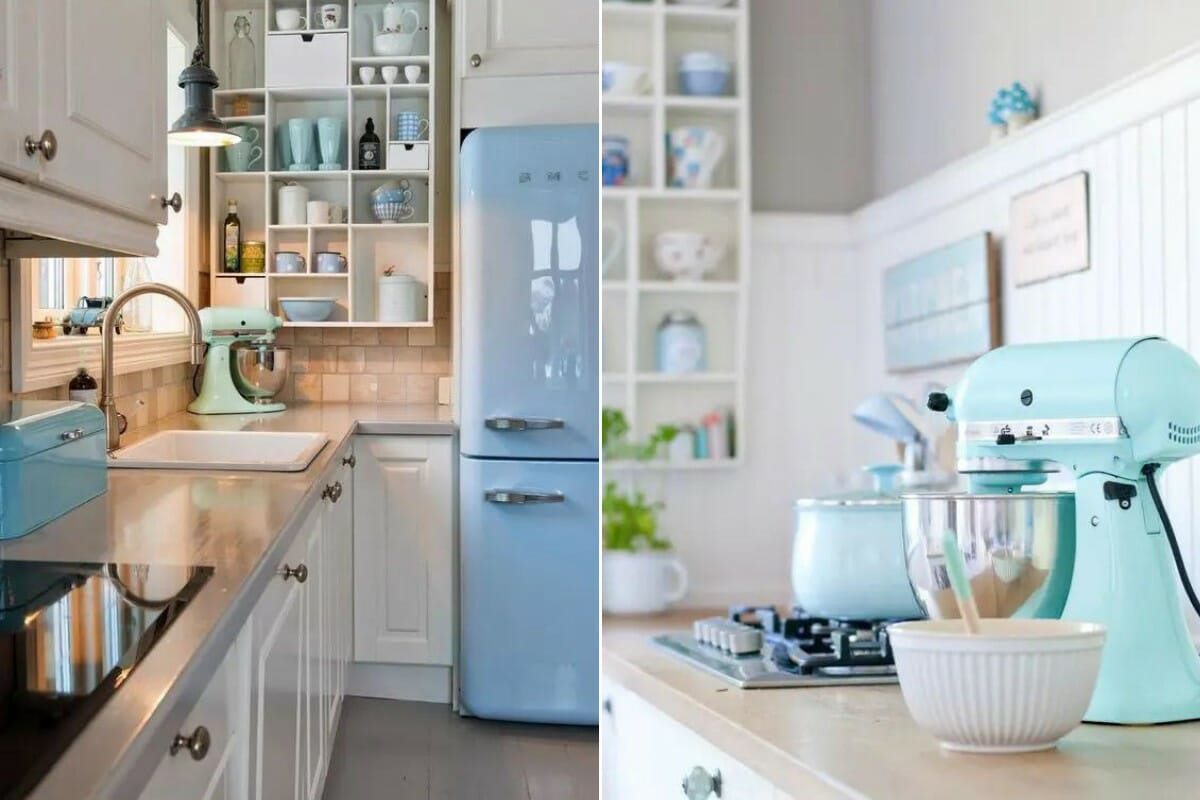 Pastel colors and 50s kitchens go hand in hand. Add a touch of the era to any kitchen with vintage-style décor like retro appliances. They not only feature pastels but chrome accents and curved lines, also associated with the era.
3. Funky Patterned Wallpaper
Patterned wallpaper was a big hit in the 50s when boomerang and atomic motifs were as popular as florals and damasks. Embrace vintage-style interior design by applying retro-inspired wallpaper.
4. Lighting: Not Just Practical 
During the 50s, lamp design became more than practical and evolved into stylish décor. Create an era-appropriate space by choosing dynamic, abstract, and geometric-shaped lighting. In fact, consider a dramatic atomic chandelier for a modern retro interior design look.

Top Retro 60s Interior Design Ideas
Groovy and space-age vibes defined 60s interior design. It's possible to achieve the same ambiance to suit a contemporary home by adopting some of the period's best-known trends.
5. 60s Modern Retro Interior Design Icon: The CH07 Shell Chair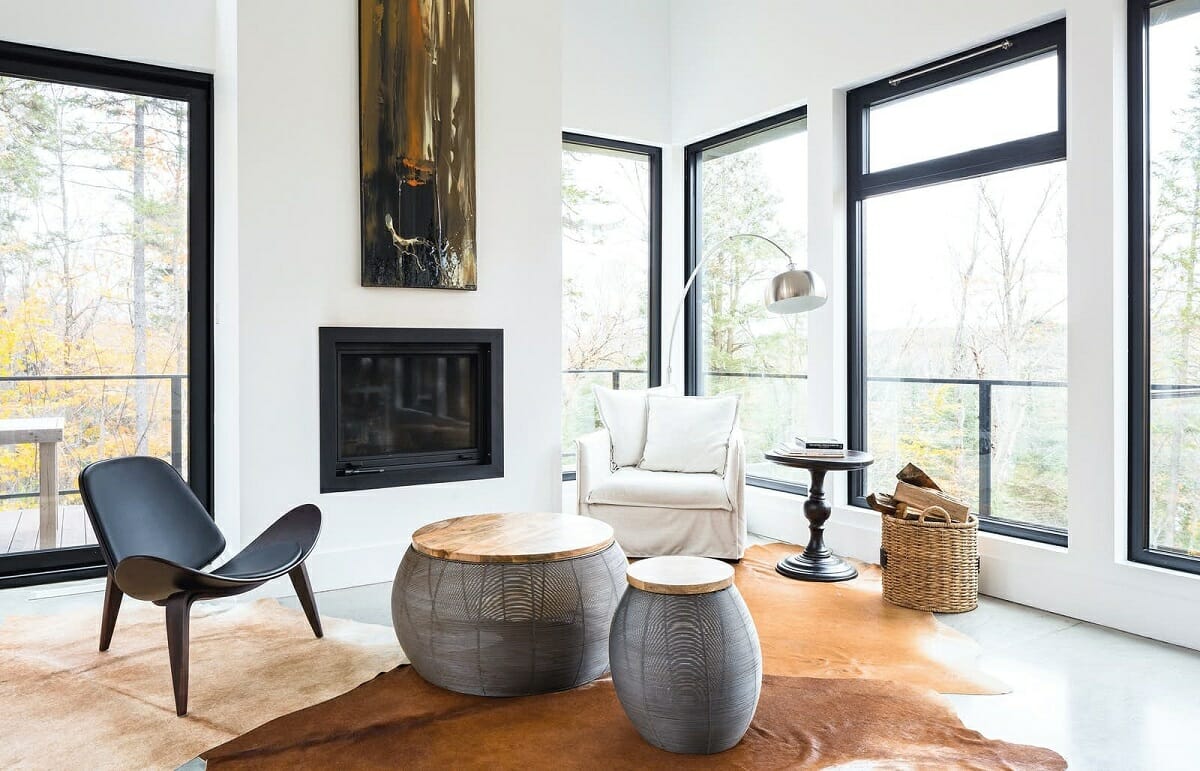 With its sleek design, it's surprising that Hans J. Wegner's 1963 Shell Chair only became truly popular in the 90s. After its revival, it turned into a must-have for 60s-inspired retro-style living rooms.
6. Introduce Plenty of Plants
The vintage-style home décor of the 60s included lots of indoor flora. Pay homage to the period by adding houseplants of varying sizes throughout your interior.
7. Roll Out the Bar Cart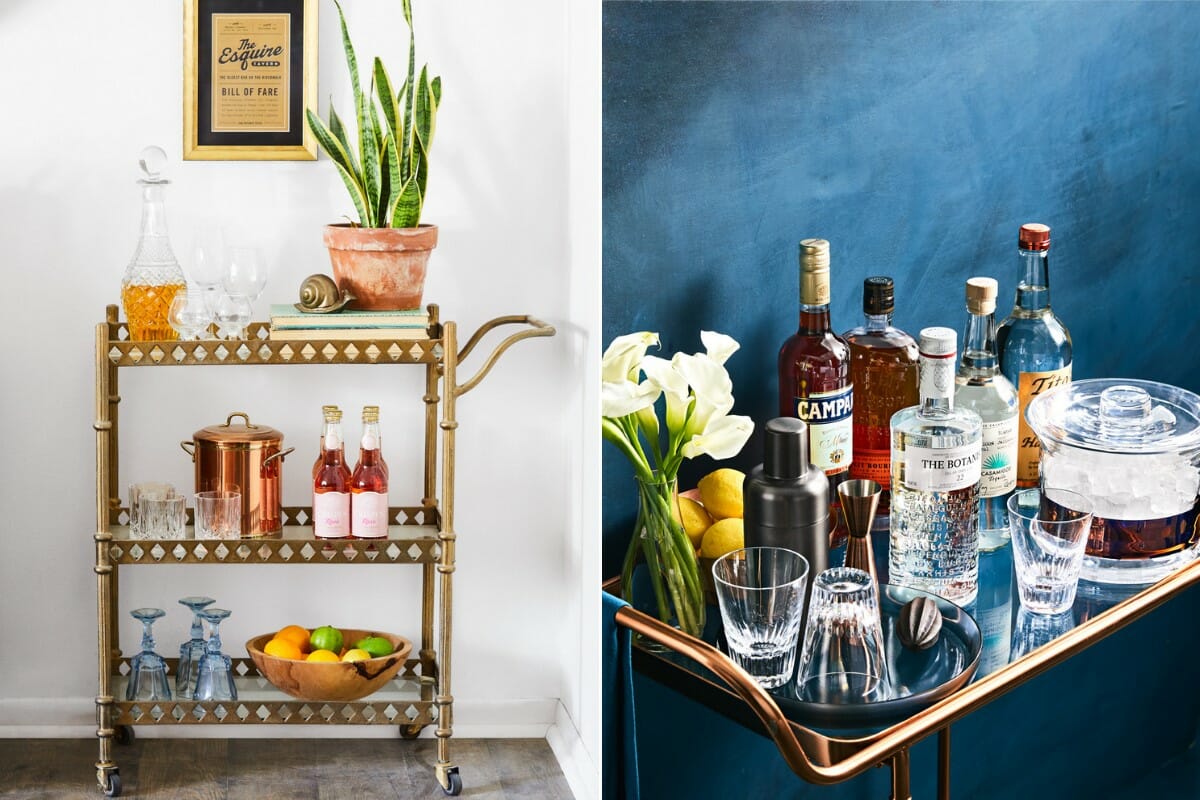 Let the good times roll with a bar cart. Not only are these staples of the 60s mobile, but they take up little space too. It makes them great for apartment living and creates a wonderful vintage-style living room focal point.
8. Macramé Wall Art
Handicrafts have surged in popularity in recent years and macramé is no exception. What's great about this vintage-style décor is that you can either make your own or purchase some ready-made wall hangings.
Funky 70s Interior Design Ideas
70s retro interior design was all about cheerful colors, bold prints, and maximalism. Many may associate the decade with kitsch looks, but hand-picking a few iconic elements can brighten up any space.
9. 70s Modern Retro Interior Design Icon: Hanging Chairs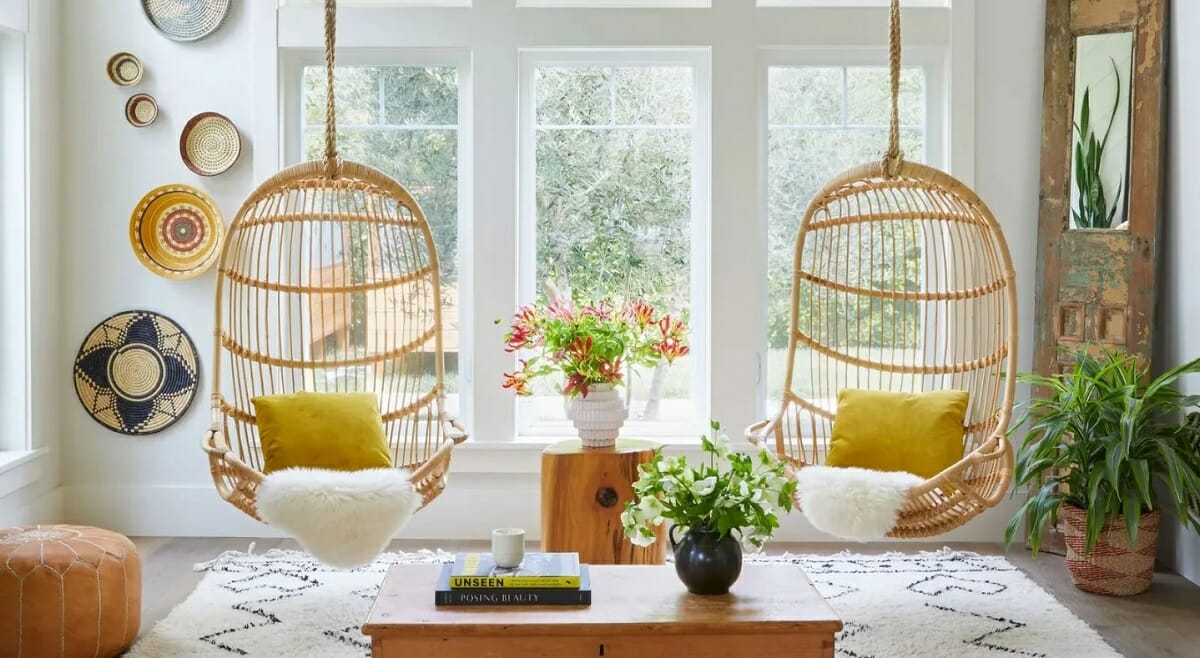 Whether hanging from the ceiling or on a stand – hanging chairs are an icon of the 70s. They perfectly embody the carefree spirit of the decade and are just as fun today. 
10. Shaggy Accents
Shag carpets were all the rage in the 70s. However, an entire carpet may seem too much for today's retro-style interior design adaptations. Shaggy accent pillows, area rugs, and faux fur throws can also give a room the same depth and warmth. But why not be bold with a fluffy upholstered accent chair? The 20th century certainly knew how to put joy into interiors and, with a little help, so can you. 
11. Terrific Terrazzo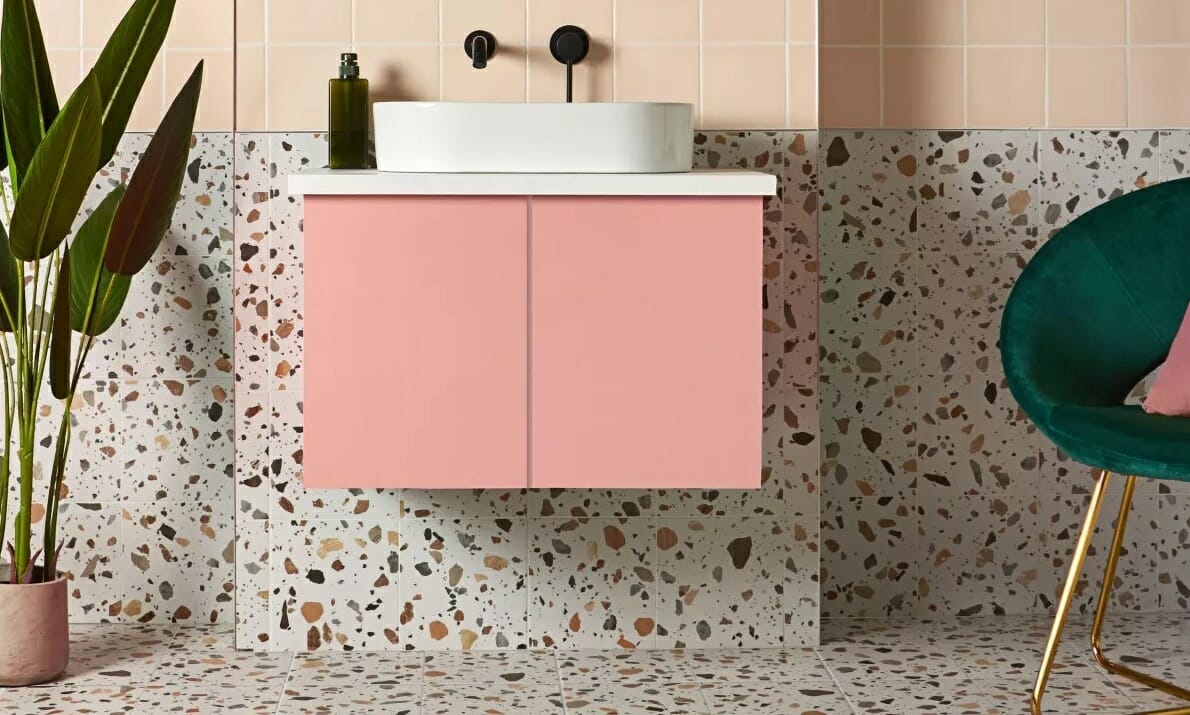 Terrazzo was a desirable floor and countertop material thanks to its unique look. Whatever form it's used in, it's a terrific retro 70s interior design addition to any space. Besides, even décor looks good in its speckled pattern.
12. Linoleum Flooring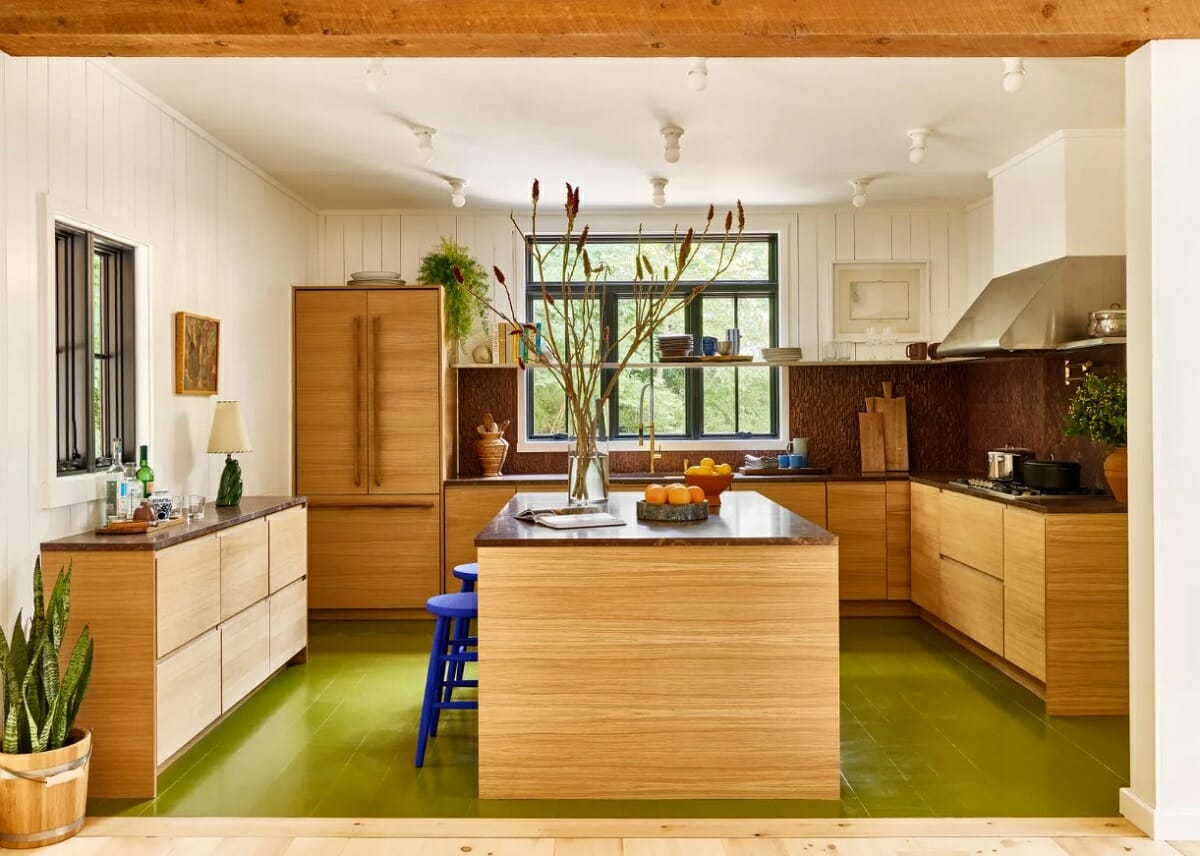 Linoleum is back – yes, really! And the current version is far superior to the original retro interior design kind. It's not only of higher quality but also comes in tasteful, 70s-inspired prints.
Bold 80s Retro Interior Design Ideas
The 80s were a bold and crazy time when it came to interior design. However, the decade also left us with some fantastic décor trends. For tasteful, contemporary results with a retro kick, keep moderation in mind.
13. 80s Modern Retro Interior Design Icon: The Circle Chair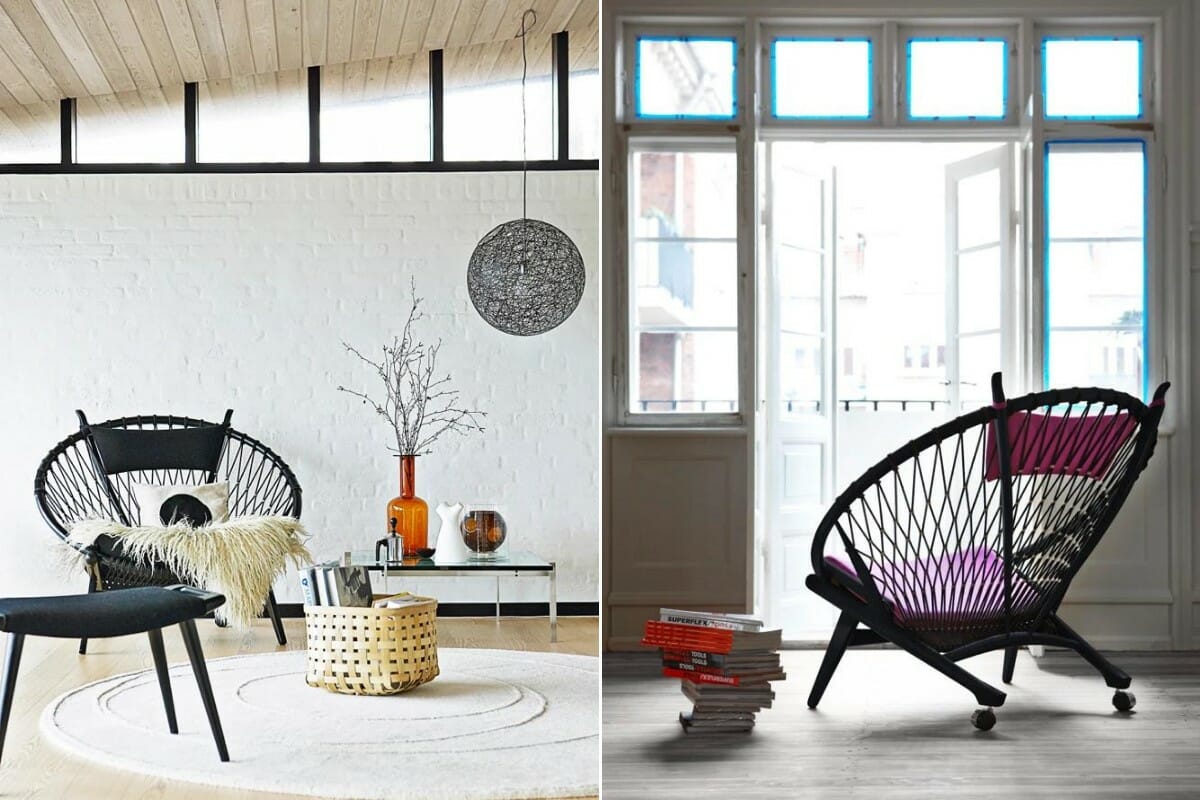 Another iconic Hans J. Wegner design, the Circle Chair was first produced in 1986. These chairs are still available but on a made-to-order basis. It's due to their complex production process and the expertise required to create one. A Circle Chair is the ultimate 80s interior must-have.
14. Transparent Furnishings
Clear furniture made of materials like acrylic and lucite has been around since the 80s. These pieces are perfect for making an interior feel clean, uncluttered, and roomy. Pair them with vintage-style décor, contemporary elements, and more – transparent furniture looks good in any space.
15. Neon Signs & Colors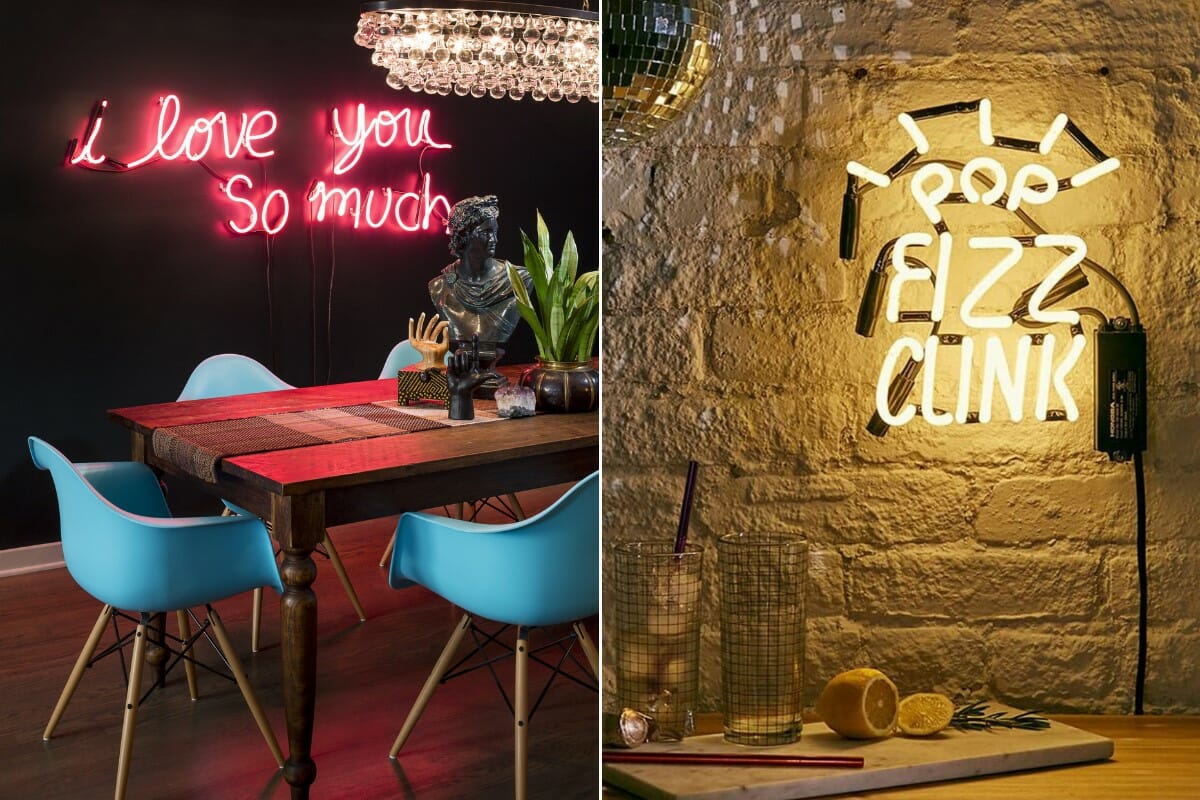 Retro-style living rooms and any other space just wouldn't be complete without a pop of neon. Again, a little goes a long way so use the colors and any lighting sparingly. Consider a vintage diner-style neon sign for the kitchen to create a fun retro atmosphere in an unexpected place.
16. Tropical Prints & Plants
When going for a retro interior inspired by the 80s, incorporate either tropical prints or indoor plants. Be sure to pair it with a pop of neon to create some Miami Vice vibes.
Need help picking out the right vintage-style décor for your space?
Decorilla can help you overcome any design challenge with ease. Simply schedule a Free Interior Design Consultation today to get started!

[images: 1, 2, 3, 4, 5, 6, 7, 8, 9, 10, 11, 12, 13, 14, 15, 16, 17, 18, 19, 20, 21, 22, 23, 24, 25, 26, 27]