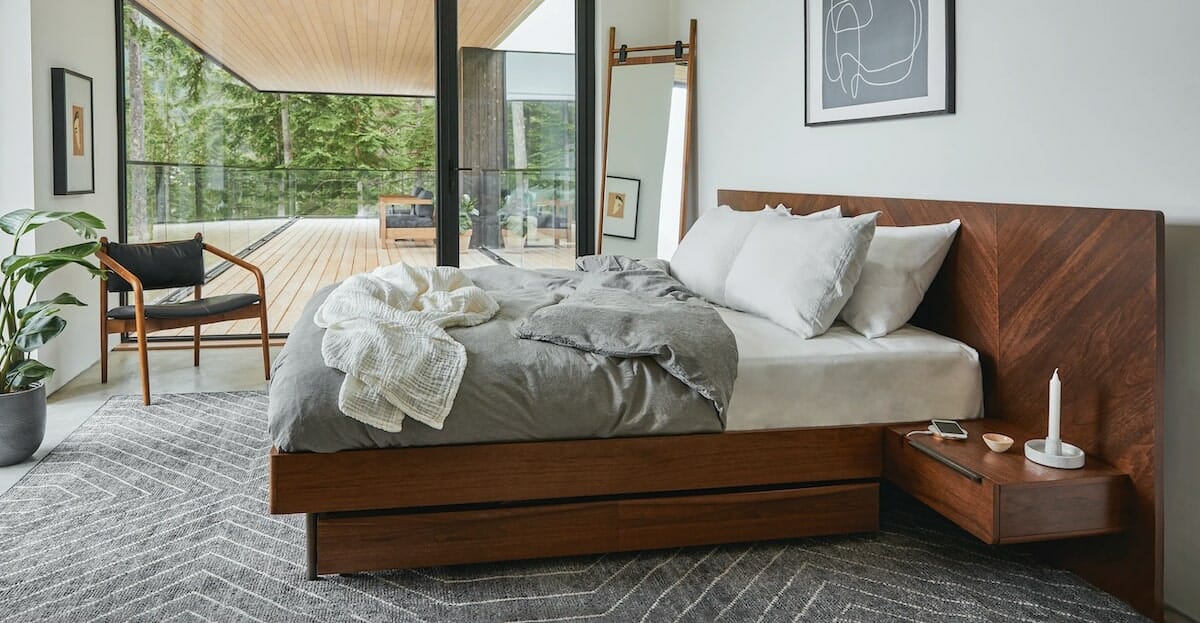 The minimal bedroom design trend shows no signs of slowing down. In fact, it's often perceived as one of the most natural extensions of contemporary living spaces. It's no wonder that many designers and clients celebrate this style as an effective way to create a serene haven within a busy home. One such client recently approached Decorilla, asking the team to maximize the allure and functionality of their new home. Read on to see their bedroom transformation come to life!
The Challenge: Minimal Bedroom Design
Creating a comfortable and functional retreat is key to a successful interior design. This project provided an ideal foundation for making the client's visions come alive. When they first approached Decorilla, they had an idea of a simple space characterized by a neutral color scheme and subdued decor. Meanwhile, they resorted to our designer's creativity and expertise to:
Make the most out of the relatively narrow space

Establish a minimal bedroom layout with the maximal functionality possible

Craft a cozy sleeping nook  

Design a balanced lighting scheme

Expand their storage options
Unsure if a minimal bedroom design is for you? Try our

Free Interior Design Style Quiz

to pinpoint your style and get started on your design today!
Minimalist Bedroom Decor Inspiration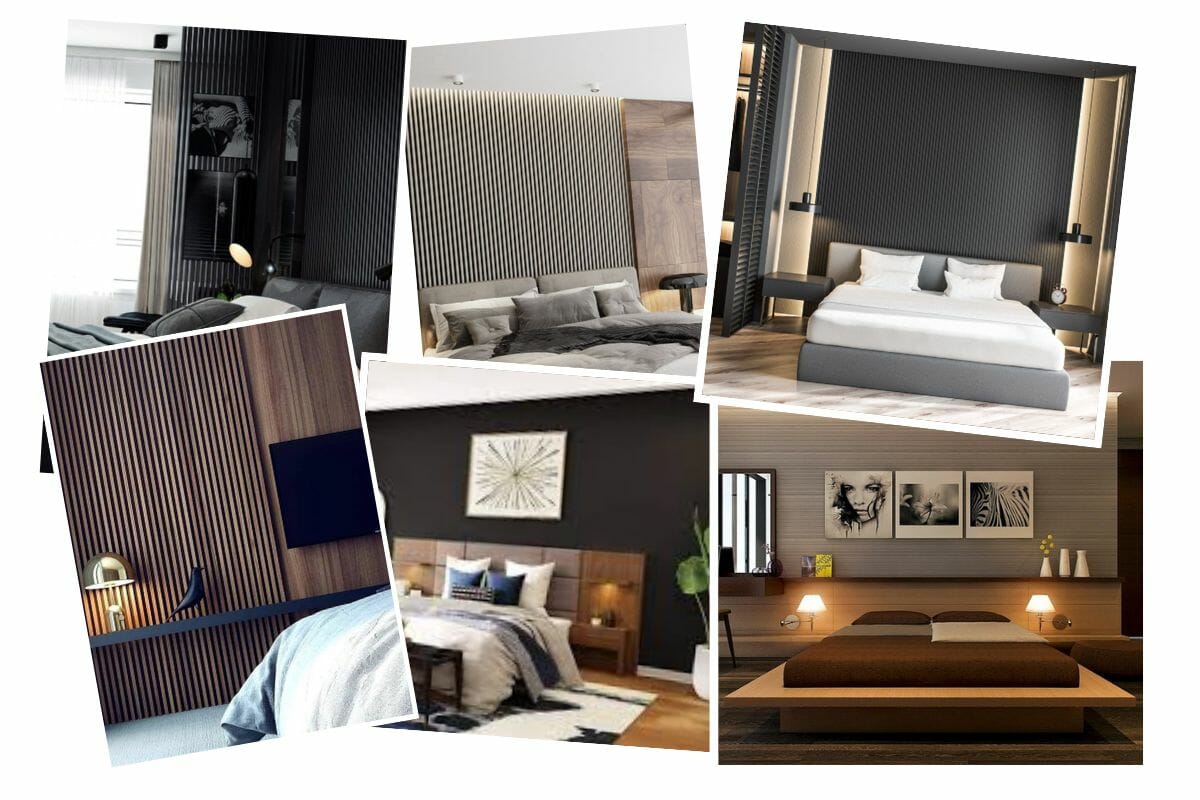 The client's inspirational gallery boasted a set of tranquil contemporary oases featuring sleek minimal interior design. Although simple & cool at first glance, most rooms radiated inviting and cozy vibes. Low-key decor and neutral palettes provided an air of elegance across all arrangements. At the same time, modern minimalist bedroom furniture and rich wood finishes filled the spaces with warmth, sophistication, and beauty.
Minimalist Bedroom Ideas & Moodboard
The busy clients were looking for a hassle-free, easy, and efficient experience, which made Decorilla online bedroom design a perfect choice. After a style quiz followed by a concise consultation, they had everything needed to understand the client's taste, lifestyle, and preferences.
The Decorilla team then helped match the clients with two vetted interior designers. Both were highly proficient in minimalist bedroom design, promising to transform the empty space into something exceptional. Although the choice was tough, the clients made a final decision and proceeded with the moodboard composed by Jessica S. 
Jessica's contemporary minimalist bedroom ideas exuded beauty in simplicity with an eye for high-end touches. The carefully chosen neutral palette was given life by an abundance of rich wooden surfaces, infusing the warmth into sleek modern lines. Every detail was considered and crafted with quality in mind. Evoking sophistication through finishing touches, the minimal bedroom design provided a luxurious atmosphere for restful nights or bright mornings.

Minimal Bedroom Design Results
The minimalist bedroom design turned out to be everything the client wanted. The warm white walls ensure an aura of airy spaciousness. At the same time, it perfectly communicates with the dark wood furnishing. Adding texture and life to the sleek look, white wood paneling behind the bed adds dimension, texture, and interest. 
A comfortable queen bed features an oversized statement headboard that stands out from the rest of the minimal room's design. Along with adding texture and pattern, the headboard also hosts a pair of integrated nightstands. Meanwhile, the presence of a faux plant, stunning black & white wall art, and minimalist bedroom decor oozes effortless elegance.
The combination of the window and a reflective mirror enhances the natural light flow that spills into this comfortable private oasis – making the space feel larger than it is. 
The restricted floor space did not leave a broad possibility of storage, such as building a walk-in closet. Hence the choice of tall, elegant cabinets for adding practicality to this chic arrangement. A tactical layout of open shelving and closed compartments provides storage versatility while enhancing visual dynamics in the minimalist bedroom. In addition, a soft round ottoman adds another level of comfort, while the geometric rug grounds the configuration. 
Minimalist Bedroom Furniture Shopping List
Designing your dream space with Decorilla is smooth and enjoyable—and you will get more than just expertly designed plans. Firstly, you can enjoy a preview of the design through realistic 3D renderings. In addition, a curated shopping list also provides access to exclusive trade discounts. Plus, you get total peace of mind knowing that each step will be handled by an experienced concierge – from ordering items to shipping them out.  
Minimalist Bedroom Decor Top Picks
Creating a comfortable, stylish minimalist bedroom that meets all the necessary requirements can be quite a challenge! If your space has potential but needs a few curated touches, check out our favorite minimalist bedroom furniture & decor picks: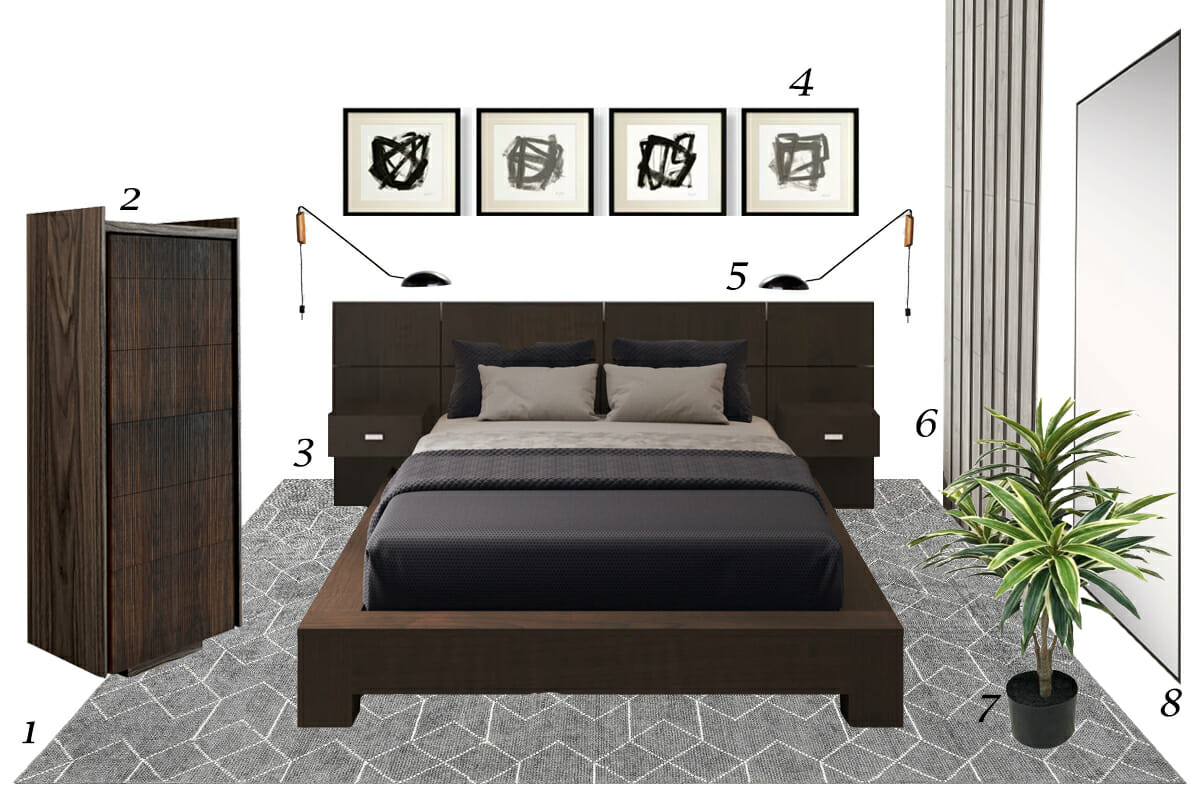 Looking for a minimal bedroom design made just for you?
Your dream custom bedroom is just a few clicks away. Schedule a Free Interior Design Consultation with one of our vetted interior designers to learn more today!

Featured image: [1]