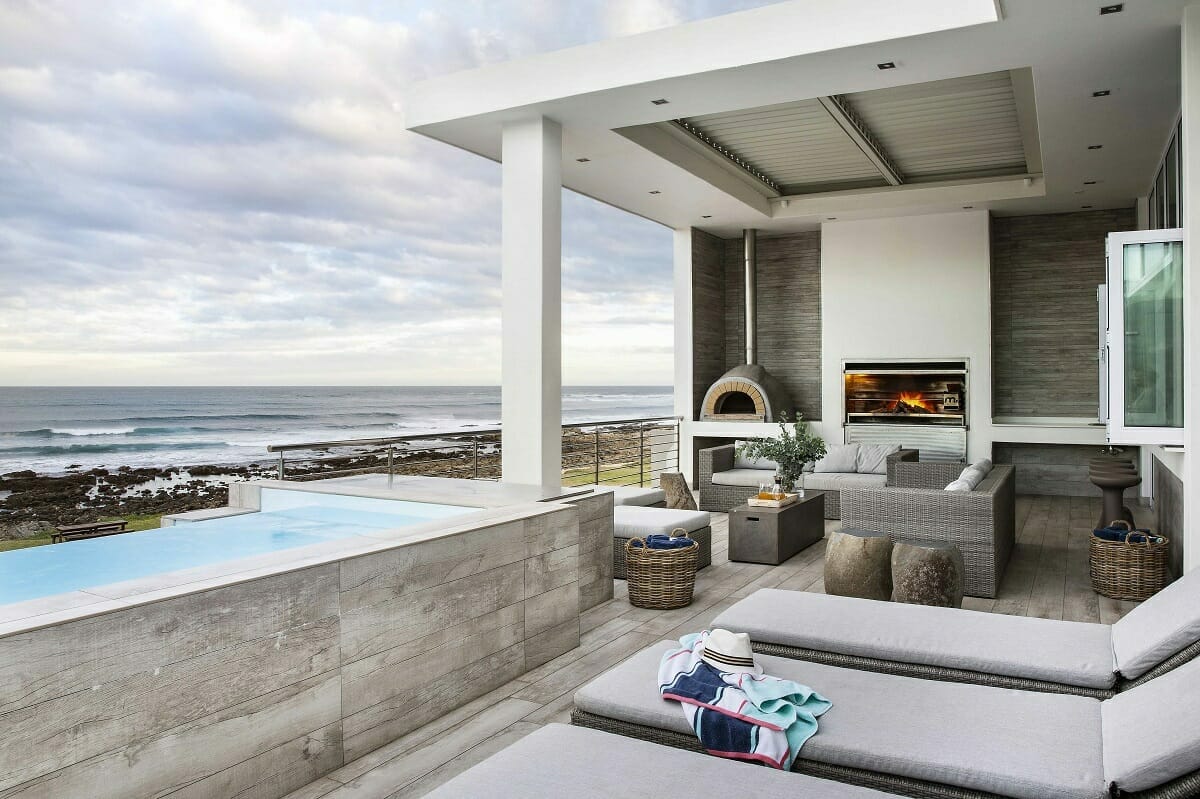 It's time to bust out summery vibes from its wintry grasp! And what better way to celebrate sunny days than with a spruced-up outdoor area? Read on for patio inspiration that'll amp up your home for the summer!  
Create a Designer Backyard with Outdoor Patio Ideas
Before diving into swoon-worthy outdoor patio design inspiration and ideas, get to know the basics. Creating a designer patio that makes the most of your outdoor area takes a few crucial elements. So, here's what you need for a space you can fully enjoy!
Invest in quality outdoor furniture

and pick something that suits your style and hosting needs. Versatile single accent chairs work well with a modular outdoor sofa or lounger. Multifunctional seating is also a great option. But whatever you choose, opt for durable furniture that can withstand the elements.

Set out a defined chill area

. First, arrange furniture in a convivial setting to encourage conversation. Next, add an outdoor rug and a coffee table or pedestals to hold snacks or drinks.

Consider sun coverage

. The time of day you most use your outdoor space dictates how much coverage you need. Pick a pergola, canvas shading, or an umbrella to make the most of the lovely weather.

Add soft furnishings

for a cozy atmosphere.

Whether scatter cushions or outdoor curtains, textiles give an outdoor space softness and comfort

.

Bring in lighting 

to make pleasant nights linger on for longer. Besides, beautiful outdoor lighting can give your exterior a designer touch. So consider light layers in your design – globe string lights, sconces, and lanterns can create a mesmerizing effect.

Finally, add plants

. You may think your garden's greenery is enough, but a few whimsical pot plants smooth the line between indoor and outdoor. Plus, pretty planters are always a welcome addition to any space. And since it's outside, you can play with size and height to create an idyllic setting.
Not sure what patio inspiration suits your outdoor design? Then, take our quick Interior Design Style Quiz to find the right style for you!
Best Outdoor Patio Inspiration 
Now it's time to explore outdoor patio ideas and inspiration to amp up your leisure space! Of course, you can pull off any of these beautiful designs yourself, but if you need a helping hand, scroll down to find out how to get started!   
1. Contemporary Sundowners
Subtle patio décor ideas can effectively create a stylish outdoor space. This small backyard deck makes the most of the area with a functional, minimalistic layout and chic outdoor furniture. By keeping the color palette to neutral browns and gray, it feels cohesive and the few decorative accents elevate the look and comfort.
2. Mediterranean Boho Chic
Casual can be sleek and stylish too. This designer backyard boasts a harmonious scheme of black, white, and sandy brown. The design echoes similar elements, namely the accent chairs' straight weave in the accent floor lamp décor and the line motif in the accent pillows. Lastly, the large black planters and monsteras frame the backyard patio and connect it to nature even more.   

3. Leisurely Patio Design 
This elevated designer deck combines comfy yet high-end patio inspiration. An L-shaped sectional divides the space into distinctive areas. These include a spacious lounge and a pretty dining area complete with a canopy pergola and string lights.
4. Arty Backyard Design
Porch inspiration comes in all shapes and sizes. This small backyard shows how to emphasize curated patio ideas. Thanks to its muted palette, pops of pastels and contrasts, and large contemporary artwork, it has an artistic feel.
5. Tropical Patio Inspiration 
With a beautiful natural setting and a pool, you don't need much to make the most of minimal backyard inspiration. This lush environment balances built spaces with nature. More specifically, the pool features a small built-in deck, while the water's edge has a casual lounge and sunken seating for big get-togethers.
6. Trendy Outdoor Dining  
Organic design meets contemporary sensibilities in this beautiful dining area. The gold weave in the accent chairs elevates the space, while the rustic table and jute rug keep it grounded in nature. Outdoor patio inspiration couldn't be more straightforward and effective!
7. Indoor-Outdoor Patio Inspiration 
If a part of your backyard is covered, create a nook that feels as cozy and convenient as an indoor living room. This small backyard, for instance, merges patio ideas with loved interior designs. Plush seating and beautiful furniture design beckon spending the entire day outside!   
8. Paver Patio with Sophisticated Ideas
A muted palette that echoes natural hues is best for an outdoor space. This paver patio blends into its natural surroundings with wicker furniture and relaxed accent chairs. The light blue scatters also give the design a coastal look.
9. Luxury Covered Deck Ideas
This expansive backyard has ample space for creating multiple areas. Here, the designer used varied outdoor patio inspiration to set up sunny loungers, a conversation nook, and a gorgeous covered deck. Such a space lets you enjoy warm weather, even on windy or rainy days and long after the sun sets!
10. Designer Backyard Inspiration
A few select items are all you need for a stunning designer patio worthy of inspiration. Here, contemporary furniture, with dark wood legs and black cording, makes a style statement next to angular nesting tables.
11. Oversized Seating
You can still embrace big patio inspiration and ideas when you have a small backyard. This compact deck features a dining area and an adjustable round sofa. It's perfect for stargazing but can also provide guests with more seating. In a simple rearrangement, the lounger converts into a 4-piece set up with three big seats and an ottoman.  
12. A Patio for Every Occasion
Whether hosting, dining, stargazing, or lounging – this deck can cater to every occasion! Its distinct zones and clever layout makes the most of the floor area. In addition, patio shade ideas ensure cover from the sun and drizzle.
13. Zen Minimalism 
Backyard design can be both simple and elegant. Take this pool area, for example – its built-in alcove provides enough space for a laidback lounge. All it needed was comfy pillows and a rustic accent table!
14. Scandi-Style Outdoor Patio Inspiration 
A dark deck and white railing set the tone for Scandinavian aesthetics in this design – and its light monochromatic scheme fits right in. Deep loungers create a relaxed area to recline by the fire, while a versatile dining area adds another layer of function and practicality.  
15. Modish Mini Bar
This beautiful wood cabin packs a punch with its backyard ideas. Not only does it have a lounge and dining area, but it also has a smart bar counter. Built in to the side of the cabin, it saves space while adding a stunning design feature.
16. Holiday All-Year Round 
Mediterranean vibes dominate this backyard design. Its white base is reminiscent of the homes on the coast of Greece, and it certainly radiates an all-year summer air. White-washed stone, blond wood, and wicker décor complete this design's covetable outdoor patio ideas.
17. Outdoor Fireplace
This patio design is not only beautiful, but keeps you warm after sunset. Plus, the modern design of the black firepit complements the furniture and home's exterior.
18. Designer Patio Meant to Entertain
This grand stone patio packs a double designer punch with a bespoke bar-barbeque area, and intimate outdoor living ideas. It also features a media console, cleverly tucked away behind wood slats when not in use.
19. Organic Outdoor Patio
This nature-inspired outdoor patio maximizes eco-friendly and organic design ideas. It uses sustainable stone flooring and bamboo shading as its base. And from there, craftsman furniture, subtle décor, and plants create a beautifully unified design.  
20. Modern Farmhouse Patio Inspiration  
Let your designer backyard showcase your favorite style matching your lovely interior. This farmhouse patio does just that and more. It has all the necessary creature comforts – plus conveniences like a bar cart!
Want to take your patio inspiration to the next level?
Work with vetted interior designers to create your dreamy outdoor space. All you need to do is take the first step and schedule a Free Interior Design Consultation today!

[images: 1, 2, 3, 4, 5, 6, 7, 8, 9, 10, 11, 12, 13, 14, 15, 16, 17, 18, 19, 20, 21, 22, 23]