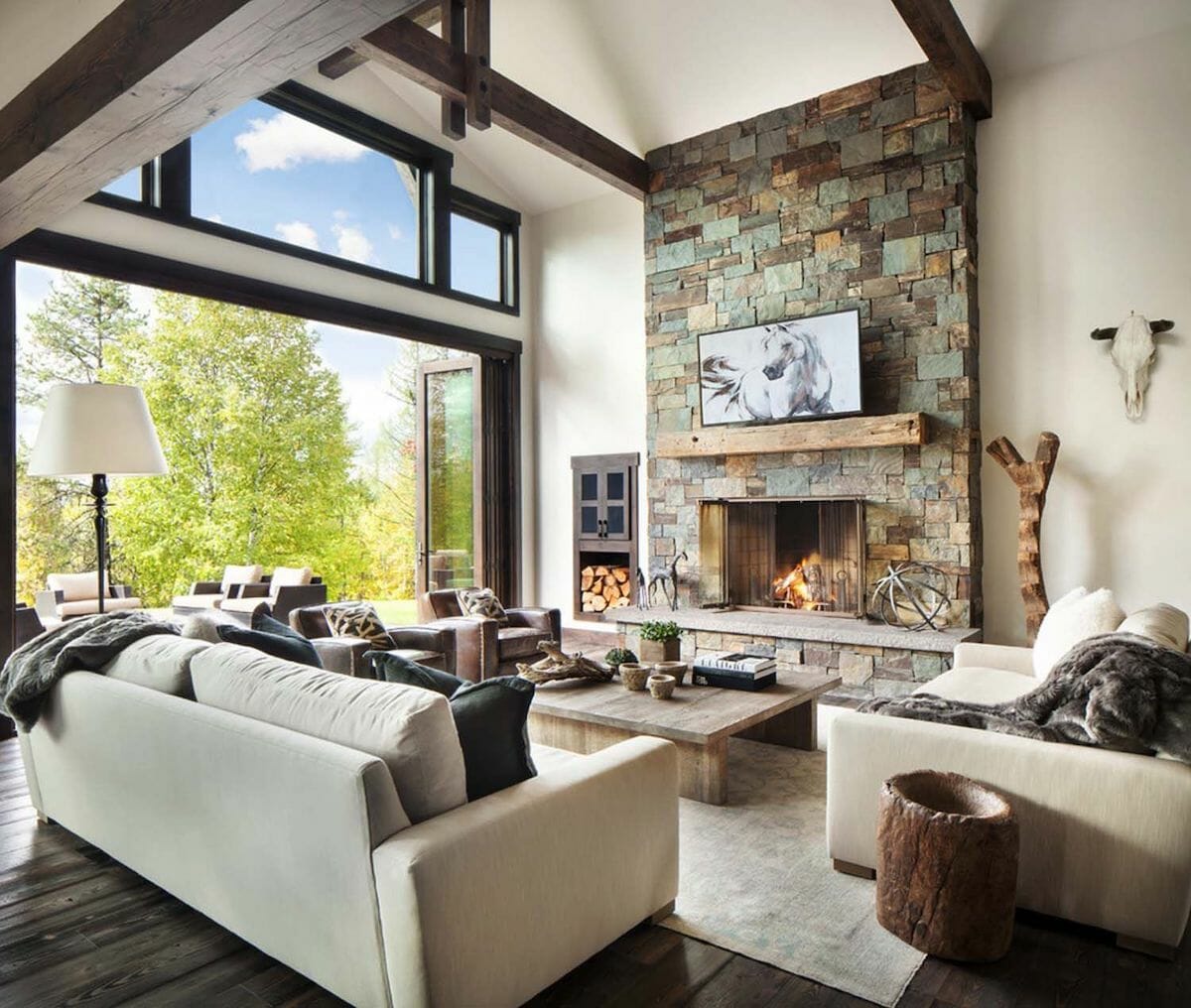 A seaside cabin never loses its charm, but an update now and then can do wonders. New colors and furniture can make these charming spaces come alive. As these homes are often vacation homes, they need to exude tranquility and relaxation, which is just what recent clients wanted! And with Decorilla's help, they could make it happen. Read on to see how modern cabin interior design made a spectacular home!
The Challenge: Modern Cabin Living Room
Designers had to address a series of challenges to create an interior perfect for the clients. To tick off the items on the wish list, designers had to include classics and trendy cabin interior designs. Additionally, the original interior had a traditional, woody aesthetic that needed to change. The client was eager to leave the stale style behind and make the most of the space. To do so, the designers had to:
Re-imagine the current interior to balance out the amount of wood present

Add an extra seating area to replace a large billiard table

Lighten and furnish the lounge area to create a cohesive great room design

Include a classy nautical theme to the modern cabin decor ideas

Opt for durable furnishings as the cabin will also be rented as holiday accommodation
Not sure where to start with your own modern cabin interior design? Then, schedule your Free Online Interior Design Consultation to learn more about your design options today!
Modern Cabin Décor & Interior Design Ideas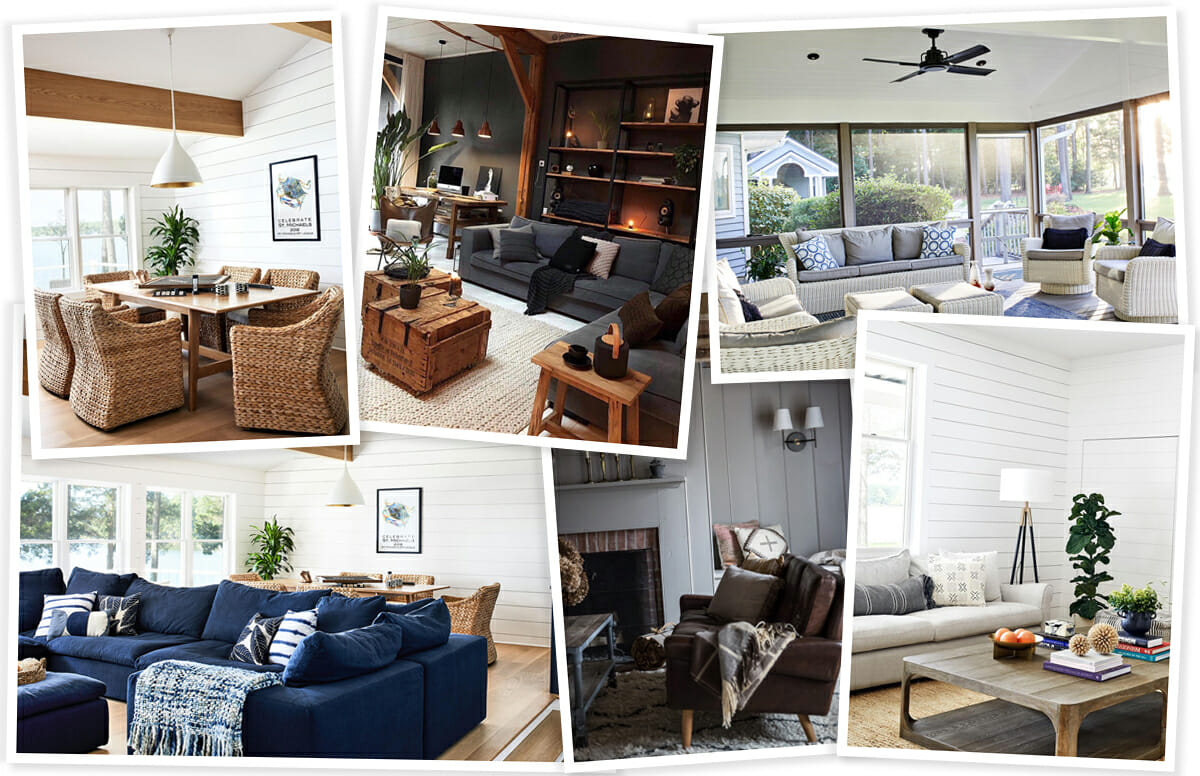 Radiant and light-filled encapsulate the clients' inspirational images. They especially love natural features that reflect the beauty of the outdoors. These spacious interiors have distinct modern lines and coastal accents. They also adored texture and roughness from raw materials. So, they hoped for a modern cabin interior design with organic details.
The Mood Board & Modern Cabin Interior Design 
A lighter interior was key to the redesign. Fortunately, the clients were descriptive and clear about what they wanted. Armed with their requirements, two designers came up with different concepts. In the end, the client chose the classy modern cabin living room by Casey H. 
After studying the brief and inspiration, Casey assembled a mood board full of modern cabin interior design ideas. For the scheme, she chose creamy whites, subdued greys, and navy blues. Casey wanted to accentuate raw materials subtly in her decor choices. She also made sure to include plenty of seating options in this modern cabin living room.

The Reveal of the Modern Cabin Living Room
In the final 3D renderings, a sleek and sophisticated modern cabin living room comes to life. Thanks to ample windows and the removal of a wall, the room is light, spacious, and striking. Before, the amount of wood was overwhelming. Now, soft grey walls and a white ceiling lighten the room to balance the darker, warm timber color.
This shade of grey in an eggshell finish enhances the texture of the walls and gives a subtle sheen. For this reason, the shiplap is clearly visible and keeps the cabin feel. Traditional wooden beams were left raw to mirror the light wooden floor. These elements celebrate the natural materials while creating a chic interior. A modern cabin living room certainly needs such a rustic charm.
Modern Cabin Living Room & Media Center
The design of the primary seating area complements the stone fireplace and exterior. A cozy grey sofa, light wicker accent chairs, and wood finishes echo the muted tones of the stone. This composition creates a calming space, reflective of its surroundings. The console table behind the couch sections off the area, keeping it cozy and defined. And as finishing touches, a minimal abstract painting and navy table lamp cool down the color scheme and add a subtle seaside atmosphere.
This lounge doubles as the entertainment center and features a television above the fireplace. Its placement is clever as it masks the sharp contrast a screen could bring. Owing to the double volume windows, light floods in and reflects off the walls to create an inviting and warm space. As the modern cabin living room receives late afternoon sun, it's perfect for leisurely holiday sunsets.
Quiet Lounge Perfect for Reflection
The second seating area can double as a library or a space for intimate conversation. First and foremost, a navy sofa and chevron-patterned scatter pillows strengthen the coastal theme. This ample couch and two swivel recliners offer an opportunity for everyone to enjoy the view. In addition, an oat-colored rug anchors the setting and grounds the round coffee table and rectangular furniture.
With sunset beaming through on one side and two lamps flanking the other, the space welcomes conversation day or night. Any modern cabin decor ideas would fall short without an appropriate overhead light design. Here, a box-like chandelier wows with its warming glow, rounding off the look. 
A Great Room with a Modern Cabin Interior Design 
As a whole, the modern cabin interior design has a breathtaking quality. With symmetry and loads of light, it is as easy on the eye as it is on the budget. No one wants to be too careful on their holiday. Therefore, durability was high on the list of priorities when selecting furniture. These zones are each defined through shape. The lounges, for instance, are mainly angular, while the dividing center is circular and minimalist. This central space features a geometric spherical table, reminiscent of an old anchor wheel. It certainly grounds the adjacent areas and creates a pleasing symmetry.
With classic French doors leading out to the patio, one can enjoy the outdoors from anywhere. To further accentuate the symmetry, two large pot plants frame the doorway to the deck. A modern cabin interior design simply must incorporate nature wherever possible. 
Online Design Shopping List 
Once a design is in place, Decorilla provides an online shopping list to get clients started. Here they will find exclusive discounts and all the information they need on materials and care. Furthermore, the white glove shopping concierge service handles all ordering, tracking, and delivery arrangements.
Our Top Picks from Modern Cabin Décor Ideas
Each project becomes a unique home thanks to the selection of furniture and decor. As these modern cabin decor ideas come together, a few favorites emerge. These picks can help anyone to get started on their project. So, if a full remodel is not what you're after this time around, use these modern cabin decor ideas to introduce this charm into your home.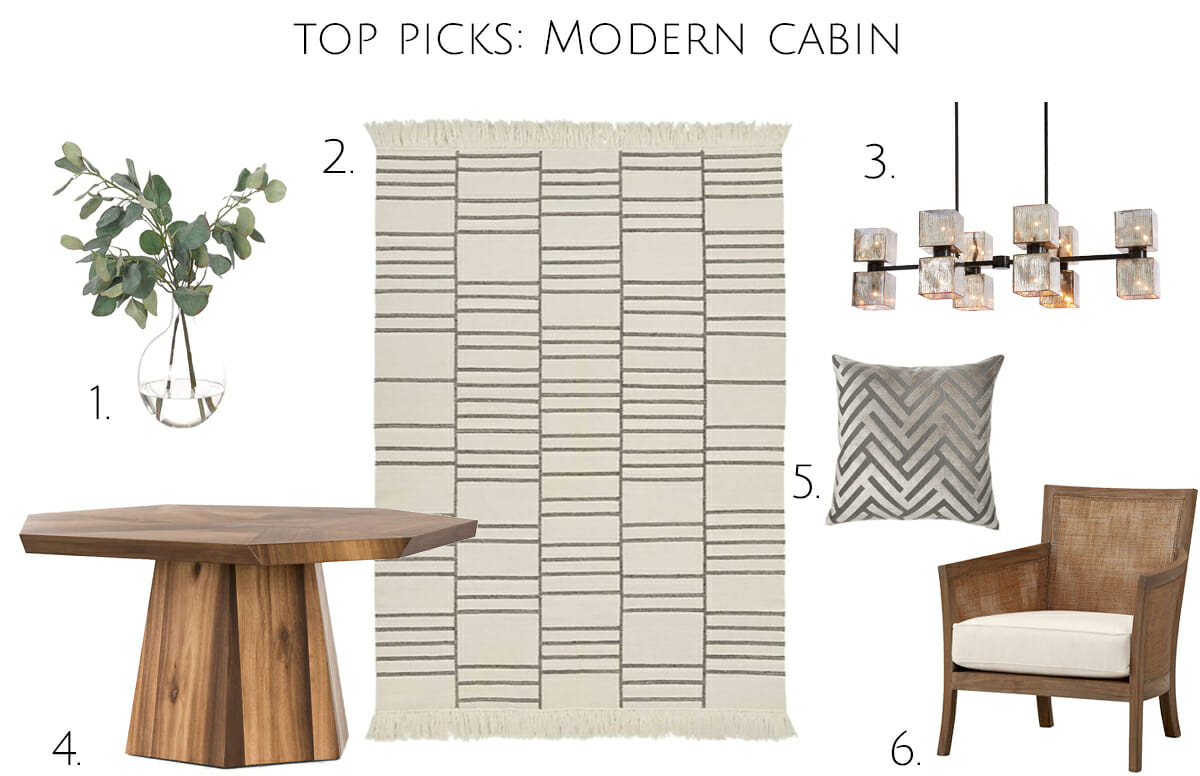 Want Your Own Modern Cabin Interior Design?
Feeling inspired to transform your home into a modern cabin interior design? Or perhaps you have something different in mind.  Then, schedule a Free Interior Design Consultation today to get started on your dream design!

[images: 1, Decorilla project images]