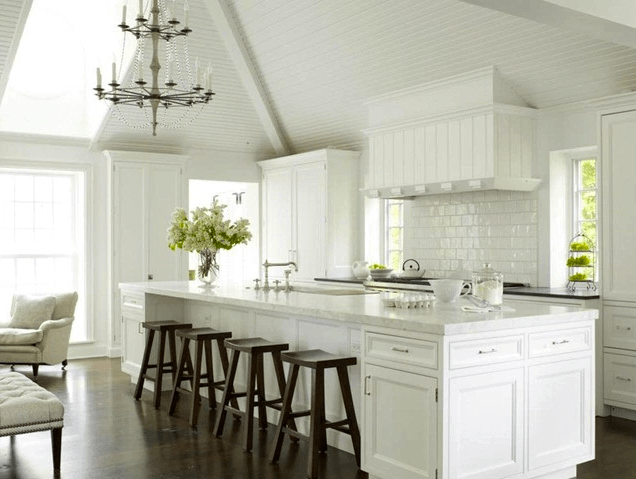 Home dwellers seek kitchen design help for many reasons. Being the most functional of spaces, it requires smart planning and a good eye. Being the main area of a home, it encourages inviting decor and a comfortable kitchen layout.
Decorilla online interior designers share their best tips for creating a both functional and stylish kitchen design.
1. BE STORAGE SAVVY
From pots and plates to silverware and spices, finding storage for kitchen items can be a challenge. The goal is smart storage. The key is to use every space possible in the most functional way.
Pull out doors and shelves are a BIG plus in kitchens these days. Designer Rachel H.'s kitchen design help includes some pre-planning. "Having a designated drawer or cabinet for each type of item you are storing is a good idea, but being able to excessively access the items in it is an even bigger plus! (i.e. narrow cabinet pull out doors for pans or spice racks", she shares. "I typically like to put these on either side of a stove where those times will be most used."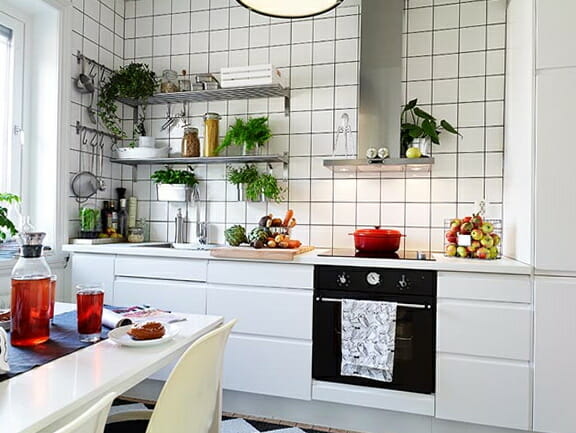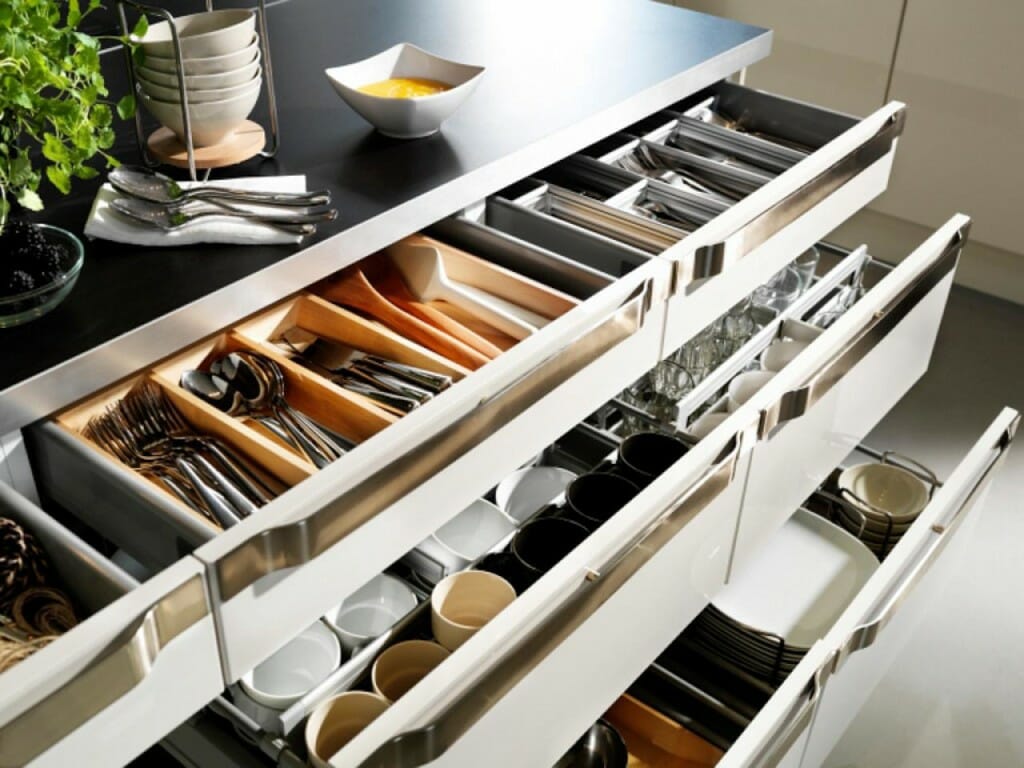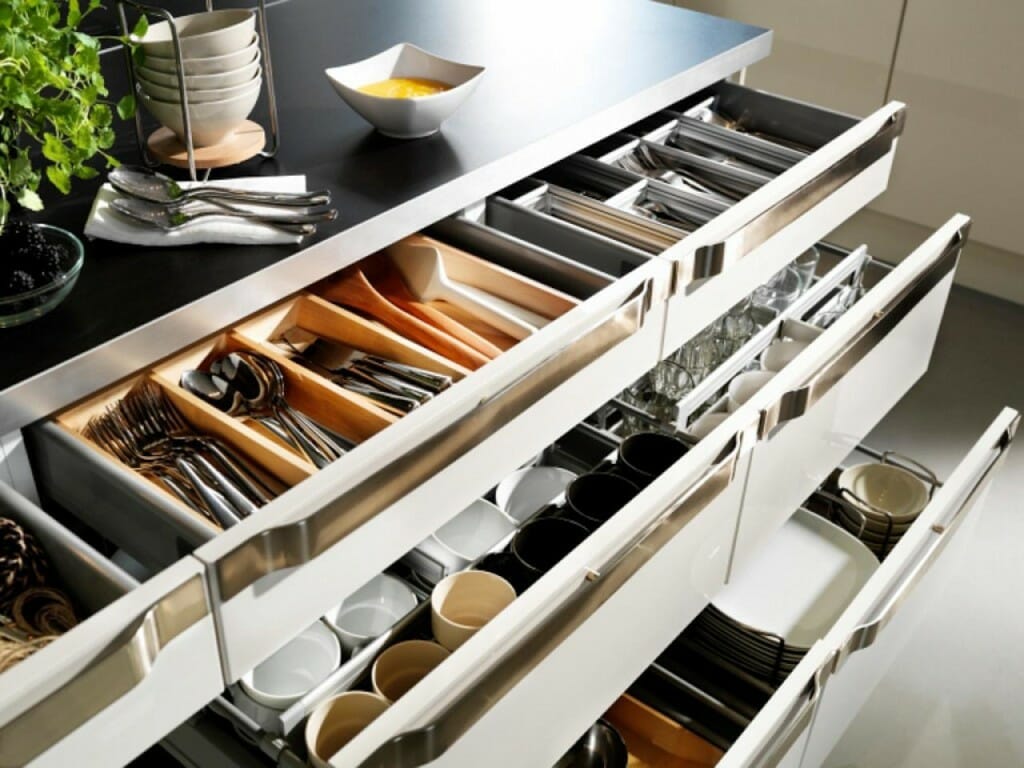 Another great idea is to have a designated pull out door near your kitchen sink for your waste baskets. This is a perfect spot for them for function when cooking and cutting near the sink as well as hides the bins.
2. USE OPTIMAL KITCHEN LAYOUTS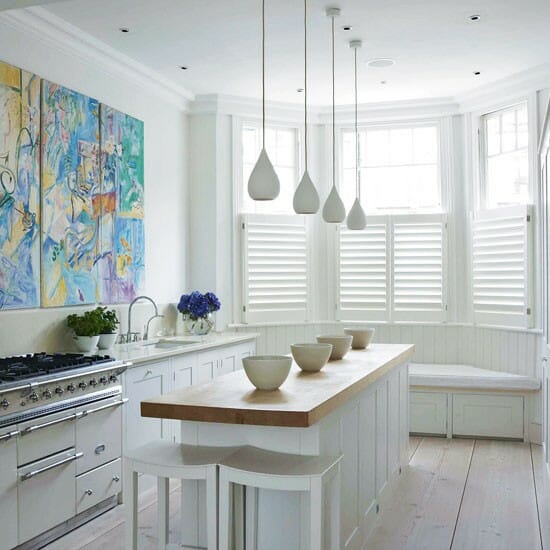 Whether L or U shaped, a galley, or sporting an island, good kitchen layouts take the work triangle (sink, stove, refrigerator) seriously. As a rule, the sum of all the legs in a work triangle should not be less than 10 feet or greater than 25 feet. Too small, people will be tripping over each other; too large, food preparation could be more tiring than necessary.
Feng shui also plays a helpful role in kitchen layouts. In this practice, the kitchen is the  part of the home that nourishes and sustains life. For good feng shui, keep the kitchen clutter-free (good storage can help with that!:)). This adds to a productive and pleasant work space.
Designer, Aldrin C. mixes feng shui principles with his kitchen design help. He agrees with feng shui experts on this tip: Don't place the sink beside the range or oven. This water element extinguishes the beneficial fire energy.
3. SELECT STYLISH FINISHES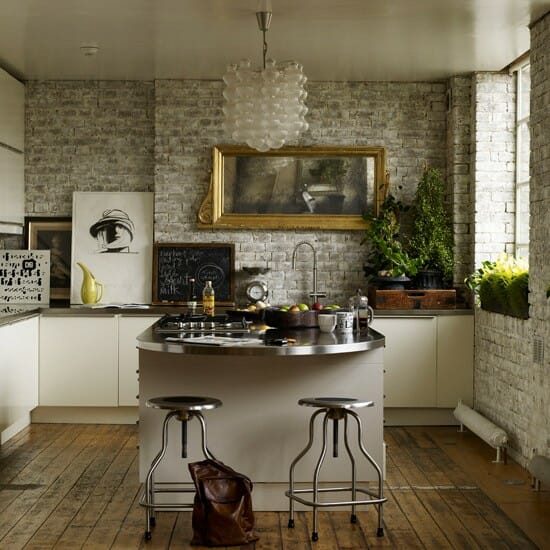 If storage is a kitchen's bread and butter, then the finishes are the cherry on top. They are the elements that accentuate style, color, and texture. The combination of countertops, back splashes, wall paint, flooring, and appliances give a kitchen a holistic design impression.
The key here is to keep it simple using three or four materials to play with.  Light-colored cabinetry keeps the space open and bright. Adding in other materials like marble, glass, and metal offer visual depth and texture.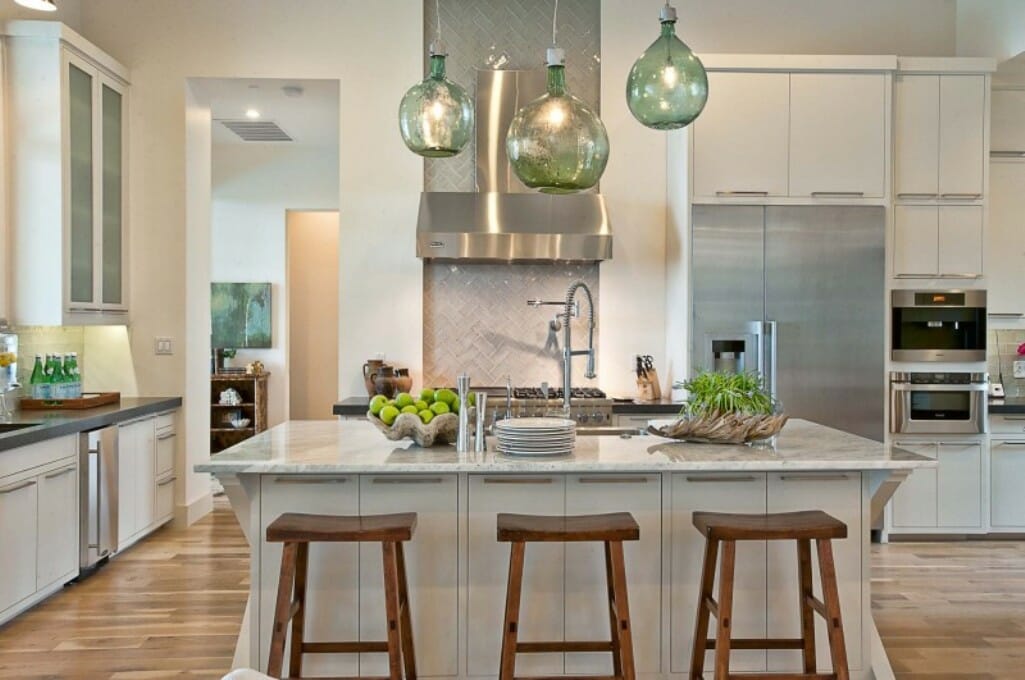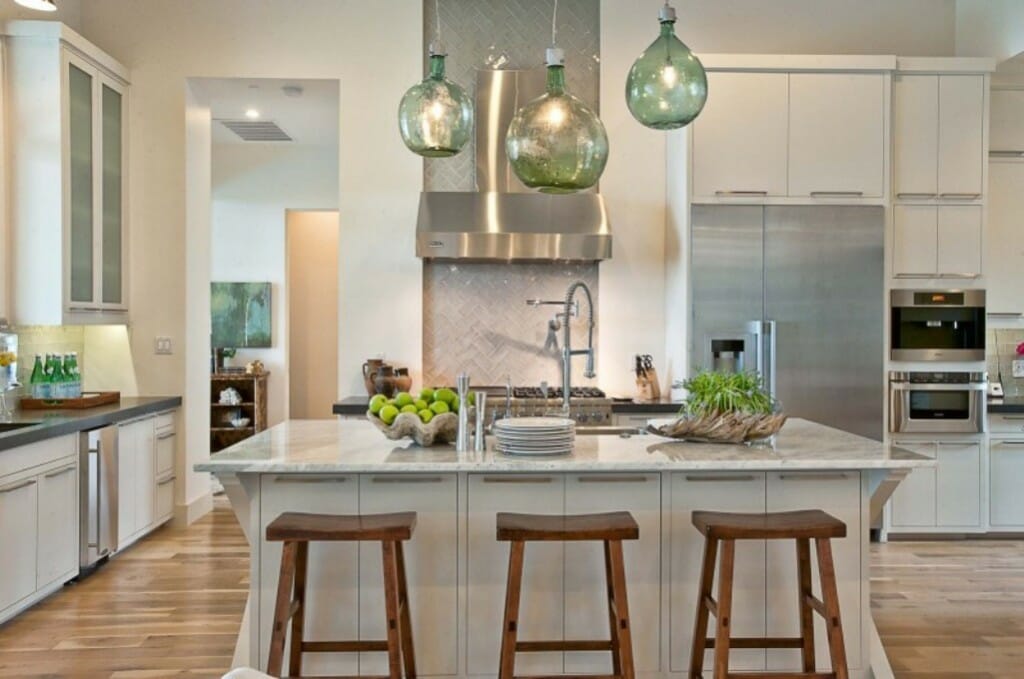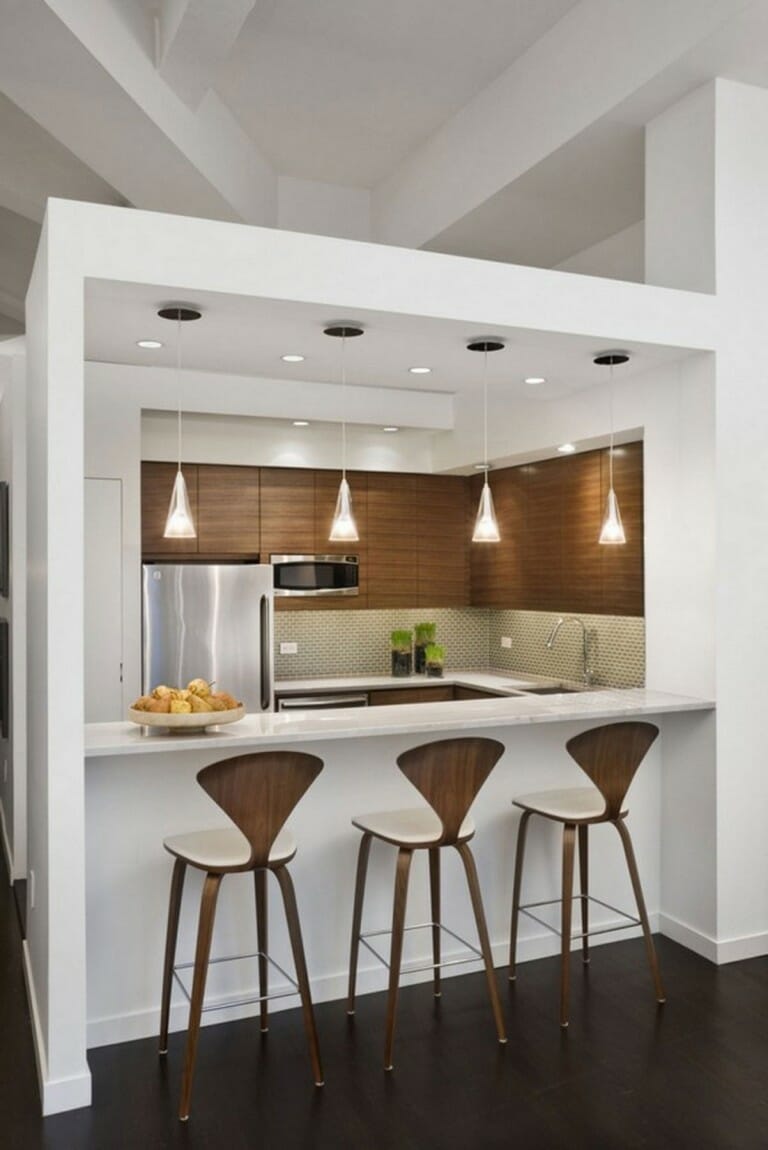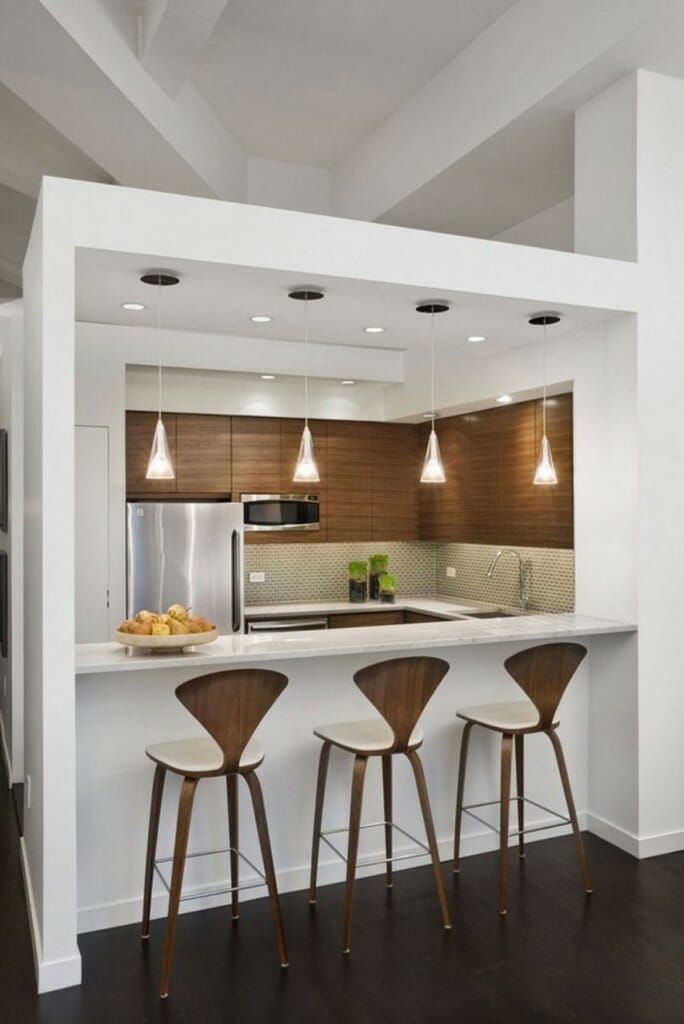 For more design interest, make constrast your friend. With dark and rich counters, go with a lighter backsplash. Bring the whole space together with the accent pieces like glass pendants, leather bar stools and brushed chrome hardware.
4. BE LIGHTING GENEROUS
Possible the most important kitchen design help involves proper lighting. For a functional space, layering and blending different types of lighting (task, ambient, accent and decorative) is key.
Consider adding task lighting directly above all the main work areas. Use decorative  hanging lights to enhance the beauty of the kitchen. Pendants are ideal over kitchen sinks, while a series of mini-pendants work well over breakfast bars and kitchen islands.
Designer, Picharat A., advises not to forget under cabinet lighting. "These lights should be placed to shine directly on the counter tops. Put a dimmer on them if you can to set the mood and tone for this essential room of your house." 
5. MAXIMIZE COUNTER AREAS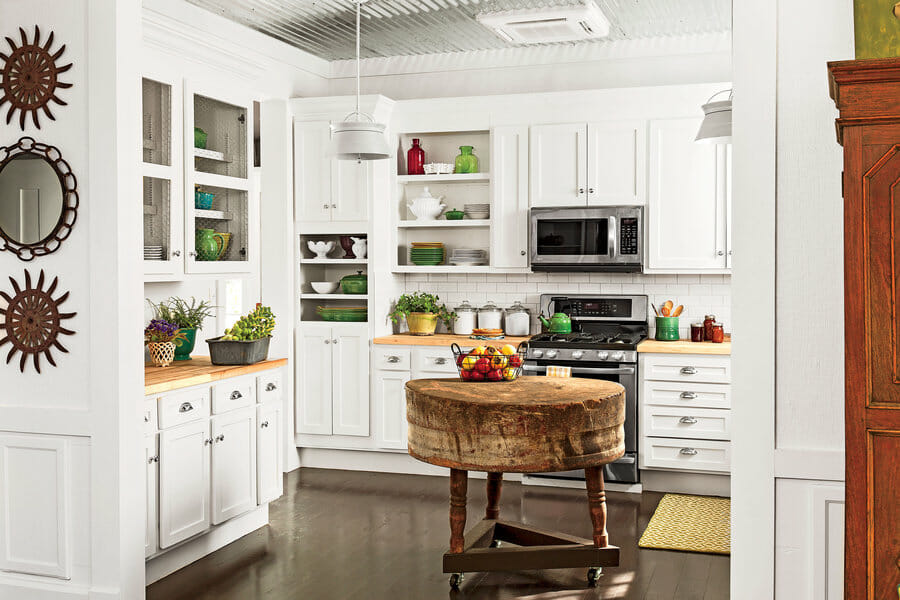 A popular kitchen layout complaint is the lack of counter space. With all the kitchen activities that require a counter top, as well as housing frequently used appliances, lots of surface area is desirable. Adding an island or breakfast bar to an L-shaped kitchen is one solution if space permits.
For smaller kitchens, a rolling cart with butcher block or cutting board that sits wider than the width of your sink add chopping surfaces. Other space savers include magnetic knife holders, open wall shelving, and a ceiling mounted rack for pots and pans.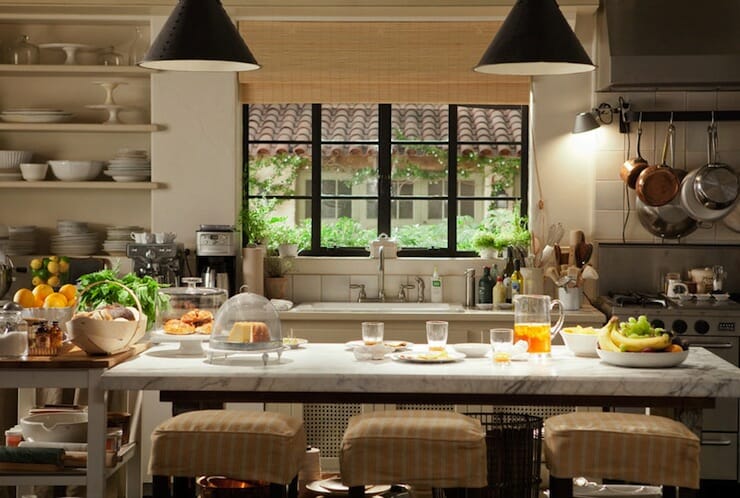 Designing a kitchen requires extensive planning to get it right. Trial and error mistakes can waste a lot of time and money. If you need help, professional online interior designers are affordable and convenient. They have the latest ideas and information, and they can offer kitchen design help you that meets your needs, taste, and budget.