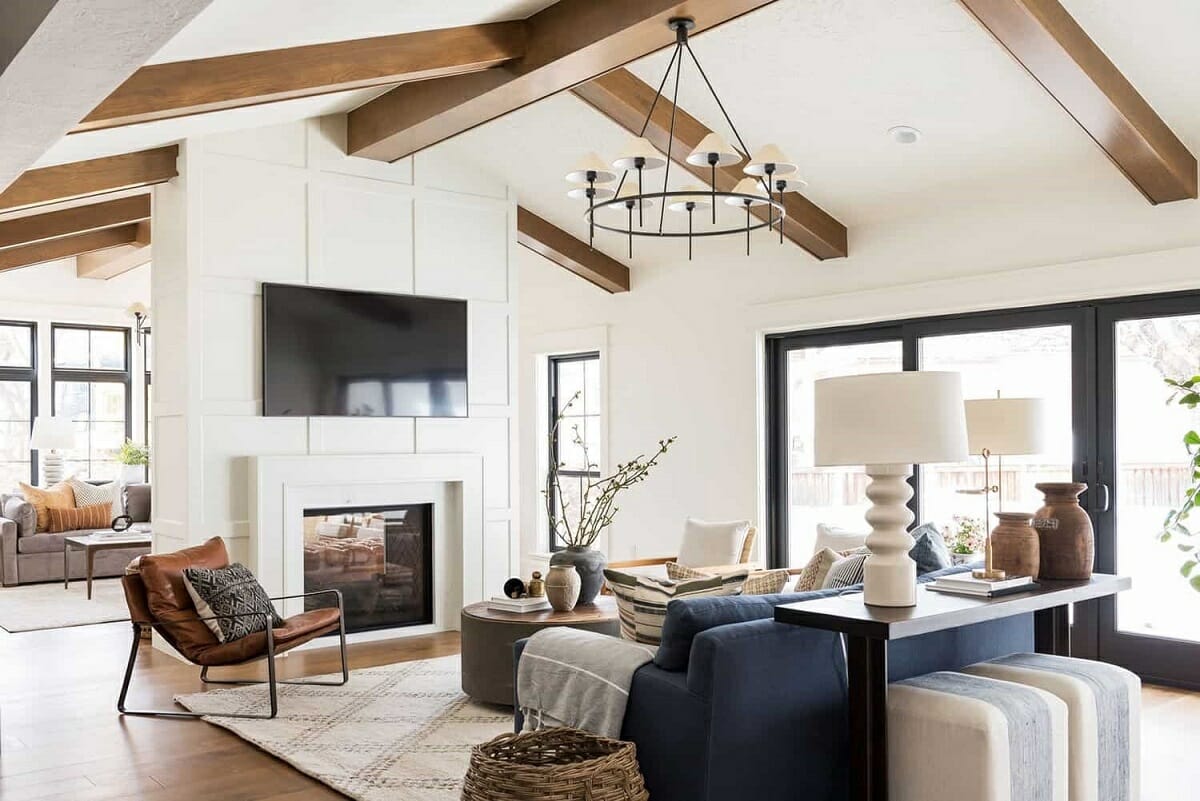 The first step to a home makeover is picking an interior style to set the tone for the transformation. One client knew what they wanted but needed help designing their interior. So, they turned to Decorilla – read on to discover the striking transitional home transformation!
The Challenge: A Transitional Home
This project required a thorough concept for a successful final transitional interior design. Fortunately, Decorilla could assist. That said, the experienced designer still needed to solve a few challenges, namely:
Incorporate the client's existing pieces into the new design

Highlight the fireplace in the living room

Provide practical interior design ideas for a reading nook in the bedroom

Ensure ample and comfortable seating for the entertainment space

Include pops of blues and greens within otherwise neutral spaces
Wondering which style suits your ideal home transformation? Then take our

Free Interior Design Style Quiz

to find your true style!
Transitional Decorating Style
Inspiration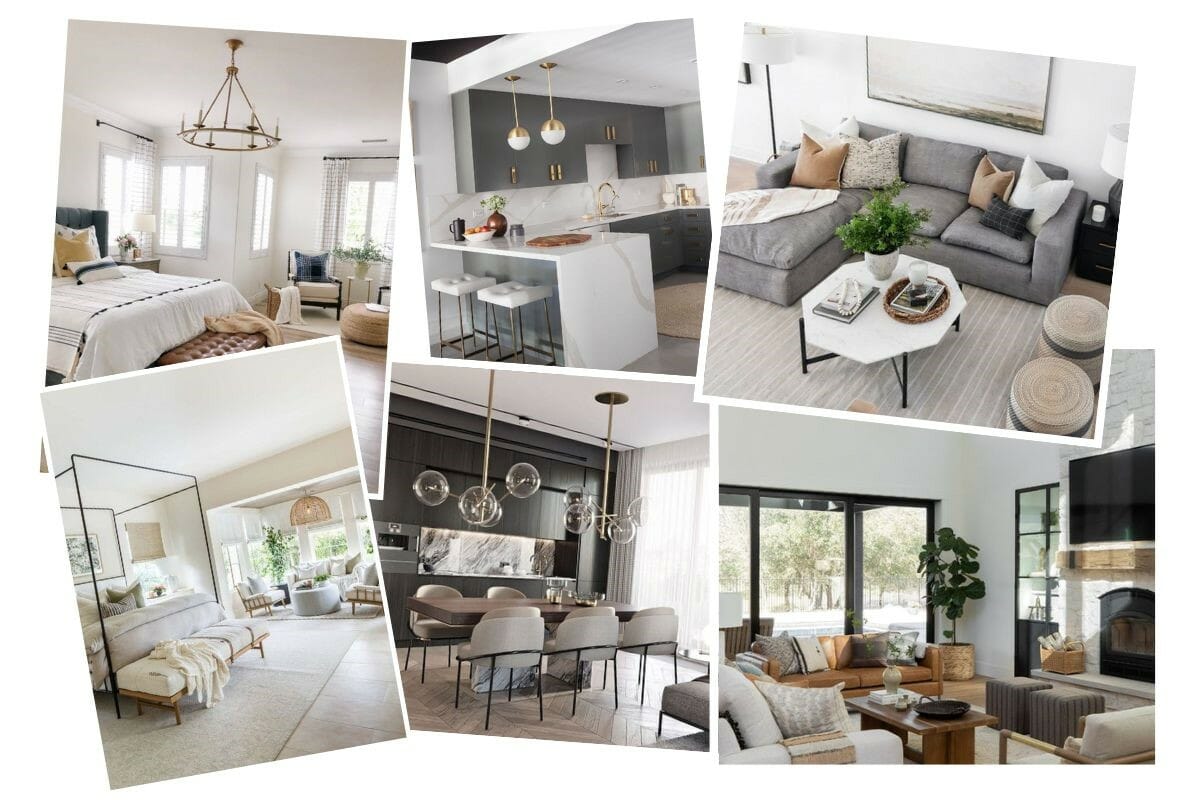 The client's interior design ideas exude warm neutral schemes and modern furniture. Grays and light browns dominate, while subtle blues and greens shine through in accents and upholstery. Moreover, the rooms feature neat lines and high-end finishes characteristic of transitional homes. These spaces also show off striking accessories, like decorative lighting and brass details. Above refined designs, the client also loves open and airy interiors.
Moodboard & Transitional Home Design
It was now time to begin the virtual online interior design process. First, the client completed a quick and simple online quiz. Next, they had a call with the Decorilla team to further complete the design brief. The the team could then help pinpoint two fantastic designers to work on this project. Both designers came forward with excellent proposals, but it was Wanda P. who won the client over!
Wanda's proposal showed off a transitional house style. It features a neutral color palette, earthy textures, minimal accessories, and comfy furniture. She chose a color palette of warm neutrals and calming blue-gray accents. Her picks of wood and brass added balance and depth to the concept. Overall, the moodboard promises a classy and elegant design.

Interior Transformation Result
In the end, the home transformation is sophisticated and inviting. Each space is neat and spacious, with a luxurious flair. Furthermore, the layout incorporates various complementing tones, furnishings, and elegant décor. As a result, this interior transformation has a homely yet refined feel. 
Sophisticated Living Room 
The living room sets the tone for the transitional home design. Crisp, white walls, dark timber floors, and a fireplace provide the ideal base for decoration. There is a balance of dark and light in this interior, where light furniture offsets against wood accents and a leather armchair. 
A gray sectional sofa provides ample seating and comfort. In addition, the modern leather armchair adds dimension through its rich color. Brass finishes add further interest to the room, while a contemporary area rug grounds the space. Lastly, an impressive chandelier centers the room, adding height and a sophisticated flair. 
Timeless Kitchen & Cozy Breakfast Nook
The kitchen result is editorial-worthy! A structured layout makes the space timeless while remaining functional and tidy. The light-filled haven is perfect for guests to gather around the marble counter on comfy leather bar stools. In addition, the classy pendants above the island add interest as they frame the center of the kitchen and arched window.
Brass pulls and handles give the neutral kitchen a glam touch. These glossy finishes and marble countertops complement the stone-gray kitchen island. This anchors the space and adds dimension to the interior.
The breakfast nook adjoining the kitchen is welcoming and light. This space highlights modern design at its most refined. The table and chair legs echo a similar wood as the flooring, creating a cohesive and subtle look. As a result, the ash-gray upholstery and blue-gray artwork stand out as they bring a cooling contrast to the warm timber hues. Finally, a brass chandelier lights up the area while leaf decor adds character to an otherwise minimalistic corner.
Airy Dining Interior Transformation
Modern meets traditional design in this dining room. Here, off-white upholstery, a sandy-tone rug, and the veined marble table form a cohesive look. What's more, the chair legs also match the caramel and latte hues of the marble. Lastly, greenery invigorates the neutral scheme, and a decorative mirror adds depth to the space.
Relaxing Entertainment Space
The home transformation features a relaxing and inviting lounge space. This intimate interior acts as a midway between the kitchen and the rest of the home. Its gray modular sofa and comfy pillows form the ideal casual setting to relax with a nightcap after dinner.  
The scatter pillows and blanket add cool and warm tones to this space. The abstract artwork and area rug also tie in with the scheme. Furthermore, the touches of brass in the pedestal, credenza, and lamps echo the glam touches of the kitchen and main living room.
Serene Bedroom & Contemporary Bathroom
Open and spacious, this bedroom contains muted tones and an impressive fireplace. The hearth is certainly the feature of this space, with two deep-seated, plush armchairs framing the fireplace. Here, gray, pecan leather, and whites create a sophisticated look. Now it's a place of enjoyment and unwinding.
White linen, lampshades, curtains, and a dresser feel classy and let the few color accents pop. More specifically, blue-grays and earthy brown stand out as they set a calm, serene atmosphere.
On the other hand, the bathroom is much more expressive. Its marble floors set the tone, while the shower curtain enhances an outdoorsy feel with illustrated tree trunks. Furthermore, a wood vanity with hexagon detail and abstract art adds more personality. As a result, this space feels luxurious and character-rich.
Online Shopping List 
With their online shopping lists, Decorilla makes designing simple. Each client receives one curated to their home and design – plus, they include exclusive trade discounts too! Moreover, every project has detailed instructions and a guide for clients to assemble their new homes.
Our Top Picks for a Home Transformation
Your house transformation is within reach! Recreate this look by investing in a few staple items from our top picks below.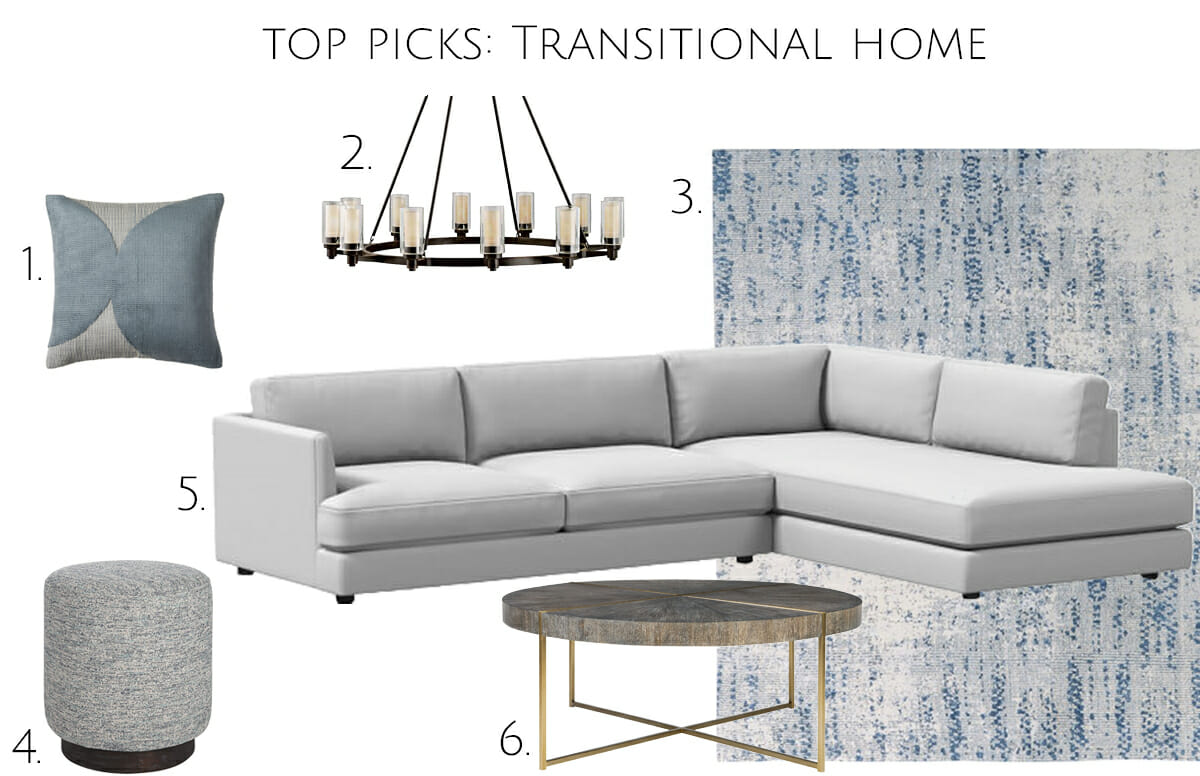 Want your own transitional home interior design? 
You can work with leading industry experts to get a home you love. All you need to do is schedule a Free Interior Design Consultation to start today!

[images: 1, Decorilla project images]