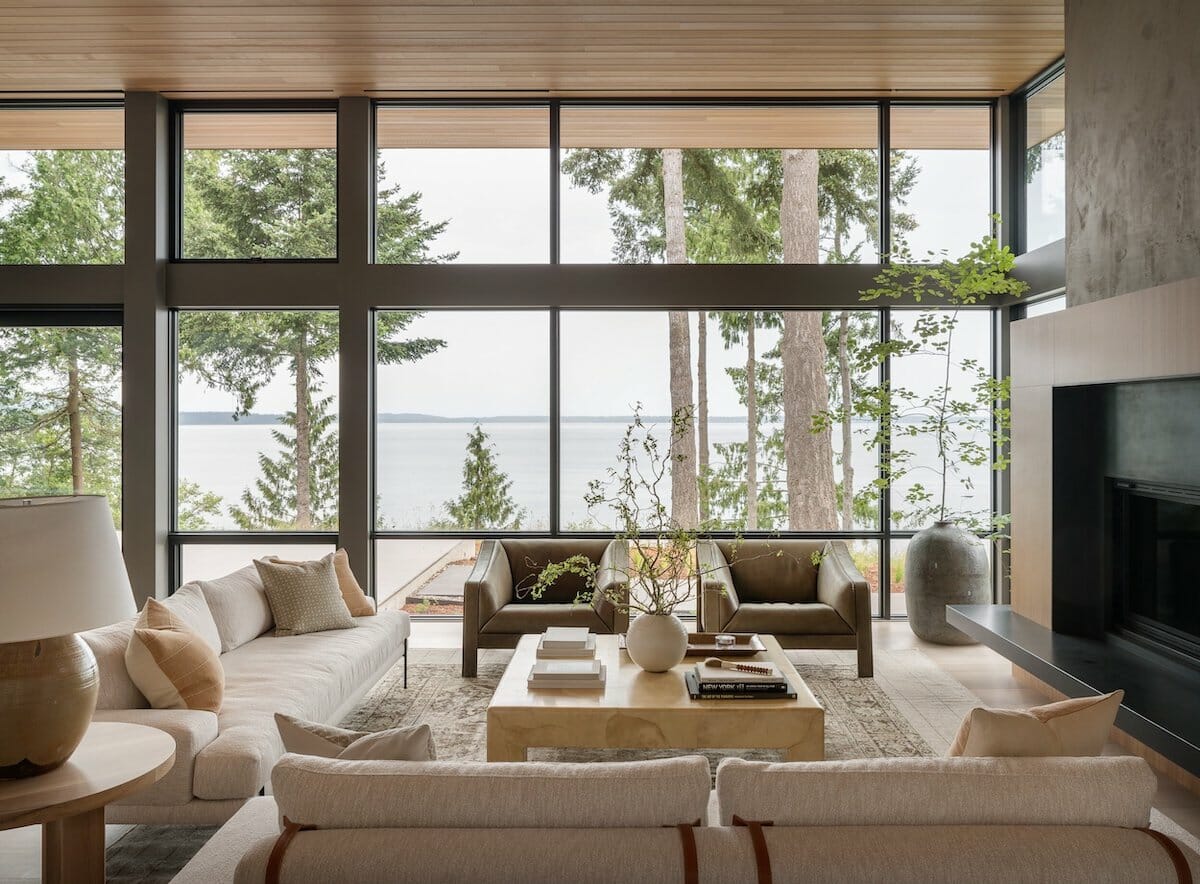 Your grand living room deserves an equally grandiose feel. That's the reason we collected some of the best tips for decorating on a larger scale. These great room design ideas will help you create a space that not only looks amazing, but also functions well. So sit back and get inspired to decorate your great room like never before!

What is a Great Room?
Typically the heart of the home, great rooms serve a variety of purposes from relaxing, to recreation, and entertaining. These spaces come with an oversized footprint to accommodate all of a family's needs. In addition, open floor plans are common, with the kitchen and dining rooms often adjoining. Other features that increase the grandeur are tall, cathedral ceilings, fireplaces, and plenty of windows.
While decorating a great room can be a challenge it certainly isn't impossible. So we've asked our designers for the best tips and tricks to achieve maximum style, comfort, and function!
Pro Tip: Decorate your great room with your favorite decor style.

Take our

Free Interior Design Style Quiz

to discover your unique decorating style today!
1. Textured Great Room Design
When it comes to great room design ideas, incorporating a variety of textures is the way to go. The eye naturally gravitates toward places with visual interest, and texture is a great way to create that interest. A mix of smooth and rough surfaces, light and dark colors, and shiny and matte finishes will all help to add depth and dimension to your space. 
2. Use Area Rugs to Anchor Furniture 
The best great room interior design calls for strategically placed furniture. When furnishing such large spaces avoid free-floating furniture throughout the room. Instead, create intimate arrangements centered around an area rug. Be sure to consider the appropriate scale of the rug and furniture in comparison to the size of the room. These design tricks not only look great but also allow for the optimal flow of foot-traffic.
3. Towering Window Treatments 
While it is perfectly ok to leave great room windows unadorned, you can also add curtains of your choosing. However, when doing so, take a note from luxury interior design and go for long and elegant window treatments. This tactic will elevate the grandeur of the room while balancing the proportions by drawing the eyes up. 
4. Enhance Great Room Interiors With Built-Ins
The spaciousness of a great room makes it a perfect spot to add built-ins. Not only do they provide stylish storage and a place to display your books and collections, but they also help to define the space and make it more functional. Built-ins can also be used to create a cozy reading nook, a media center, or even a home office. And, because they are so versatile, they can be easily customized to match your décor.  

5. Grand Piano Center Stage 
Great room design ideas ask for grand statements. If you have the space and interest, a grand piano is an excellent way to incorporate a touch of cultured luxury. Not only will it provide a focal point for the room, but it will also be a great source of entertainment for your guests. Arrange furniture around the piano to create the perfect stage for performances.   
6. Impactful Lighting
There's no better place to incorporate an artful lighting piece than when decorating a great room. If you want to make a dramatic impact, go for a chandelier with crystal details and catch the eye of anyone who enters the room. They also reflect light beautifully, adding a warm and inviting glow to any space.  
7. Zoned Furniture Arrangements
When furnishing a room with multiple purposes it is best to create zones for each function. The aforementioned tip of utilizing area rugs also comes into play here as it creates definition to a specific space. The living space can center around a rug in front of the fireplace, while a dining table defines the eating area. Try also grouping different pieces to create meaningful conversation areas.
8. Dramatic Accent Pieces 
While most great rooms focus on comfort and function, there's no reason to miss making a style statement. And what better way to do that than by adding a dramatic, eye-catching piece of furniture, art, or decor? Whether it's a sofa in a bold hue, an oversized piece of art, or a dramatic light fixture, a statement piece can instantly transform the look of your great room.
9. Symmetry is Your Friend
You'll likely notice a trend among some of the best furniture ideas for a great room – symmetry. Mirrored design creates balance while instilling a sense of calm, especially in oversized rooms. So if your floorplan allows, buy multiples and you'll be well on your way to an aesthetically astounding room!
10. Don't Shy Away From Color
One fantastic way to create cheerful dynamics in your great room is to enhance it with bright colors. It can be a bold accent wall, some brightly-patterned wallpaper, an accent chair—or even a bit of all those. Another great way to use color is incorporating vibrant hues through your accessories and textiles. Whatever you do, don't be afraid to experiment and display your style.
11. Incorporate Touches of Nature
Great room interiors often need an organic touch to soften their sometimes imposing size. Plants in interior design are always a resounding "yes!" from us. However, you call also mix and match wood tones to incorporate the outdoors even more. But don't stop there. Take the look even further with natural textiles like linen, cotton, jute and the like. After all is said and done, you'll hardly be able to tell you're indoors. 
12. Less is More
Just because you have a large room doesn't necessarily mean you need to fill it with stuff. So stick to the necessities when choosing furniture ideas for a great room. In addition, selecting streamlined pieces with a modern design will create a luxuriously sleek space. 
13. Add a Wet Bar to Your Great Room Decor
A home bar makes one of the best great room design ideas around. Not only will it provide a place for guests to relax and enjoy themselves, but it will also be a great conversation starter. Bonus points for creatively displaying your drink collection. 
14. Detailed Great Room Wall Ideas  
A great room is typically the largest space in a home, so it can be challenging to decorate. If you're looking for great room design ideas that will help create some visual appeal, consider adding crown molding or wainscoting to the walls. Both can add architectural interest to a space and can be painted or stained to match your existing décor. 
Need help designing your great room interior?
Our talented team of designers can help create your dream room! So schedule a Free Interior Design Consultation to get started today!

Featured image: [1]